Released in 2015, the Lexus NX launched Toyota's premium brand to new heights in Australia. Continuing the brand's then-new Spindle grille and dynamic styling theme, the NX also fixed a gaping hole in the Lexus lineup and launched the brand into one of the most hotly-contested spaces in the luxury new car market: medium SUVs. 2017 NX sales were their best yet, with 3,390 sold – less than the Land Rover Discovery Sport, Mercedes-Benz GLC and Audi Q5 that the NX competes with, but a 2.5 percent increase on 2016. Most importantly, the NX accounts for 37 percent of local Lexus sales – a figure the brand sees growing in the future.
This sales increase will be helped by the model's mid-life facelift that launched in October, with added equipment across the range, light styling updates and changes to the car's suspension to make it more dynamic. To find out if these changes made the NX more competitive, we experienced a 2018 Lexus NX300h F Sport for a week. Is it worth consideration in the luxury medium SUV class? Read on.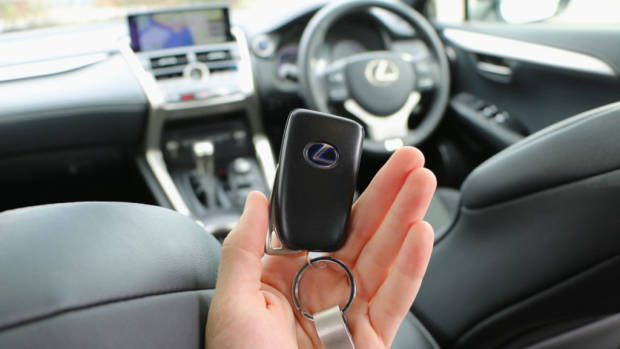 For 2018, the Lexus NX gives you plenty of choice. You can have it with front- or all-wheel drive, with a turbocharged 2.0-litre petrol or a 2.5-litre petrol hybrid, and in three specification levels: Luxury at the bottom, the racier F Sport in the middle, and Sports Luxury at the top. Pricing now starts from $54,800 plus on-road costs, representing an increase of $1,250 ove last year's model, though the price rise is justified by the addition of more equipment across the NX range.
We tested the NX300h hybrid, in front-wheel-drive F Sport format – a package that is priced at $63,300. You can option an NX300h F Sport with one of two option packages. Enhancement Pack 1 is $1,250 and includes a porthole electric sunroof, while the Enhancement Pack 2 – which was fitted to our tester – costs a heftier $6,000, but adds the sunroof, a 980-watt 14-speaker Mark Levinson stereo, a colour head-up display, and a smart key card. Premium paint is a further $1,000; the only 'standard fit' paint is Onyx Black.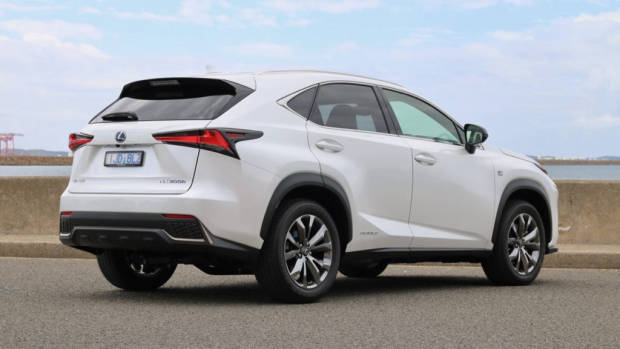 We think the NX300h F Sport is already equipped well enough at this price, and we'd likely avoid splashing out further on options, premium paint aside. The F Sport grade already includes eight airbags, a 10.3-inch infotainment system with integrated satellite navigation DAB+ digital radio and Qi wireless phone charging, a 360-degree parking camera, leather upholstery with heated, ventilated and electric front seats with memory functionality for the driver, automatic bi-LED headlights with adaptive high beam, a suite of F Sport touches including sports seats, adaptive suspension, and 18-inch alloy wheels.
You'll also find active safety technologies in the form of forwards autonomous emergency braking, radar cruise control, lane departure warning, lane keep assist, blind spot monitoring and rear cross-traffic alert.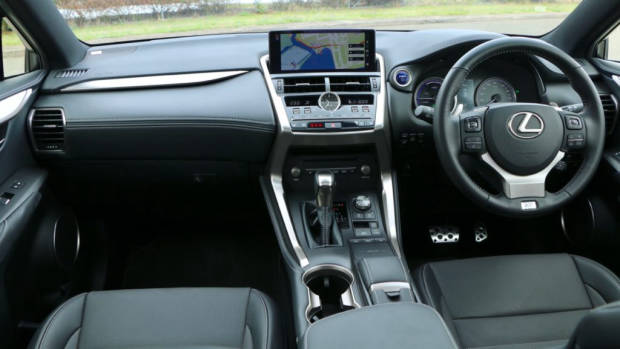 So, standard equipment is well taken care of. But what is the NX like to spend time in? The interior is something of a mixed bag: visually, this cabin is not overly cohesive, with a combination of different trims, surfaces, and materials clashing. For example, the seats and steering wheel are fitted with typical high-end Lexus perforated leather, but the doors feature a cheap, vinyl-like material. Additionally, there are a few Toyota parts in the cabin that stand out for the wrong reasons: the cruise control stalk is shared with the Yaris supermini, for one. That said, most materials are quite soft.
The design of the NX's interior has received a light update over the 2017 mode. Notably, the navigation screen is now much wider, at 10.3 inches; it's sharper, too. New toggles for the climate controls introduce some welcome, additional tactility. You can choose from a wider palette of interior colours: the leather seats can be had in white, or in a range of black choices – plain, with red inserts, or with yellow 'Tuscan sun' inserts. As with most Lexus interiors, the eye is entertained with a wide range of shapes, lines and colours. If you prefer more minimal interior design, though, an Audi Q5 will be more appealing.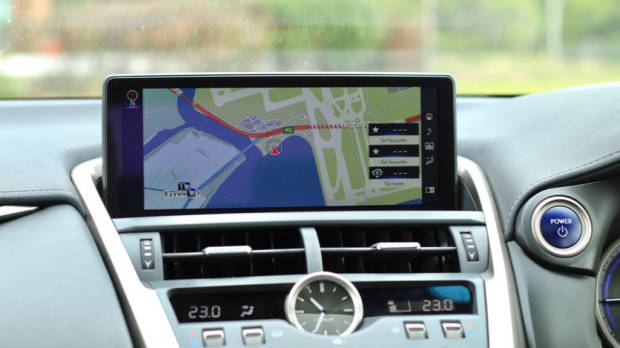 The new version of Lexus' Remote Touch infotainment software is now more intuitive. The previous mouse-like controller has been replaced by a simpler touchpad, with shortcut buttons mounted proximate to this. The touchpad still isn't as easy to use as a rotary dial in an Audi or BMW, but it is an improvement; it integrates pinch-to-zoom, which works a treat with the navigation. It is a shame that no Lexus vehicle yet integrates Apple CarPlay or Android Auto smartphone integration, though; the inclusion of this software would further improve the human-machine interface of the NX.
A punchy 980-watt, 14-speaker Mark Levison stereo that is included in the optional Enhancement Pack 2 is one of the best I've ever listened to, offering both strong bass and excellent clarity at all volumes.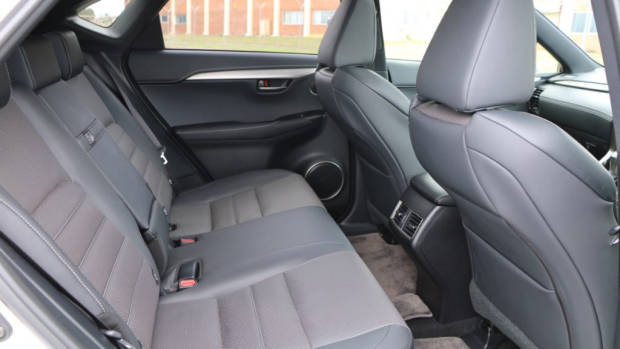 Practicality is something the NX does well. There is a vast box between the front seats with a wireless smartphone charging pad found within. Further afield, a good-sized glove box, reasonable cupholders in the front, and even a small secret compartment near the gear shifter afford additional space for storing clutter. However, the cabin isn't perfect; the door pockets are small and unlined, which means that your keys and other items will rattle while driving. The car's outward visibility is also impeded by relatively short windows and a front end that is hard to judge. This is not such a problem while parking, as the F Sport grade includes a 360-degree camera as standard.
Fitting people into the back of the Lexus depends on their size. While room in the front seats is spacious, the second row is much smaller; taller passengers will find that back seat legroom is tight. Headroom is excellent, however, as the optional sunroof lifts above the roofline, rather than eating into internal roof space. While there are air vents for those in the back, plus an armrest with cupholders, Lexus does not offer heated rear seats and there are no USB ports to charge phones back here.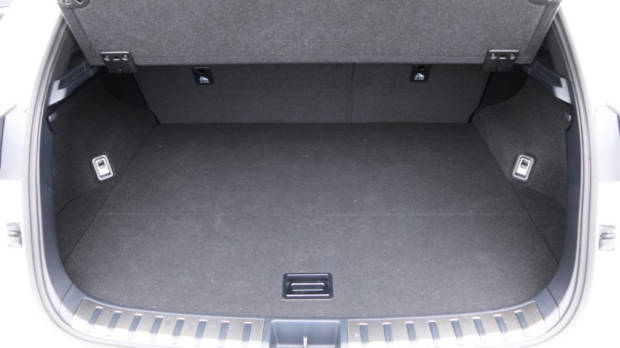 The NX300h's boot is competitive with other medium-sized luxury SUVs. The hybrid system claims 25 litres over the standard NX's 500 litre boot, but the electric bits do not stop the rear seats from folding, which provides 1,520 litres of space. The Lexus offers more room behind the back seats than the Land Rover Discovery Sport, which measures in at 479 litres, but less than the Mercedes-Benz GLC-Class, which has a 550 litre boot. Lexus really should have been more generous with boot features, too; there are two tie-down points, but the NX does not offer shopping bag hooks, storage nets, or cargo space power outlets.
Driving the NX300h yields mixed observations. On the positive side of the ledger, the hybrid technology on board is very impressive in terms of what it can do for fuel economy. The company's claim of 5.6L/100km combined consumption is miserly; we recorded 6.2L/100km in mostly urban conditions, which makes this car one of, if not the most frugal option in the medium luxury SUV class. The claimed emissions of 131g/km of CO2 is also low for the segment. The NX300h moves off the line easily in electric-vehicle mode, and it will run purely on battery power for at least a few kilometres. Stab the accelerator, though, and the 2.5-litre naturally aspirated petrol engine will kick in, which is a noticeable but not rough process.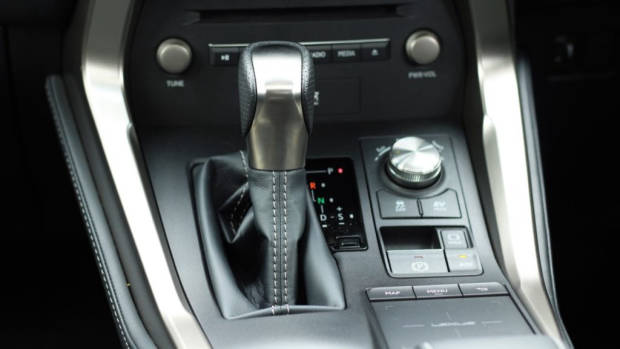 The natural partner of very good fuel economy is often lethargic performance, and that is the case here. The other NX offering – the turbo petrol NX300 – is much more sprightly but the hybrid NX300h is simply not interested in rapid performance. A kind assessment would tell you to focus on the car's excellent refinement and relaxing drive; a harsher one would say the 0-100km/h time of 9.2 seconds is not up to scratch in this class. Lexus says the hybrid produces 147kW between the engine and motor; a combined torque figure is not available, but we know the 2.5-litre makes a paltry 210Nm. That said, the electric motor provides instant poke, especially at low speeds. However, in high speed situations where the petrol engine is acting essentially alone, the NX300h feels downright slow. Highway overtaking is perilous. The hybrid's CVT automatic also acts to blunt forward progress. The NX300h's performance will only be adequate if you spend effectively all of your time on city roads.
The NX300h's absolute skew towards town driving is a problem, though; this car's suspension setup prefers flowing, high-speed country driving. In fact, the in-town ride quality is a big flaw of this SUV. Lexus say that they targetted ride quality in the 2018 updates of the NX, going so far as to add adaptive dampers as standard equipment on every NX other than the base-model NX300 Luxury. However, this change has not improved matters.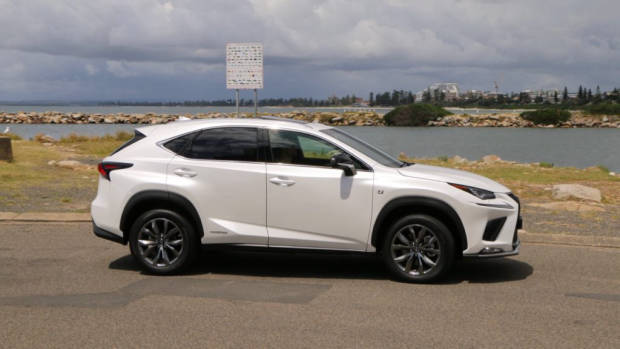 The tune of the dampers does not cope well on Australian roads, with unnecessary float giving way to downright crashy performances through moderate bumps. Body control is poor in Comfort mode and remains below average in Sport or Sport Plus – both of which worsen the firm ride. We intend to drive the NX300 Luxury with its fixed dampers (and turbocharged engine), as it is highly likely that this blend represents the most liveable NX.
That's the Lexus NX300h. The NX has some clear strengths, in the form of strong value, a quiet cabin and an efficient hybrid option, and the 2018 updates have improved some elements – the interior, in particular, has received welcome trim and technology upgrades. However, overall dynamics remain below-par in the highly competitive medium luxury SUV class. While we do not expect particularly sporty performance from a Lexus, thanks to very ordinary ride quality, the NX struggles to comfort and cosset as a Mercedes-Benz GLC or Audi Q5 manage to do with ease. The fixed-damper base model may be an exception to that problem, but until we evaluate that vehicle there are better purchases among medium SUVs that include even non-premium options like the Peugeot 3008 or Skoda Kodiaq.