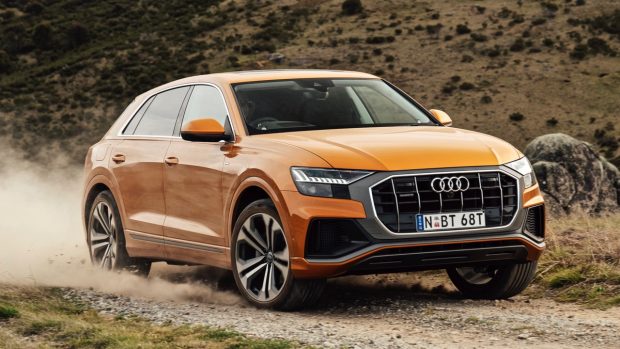 Exotic to look at, motivated by a strong petrol V6 and sitting on the same chassis as a Lamborghini Urus, the new Audi Q8 places a target squarely on the back of the Range Rover Velar and BMW X6.
Move over, Audi Q7: there's a new flagship SUV from Ingolstadt in town. Far more interesting to look at, offered with a stirring petrol six-cylinder and sporting Audi's newest interior aesthetic, the 2019 Audi Q8 is a very different beast to the Q7. Shorter, broader, lower and meaner than the three-row Q7, the five-seat Q8 is Audi's play into the design-led luxury SUV space currently filled by the Range Rover Velar, the BMW X6 and the Mercedes-Benz GLE Coupe. In a segment where unique looks rate as a high priority, the Audi is no shrinking violet – it's the most extroverted of the pack.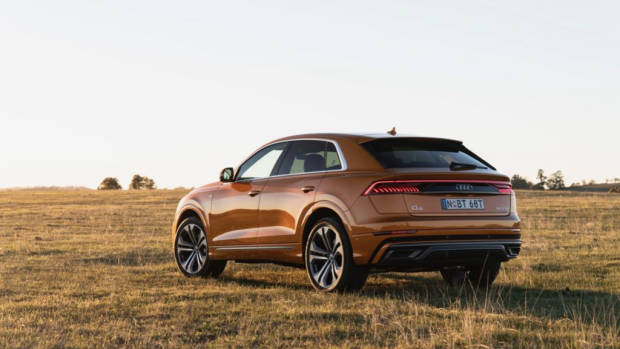 Previewed by the Q8 concept at the 2017 Detroit auto show, the production version closely adheres to the concept – aesthetically, at least. In the flesh, the Q8 is striking, with a huge new octagonal 'masked' grille showing the way for future Audi SUV design. But while the 2017 concept used a plug-in hybrid with 330kW/700Nm, the production version is more conventional in the powertrain department.
For Christmas 2018, the Q8 arrives with a sole engine dubbed 55 TFSI – Audi's familiar three-litre turbocharged V6 petrol making 250kW/500Nm – priced at $128,900 ($141,700 driveaway). By mid-2019 it'll be joined by the identically-priced 50 TDI three-litre turbo diesel producing 210kW/620Nm. There's no firm talk of a plug-in hybrid, or an electrified Q8 e-tron, at this stage, but we wouldn't be surprised to see this in future. For now, both V6 engines are 48-volt mild hybrids: the combustion engines can completely shut down while coasting to save fuel. The belt-driven alternator can also provide five second stints of 6kW/60Nm overboost, taking the petrol's torque to 560Nm.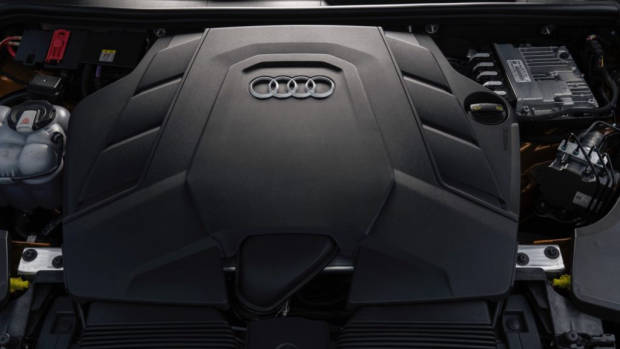 We'll talk diesel when it arrives, but for now, the petrol is a decent fit in the Q8. The torque is particularly impressive, thanks to the electric overboost. Throttle lag is near non-existent. Power at the top end is relatively strong, but the engine is nearly inaudible: the Q8 is a very refined thing, with little engine noise and almost no road noise on most surfaces despite huge 285-width performance-oriented ContiSport6 tyres.
The only major problem with the 55 TFSI petrol is its thirst for premium fuel. The claim of 9.2L/100km seems highly unrealistic when in country backroad driving, the best we managed was 12.5L/100km – and that wasn't driving with a lead foot. The incoming diesel ought to be more frugal.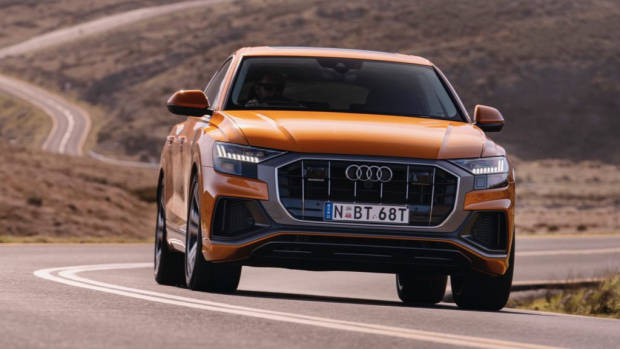 Audi Australia are keen to talk up demand for a future SQ8 performance version. This could use the same 320kW/900Nm twin-turbo diesel V8 found in today's SQ7, but executives concede a petrol V8 would be highly appealing, given the Q8's more athletic appearance. Two of the Q8's key rivals – the BMW X6 and Mercedes-Benz GLE Coupé, are offered in high-performance specification with petrol V8s. The Q8 could make use of the new four-litre V8 offered in the Porsche Panamera, which produces 404kW/770Nm.
Either way, the V6 petrol offered at launch is enough to whet appetites. The performance is strong enough to engage the Q8's decent chassis without testing its limits. At 2,265kg unladen, there's never any disguising that this is a large, heavy SUV, but the Audi makes its boundaries clear. Snap direction changes at high speed lead only to understeer, but provided you're smooth with the inputs and gradually load the Q8 up onto its Continental rubber, this SUV makes light work of a twisting back road. Playful it is not, but the Audi Q8 is easy and relaxing to drive at speed.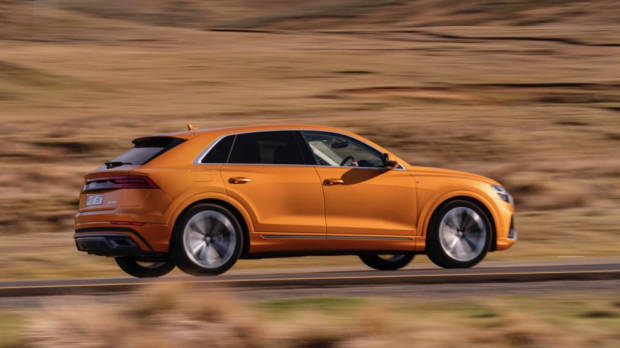 One of the best dynamic attributes of the Q8 is its steering – quick, direct and largely uncorrupted, the Audi rotates easily at town speeds and there is more than a modicum of driver engagement when the pace increases. Manoeuvrability gets even better if you opt for the dynamic steering package ($4,500) which adds all-wheel-steering and a variable ratio to the rack. We haven't enjoyed the effect of Audi dynamic steering in the brand's passenger cars, but in the large Q8, we found it to be beneficial.
The ride quality is generally good on air suspension; unfortunately, the sole vehicle on launch with conventional steel springs was not available for comparison. Large imperfections still send a judder into the cabin, even on air; the Range Rover Velar rides better still. Noise insulation, even on coarse chip roads, is excellent.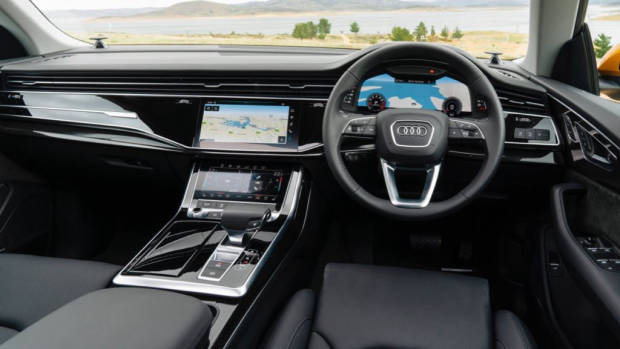 The Q8's relaxed but sophisticated dynamics are reflected in the cabin accommodation. As is typical for Audi, the Q8's interior is tasteful, a sharp contrast to overstyled Mercedes-Benz cabins. The Q8 is the first of Audi's SUVs to adopt the brand's new interior design language, which uses a slab-like design dividing the dash with piano black surfacing between two touchscreens. Hardware controls are largely done away with. The driver gets as 12.3-inch digital display of their own, plus a head-up display.
The upper 10.1-inch screen presents navigation, settings, media, Apple CarPlay and Android Auto functions, while the lower 8.6-inch screen deals with climate control, quick access to some of the safety systems, and as handwriting input for the navigation. We're not convinced this is a safer or clearer way to access the car's tech than Audi's outgoing MMI interface, which used a central rotary dial between the seats, but maybe we're just not used to it yet.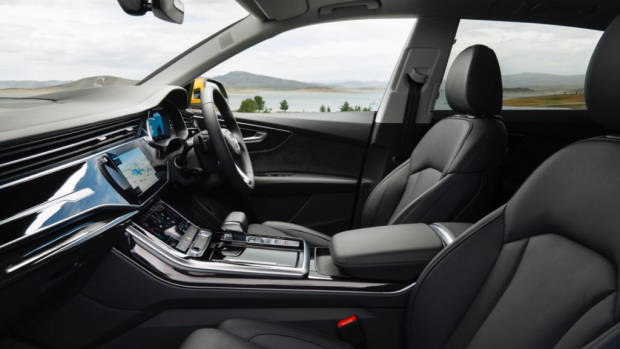 Wireless charging that also amplifies a smartphone's reception is standard, as is digital radio; there are four charging USB ports throughout the car. A 10-speaker Audi branded stereo is standard fit; a 17-speaker Bang and Olufsen 3D unit is part of the Premium Plus package, while an audiophile-standard 23-speaker Bang and Olufsen Advanced system is a $12,100 standalone option.
Technology aside, the Audi Q8's interior is relatively sumptuous in its appointments. The brand's highest-quality 'Valcona' nappa leather is standard, offered in black, grey, tan, and beige colours. The Australian seat for the Q8 is the global 'Comfort' seat; at this stage, the 'Sport' and 'Super Sport' seat options available overseas are not coming here. That's a shame, as the quilted Super Sport seat looks epic. Pleasantly, seat cooling and heating is standard on the front seats, as is 12-way electric adjustment for both.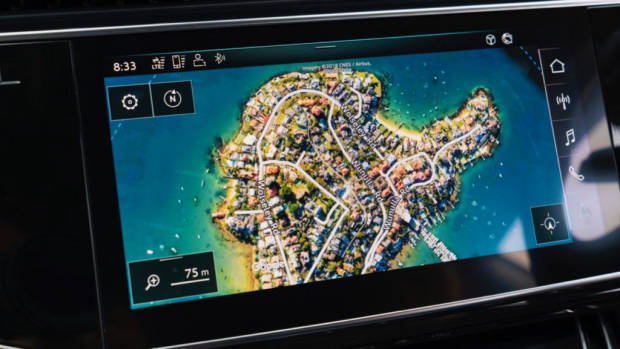 Like in the A8, Audi's flagship saloon that shares a number designation with this Q SUV, you'll find leather extending to the dash, which looks appropriately expensive. However, if you want more leather surfacing on the Q8, you'll need to tick the 'Full leather package' ($8,900), which adds nappa leather to the door tops, instrument panel, centre console and door rails.
It's a big ask but we would be tempted to add the full leather package, because without it, the Q8's secondary plastic trims – on the door tops and centre console – are only just acceptable. Without the pack, the rear window sills in particular border on hard and coarse. Not very luxurious.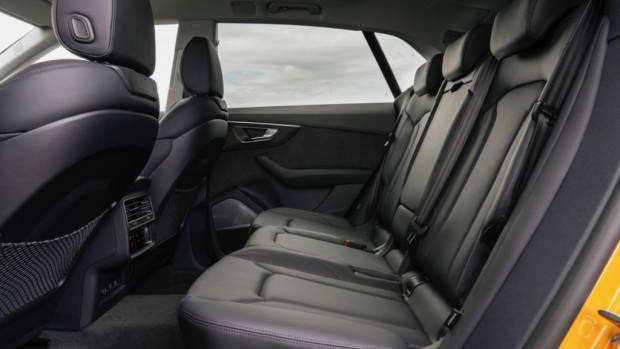 What is great to see is wide availability in inlays – you can choose between aluminium, an open-pore grey ash, or a gloss grey oak. Each gives the Q8 a slightly different character.
Aside from those all-too-hard door tops, back seat accommodation is generally good. Despite the Q8 being shorter than the Q7 by 66mm, it's still 4.97m long and there is no third row here, so second-row passengers benefit from huge legroom and good headroom. Shoulder room is excellent, given the 2.19m-wide Q8 is 27mm wider than a Q7.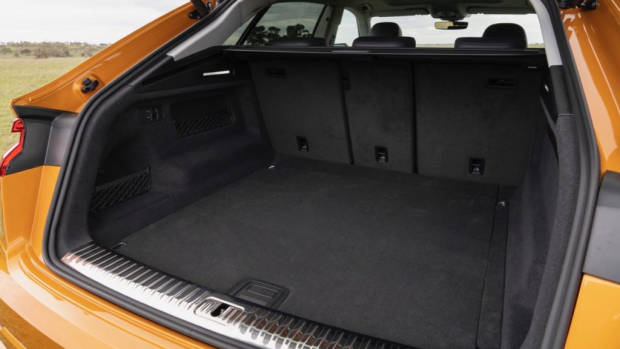 Behind the standard electric tailgate is 606 litres of boot space with five seats erected – notably, that is with the sliding rear seats at their most comfortable pushed-back position. More cargo space is accessible by stealing some legroom from second-row passengers, or by folding the back row entirely.
The Q8's ownership credentials are mixed. The standard warranty of 3 years with unlimited kilometres is par for the course for luxury brands in Australia but set against the rest of the industry, it's nothing special.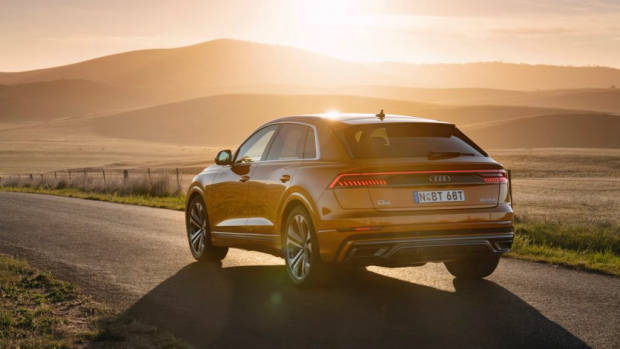 Australian specification is generous for the Q8, especially safety-wise. All cars delivered here will include as standard over thirty adaptive safety technologies, with highlights including junction assistance, to warn you from pulling into the path an unseen oncoming vehicle; exit warning, which temporarily delays the opening of the electrically-actuated doors to prevent whacking pedestrians and cyclists; and adaptive drive assist, which partners adaptive cruise with stop-and-go, near-full autonomy in traffic jams, and lane keep assist at higher speeds.
There are options, though the Q8 follows Audi's recent A7 release in bundling popular extras into a bundle called the Premium Plus package ($11,000). This is a response to data suggesting Audi customers want almost immediate delivery; dealers need to be able to order in cars with common options easily.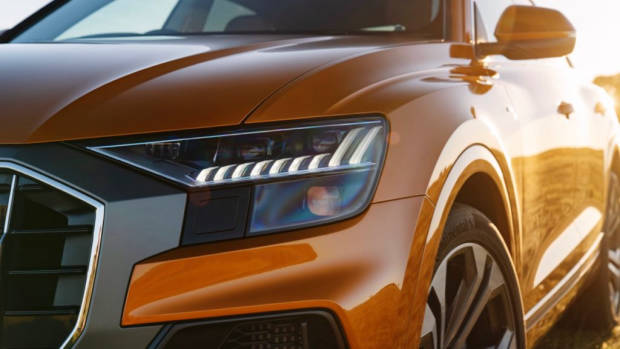 Premium Plus is a substantial upcharge but it adds a number of useful features, including the aforementioned air suspension, bigger 22-inch wheels, higher-definition, matrix LED headlights, a fourth climate zone, the 17-speaker Bang and Olufsen stereo, 30-colour LED cabin ambient lighting, and privacy glass.
Then there are the a la carte options: the requisite black pack ($1,850); a panoramic opening sunroof ($3,550); power-assisted door closing, a feature you think you don't need until you try it ($1,500); air bladders for massaging in the front seats ($1,050); and alcantara headlining in black or grey ($3,400).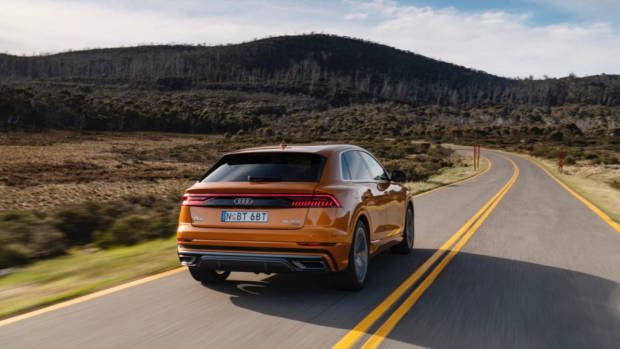 All up a Q8 can push to over $170,000 (before on-road costs) but really, even in base trim at under $130,000 before costs, the Audi Q8 is a great-looking, comfortable, and dynamic luxury SUV.
That being said, the design-led premium SUV space is a buyer's market: there are a number of vehicles, each offering a different aesthetic and character, to consider. In particular, the Range Rover Velar D300 HSE R-Dynamic ($140,064 driveaway) is worth a close look.