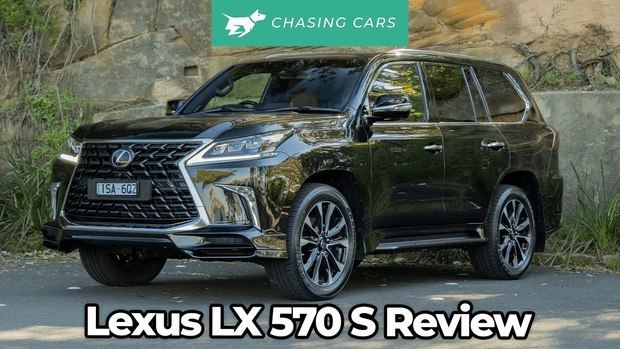 Put simply, the Lexus LX 570 is the nicest Toyota Land Cruiser money can buy. It's also a bona fide rival to German luxury SUVs like the Mercedes-Benz GLS and BMW X7.
Perched atop the venerable 200 Series 'Cruiser platform within the Toyota Motor Corporation, the Lexus LX has presented a luxurious alternative to Toyota's utilitarian wagon for more than two decades.
The only problem is that the Toyota Land Cruiser itself has become more and more luxurious, with list prices now over $120,000 and recent transaction prices hitting close to two hundred grand.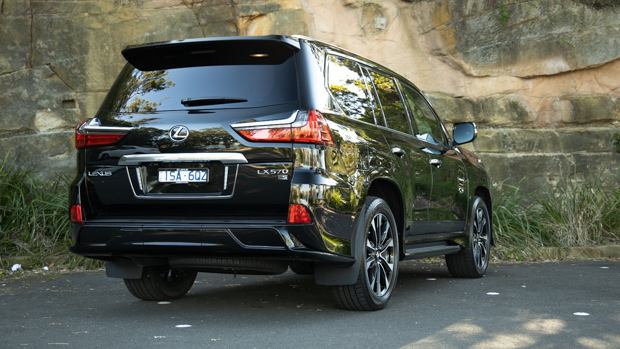 The onus on the LX 570, then, is to be even more: to carry the underlying capability guarantees of a Land Cruiser all while ensconcing its occupants in semi aniline leather-lined, air-suspended, noise-insulated supercomfort.
Further, the second recurrence of the 'S' special edition takes the LX 570's concept even further, with a distinctly urbane focus that adds a body kit (that admittedly removes much of the initial off-roading ability), performance dampers, handsome 21-inch wheels and a sumptuous garnet burgundy interior beneath stunningly deep black or white paint.
Priced at $168,767 before on-road costs, the LX 570 S is hardly cheap – and it's $22,000 dearer than the already comprehensively outfitted regular 5.7-litre petrol V8 grade, which, in turn, sits above the $137,636 LX 450d that seats just five (rather than eight) but runs a more economical 4.5-litre diesel V8.
On the point of price: the mania accompanying the end of the Toyota-badged 200 Series later this year has seen prices of the Land Cruiser rise spectacularly. Flagship 'Sahara' grade Cruisers are now often more expensive than driveaway prices on the LX 570 S. Food for thought.
How does the LX 570 S drive?
If you've never owned a large body-on-frame 4WD before, you'll need time to acclimatise to the dynamics of the LX 570 S. The same would be true if you were buying a Land Cruiser, a Prado, or something like a Nissan Patrol.
Like utes, frame 4WDs have a separate body sitting atop a highly capable chassis beneath. They're not one piece, like most SUVs. The reason for this is mainly to give the vehicle excellent wheel articulation capability off road.
Like its Land Cruiser brethren, LX 570 S would be superb off road – if you ripped off its bling-tastic front apron that is so low to the ground it'll find some concrete blocks at the end of parking spots.
It's a look, though. No doubt, the mean 'S' treatment is endearing to people who define "off the beaten track" as Noosa. If you'd like to venture further afield, you'll want a cutaway front bar anyway – the sort of thing an off-roading specialist would be only too happy to install.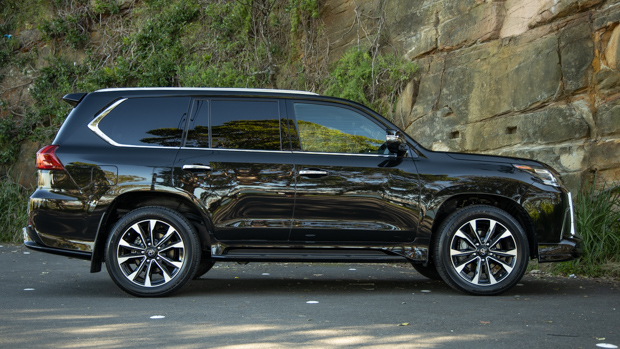 Either way, while the Lexus LX is theoretically one of the most capable off-roading vehicles ever built, it's also remarkably accomplished on road – as long as you're content to drive it gracefully. Pushing on with any kind of sporting intent is not rewarding.
Lexus were loath to introduce a diesel engine for nearly 30 years, even in Australia, where oilers are preferred long-distance and towing transport. Now, you can get a slightly cut-down LX spec that borrows the Land Cruiser's diesel V8 and wraps it in a Lexus body with more sound insulation.
On test here, though, is what loyal LX buyers would deem the true powertrain of this vehicle. At 5.7 litres in capacity the petrol V8 here isn't small – in the United States it powers Toyota's enormous Tundra pick-up. What it is, though, is silken and sonorous when revved out.
Producing (just) 270kW of power and 530Nm of torque despite its gargantuan displacement, this V8 is not intended to make the LX 570 any kind of performance SUV. Like in the very first Lexus – the LS saloon – the LX has eight cylinders to make it refined, and to make it effortless.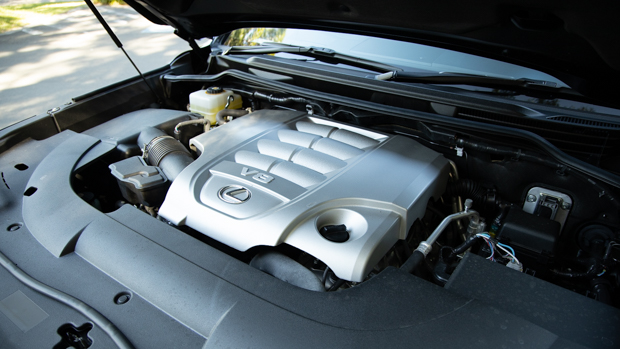 The brand has been successful in this regard. Near silent at low engine speeds, the LX 570 is content to accelerate quietly but linearly with fractional throttle input, making relatively light work of motivating its considerable 2,740kg kerb weight.
It's possible this will be the last year a Lexus LX is available with a petrol V8. Rumours abound that the next version of this 4WD, based on the incoming 300 Series Land Cruiser, will utilise the smaller 3.5-litre twin-turbo V6 from the LS 500 luxury sedan.
With the 5.7-litre unit, merging onto freeways or overtaking slower traffic in the country requires a small amount of planning: 0-100km/h comes up in just under nine seconds. But the LX picks up and runs with a big stab of the loud pedal as the V8 really wakes up. It sounds decent in the process, too.
Back to those frame dynamics: accelerate hard and the LX 570 tilts back like a speedboat. The same is true for if you need to throw out the anchors, and fast; it's best to give the car some space as it lurches about on its air suspension.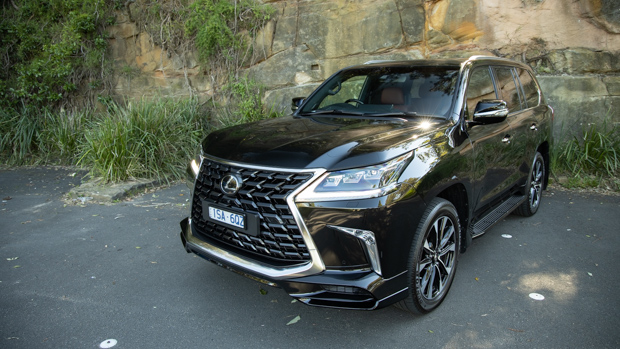 That's not to say the LX is ever uncouth; it's not, just in comparison to a Lexus RX SUV, for example, there is much, much more body movement that is expected in a vehicle constructed this way. That said, urban bumps are soaked up well with just a slight shudder through the vehicle through bigger potholes.
Similarly, the steering would be regarded as slow and vague in just about any other kind of car, but in something like this, it's to be expected. At least the steering wheel itself, trimmed in soft leather and unique-to-S grey layered wood, is small – it doesn't feel like a bus.
Paired to the fact you can see the edges of the bonnet terrifically well from the comically high seating position, it's actually quite easy to plot a course for the HMAS LX 570 through the bends. Just take it slower than you normally would to prevent car sickness from the cheap seats.
It's also worth noting the LX 570's vital stats. It's actually not that long, at 4.99m in length – a Mazda CX-9 is a lot longer. It's 1.97m wide, though, which is considerable, as is the 1.87m height. Ground clearance is a standard 235mm in the S version, but the air suspension can be raised by 70mm in the front and 80mm in the rear.
Safety technology is getting a little sparse due to the age of the LX platform. You do get forward collision warning and AEB, but the lane departure warning is weak and does not include lane centring. There is blind spot monitoring and a 360-degree camera, however.
How is the LX 570 S's interior?
Like a member's club, the cabin of the LX is old-school in both design and quality. Sure, it's not as flash as the rivalling Mercedes-Benz GLS or BMW X7, but the Lexus is built like no other vehicle in this segment. Rattles? Squeaks? Creaks? Odd panel gaps? No. Flaws like that simply do not get past the factory doors.
When you make the ascent into the LX interior – and that's what it is, even for the tall – you'll find an environ lined in supple semi-aniline leather and trimmed in very fine, genuine shimamoku wood trims. There's a warmth to the Lexus that you don't get in an Audi Q7.
The special-edition S receives attractive dark grey wood ornamentation, paired with either black or garnet burgundy leather. Our test vehicle sported the latter, and it looked terrific. On the standard LX 570, brown woods complement black, tan or ivory white leather.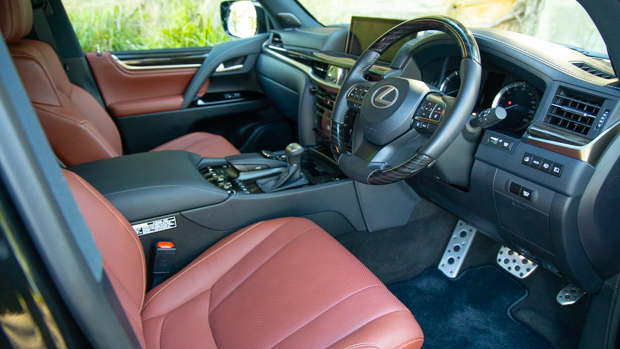 Massive front seats appear at first to be laid back and lazy but they offer a surprising amount of support on long drives. We did seven hours in the saddle across one day of driving and felt great. There is a fair range of electric adjustment, though unlike in many rivals, the side bolsters cannot be altered, nor is there a massage function.
There is standard seat cooling and seat heating, though, and it really works – as does the Australia-grade air conditioning system that effectively and urgently cools the cabin down on a hot day. Between the front seats is a coolbox that works well to keep drinks cold – though it does rob the cabin of storage, which is oddly sparse despite the huge size of this beast.
The broad width of the dash integrates a continuous statement piece of gloss wood beneath a large, relatively crisp 12-inch infotainment screen. Beneath this is an analogue clock and a sea of buttons for controlling the media and climate.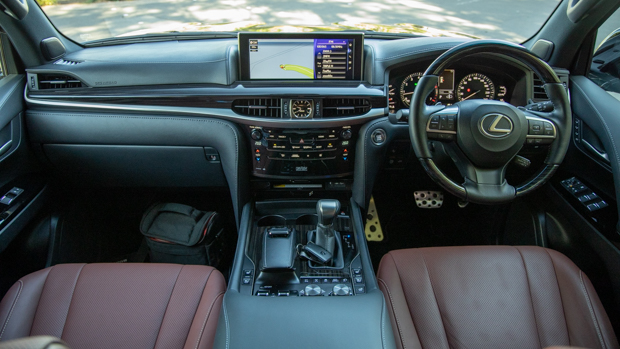 Aside from, perhaps, the moulding of the instrument binnacle, there is essentially nothing in here that reminds you of the Toyota Land Cruiser. Huge efforts have been made to give the LX a distinctive interior – and that matters. The ill-fated Infiniti QX80, for example – a posh Nissan Patrol – never felt adequately differentiated from its mainstream cousin. The Lexus does not have the same problem.
The current LX dates to 2007, though what we see here is the substantial facelift the vehicle received in 2015. That's about how old the interior feels – the technology is about a generation behind newer Lexus vehicles, with a finicky 'remote touch' trackball method of navigation. You get used to it, though, even if there is no Apple CarPlay or Android Auto integration.
There is a head-up display ahead of the driver, though, and big, analogue instrumentation that incorporates a small colour trip computer between them with a digital speedometer and trip, media and navigation information. Standard, too, is a Mark Levinson reference-grade stereo which is warm, clear, punchy and strong.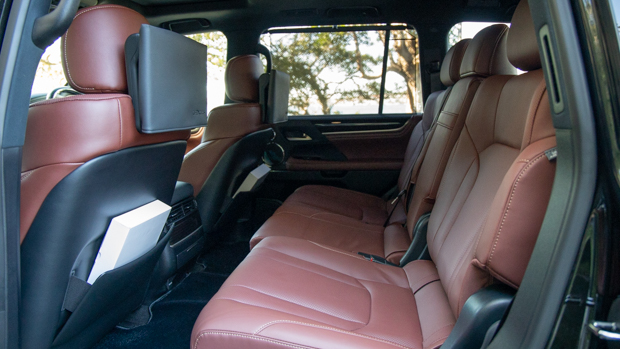 Moving back reveals passenger space that is conspicuously tighter than you find in a car-based SUV. The high floor plan of a body-on-frame 4WD means the rear seat can't be that supportive, and legroom in Row 2 is more limited than in Benz's substantially longer, car-based GLS. That said, the LX is wide and you can get an adult in the centre seat with no problem.
Petrol-fuelled versions of the LX also nab rear seat entertainment with dual screens and a bunch of pairs of wireless headphones. There's an HDMI port and a video game console install wouldn't be out of the question, though most people will just bring their own iPads these days.
The LX is an eight seater, and its third row deploys from the side walls of the cargo area – old school. Unfortunately, this means that even when not in use, the seats take up considerable boot space. The diesel version of this car doesn't include a third row in a nod to greater practicality for its purpose as a tow vehicle. Kids and adults do fit in the final row, though it's cramped.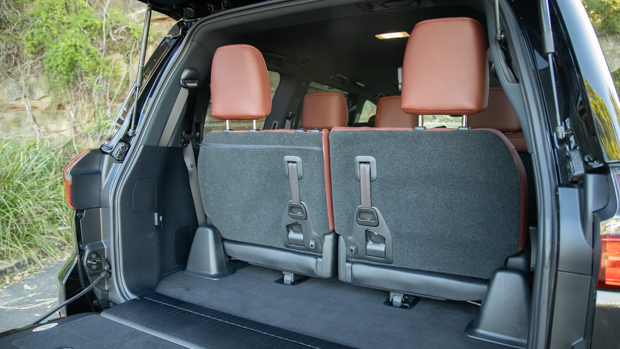 What are the LX 570 S's running costs?
The Lexus LX is a big, powerful four wheel drive, and that necessitates considerable running cost bills.
Buying a large 4WD powered by a petrol V8 engine and expecting small fuel bills would be quite unrealistic.
In reality, the LX 570 isn't quite as bad as you might expect, particularly if driven gracefully. In town, we managed to keep consumption under 20L/100km – just – while on the highway, 13L/100km is achievable.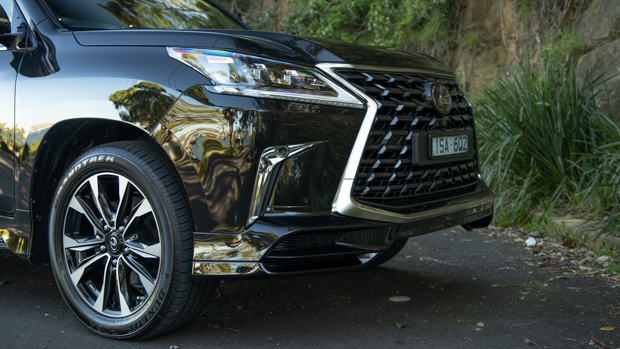 Even so, this is a considerable thirst for 95-octane premium petrol, especially when compared to the relative efficiency of a BMW X7 M50i, which is much more powerful and yet uses around 20 percent less fuel in the same conditions.
LX buyers chasing fuel efficiency won't find much luck, but the LX 450d diesel is certainly more frugal when towing.
Lexus once had the longest warranty in the luxury space, at four years with unlimited kilometres. This is still a superior arrangement to Audi and BMW, which offer just three years of coverage, but Mercedes-Benz and Genesis both give you five years.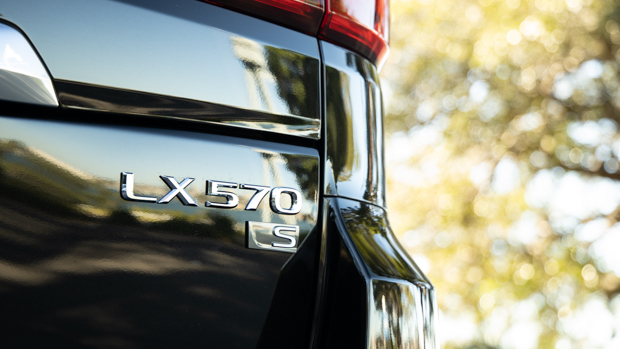 Servicing the LX 570 is done inconveniently frequently, with scheduled maintenance occurring every six months or 10,000km. Six of these services – or three years – are capped in price by Lexus: each visit will cost $495 for a total cost of $2,970 over three years.
That's not cheap, though most owners will appreciate there are a lot of complicated components in a vehicle like this that need monitoring and maintenance. It's worth reflecting, though, that the Toyota Land Cruiser (which has the same service intervals) costs $1,200 over two years – after that, services are uncapped on that vehicle.
A major additional benefit of LX ownership is membership in the Lexus Encore Platinum programme, which extends the regular Lexus service loan car collection and drop-off experience to providing buyers with valet parking vouchers – and, uniquely, access to borrow other Lexus vehicles at no extra cost four times within the first three years, for up to eight days at a time.
Running costs scorecard
Consumption
Below average
The final verdict
The Lexus LX 570 S is a unique offer on the Australian car market.
This is an off-road wagon that offers genuine capability underneath quite a flashy exterior. Like an AMG G-Class or Range Rover SVR, the LX 570 S is probably more about knowing what this vehicle could do, rather than what it would do.
It would be entirely possible to modify an LX to allow it to flourish on really difficult trails in the Australian bush.
Or, you could simply let the LX 570 S do what it does best – cruise the vast paved and gravel highway networks of Australia, as well as chauffeur its passengers around town in comfort, if not efficiency.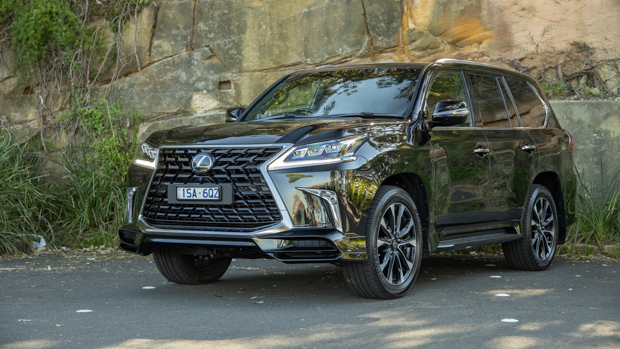 Certainly, the quality, old-school comforts and warmth of the interior fittings endear the LX 570 S to us.
If the outgoing generation of Land Cruiser and LX appeal to you, now would be the time to act.
We're not sure what the next-gen of this car will look like or how it will differ. No doubt there will be many improvements and efficiencies made – but snapping up the last of a great generation is almost never a bad idea.