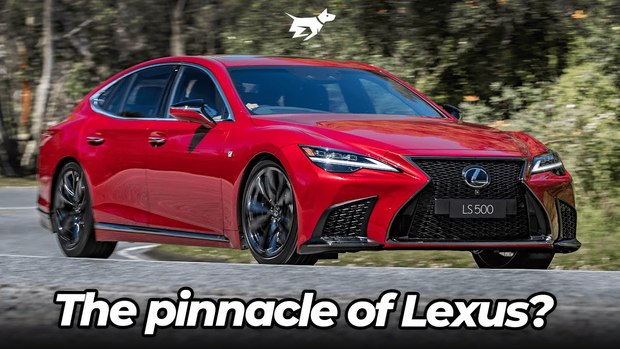 The Lexus LS is one of the most exclusive luxury vehicles on sale in Australia.
Sitting at the peak an eleven-strong Lexus model lineup, the long-and-low LS saloon represents the pinnacle of this brand's virtues of refinement, comfort, and quality – though the latest LS also has a noticeable dynamic streak.
The LS was the original Lexus model and it has retained its status at the head of the range, ensuring it is lavished with close attention despite selling globally in very small numbers.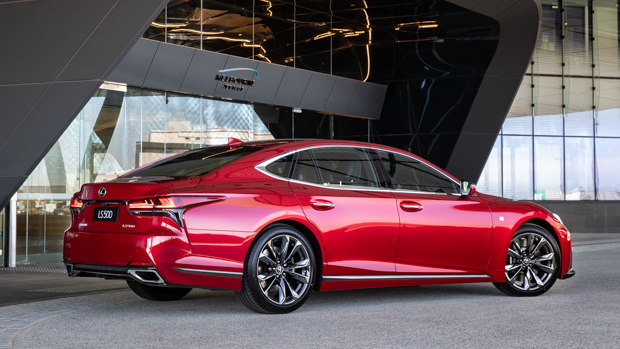 A subtle facelift to the fifth-generation 'XF50' LS for 2021 has seen two variants retained for Australian buyers, with a choice of turbo petrol or petrol-electric hybrid powertrains available in either guise.
We have the most athletic of the set on test. The $195,953 LS 500 F Sport pairs a strictly low-volume 3.5-litre twin-turbo V6 petrol engine with a sportier and more focussed chassis when compared to the more traditional, $201,078 LS Sports Luxury – a vehicle that aligns more closely to the comfort-orientated, chauffeur-driven space.
How does the LS 500 F Sport drive?
Though both Lexus LS powertrains are badged as '500', there is no five-litre V8 engine offered here. In fact, the fifth-generation LS is the first to be sold sans-V8.
The LS 500 on test uses a relatively new 3.5-litre twin-turbocharged petrol V6 that so far has not propagated anywhere beyond the LS within the incredibly broad Toyota Motor Corporation universe.
Similarly-named it may be, the alternative LS 500h hybrid utilises a different 3.5-litre direct injected V6 engine, pairing a naturally aspirated donk to a strengthened-for-2021 electric motor and battery for easy sub-10L/100km returns.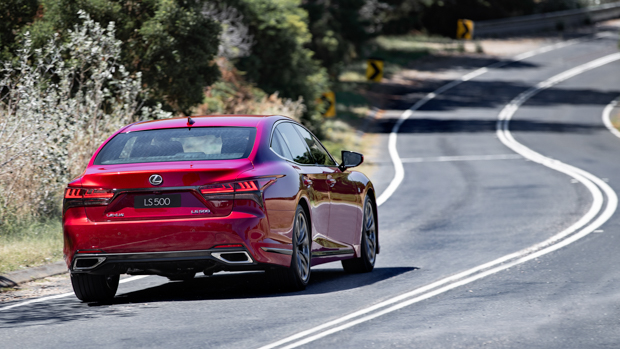 That said, anybody keen to see the future of Lexus combustion engines in action – and those that appreciate silky refinement above all else – will prefer the LS 500 we are driving.
It is an engine akin to what Messrs Rolls and Royce would once have called 'adequate' – euphemistically disguising the real pace on offer here.
Powerful, with 310kW on tap at 6,000rpm, the LS 500's defining feature is its plentiful torque: 600Nm is available in a wide plateau lasting from 1,600rpm until 4,800rpm. As a result, the LS 500 feels strong everywhere, delivering a quick five-second sprint from rest to 100km/h and blazing from 80-120km/h when overtaking in the country.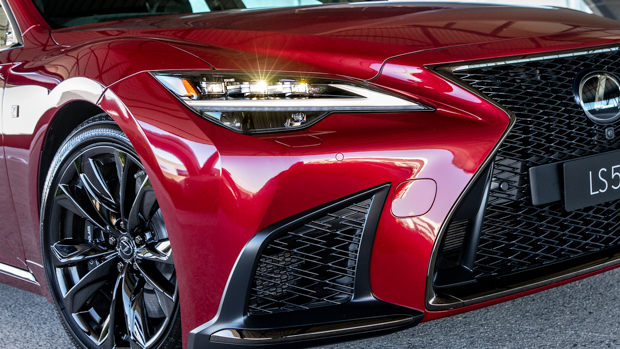 Subtle improvements to the acoustics of the engine for 2021 mean it sounds better, too; the twin-turbo six never sounded unpleasant but a gravelly note when revving to redline has now been tuned out.
It is no blaring five-litre V8 – and Lexus continue to use such an engine in other '-500' badged vehicles, like the forbidden fruit IS 500 sedan and lush LC 500 coupe and convertible – but it is more than acceptable when compared to six-cylinder engines offered in the Audi A8 and BMW 7 Series.
While straight-line rapidity is nothing new for this segment, corner-carving abilities remain fairly unique – and this is certainly the first Lexus LS to aspire to much more than deeply comfortable cruising capabilities.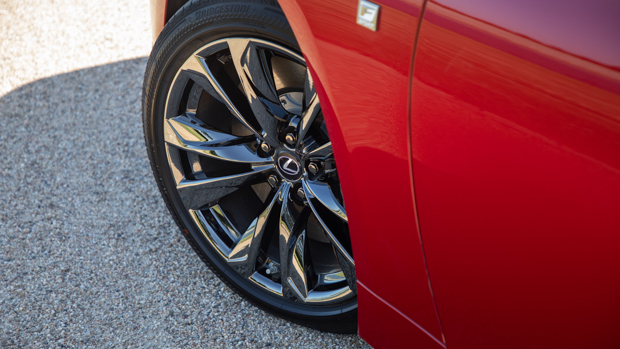 For those driving themselves – and driving with intent – the LS 500 F Sport holds a few tricks up its sleeve, with a long list of dynamic features included as standard.
The F Sport's laundry list of driver-first features takes in items not normally associated with limo-like saloons: a variable steering ratio, active front and rear stabilisers, rear-wheel steering, and high performance brakes – not to mention wider tyres than the Sports Luxury variant.
All of this results in an experience which, if not super sedan-esque, is at least quite competent for devouring a technical Australian backroad.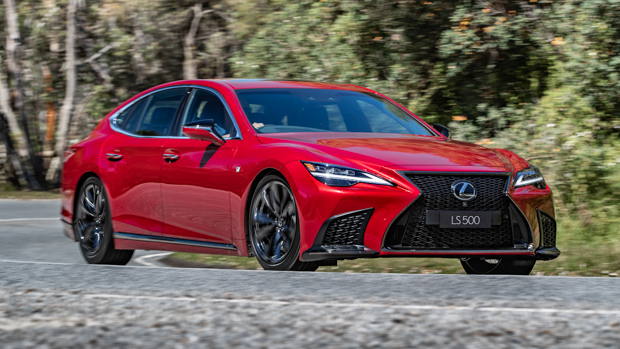 Quick steering, high levels of grip and composure assured by the F Sport's unique stabiliser configuration mean this big Lexus can be hustled at a rate highly unlikely to be matched by a careful owner. And thanks to the big brakes, it can stop.
Eerily, most of that work is done in near-total silence. An electric vehicle is more refined but the LS is packed with sound insulation – no doubt contributing to the considerable 2,230kg kerb weight. To be fair, though, this is just 5kg adrift of the Audi A8 50 TDI.
Our sole complaint about the LS 500 F Sport's driving experience relates to its ride, delivered by an adaptive, variable, height-adjustable air suspension system. While the LS is composed and well-cushioned most of the time, Australia's road-surfacing obsession with concrete edges can catch up this sedan more noticeably than we'd like.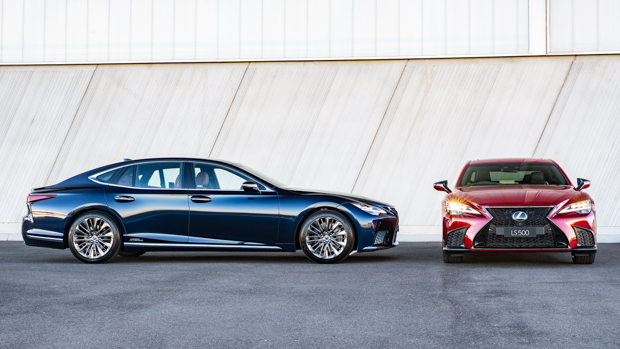 Part of the blame lies with the LS 500's 20-inch alloy wheels, which are finished in a handsome dark metallic finish on the F Sport. Wrapped in very low-profile rubber, there's probably not adequate sidewall to help cushion all blows that a Sydney road throws up.
On the safety front, the LS 500 is well equipped – with the F Sport receiving some features previously reserved for the Sports Luxury.
Forwards and reverse autonomous emergency braking (AEB) is included, as is front and rear cross traffic alert with AEB – plus junction AEB. The LS also offers lane tracing assistance, though its lane detection and steering is noticeably weaker than in rivals like the A8.
The adaptive cruise control is well-tuned, though, making freeway journeys more relaxing. Blind spot monitoring and a 360-degree parking camera is also included, along with a new Lexus Connected Services feature with an operator at the other end of the line to assist with emergency calls and automated collision notifications to emergency services.
How is the LS 500 F Sport's interior?
Beneath its F Sport-specific exterior that brings dark metallic accents to the fore, this more athletic kind of Lexus LS also has a sportier, more restrained interior than its sibling.
Around five thousand dollars more affordable than the Sports Luxury variant, the LS 500 F Sport foregoes wood trim and the richer interior colours in favour of three quieter interior combinations.
All F Sport variants are trimmed with Naguri-style aluminium trim, which can be combined with black, white/black two-tone or red/black two-tone semi-aniline leather upholstery for the seats.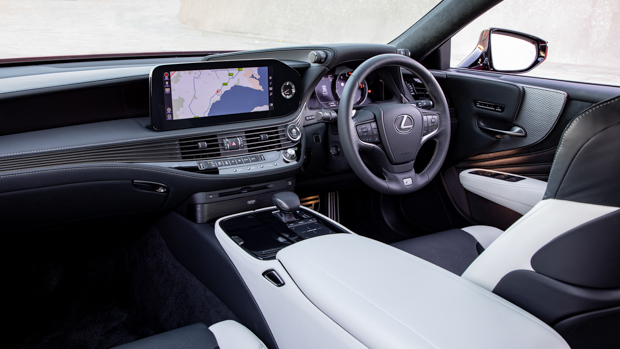 Meanwhile, the Sports Luxury variant offers a much broader choice of leather colours and ornamentation, with browns and tans available along with highly intricate Kiriko cut glass, rare woods and even tapestry textile inlays, some at additional cost.
The F Sport's interior speaks to the fact it is arguably pitched at those who might have might have owned a GS F sports sedan and want to upgrade to a vehicle that is even more refined – and at least a generation more modern.
The sliding eight-inch digital driver display is shared with cars like the GS F (as well as the original car to use that tech, the 2010 LFA supercar). Plus, there are F Sport logos embossed onto the headrests. There's no missing the sub-branding.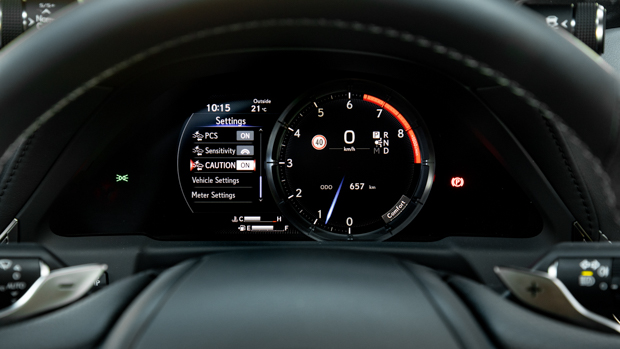 What is shared across both LS variants are the comfortable seats that offer excellent long-distance support, with the right mix of plushness and firmness.
While the range of adjustment initially seems minimal, a dedicated menu within the central cabin display reveals a wide range of air bladders within the seats that can be inflated and deflated at will – in fact, there are 28 directions of front seat adjustment. Heating and cooling are also standard up front.
Speaking of the screen, the 12.3-inch unit has been moved further toward the driver: like the updated RX SUV and IS sedan, the LS now possesses a touchscreen: hallelujah. While the redundant 'Remote Touch' trackpad is still found between the seats, targets on-screen are now a simple tap away.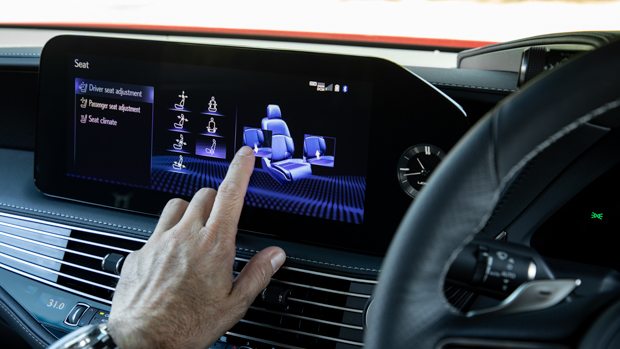 This is especially useful for interacting with Apple CarPlay and Android Auto, though Lexus is yet to move to the wireless versions of these technologies – unlike BMW and Audi. The Toyota organisation tends to be conservative, and reports of continual bugginess with wireless smartphone mirroring (including in these pages) seem to support such patience.
Sound is delivered by way of an enhanced 23-speaker Mark Levinson stereo with a subwoofer, and audio quality can only be described as exceptionally clear, and punchy. A CD player continues to be included for the old-school.
Build quality throughout the cabin is superb, with no rattles, creaks, or other untoward noises affecting the serenity – more than we can say for the last few high-end Audis we've driven.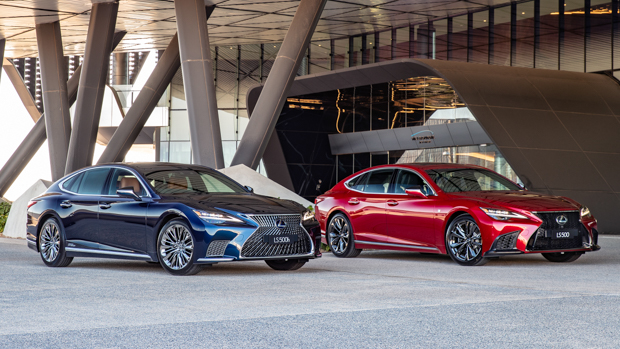 Where the Sports Luxury starts to make more sense to us is in the rear quarters. If these are going to be used any more than rarely, the five grand impost to step to the range-topper adds up.
The Sports Luxury adds upgraded rear outboard seats that include power reclining and sliding, along with a central rear touchscreen with extended seat and climate functions – along with niceties like dual 11.6-inch entertainment screens, a fridge, power blinds … the upgrade represents value for money.
Both variants do include luxuries like a sunroof, four-door fully keyless entry, a digital rear view mirror with camera, body temperature sensors to better inform the climate control, a heated steering wheel, four USB ports, and a true convenience in soft-close doors.
Beneath the power tailgate the F Sport does have more cargo room, at 480 litres – though this is only about as much as the company's smallest sedan, the IS. The Sports Luxury – with its more sophisticated rear seats – sees that number fall to a relatively compact 440 litres.
What are the LS 500 F Sport's running costs?
Nobody really expects a flagship sedan to run on vapours, but the Lexus LS is actually more affordable and easier to own than most of its rivals.
Acceptable fuel consumption for a powerful twin-turbo petrol engine is the start of the story: we had no trouble achieving a result of 12L/100km in combined driving, with high 9L/100km results on a highway run.
The LS 500 does demand to be filled with 95-octane premium fuel, as expected, and it's fair to say consumption will blow out if the car never leaves the city.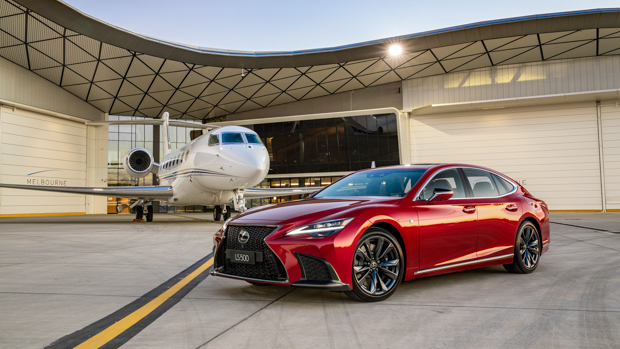 Lexus offer a four year, unlimited kilometre warranty across all of their vehicles. That's relatively good for the luxury segment: BMW and Audi offer only three years. However, the Mercedes-Benz S-Class is covered for five years – a standard Lexus should be matching by now.
Scheduled servicing of the LS 500 is completed annually or every 15,000 kilometres – whichever comes first. The first three services are capped in price at $595 at the time of writing, for a three year cost of $1,785, which is reasonably affordable for this segment. After the third year, service pricing is variable.
Like other Lexus L-tier vehicles, the LS 500 includes a three-year membership to this brand's Encore Platinum club, which delivers a number of benefits. These include a fuel discount, eight valet parking vouchers, and rather uniquely, the ability to swap into a different Lexus model up to four times for a maximum of eight days per trip.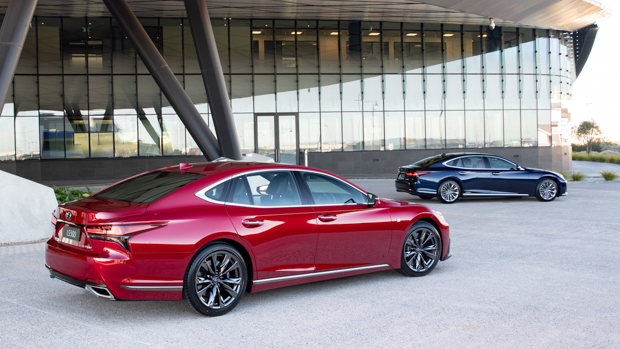 That means that you could buy an LS sedan, but tap into an LX 570 SUV for an annual trip to the snow – or an LC convertible for a coastal holiday.
Encore Platinum was only launched in Australia in 2020, and we expect that at the end of the initial three years that it will be possible to extend the included membership for an additional cost.
The long-running benefits of the Lexus Encore programme also apply to the LS, including the provision of a service loan car, and collection and re-delivery of the vehicle at maintenance time.
The final verdict
Buying a Lexus LS is a natural destination if you love this brand – the quality, the refinement, the attention to detail that some longer-established rival manufacturers simply cannot match.
To us, the lush Sports Luxury makes the most sense – but if what you want is the unusual combination of a top-end sedan measuring over five metres in length plus some genuine fast-cornering capability, the LS 500 F Sport makes a case for itself.
The additional benefits that flow from the Encore Platinum programme adds an extra dimension to the appeal of the LS, too: the ability to purchase this car but still tap into the breadth of the Lexus lineup is genuinely attractive.