Lexus today announced a new IS 500 F Sport Performance sedan that crams a five-litre V8 engine under the bonnet of the heavily facelifted 2021 IS.
The IS 500 will only be built in left-hand-drive and sold exclusively in North America, ruling out any chances of the high-performance sedan coming to Australia.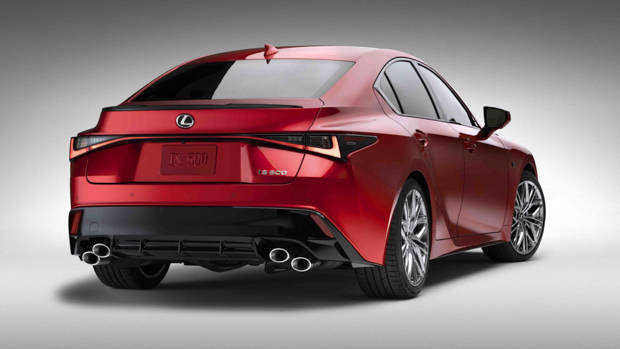 The bittersweet announcement means Australia will miss out on what could be one of the last cars to receive a traditional naturally aspirated V8, with rival Mercedes-Benz conceding that they will be using four-cylinders across the upcoming C-Class lineup – including AMG variants.
The naturally aspirated five-litre V8 powering the IS 500 makes 352kW of power but only when rung out to 7,100rpm, with the 536Nm torque peak arriving a little earlier at 4,800rpm.
All that power is sent through the same eight-speed torque converter automatic fitted to the IS350 F Sport, to a torsen limited-slip differential (LSD) nestled between the rear wheels.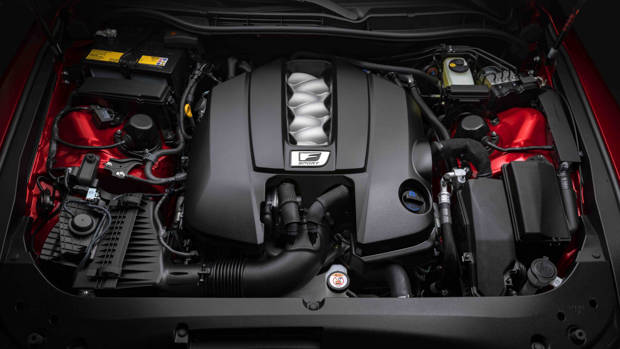 In fitting the bigger engine Lexus has added an additional 120kW/156Nm punch along with 65kg heft over the IS 350, for a total curb weight of 1765kg. Giving the new IS range-topper a 0 to 97km/h (60mph) acceleration time of just 4.5 seconds.
Lexus has given the IS 500 plenty of flare to match its performance starting with a quad exhaust system said to be inspired by the RC F coupe, along with a huge rear diffuser, dark chrome and window trim.
To fit the larger engine Lexus raised the height of the bonnet by 5.08 centimetres, giving the IS 500 some aggressive creases to separate it from its V6 and four-cylinder powered siblings.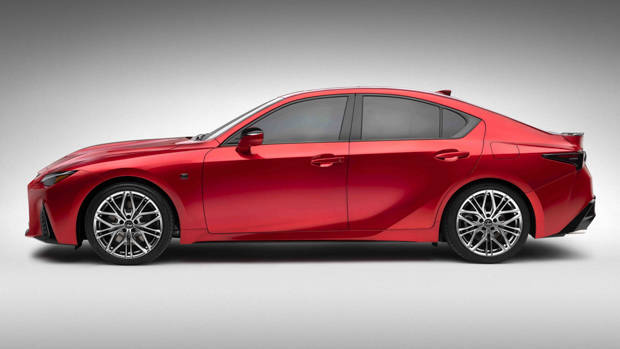 Lexus has fitted its Dynamic Handling Package as standard to keep the power balanced. The package includes the LSD and an adaptive suspension system that automatically adjusts for the changing road conditions.
Lexus has also recruited Yamaha to design the rear performance dampers that are said to increase comfort around town and allow for better on-limit handling on the track.
While not every owner will take their IS 500 to the track, Lexus has installed larger 14.0-inch two-piece aluminum front brake rotors and 12.7-inch rear rotors to assist with cooling – with aerodynamic tweaks also forcing more cold air towards the discs.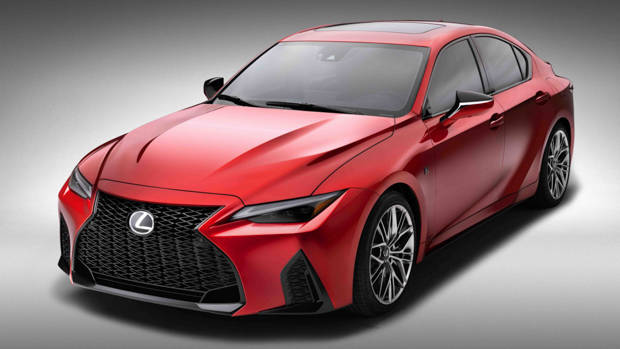 In an effort to cut weight, a set of split-10-spoke 19-inch Enkei alloy wheels sit at each corner, saving 450 grams per wheel at the front and 900 grams at the rear compared to the regular 19-inch wheels offered in the F Sport trims.
The IS 500 F Sport Performance is expected to go on sale sometime between late September and December in 2021, with Lexus understood to only be building the V8-powered variants in left-hand-drive.