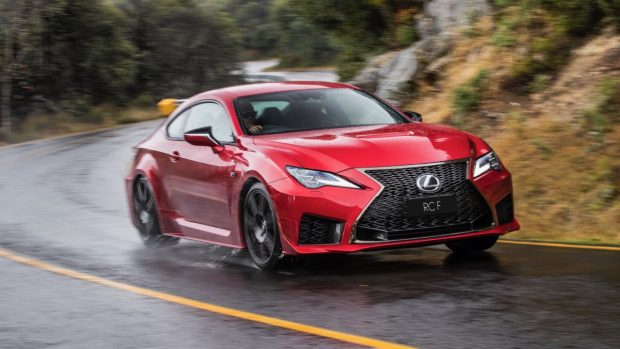 For a traditionalist, the performance car universe must be feeling a little topsy-turvy lately. In a world where two-tonne "coupe-SUVs" qualify as sports cars and where even Mercedes-AMG are working on hybrid four-cylinder hybrid engines, there are some unlikely saviours for fans of the internal combustion engine. Lexus, the Japanese luxury marque once known for its safe but staid saloons, is such a saviour.
Enter the 2020 Lexus RC F. The F is a nod to Japan's Fuji Speedway – a place where the 351kW/530Nm bent-eight would come in handy. Yes – if you weren't aware, Lexus sells a two-door with a proper V8 under the bonnet. And unlike the Mercedes-AMG C63 S that is this car's most visible rival, the Lexus eight goes without turbocharging. The Euro coupe set have all traded away atmospheric engines for turbo units calibrated to meet ever-tightening emissions regulations.
See what we meant about unlikely saviours? About the closest thing you can buy in 2019 to, say, a Holden Monaro, is a V8-engined Lexus coupe. Without force feeding, and unlike many of its rivals, the RC F loves to rev out to its over-7,000rpm and makes an awesome noise doing it. It's loud both outside and in, especially with our optioned-up test car's titanium pipes.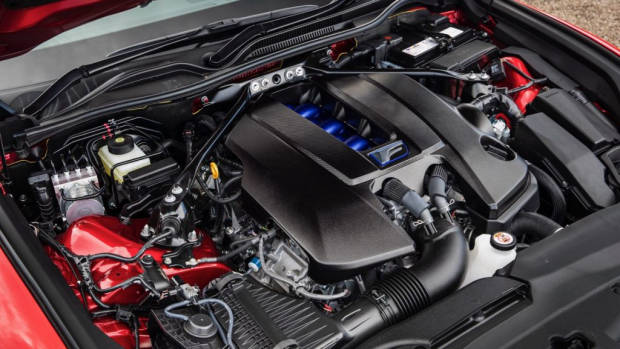 In standard form ($133,771, $144,006 driveaway), the quad-piped RC F already sounds the business but buyers in the know – and in the money – will tick the box next to the $29,161 Enhancement Pack 3 option. That endows the RC F with most of the goodies found on the hardcore RC F Track Edition that we drove at California's Willow Springs Raceway earlier this year – without the Track's in-your-face visuals. The $165,332 Track Edition is almost sold out.
Almost thirty grand on an option pack sounds like a lot. It is a lot. But given it includes the Track Edition's Brembo carbon ceramic brakes, a lighter, zingier titanium exhaust, carbon fibre trim inside, very light BBS alloys and a sunroof, the arithmetic slowly starts to make sense. The stoppers, in particular, are immensely useful in keen driving.
As we found at on the fast Willow Springs tarmac, an RC F equipped with carbon ceramic stoppers will pull up with confidence-inspiring alacrity. And that's useful, given it weighs 1,820kg – which is plenty. Despite the RC F's reputation as a bit of a porker, though, it's actually 20kg lighter than AMG's C63 S coupe.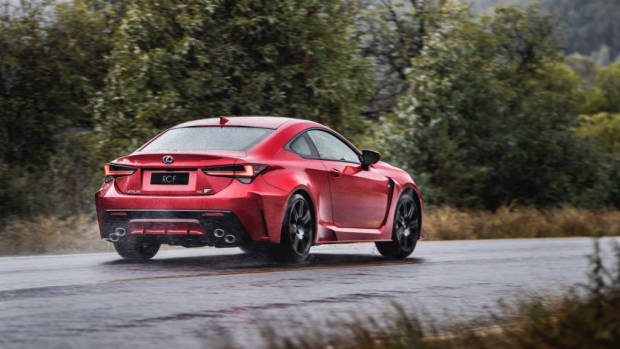 Not that the Lexus feels especially heavy when being driven with intent. It is planted and secure, sure – and it requires a rather deliberate driving style on account of its relatively large footprint – but stringing together a mountain road never descends into a flip-flopping experience of severe weight transfer.
Quite the opposite: driving the Lexus RC F through corners is a fluent, fast experience. The steering is mid-weighted and while feedback from the road is fairly vague the fast rack works to terrific effect, the front end turning in with an urgency that belies the presence of a heavy eight-cylinder hanging over the front axle.
Numerous suspension changes coincided with the visual facelift to this car. And while the RC F still has one or two ungainly angles, the substantail design improvements are mirrored by equally impressive refinements under the skin.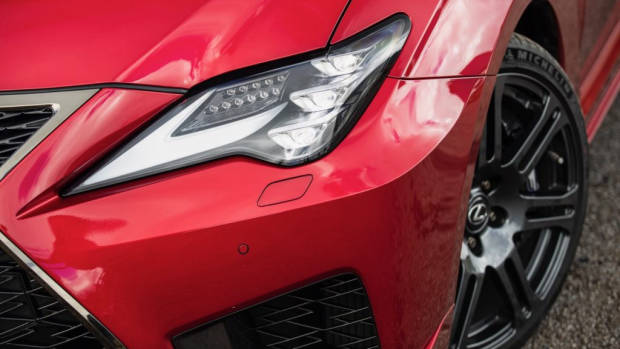 The whole experience feels a little lighter but more importantly, this car is more balanced than before. The ride quality is firm but compliant, endowing the RC F with a particularly enjoyable grand touring character. It is totally comfortable cruising on the highway but with its variable dampers switched into Sport Plus, it hunkers down in corners with good body control.
There is no doubt that the RC F isn't as fast as its key German rivals, though. The turbocharged-V6 Audi RS5, turbo-V8 Mercedes-AMG C63 S and the outgoing turbo straight-six BMW M4 all achieve faster 0-100km/h times and they each feel quicker than the Lexus in point-to-point environments as well.
But to harangue over acceleration statistics is to miss the point. If buying the fastest coupe in this set is your key metric the Lexus will not stack up. It's hardly slow, but the point of the RC F is to offer a slightly more laid back, more traditional sports car experience. Its relaxed yet flexible atmospheric V8 is the case in point.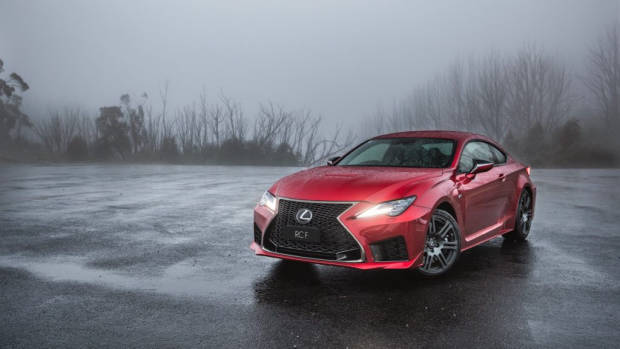 At low revs the five-litre unit is placid and refined – apart from the extroverted auto-rev on ignition, you could drive this car gently and know very little about what lurks beneath. Push on, though, and a manic change occurs at the cam-switch around 4,000rpm. The engine note switches from rumble to mechanical scream as the tacho sweeps through at another 3,000rpm to redline. As Jekyll-and-Hyde experiences go, it's up there. The eight-speed torque converter automatic chases economy in its normal mode but offers fairly snappy shifts when you dial up the pace.
As expected – it's a high-revving atmo V8 after all – the Lexus does like a drink of premium-octane petrol if you use it to its capacity, but commute in it gently and low-teens consumption is just about achievable.
And commute in the RC F you can. It easily rides comfortably enough to daily and the sumptuous interior is a place we want to spend time in. When asked whether a stripped-out cabin would eve be offered on the RC F, Lexus Australia boss Scott Thompson told Chasing Cars it would not – because even F versions still have to be a Lexus at heart.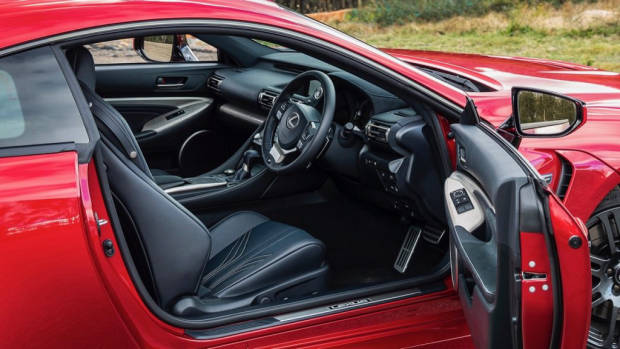 The proof is in the interior of this car, which is covered in swathes of leather, Alcantara and metallic trim, not to mention plenty of tech and a monstrous Mark Levinson stereo. All of this has to add up to considerable weight but realistically, the RC F has to be able to do double-duty as a luxury coupe and a manic V8 sports car. It does that well.
The leather pews up front are big-boy lazy and comfortable, heated and ventilated and with a broad range of adjustment. Likewise, the electric steering column lets you settle into one of the better driving positions in this segment – well done, Lexus. The digital gauges are dating in appearance but are still clear, while the crisp non-touch widescreen now includes Apple CarPlay and Android Auto. Navigation and DAB digital radio are also built-in.
Technically there are two rear seats though these are so compact that sane owners will prefer to use this area as a parcel shelf, supplementing the 366 litre boot. Quality abounds throughout the cabin and there is a feeling that this interior is well-built and will last – the same is true of the tried-and-tested V8 petrol engine under the bonnet.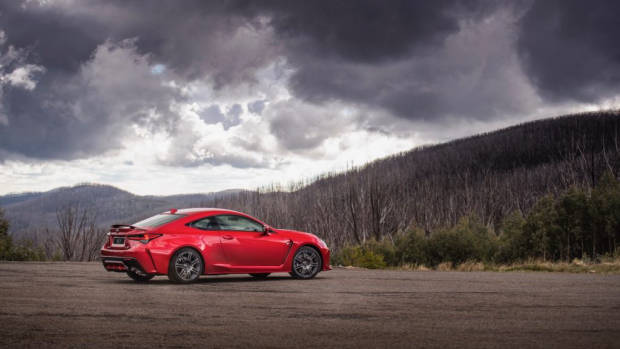 A four-year, 100,000km warranty is stronger than every other luxury manufacturer in Australia, even if we would like to see Lexus adopt parent-company Toyota's five-year unlimited warranty in the fullness of time.
What is certain to us is that vehicles like the Lexus RC F simply cannot be long for this world. The evidence for that submission is in the disappearance of naturally aspirated rivals for the Lexus coupe, which once abounded. The BMW M3 went turbocharged in 2013; the AMG C63 ditched its 6.2-litre atmo V8 in 2015 and the Audi RS5 jumped at the same time.
Naturally, we believe it's important that automotive emissions are reduced in line with smarter climate policy. But there will always be a place in our hearts for limited-number indulgences like the old-school Lexus RC F. That manic eight-cylinder growl will never go out of style, and buyers looking for a tech-laden but traditionally-engined coupe need look no further.