Lexus have updated the specification of their attractive RC two-door coupe range, adding more safety and convenience technology while generally refining the driving experience – though it doesn't pick up the new looks of the new IS sedan that it is broadly paired with in the Lexus lineup.
The RC 300 Luxury starts off the range from $67,990 before on-road costs, with the V6-powered RC 350 F Sport headlining the Australian line-up from $78,736 before on-road costs. Those new prices represent modest increases of $100.
Outside and inside, the RC remains visually identical, which is no bad thing in our eyes. This is a handsome coupe with distinct Japanese character and a sumptuous interior.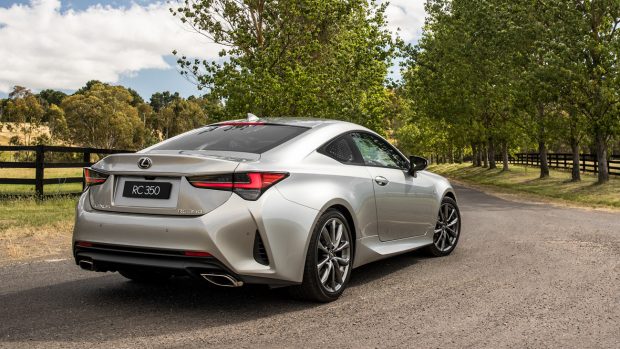 Lexus offers two engines in the mainstream RC line-up – that is if we discount the V8-powered RC F. The less powerful is the '300′, a two-litre turbocharged four-cylinder producing 180kW and 350Nm, roughly equivalent to a Mercedes-Benz C300 or BMW 430i.
Headlining the regular RC is a naturally aspirated 3.5-litre V6 that is somewhat peerless in this segment. Outputs are 232kW and 380Nm, down on something like the Audi S5 (while being substantially more affordable), and with a unique soundtrack. It's a motor found in rather diverse places, from the Toyota Camry to the Lotus Evora.
Both engines will be hooked up to an eight-speed torque-converter auto which has been recalibrated. When in any of the three modes – Normal, Sport, or Sport S+ – the transmission will react better to road scenarios and driving styles. Additionally, Normal has been reworked to preference higher gears, while in the sportier modes the transmission will shift down earlier and hold gears for longer.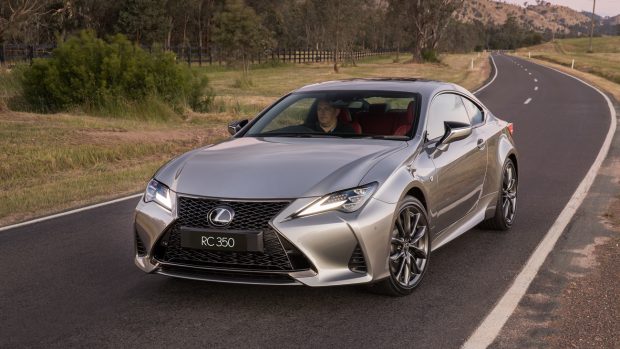 Finally, the Japanese brand has abandoned the archaic foot-brake in favour of a much classier, electrically actuated parking brake. Also new is the inclusion of adaptive cruise control with stop and go functionality across the range.
To improve handling, Lexus has tweaked anti-roll bar diameters and made the upper rear suspension arm out of higher-strength alloy. Small changes, but Scott Thompson, Lexus Australia chief executive, said the updates "further the Lexus reputation for making regular and thoughtful improvements to our entire range".
Lexus retains typical high specification throughout the RC range, for $67,990 plus on-roads the RC 300 packs plenty of goodies in. Things like leather-accents heated and ventilated, electrically adjustable seats, ten-speaker stereo, LED headlights and a 10.3-inch infotainment screen bests many competitors.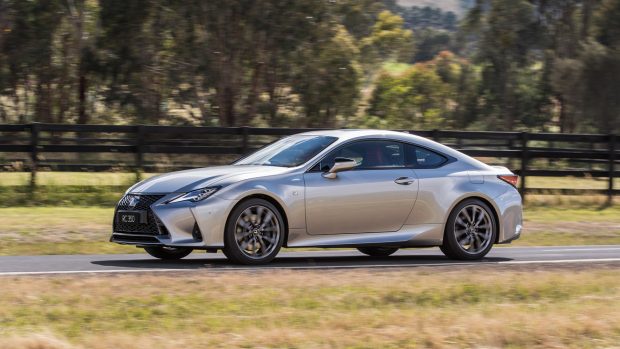 Safety equipment is respectable as well, with front and rear parking sensors, blind-spot monitoring, lane-departure warning, rear cross-traffic alert, auto high-beam and AEB with pedestrian detection all included.
There are two enhancement packs available; the first adds 19-inch alloys (up from 18s) and a bumping 17-speaker Mark Levinson stereo for just $1,000. For $4,690, you get those two upgrades along with a smart key entry system and sliding sunroof.
The more affordable V6-powered RC is the 350 Luxury from $70,736. This spec largely mirrors the RC 300 Luxury but does include adaptive suspension. The same Enhancement packs are available for the RC 350 Luxury.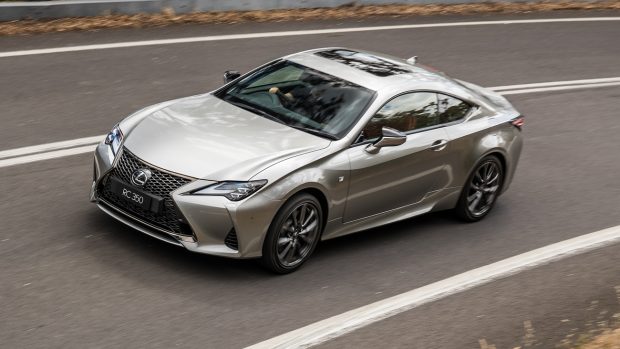 Those after a crisper drive might find the RC 300 F Sport tantalising – it adds wider 19-inch alloy wheels, sportier adaptive suspension tuning, F Sport steering wheel, cluster and interior trim, a rear limited-slip differential and LED lighting for $75,736. A sunroof is optional and costs $2,500.
Topping out the RC range is the $78,736 RC 350 F Sport, mirroring the RC 300 F Sport with the beefier wheels and tyres, and $2,500 optional sunroof. Two new colours have been added for 2021; Sonic Chrome and Celestial Blue.
Lexus RC 2021: prices in Australia
All prices are before on-road costs.
RC 300 Luxury: $67,990
RC 350 Luxury: $70,736
RC 300 F Sport: $75,736
RC 350 F Sport: $78,736