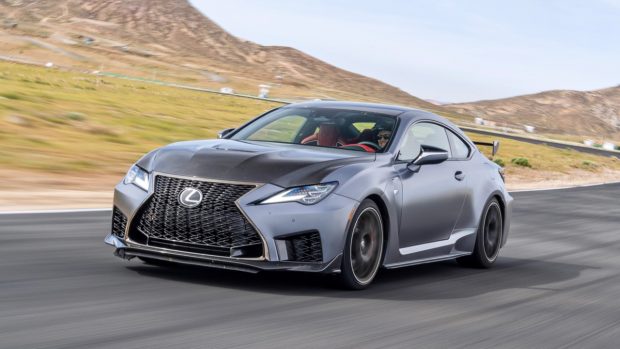 Hallelujah. For a brand once known best for beautifully made but staid sedans, Lexus have finally shown that not only can they make a properly exciting performance coupe – but they now have form, too.
Few petrolheads have not heard of this brand's screaming V10 supercar of 2011, the LFA – but when you're selling a car for $750,000, there's room to build something special.
Cultivating cult status is a good deal harder closer at a fifth of that price. Take the RC F two-door: a hi-po Lexus two-door that has been on Australian roads since 2014 without troubling the super-trio of the Audi RS5, BMW M4 and Mercedes-AMG C63 too greatly.
Enter a comprehensive range of revisions – both visible and invisible – for the 2020 RC F, and there's a chance all of that could change. Weight has been cut, the lines have been massaged and a limited-slip diff has been added, and the atmospheric V8 hasn't gone anywhere. Plus, there's a rather interesting new halo variant in the range.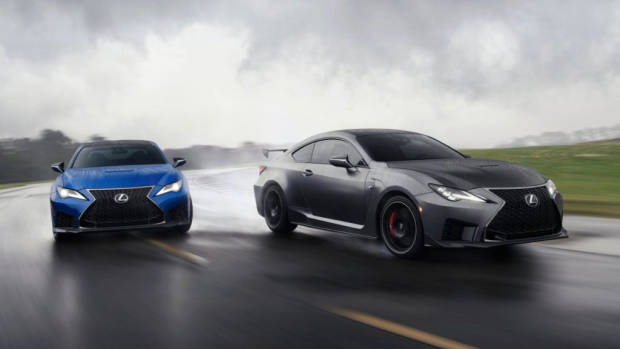 The revised RC F (left) and new RC F Track Edition (right).
Along with a massaged front and rear that beautify and simplify the RC's appearance, the 2020 Lexus RC F update brings with it a limited-edition top-end grade, badged the RC F Track Edition. The lightest and most focussed RC F yet, the Track Edition essentially extends the recipe introduced with the pre-facelift RC F Carbon and turns up the seriousness.
We travelled to Willow Springs International Raceway, an hour outside Los Angeles, for a day's worth of circuit time in the Track Edition, which sheds 65kg over last year's RC F, a feat achieved by the extensive use of lightweight materials and the omission of some heavier luxury items in the cabin.
As the images and video here reveal, the RC F Track Edition communicates its intentions pretty clearly. Available in a narrow range of monochrome paints, led by a limited-run matte grey, the Track is distinguishable by its carbon fibre reinforced plastic bonnet, roof and front spoiler, plus an enormous wing that sports an 'F' badge in the carbon thread – a nod to the LFA.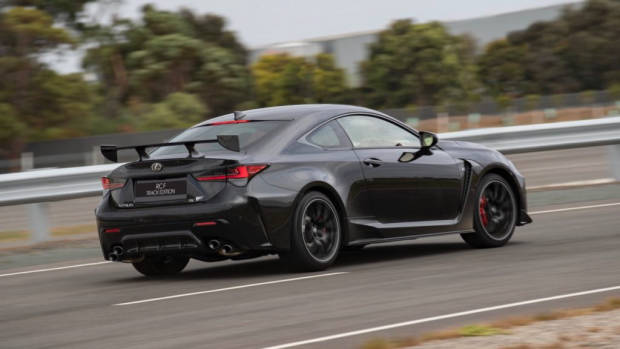 Quad-stacked tailpipes are now a familiar cue to Lexus high-performance F cars, but here on the Track Edition, they're built from titanium – so they're lighter and they sound meaner to boot.
All of that carbon has cut weight on its own, but the engineers are particularly proud that 25kg has been saved from unsprung mass. Suspension components have been lightened while retaining strength – even hollowed out where possible – while carbon ceramic Brembo brakes at all four corners sit behind lightweight BBS alloy wheels. Deep cuts to the unsprung mass should mean tenacious, constant grip…
There's also been a cursory effort to cutting the level of luxury in the cabin from 'opulent' to merely 'plush'. A cupholder disappears, while the electric steering column from the standard RC F (a grade which continues on, priced at $134,129) is swapped out for manual reach-rake. Oh, and the front seats, trimmed in black and red alcantara, do not feature the heating and ventilation systems of the standard car.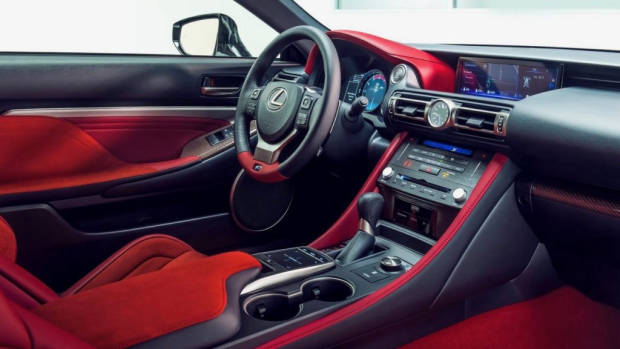 Ultimately, that's it in the cabin: Lexus could have gone much further – say, by removing the Mark Levinson stereo, by switching fine metal trimming for plastic, or by ditching tiny back seats entirely – but they didn't. Why? There's a minimum standard to be badged as a Lexus, the brand's Australian managing director Scott Thompson told us. Light cloth seats, for example, would not qualify as Lexus-grade.
Plenty of finery remains, and the RC F Track Edition feels as luxurious inside as an Audi RS5. The build quality seemed to be as meticulous as usual at Lexus, with tight shut lines, high-grade secondary materials, and gorgeous damping of buttons and switches.
The bucket seats are very supportive and as such, not all body types will fit comfortably – but we found the driving position to be low and sporty; the ergonomics of the RC remain good, with the small, perforated steering wheel and paddle shifters falling right to hand. Only the laughably bad Lexus Remote Touch infotainment system continues to marr the experience, but this counts for less in a track-focussed special.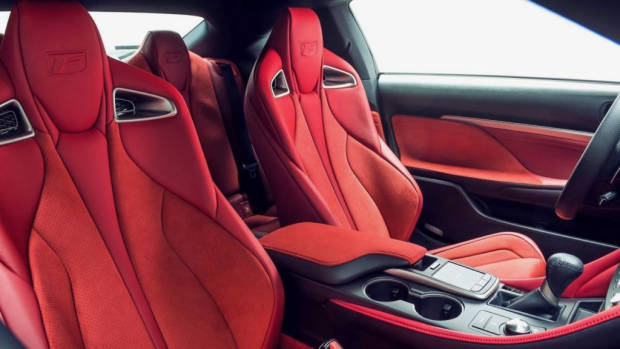 On paper, there's a back seat but even with our forward-set driving position room in the back would charitably be described as extremely tight. It's a parcel shelf. The boot measures a roomy 366 litres mainly due to the RC's conventional three-box roofline.
But this car isn't about practicality. It's about performance, even if managing director Thompson acknowledges most of the ten examples coming to Australia will not see track use. In the same vein as knowing a Range Rover can conquer the Welsh mountains, RC F Track Edition owners will be aware of the car's talents even if they don't push their own machine so hard.
Under the carbon bonnet is the same five-litre naturally aspirated V8 engine used in the 'everyday' RC F, in the GS F sedan, and in the high-end LC coupe. The Track Edition doesn't get beefed up in the powertrain department, though this engine is plenty powerful, making 351kW at 7,100rpm and 530Nm of torque from 4,800–5,600rpm.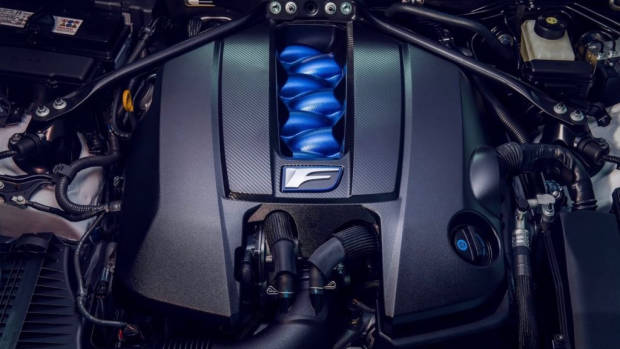 Unlike all of this car's key rivals, Lexus have so far eschewed turbocharging for the eight-cylinder engine, and unlike some Lexus products, the RC F Track Edition is not an electric hybrid. It's a big bent eight petrol, plain and simple. This car is an antidote to the coalescent engine performance of the force-fed Germans.
There have been some changes to the 2UR-GSE engine over the pre-facelift RC F. Chief among these is the opening of the second intake now occurs 800rpm lower at 2,800rpm – the engine surges harder and sounds much louder with fewer revs aboard.
Plenty of desirable traits carry straight over. This V8 loves to rev right until its high 7,500rpm redline: by contrast, the twin-turbo V8 AMG C63 taps out at 7,000rpm while the turbo V6 Audi RS5 shifts gears at just 6,700rpm. In the Lexus, it feels like you'll never run out of gear.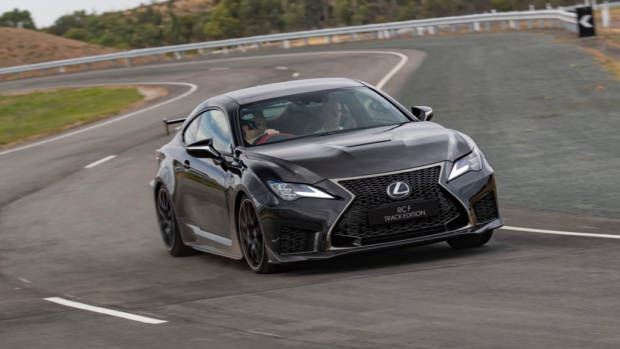 While the engine sounds oddly subdued – and feels a little lethargic – beneath 2,800rpm, once the second intake gets going, things change and you're headed toward the horizon with noise and vigour. There's a throaty bellow from the engine and a zing to the titanium exhaust. The RC F Track Edition feels like an event to drive hard.
Point-to-point the atmospheric Lexus will not catch its German rivals, though. With a 0-100km/h time in the low four second range, the all-wheel-drive Audi RS5, which makes use of a 2.9-litre turbo V6, is nearly half a second quicker to triple digits.
Like any naturally aspirated engine, the RC F does its best work if kept on song near peak torque, but there is enough twist in this engine that being caught in a higher gear isn't much of a hindrance. At Willow Springs, the spread of deceptively technical corners made this a frequent occurrence as the track was learnt.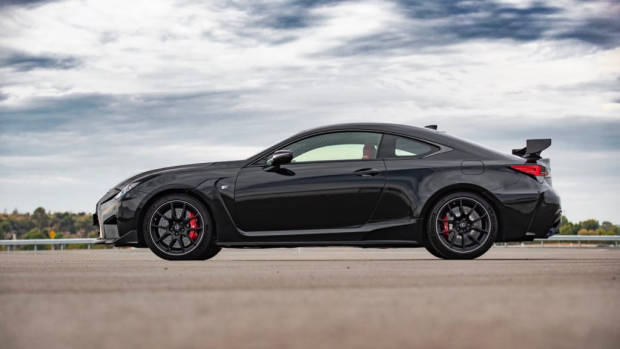 The gearbox itself doesn't hit the high notes of the Audi's eight-speed but the Lexus's torque converter 'box is more endearing than BMW's frantic M-DCT dual clutch unit that sees service in the M4. Big paddles aft of the steering wheel make shifting easy on the fly but we'd prefer it didn't beep as you head north of 7,000rpm.
There are four fixed drive modes and a customisable setting, and we preferred 'Sport' to 'Sport Plus' on track. Sport Plus initiates a frenetic shift pattern in the gearbox that blips gears down with extreme aggression – more than we'd like, but ultimately, taking manual control of the gears through the paddles is the way to go.
Even though the Track Edition doesn't benefit from more power or torque than the standard car, it makes better use of the available pace thanks to vastly better stoppers. The Track Edition sports four-corner carbon ceramic Brembos with 380mm discs all around.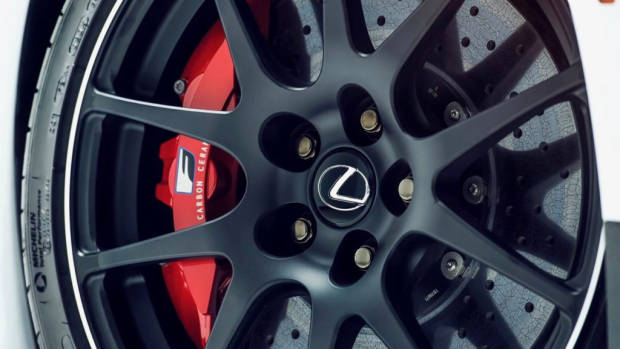 Stopping power goes from merely acceptable to prodigious with the carbon ceramics, which will also be available as part of an enhancement pack on the regular RC F. Stopping distances feel considerably shorter; keen drivers will quickly take advantage of the higher limits of the Track Edition. That'll apply just as much on a mountain pass as on a circuit. Switching to carbon ceramic brakes alone cuts out 22kg.
Both versions of the RC F turn in more assertively than a vehicle with a large V8 on the front axle deserve to do – though despite the weight loss in both variants, there is no disguising that the RC, like its rivals, isn't exactly a featherweight. The 1,715kg Track Edition does dive for corners with a little extra enthusiasm thanks to a lighter front spoiler hewn from carbon, but there isn't much in it.
Lexus point out that the Track Edition is actually lighter than the rear-drive AMG C63 S coupe or the all-paw RS5, and that is an achievement, but you still need to exercise patience and due care when pushing the RC F towards the limits of grip.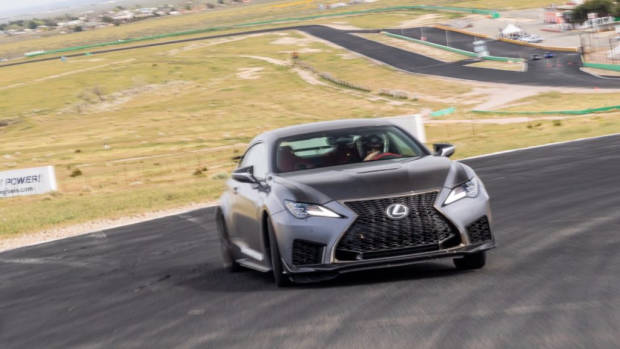 The new RC F Track Edition: easy to get sideways.
We love the halfway-house stability control mode selectable by a short tap of the ESC button which prevents full-circle rotations but allows a high degree of throttle steerability. In a lower-speed uphill left-hander at Willow Springs, it wasn't hard to get the Track Edition fully sideways but in full control. The switch from active torque vectoring to a Torsen limited-slip differential on the facelifted RC F has made rear-end adjustability more linear and predictable.
Michelin Pilot Sport 4S tyres, customised in this Lexus application, are fitted to both cars on 19-inch wheels and it could be argued that the Track Edition deserved an even higher grade of rubber. Certainly, the tyres were the easiest weak link to identify as circuit miles accumulated at Willow Springs, which carries a fast and demanding layout that is hard on rubber.
Distilling the differences between the normal RC F and the Track Edition was a pretty quick task. The $134,129 RC F feels like a properly fast and involving grand tourer, while the $31,561-dearer Track Edition feels a good thirty percent more focussed.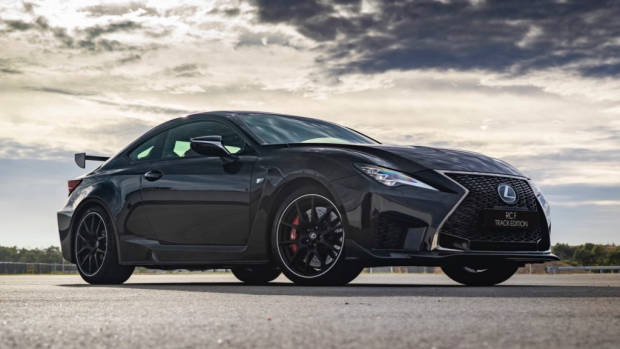 Because the unsprung mass is considerably less on the Track Edition, roadgoing ride quality will almost certainly be worse than the standard car; we didn't test this as the two grey Track Editions on hand were not street-registered. From experience, the standard RC F is firm but compliant on Australian roads. If the Track Edition is more buttoned-down than an M4 Competition, it will be doing well. We shall see.
We'll have to wait to evaluate the ride of the facelifted set of RC F grades, though, because a number of suspension changes have been made, including a shift to partially hollowed aluminium support mounts and control arm brackets in a move away from steel.
As mentioned above, the Australian allocation of the RC F Track Edition is very small – just ten full-fat examples will come down under. However, most of the Track's mechanical upgrades, save for the extroverted rear wing and exterior carbon – will be available on the standard RC F if you tick 'Enhancement Pack 3' for $29,161.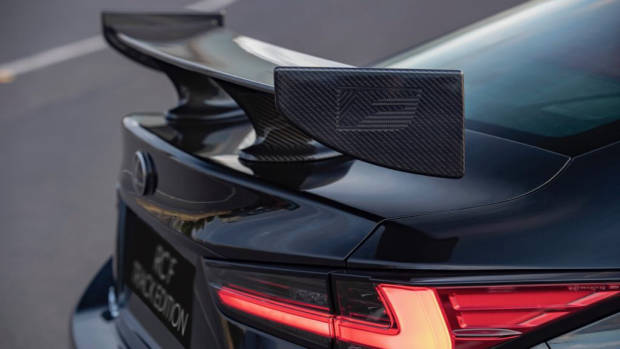 This option package takes an ordinary RC F and applies the BBS alloys, Brembo carbon ceramic brakes, titanium exhaust and carbon fibre interior trim. Essentially, it's a sleeper version of the Track Edition. Once the allocation of Track Editions is exhausted, this will be the only way to secure an RC F with a more serious setup.
Ownership credentials remain a point of pride for Lexus; the four-year warranty is a year longer than this car's key rivals offer while a personalised service experience with the provision of a loan car continues to be a unique selling point for this Japanese marque.
So, would we buy an RC F Track Edition over one of its well-established German rivals? It's a hard call. If outright pace is the priority, then probably not. The Lexus is an old-school hotrod, leading with its bellowing atmospheric V8 and terrific engine note. The Track Edition builds in prodigious stopping power and there's good grip to be found, too, but it isn't the fastest of this set. If your priorities are one-dimensional – nothing wrong with that – head to Audi.
If they aren't, then the Lexus RC F Track Edition is an endearing vehicle. The Track Edition has gotta be one of the last of its kind: a free-breathing petrol V8 with no turbocharging or electrification in sight. It guzzles fuel as it screams towards redline. It's throttle-steerable while making you feel secure in approaching its relatively high limits. It's not the fastest point-to-point two-door in the segment, but it may well be the most characterful – and for most drivers, character will ultimately be the trait that rewards most in the long run.