Remember when the BMW 3 Series started outselling the once-invincible Ford Mondeo in Europe? It was that moment when premium became mainstream, and mainstream became yesterday's aspiration.
Now we've reached the point where premium-medium sedans like the Lexus IS are so far down the pecking order in lieu of SUVs that when it comes time for a new generation, 'heavily facelifted' has become the new 'all-new'.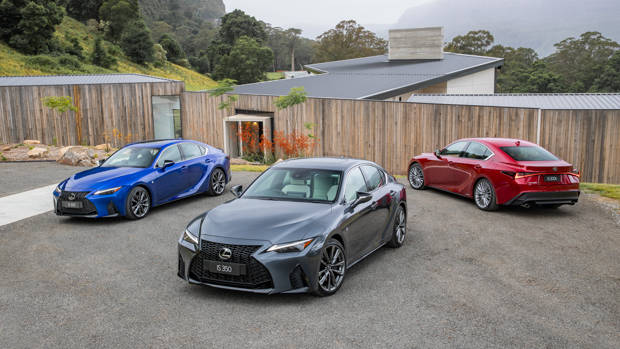 This 2021 Lexus IS might look fresh but it isn't. Beneath its pumped guards, sleeker rear roofline, tweaked door panels, and restyled front and rear ends, it's pretty much the same IS that launched back in 2014. Yet there's also much to be commended about the quality of its makeover.
The IS's former deputy chief designer is now the one holding the reins, and his intimate knowledge of the design means he saw "opportunity" in this extensive update – how to make a good car better.
You could cynically argue that dwindling sales in the premium-medium class has instead placed greater emphasis on the next-generation Lexus NX medium SUV, but then that would be selling short the solid effort that is the 2021 IS.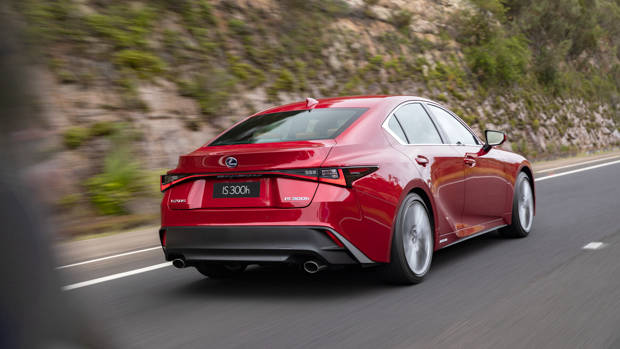 While the IS's body width has grown by 30mm, its tracks have expanded by 45mm up front and 35-55mm at the rear (depending on wheel size), and that's something you can both see and feel. From front or rear on, the new IS looks so muscular and coupe-like, you could be fooled into thinking it's a new-generation RC two-door.
The suspension has been given a thorough once-over too. Steel components such as the control arms have been swapped out for aluminium, saving up to 20 percent in weight, and all four coil springs are 20 percent lighter. In conjunction with some weight-saving measures in the V6's internals, the '21 IS is between 20kg (turbo-petrol four) and 30kg (petrol V6) less chubby.
It's still a heavy car though – 1655kg in its lightest form – and no amount of chassis fettling at Lexus's new 'baby-Nurburgring' Shimoyama test track can overcome that.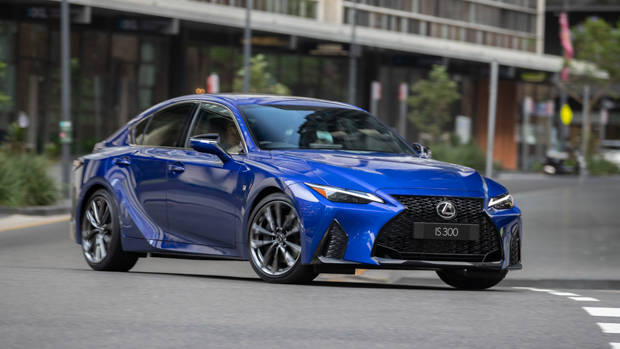 Besides some slight modifications to the V6's hardware and outputs (and a new plumbed induction-sound-enhancer to its firewall), all three drivetrains are carry-over, including the 164kW 2.5-litre four-cylinder petrol-hybrid.
The range-topping IS 350, with its 232kW 3.5-litre V6 has the legs at the upper end (and a near-7000rpm ceiling) but the IS 300's 180kW 2.0-litre turbo-petrol four is all over it at low revs. Just look at those torque outputs – 350Nm from 1650-4400rpm for the IS 300, 380Nm from 4800-4900rpm in the V6-engined IS 350.
At the bottom end of second gear, the sweet turbo-four surges ahead, though there's definitely some compensatory old-school charm listening to the V6's snarl.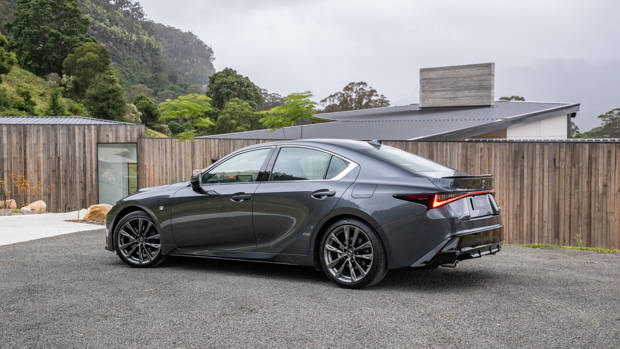 Lexus says the new IS is the first car to showcase its new "Lexus driving signature", which aims for seamless steering, braking and acceleration – "sophisticated sportiness" in marketing speak. And it's a good car to drive, with fluent handling, impressive balance and respectable ride quality – particularly the base IS 300 Luxury ($61,500) with fixed-rate suspension and 235/45R18 Bridgestone Turanza T005A tyres – though with a bit too much road noise.
F Sport versions introduce adaptive dampers, mixed-width 19-inch tyres (235/40 front, 265/35 rear) and an additional Sport+ drive mode that not only perks up the eight-speed auto's new 'G A-I' shift mapping (like Sport mode on Luxury models) but also firms up dampers and steering, while giving the VSC a bit more leeway.
It's a sportier drive than the Luxury, without detracting too much from its suppleness.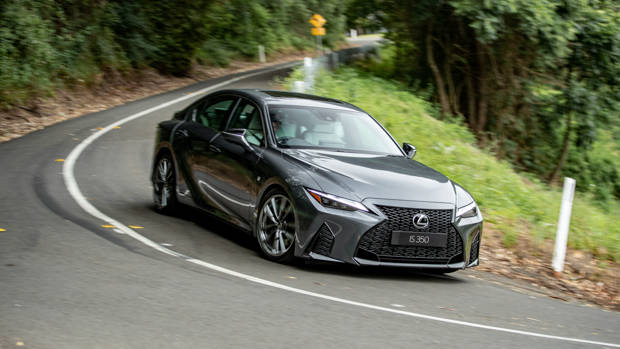 Not sure the auto's new shift mapping is entirely sorted though. It reads your driving style and then adjusts to suit, rather than spiking to max-attack as soon as Sport+ is selected.
In the four-pot IS 300, it works well – channelling torque nicely, yet still eager to nudge its 6200rpm upshift point. In the V6, it needs to send that tacho needle northward as quickly as possible to achieve decent performance, yet it doesn't – not until you've been flogging it for 10 minutes!
The 2021 IS's interior is almost unchanged, aside from new 'eyeball' outer air vents, revised door trims, revised seat padding and new padded upholstery along the centre console.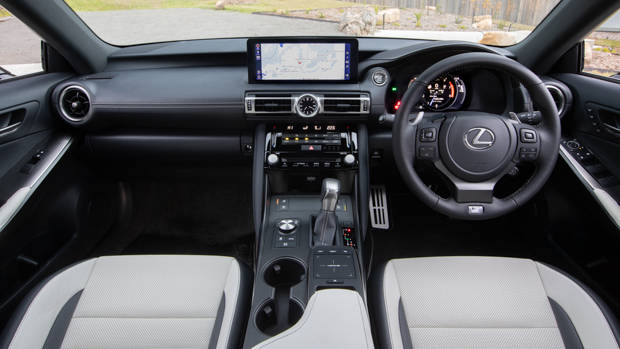 The top-spec Mark Levinson stereo (optional on F Sport in a $3100 pack, optional on the rest in an extensive $5500 'EP2' pack) is now an 1800-watt, 17-speaker belter – much better than the 10-speaker Pioneer below it – and there's a bunch of cutting-edge safety additions that make the '21 IS currently the leading Lexus model for active safety.
As well as rear cross-traffic and AEB, it includes new Intersection Turning Assist (where it will brake if it senses you're going to turn in front of an oncoming car), Emergency Steering Assist (where it can add additional steering lock if you're swerving to avoid something and haven't given enough input), and Lexus Connected Services that can automatically generate an SOS call in an emergency or track a stolen car.
Starting at $61,500 for the IS 300 Luxury, $64,500 for the IS 300h Luxury hybrid and $75,000 for the IS 350 F Sport, all models get slick new 10.25-inch touchscreen multimedia with Apple CarPlay/Android Auto, plus sat-nav, digital radio, keyless entry/start, an electric-adjust steering column, eight-way electric front seats with heating, dual-zone climate, rear air vents, and bi-LED headlights.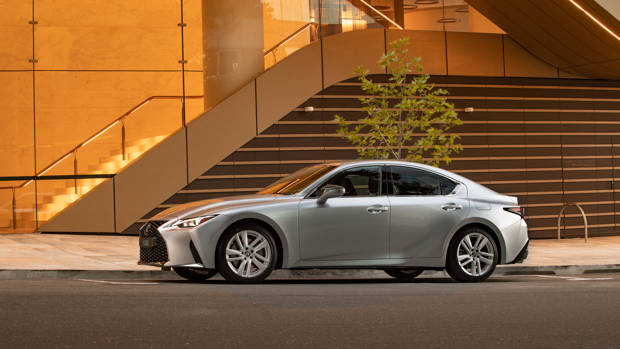 But until you opt for the EP2 pack on a Luxury, or any F Sport variant ($8500 over Luxury level), you get clammy vinyl seats that are completely out of step with Lexus's positioning. Not only are they awful in hot weather, they highlight how low-grade some of the lower cabin plastics are.
Thankfully, the perforated-leather alternative with fan cooling is terrific, as is the new touchscreen compared to previous Lexus/Toyota efforts.
In the right grade, with a premium level of trim, the 2021 Lexus IS tries hard to look and feel modern and sprightly.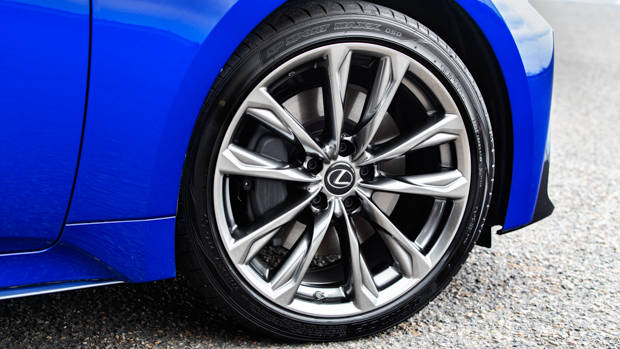 It doesn't quite succeed in all areas – failing to effectively challenge the interior luxury and superb packaging of Audi's benchmark A4 at base level – but the handsome new IS drives well and should be as reliable as night and day.
Here's hoping its wide-track stance and athletic new look get coaxed into a new-generation IS F of some kind. It certainly deserves as much.