Turbo power will feature in the Lexus IS range from September 2015, as the company's two-litre turbocharged four-cylinder arrives in a new IS200t model. Replacing the existing IS250's ageing V6 motor, the turbocharged IS promises more power, torque, and greater economy than the outgoing model.
The IS200t makes use of the new turbo four developed for the NX crossover (watch our Lexus NX review), and the RX mid-size SUV (details on the new Lexus RX).
Power does increase slightly for the turbo in the IS, with power rising 5kW to 180kW at 5800rpm. Torque matches the NX, at 350Nm in a wide band between 1650rpm and 4400rpm. A seven-second sprint to 100km/h is promised, with performance respectably matching the BMW 328i and Mercedes-Benz C250 (read our Mercedes C-Class review).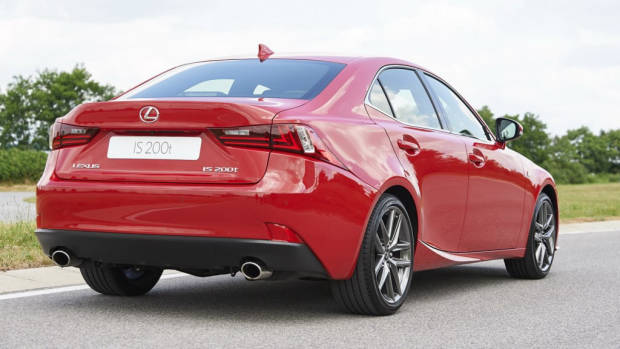 An eight-speed conventional automatic will be the only transmission, though it's not the same eight-cog box from other Lexus models. Instead, the IS200t uses an adapted version of the RC F's Sport Direct Shift transmission. This brings some F-inspired sports features: the gearbox senses G-forces, triggering automatic downshifts under hard braking and the selection of a lower gear to fire out of corners quicker.
Lexus are locally claiming the turbo IS beats comparable BMWs for smoothness, responsiveness, real-world economy, and a lack of turbo lag.
Theoretically, the IS200t is thirstier than a 328i: the BMW promises 6.3L/100km on the combined cycle, while the Lexus is claimed to manage 7L/100km, or 7.2L/100km with eighteen-inch wheels.
The local Lexus boss, Sean Handley, says the brand is excited for the 'well matched' turbo to debut in the IS this spring. The 3.5-litre V6 IS350 continues as the range-topping performance model in the absence of a new-shape IS F halo sedan (watch our Lexus IS350 review here).