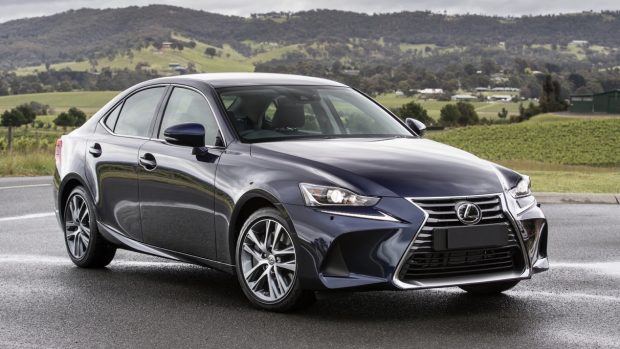 The sporty Lexus IS sedan is coming to the end of the life of the current generation – but it's still a handsome, fun-to-drive luxury car that's now chock-full of kit.
There are two big benefits to buying a car when it's already been on the market for some time – for seven years, in the case of the 2020 Lexus IS. The first advantage is that these… more established cars are now tried and tested, with all of the early bugs completely rectified. The second is that in their twilight months and years, these cars are loaded up with more spec, for less money, than their newer rivals.
Both of those facts apply to the 2020 Lexus IS 300 Luxury. Though the badge looks grand, this is the most affordable IS, which in turn is this Japanese luxury brand's most affordable sedan of a four-strong four-door range. While the 300 in the name oddly denotes the presence of a two-litre turbo engine under the bonnet, 'Luxury' is a suitable moniker even for this entry-grade version. Despite listing for under sixty grand, the starter-pack IS feels every bit a luxury car.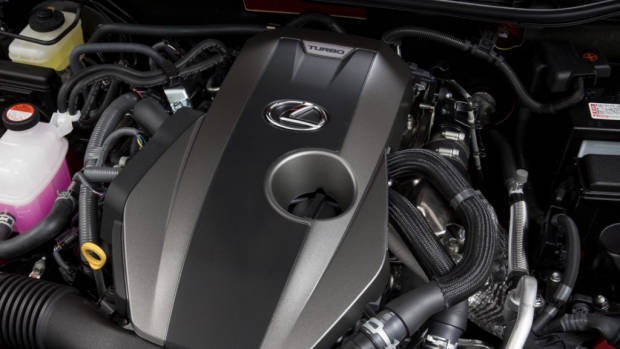 Importantly, the IS still looks the part. We're not sure the fussy 2016 facelift improved the cool, progressive front-end of the original 2013 design, but with low, long lines, this is still a good-looking, resolved shape. With lean body lines pulled tight over the chassis, the smallest Lexus sedan looks like an athlete.
Inside, it's quite a Japanese aesthetic with emphasis placed on a big, blocky centre console that incorporates some traditional knobs and buttons alongside eighties-tastic temperature sliders. The integrated navigation screen was upgraded to ten inches a couple of years ago, though it's controlled via a fiddly trackball between the seats. The traditional analogue dials are crisp and beautiful, though the IS has never received a digital speedo readout between them, making life unnecessarily difficult in a land of obsessive speed enforcement.
We continue to like the front seats in the IS, though, which are shapely and sporty – though they will be too narrow for some drivers. It's also here that Lexus demonstrates great thinking for the Australian market by incorporating standard seat ventilation – not just heating. That feature is not available on any of this car's immediate rivals like the Mercedes-Benz C-Class or BMW 3 Series. You do have to step up to more expensive grades for a seat memory-save feature, though.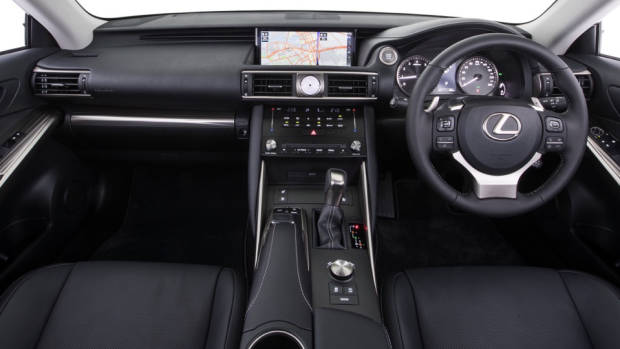 The IS unashamedly puts the focus on the pair enjoying those cooled, heated front seats. The driving position is incredibly low, while the pedal box is long. As a driver, it feels flattering, like you're driving a sports car with a long bonnet. However, these choices do rob this compact sedan of most its usable rear seat space. Legroom is bad for six-footers. It's tight back there – we'd recommend the IS only if you're okay with seeing the back seat as for children only, with only occasional use by adults. The 480-litre boot is square and class-competitive, however.
Jumping back into the proximity-aware driver's door means focussing on the IS 300's dynamic offer. This two-litre turbo model directly competes with the more-expensive top four-cylinder petrol offers from Benz, BMW and Audi: the C300, 330i and A4 45 TFSI respectively. Like the former two, the IS is rear-wheel-drive only. The IS 300 puts out 180kW/350Nm through an eight-speed torque converter automatic gearbox.
There is a vast difference in feel between the three engine choices offered with the IS. Those after hybrid thrift should consider stepping up to the IS 300h (a 2.5-litre naturally aspirated petrol four teamed to an electric motor, producing 164kW – it's a $2,550 upgrade). Meanwhile, the IS continues to be offered with a lusty naturally aspirated V6 making 232kW/380Nm. The six-pot is a $5,760 upgrade over the turbo four, which is a much more affordable step than German rivals that charge closer to $20,000 to move from a four to a six.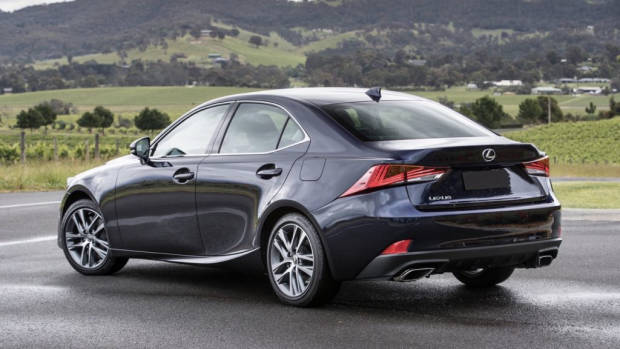 And we'd closely consider either the hybrid for its truly impressive real-world efficiency, or the V6 that gives a nod to a bygone era of rorty, revvy atmo six-cylinder engines, because the four-cylinder turbo isn't much to write home about. It's reasonably quick, sprinting from rest to 100km/h in seven seconds, but it labours away in a fairly agricultural and uninteresting manner the rest of the time.
While the IS 300's outputs look competitive on paper, it doesn't have the same sense of quick throttle response as its German rivals, nor does it partner as well to its eight-speed automatic gearbox, which is too often hunting for the right ratio. The turbo is also disappointingly thirsty, using about 11L/100km in the real world – about 40% more than the rival BMW 330i. We're of the view that the previous six-speed auto was a better fit. Thankfully, both the V6 and hybrid are more interesting and more engaging powertrains offered at reasonable upcharges.
Relatively dreary base engine aside, though, the Lexus IS still impresses and engages us with its competent and playful chassis. Happy to shift about beneath you under deft throttle inputs, the IS 300 also grips well at the front end wearing 225/45 R17 Bridgestone Turanza T001 rubber. The steering ratio is relatively quick for this class, and though it is somewhat digital in feel, the IS is a willing participant for devouring country roads. It's quite fun to drive.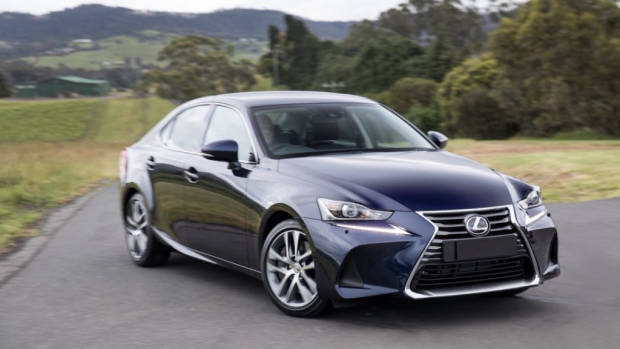 Those modestly-sized 17-inch wheels on the Luxury grade also help to give this IS a comfortable, compliant ride quality. More plush over bumps than the Lexus ES 300h Luxury that is a size bigger, the IS ends up as an appropriately middling blend of sportiness and everyday liveability. This car is pretty quiet and refined inside, too.
Spec-wise, the Luxury is equipped with most of the features you'd want – everything aforementioned, plus a 10-speaker Pioneer stereo, digital radio, dual-zone climate control, power steering wheel adjustment, automatic bi-LED headlights, two-door proximity entry, and a chrome exhaust finisher. The safety package is decent, with forward collision warning, AEB with pedestrian detection, adaptive cruise control, and fairly basic lane keeping assist.
With each engine, you're also able to opt for an F Sport equipment upgrade. The more athletically-styled F Sport brings adaptive dampers on a sports suspension, memory for the driver's seat, sports seats, 18-inch wheels, auto folding mirrors, blind spot monitoring and rear cross-traffic alert. There's also a Black Line special edition on offer at the moment, based on the F Sport, but wearing additional dark accents outside.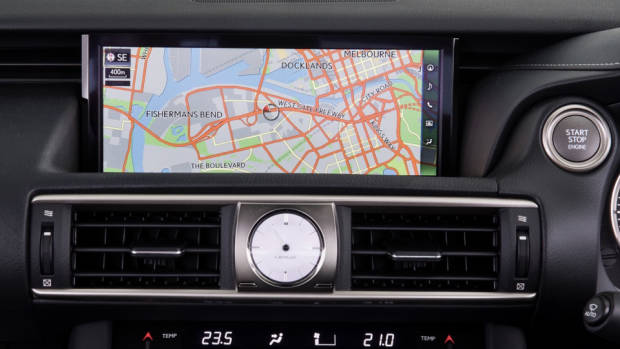 Ownership has always been a strong point for Lexus in Australia, with more personalised servicing arrangements with car pick-up and drop-off. And if it wasn't for Mercedes-Benz moving to a five year warranty recently, Lexus's four-year coverage would still look best-in-class – but the market is beginning to move ahead.
That said, most rivals will be unlikely to match the real-world bargains that will be available to shrewd buyers of the 2020 Lexus IS. Still a solid, charming rear-drive sedan, this generation continues to be an interesting, left-field offering in the luxury four-door game.