The Audi S8 was already the definitive executive express – find out why the new generation is better than ever
Any fan of low-budget, hugely exaggerated car chase scenes will automatically associate the Audi S8 with the 1998 John Frankenheimer cult hit 'Ronin' – in which Audi's then-new first-generation S8 presents as the perfect fit for the film's resident getaway driver.
A world away from the grimy Paris boulevards of 'Ronin', Audi's new fourth-generation S8 launched in Australia last week. A super-niche vehicle and an exemplar of one of the market's undoubtedly old-money segments – the performance-engined, short-wheelbase, full-size luxury saloon – the new 'D5' generation S8 is a hugely desirable vehicle.
Only a precious few cars approach the 2021 Audi S8's ability to cohesively blend two seemingly disparate goals: outright speed, be that in a straight line or up a mountain pass, with the kind of all-day sumptuous comfort that this vehicle's chief-executive buyers require. This is a group that rejects SUVs as simply too high, too gauche – but also a set that aren't looking for the practicality of an estate car, like Audi's new RS6.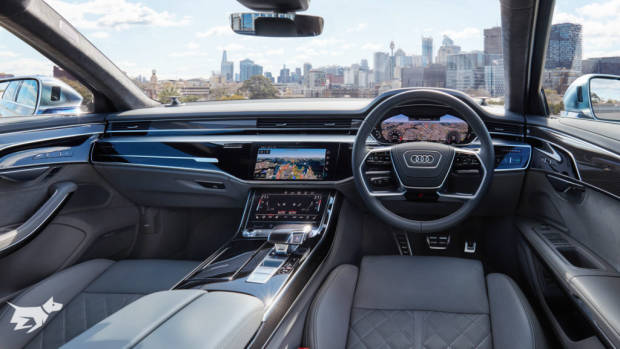 In fact, the Audi S8 is so utterly convincing that even its objectively expensive price of $260,000 manages to feel like a relative bargain. Given that price is more than $100,000 less than the competing Mercedes-AMG S63 – this vehicle does make a right-brain argument for itself. But it's the subjective, left-brain stuff that really draws you in.
Leather-lined, elegantly drawn and air-suspended, the new S8 politely performs limousine duties – but point the nose up the Macquarie Pass south of Sydney, as we did, and it demonstrates handling that nips at the heels of supercars, accompanied by one of the most intoxicating V8 barks left on the market. That's a bark generated by a four-litre bi-turbo engine producing 420kW of power and 800Nm of torque.
The S8's appeal begins outside. The D5-generation A8 is now two years old, but the design is hard to place age-wise. This car is high-technology but elegantly drawn – and in fine Audi tradition, this high-speed 'S' shies away from diluting this graceful shape with boy-racer doo-dads.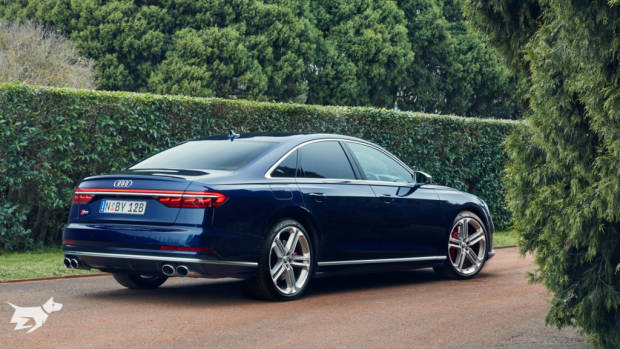 You'll pick an S8 by the bright silver quad tailpipes and 21-inch wheels, but little else. Our test car's deep Navarra Blue metallic over grey leather represented one of several classic, restrained combinations. At this price, some buyers will opt for Audi's Exclusive build programme, which allows a vast choice of exterior and interior colours and trims.
Unlike the standard A8, which is available as standard, 5.2-metre long vehicle or in a stretched 5.4 metre version that is popular in the chauffeur-driven space, the S8 is short wheelbase only. This is a good thing on three fronts. The proportions are better, it's easier to live with, and it is a considerable benefit to handling. No matter how you approach it, though, this is still a long car.
And it's a low car, too – though the art of embarking and disembarking is made substantially easier by a trick new feature that uses the air suspension to bump the S8 up to 50mm when a door is opened. That makes the step-in height more like a raised wagon than a sports car.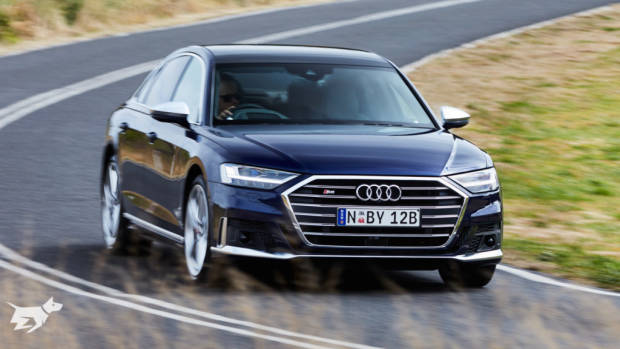 The same rapid-fire air suspension technology is also deployed when the S8's litany of advanced sensors detects a side impact is imminent. The air suspension raises the side of the vehicle about to be hit as high as it will go, exposing the super tough chassis rail to the accident, providing the occupants with as much isolation from the collision as possible.
That technique is the S8's most dramatic safety feature and a last resort. The rest of the systems are hushed and well-integrated, with excellent tuning of the adaptive, radar-guided cruise control, the automated lane centring, and autonomous emergency braking that also makes it very difficult to run into objects while parking.
We appreciate the presence of these systems but we appreciate more that they're subtle – because despite the luxurious bent of the Audi S8, there is a terrific driver's car to be found underneath the sheet metal of this saloon car.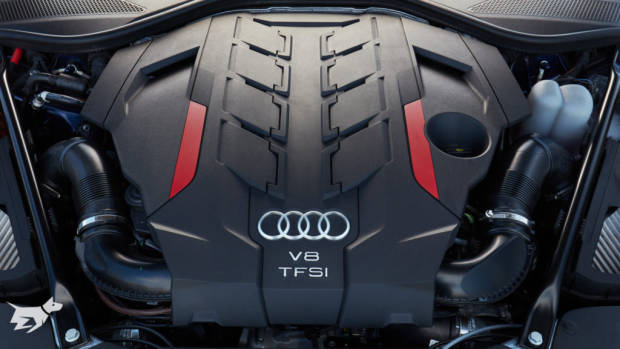 The S8 handles so well thanks to a combination of pure physics – this is a low-slung and long saloon, not a lumbering SUV – and high chassis technology. This vehicle sports the usual fast-Audi pleasantries like its Quattro all wheel drive system with a self-locking centre differential, but also a limited slip differential on the rear axle – plus four wheel steering, making the car more agile, and a flat – but not uncomfortable – tune for the air suspension.
Though the steering wheel is pretty large, point the S8 at your favourite rural road and it delivers up crisp, mid-weighted steering with a really intuitive ratio – it translates what you're wanting in your head to results on the road. Huge grip from the Pirelli P Zero tyres is matched by high level of mechanical adhesion from this superb chassis, while the electronics work subtly away in the background to track your preferred line.
On corner exit, tipping into the accelerator pedal awakens the V8, transforming the ever-present burble into a roar – especially in Dynamic mode, or our preferred custom mode that bundles the more compliant 'Balanced' steering and suspension while leaving the engine in Dynamic and the exhaust note in 'Pronounced'. That mode turns the S8 from good to great for Australian conditions.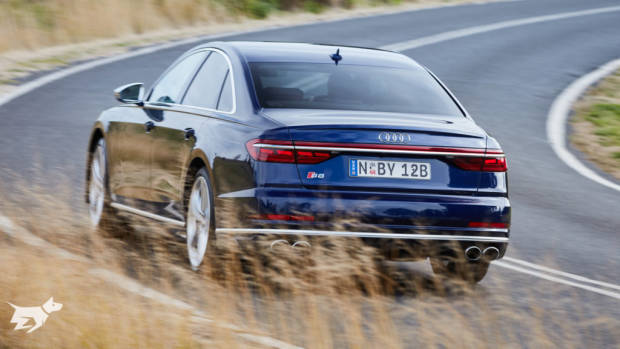 We found the S8 so fluent on our preferred roads in the NSW Southern Highlands that we realised we were diving for apexes faster and faster, more and more confidently. The S8 will shock owners that already have a more serious sports car in the garage with its dynamic ability. It's especially surprising given the S8 cruises very comfortably when you're simply looking to relax.
We found stopping power from the standard steel brakes to be more than adequate, but for those brave enough to submit their S8 to track days, the optional upgrade to carbon ceramic units would be money well spent. Ultimately, this is a heavy vehicle, tipping the scales at 2.2 tonnes.
Complaints are few. Even the consumption is decent: Audi claims 10.5L/100km from this mild-hybrid equipped engine, and our result of 11.8L/100km was more than acceptable, providing a theoretical range of 700km. We would point out that the S8's three-year warranty now looks rather short compared to Mercedes-Benz's more generous five year coverage.
No doubt, the 2021 Audi S8 is an indulgence. That said, it is an entirely feelgood indulgence, banishing any perception of guilt that this car might be an overpriced folly. It is a thoroughly talented, thoroughly desirable all-round luxury vehicle, promising and delivering bona fide sports-sedan ability combined with genuine limousine comfort.