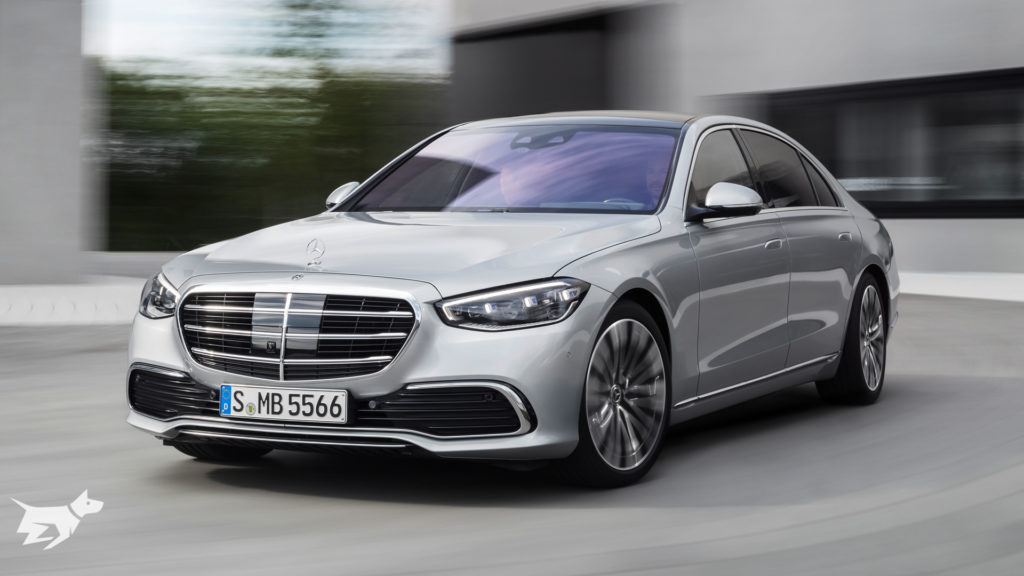 It's an occasion that only happens once in a decade: the reveal of a new-generation Mercedes-Benz S-Class. Still regarded by many as the best car in the world, a benchmark off which all over vehicles are measured, a new S-Class is a big deal. And this is the new, W223-generation version, the seventh vehicle to wear the Sonderklasse, or 'special class', badge.
Set to arrive in Australia in 2021 initially only with an inline six-cylinder petrol option, the W223 range will later expand with plug-in hybrid, V8, and even full-electric offerings in the shape of the forthcoming Mercedes-Benz EQS zero-emissions limo that will be heavily based on this new S-Class. Overseas, there will be diesel options but these have not been confirmed for Australia.
What's changing on the Mercedes-Benz S-Class
While Mercedes-Benz have avoided drastic change to the exterior design of the car, there is a comprehensive rethink of how interior design should work in a vehicle such as this, with almost the entirety of the brand's contemporary thinking about cabin tech thrown out in favour of new interaction concepts.
There is a huge, almost square 13 inch central touchscreen relocated to a flying centre console, incorporating 3D optics without the need for supporting glasses – while the heads-up display is so large and crisp that the brand says it corresponds to a monitor measuring 77 inches. The new S-Class sports up to five displays inside, all offering a full version of a second-gen iteration of the MBUX operating system.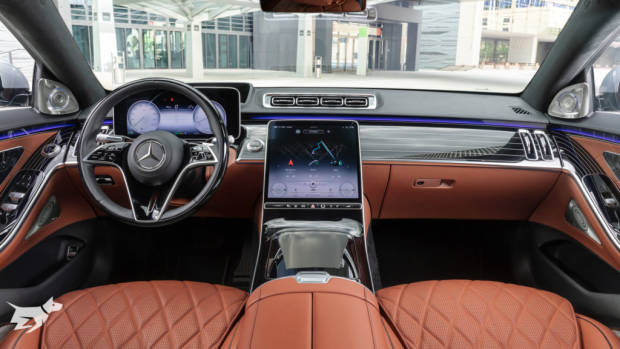 Meanwhile, the S-Class makes great advances in safety technology, from the new 2.6-million pixel Digital Lights that can cast complex shapes onto the roadway, to a beefed-up autonomous emergency braking system that can avoid collisions with static objects even if the Mercedes-Benz saloon is travelling at 130km/h.
And there's also a conservative foray into Level 3 automated driving – though Mercedes-Benz has sent a crystal clear signal with the release of the W223 S-Class that they'll be waiting for national laws to support hands-off driving – rather than proceeding ahead regardless like some other brands. A trial of hands-off motorway driving, using the new S-Class Drive Pilot programme, will commence in Germany in 2021.
Two six-cylinder engines at launch, V8 to follow
Those hoping for an all-electric S-Class to be revealed in tandem with the traditional, combustion versions were disappointed. Instead, Mercedes-Benz opted to announce two inline six-cylinder engines for the new vehicle, marking the first time a V8 has not been part of the launch engine lineup – though a mild-hybrid V8 will indeed follow later on.
At the beginning, the S-Class will be offered as a petrol or diesel six, with the petrol M256 three-litre locked in for Australia in S 450 all-wheel-drive form. This engine produces 270kW/500Nm, with a 48-volt mild hybrid system dubbed EQ Boost providing an additional 16kW/250Nm on demand.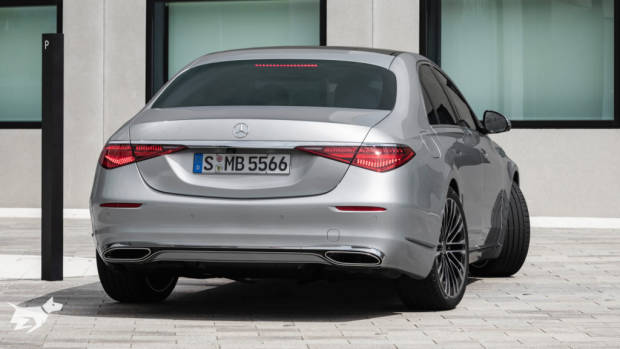 A higher-output version of the M256 engine is badged S 500 and may come to Australia later on. This designation, previously reserved for a V8, is now a six and produces 320kW/520Nm before the EQ Boost system adds in extra go.
In Europe, the OM656 three-litre straight-six diesel is also offered in two outputs. These include the range's sole rear-drive offering at first: the S 350d, which makes 210kW/600Nm, and a higher-output, all-wheel-drive S 400d, which produces 243kW/700Nm.
A new suspension system named E-Active Body Control will be an option on the S-Class, incorporating some hydraulic suspension technology to supplement the standard-fit Airmatic air-suspended ride. Making use of the car's 48-volt architecture, E-Active Body Control will run a hydraulic damper system for an even more level ride, while also providing the ability to rapidly lift the car in the event of an impending side-on collision.
A full rear-axle steering system will also be offered as an option. This system, which will allow the rear wheels to turn to a maximum angle of 10 degrees, mainly targets a reduction in the S-Class's turning circle – reducing the radius by 1.9 metres to less than 10.9 metres.
Bigger and more minimal outside
Outside, the new S-Class is a bigger car in both versions. The short wheelbase, which accounted for just 10 per cent of sales in the previous generation, has been lengthened 54mm to 5,179mm – while the volume-selling long wheelbase enjoys a stretch of 34mm over the previous version to 5,289mm.
Width and height are also up on both variants – by 55mm and 10mm respectively. The wheelbases have been lengthened – by 71mm in the short wheelbase car and 51mm in the long wheelbase – while cargo room is up by 20L to 550L.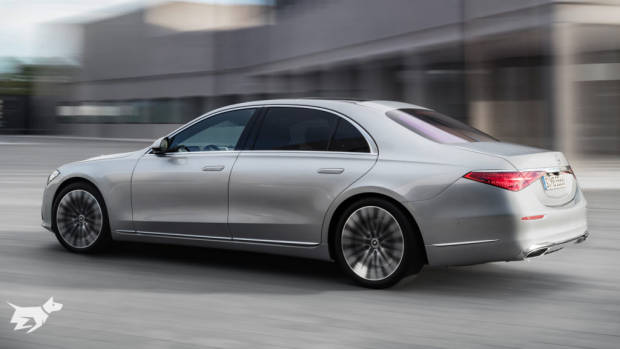 Despite sporting an enlarged frontal area that retains the traditional Mercedes-Benz radiator grille and bonnet-mounted star, the S-Class is more aerodynamic than before, with a Cd figure of 0.22.
Mercedes-Benz said that they targeted the removal of most character lines from the new S-Class, opting instead for a sculpture-like silhouette. The doors now integrate optional flush door handles which deploy when the driver is near or if the handle is tapped.
Wheel sizes will range between 18 inches and 21 inches, with specific designs for the various trims on offer, which will include a dedicated AMG Line variant from launch running multi-spoke wheels.
A new interior design concept – and five screens
Inside, the W223-generation S-Class ushers in a radically more minimal cabin based around a dashboard design that is a significant departure from the old version. Gone is the dashtop-mounted centre screen: this has been moved downward in a return to flying-buttress centre console designs.
Aside from the cascading console, there is an increased emphasis on interior trims, with a huge trim piece extending across the breadth of the dashboard. Numerous finishes will be offered, including a mixed metallic weave as well as open-pore wood shot through with real aluminium inlays that follow the contours of the wood.
The seats are fitted with up to 18 motors for very fine adjustment, and a variety of seat coverings will be available. At the base end, there will be Lugano leather with longitudinal piping, with higher-end variants moving to diamond-pattern nappa leather as well as extremely soft Exclusive nappa leather varieties. Comprehensive massage as well as ventilation features will be available, with ten massage programmes to choose from.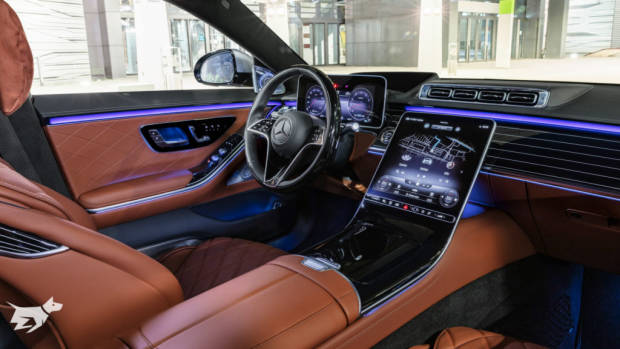 At the base of the central screen is a permanent area for the climate controls – but everything above this will be customisable, and even present in 3D without the need for 3D glasses, thankfully, by making use of eye tracking technology. With two integrated cameras, the display will follow the user's eye and, with almost zero latency, should provide an easier method of navigation for the eye. We'll have to see how this works in person.
Ahead of the driver is a large, second digital display that offers a choice of four themes. Two available HUDs, with the larger of the two corresponding to a monitor size of 77 inches, and projecting precise shapes as if they were on the road lane ahead – including animated turn-off arrows.
With the exception of the HUD, the infotainment can be optionally extended in full to the rear seats, with the back screens running their own, independent, and full versions of MBUX as opposed to being a more basic mirror of what is happening in the first row.
The second-gen MBUX software now has native apps for Spotify and TuneIn, as well as the existing Tidal and Amazon Music streaming services. There is also deep integration with the user's own Mercedes Me profile for the storage of personalisation settings.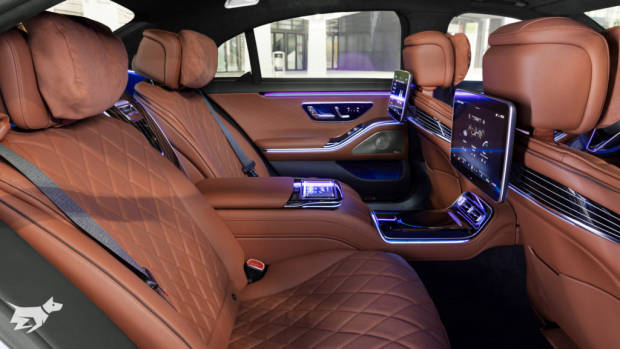 Audio will be taken care of by way of an available Burmester high-end 4D surround sound system. That fourth dimension refers to the inclusion of exciters, or resonance transmitters, in the backrests, which convert bass tones into vibrations.
There is further integration with smart home software produced by a number of providers, allowing drivers and passengers to make adjustments to home temperature, lighting, garage doors and the like from the road.
Updates to the software, along with more than 50 other components, will be completed over the air via a mobile data connection, with Mercedes-Benz promising that the S-Class will be kept up to date throughout its entire life cycle, with features that have not even been developed yet. That's an area Tesla has been able to really cut through in recent years.
The back seat setup will be responsive to the specification chosen for the S-Class. The short wheelbase version is only available with a static three-seater bench, and while this setup is standard on the long wheelbase car, buyers will also be able to nominate two seats with electrically adjustable outer seats with a 'business centre console', badged the First Class Rear.
More safety tech, limited automated driving abilities
The S-Class's new steering wheel features pads on the front and reverse sides of the rim to sense whether the driver's hands are on the wheel.
Standard on the new S-Class are a front multi-mode radar, a front long-range radar, a front stereo camera, rear multi-mode radar, a 360-degree camera with four lenses, and 12 ultrasonic sensors.
These allow a number of changes and improvements to safety tech. These include stronger adaptive cruise control, with AEB that can now prevent collisions with static objects when the S-Class is travelling at up to 130 km/h – a 60 km/h improvement.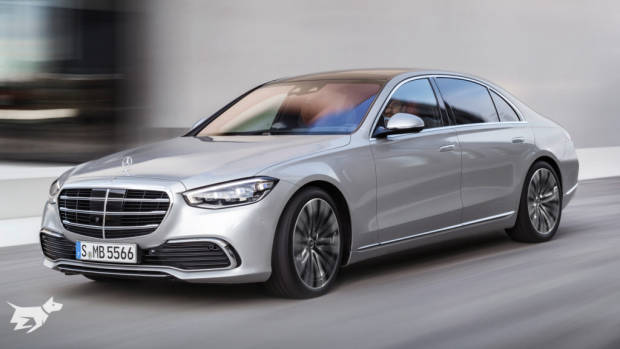 Meanwhile the lane keep assist with active steering operates at up to 210 km/h, with the 360-degree camera helping to recognise additional lanes.
The traffic sign assist detects red lights, and warns if you are about to accidentally run one, while the Active Emergency Stop Assist can brake the vehicle to a stop either in its own lane or with an optional signal lane change if no obstacles are present, and the driver is not responding to jolts of the seat belt and brakes.
Naturally, the new S-Class incorporates a variety of forms of autonomous emergency braking, including for crossing oncoming traffic at intersections. The sensors are now good enough to detect vehicles travelling at up to 120km/h, up from 70km/h.
But beyond simply looking to prevent accidents, the S-Class's safety systems will also power a new feature called Drive Pilot, which will allow conditionally automated driving in high-traffic environments, and on test sections of motorway in German at first, when the system launches in the second half of 2021.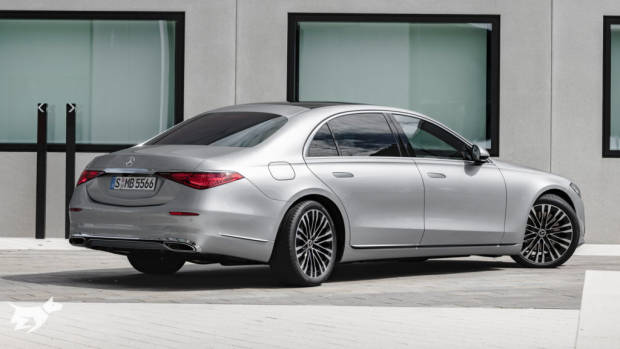 Mercedes-Benz's approach to automated driving is notably much more conservative than that of Tesla, which has allowed functionality of its Autopilot partially automated driving system to be used by drivers in beta for some time.
On the Benz side of the fence, there is an insistence that a legal framework be agreed in various jurisdictions to allow its use. Mercedes says that the Drive Pilot system requires national road traffic laws to allow drivers to use the SAE Level 3 system that is the basis for the programme, as it allows the driver to relinquish core driving tasks.
Level 3 refers to conditional automation, where the car can drive itself given certain parameters apply. Level 3 still requires the driver to be ready to take over control at any time, within a few seconds, when prompted by the system to do so.