Mercedes-Benz has chosen the 2017 Frankfurt Motor Show to unveil the latest addition to their line-up: a mid-life facelift of the super luxury S-Class coupe and cabriolet, which will hit Australian showrooms in the first half of 2018. Like the smaller E-Class coupe and cabriolet, the same S-Class variants are aimed at those driving themselves and searching for more a more luxurious automotive choice.
Like the updated S-Class sedan, the coupe and convertible range has received a minor cosmetic upgrade, with new model designations combined with new engines to the S-Class range. In addition, Mercedes-Benz have added some new technology, with all of the updates targeting driving comfort and added performance in all available variants.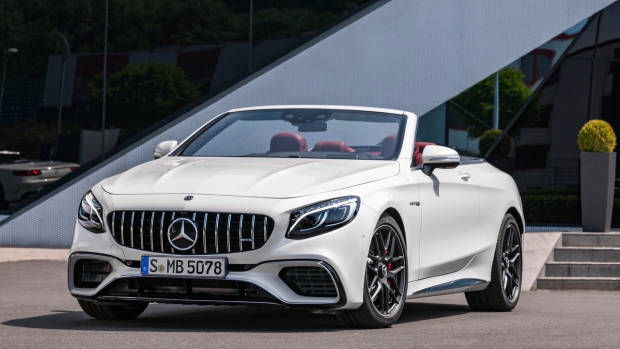 "With their unmistakable, exclusive design and high-class materials with extremely high value appeal in the interior, the new S-Class Coupé and S-Class Cabriolet embody our interpretation of modern luxury. On top of that, both luxury four-seaters feature the latest cutting-edge technology from the S-Class," says Britta Seeger, Member of the Board of Management of Daimler AG with responsibility for Mercedes-Benz Cars Sales.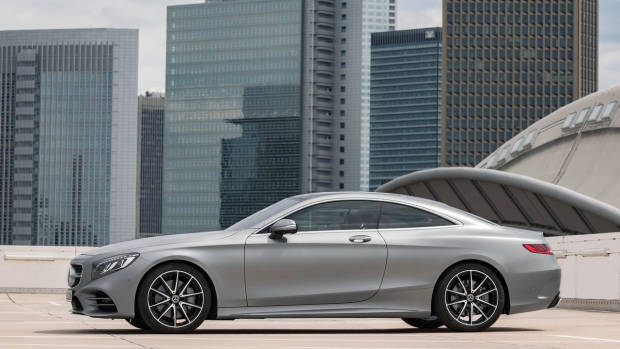 External differences between old and new S-Class models are best described as subtle. New bumper designs feature front and rear, with the new look trying to emphasise the car's added luxury feeling. Of particular note are the car's new OLED tailights, which, like various VW Group cars, now feature scrolling indicators. Mercedes claims that there are 33 individual OLED units in each light unit, and locking and unlocking the car features a new animated dynamic light sequence, where the lights dim-up and 'welcome' drivers to the car.
Choosing the brand's AMG-Line specification allows owners to choose from two new wheel designs, both in a 20-inch design.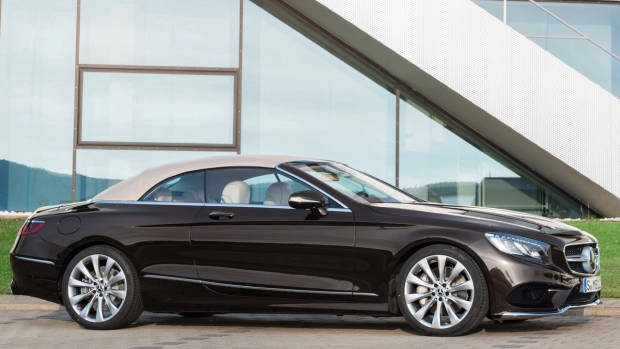 Inside the updated S-Class coupe and cabriolet, the same three-spoke steering wheel design has been carried over from the S-Class sedan, with more buttons for an 'easier driving experience'. The interior layout has been freshened with three new trim lines: high-gloss brown burr walnut wood, satin-finish grey ash wood and flowing lines designo magnolia wood. In addition, three new upholstery lines in red/black are also now available: porcelain/tizian red designo Exclusive nappa leather in either AMG-Line or non-AMG-Line and designo Exclusive nappa leather AMG Line Plus Bengal red/black.
Two new high-resolution 12.3-inch displays have been included from the S-Class sedan and E-Class ranges, with two displays under one shared glass cover blended into what Mercedes calls a 'Widescreen Cockpit'. These two screens 'emphasise the horizontal orientation of the new interior design', according to Mercedes. The Windscreen Cockpit displays two different zones – a driver's zone with a digital speedometer and trip computer, and a passenger's zone with controls for the infotainment system found on the centre console as part of Mercedes' Comand system, which has also been upgraded to include photorealistic 3D buildings as well as more information such as the weather, current fuel prices and free parking spaces. Wireless phone charging is also now available.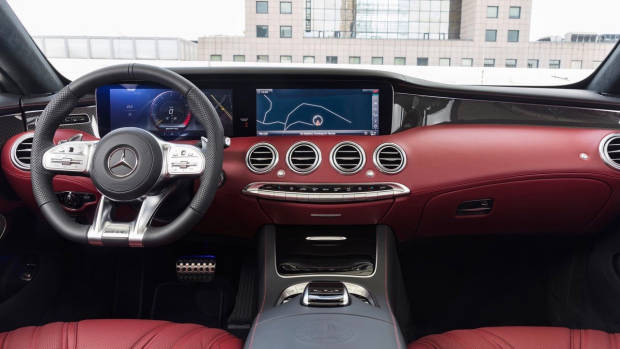 The all-digital cockpit offers three styles – classic, sporty and progressive – which the driver can choose. Like Volkswagen's Active Info Display, the Mercedes system is configurable depending on the driver's preference. The steering wheel features what Mercedes calls 'Touch Control Buttons', which respond to swiping motions like a smartphone and allow the driver to control the functions of the instrument cluster and entire infotainment system without having to take their hands off the steering wheel.
In a change for the brand, the car's cruise control buttons are now mounted on the steering wheel and not a stalk behind it. This is combined with an improved Linguatronic voice control system, which has been extended to include the air conditioning, seat heating and ventilation, interior lighting, seat massaging and even the heads-up display.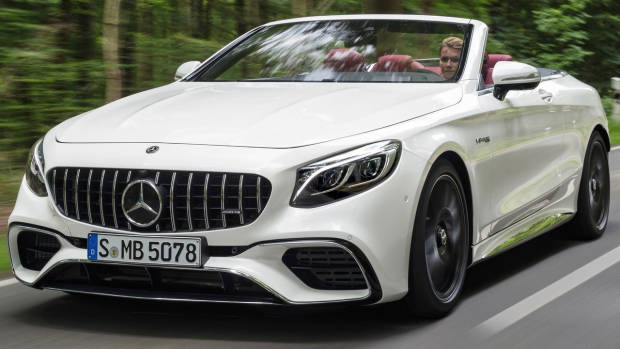 Mercedes-Benz has also updated the available active safety equipment for the S-Class coupe and cabriolet range, taking it a step closer to full autonomy. Active Distance Control Distronic and Active Steering Assist automatically adjust the car's speed ahead of bends, junctions or roundabouts to further enhance the driver's comfort levels. The car's Magic Control suspension levelling system now operates at up to 180km/h.
The S-Class coupe and cabriolet update have coincided with Mercedes introducing new engines and new model designations for the range, starting with the coupe-only S450. The S450 is powered by a 270kW/500Nm turbocharged 3.0-litre V6 with a nine-speed automatic. Mercedes claims a combined fuel consumption rating of 8.9L/100km thanks to cylinder deactivation and a 0-100km/h time of 5.5 seconds.
Next up the range is the S560, available in both coupe and cabriolet, which is powered by the same 4.0-litre biturbo V8 from various other Mercedes models. In S560 form, it produces 345kW of power and 700Nm of torque. Mercedes claims fuel consumption of just 8.0L/100km, with a 0-100km/h time of just 4.6 seconds.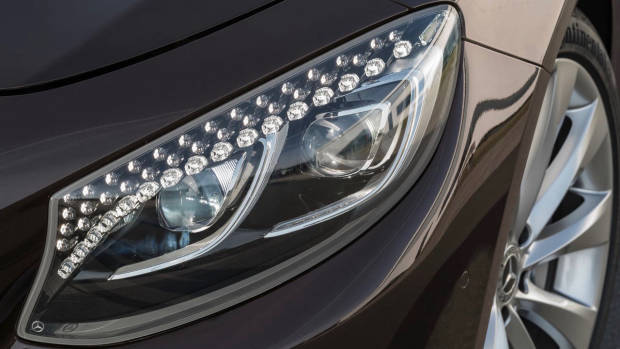 Mercedes-AMG have also used the S-Class facelift to unveil its updated performance S63 and S65 models, with both models now receiving the new Mercedes-AMG 'Panamericana' grille from the AMG GT. Like the standard S-Class range, updated bumpers feature though in AMG form, they exclude chrome for a more sporting look.
Available in two different forms, the S63 AMG uses the same 4.0-litre biturbo V8 as the S560 albeit in a higher state of tune – 450kW and 900Nm and in left-hand drive markets, available exclusively with the company's 4Matic all-wheel drive system and capable of a 0-100km/h sprint in just 3.5 seconds. Australian-delivered S63 models will be only available with rear-wheel drive, though Mercedes is yet to confirm performance figures for the S63.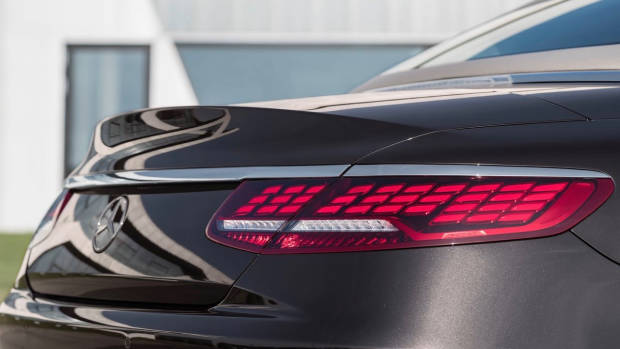 Sitting atop the S-Class range is the S65, which uses the same bi-turbo 6.0-litre V12 as before, mated to a seven-speed automatic and producing 463kW of power and 1,000Nm of torque. Fuel consumption for the S63 is listed at 9.3L/100km, and 11.9L/100km for the S65.
Mercedes-Benz Australia have confirmed that the updated S-Class coupe and cabriolet will arrive in the first half of 2018, with pricing and specifications due to be confirmed before then.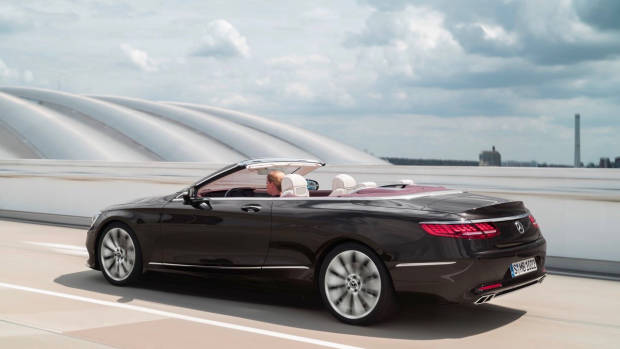 Stay tuned to Chasing Cars for news regarding the Mercedes-Benz S-Class coupe and cabriolet.