There aren't many people for whom a Mercedes-Benz S-Class is simply not luxurious enough – but for that privileged set, this German marque now offers an even higher level of opulence. The flagship Mercedes-Maybach saloon will return next year for the 'W223' generation of the S-Class: a car venerated by many as the best vehicle in the world. But is it truly better than a Rolls-Royce or Bentley?
After discontinuing Maybach as a separate brand in 2012, Mercedes-Benz have enjoyed some success in reinvigorating the marque, which dates to 1909, as a sub-brand marketed on this manufacturer's most exclusive vehicle.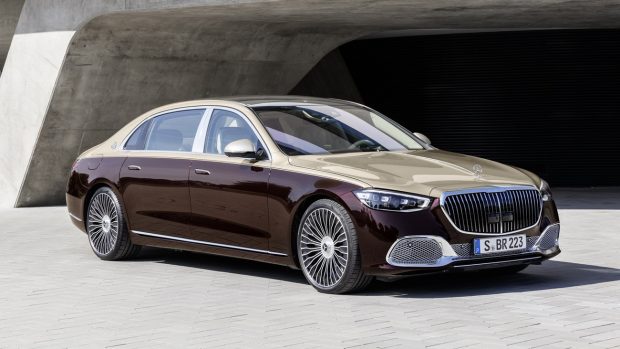 Emerging superluxury markets like China have been especially keen on Maybach product, with Mercedes-Benz confirming double-digit growth figures in that country. Other target markets include Russia, South Korea and Germany – though the Maybach S-Class will arrive in Australia in the fourth quarter of 2021 for a lucky local few.
This vehicle is based on the underpinnings and architecture of the all-new W223-generation Mercedes-Benz S-Class as you can probably tell from the outside – though it's hard to spot the additional length of the Maybach.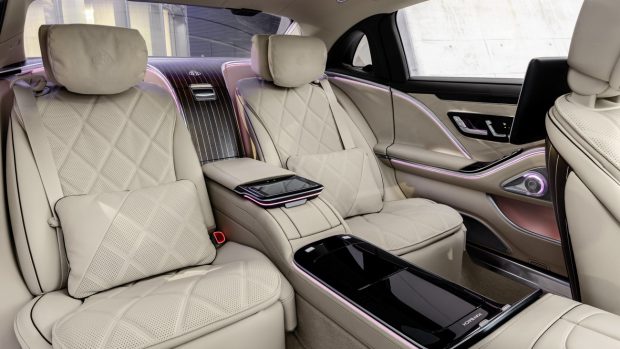 Compared to the already long-wheelbase S-Class, the Maybach measures up 180mm longer at 5,469mm. All of that extra space is in the wheelbase, which is now 3,396mm, or in words; gargantuan. It's also 7mm taller. Naturally, these tweaks are for the benefit of high-rolling occupants, who are greeted with an insanely opulent cabin.
Within the Maybach, much of the architecture and especially the touchscreen interfaces are familiar from the S-Class, but no BMW 7 Series or Audi A8 will come close. There is a central, floating 12.8-inch square format touchscreen for most of the controls, and a 3D 12.3-inch digital driver's display is optional.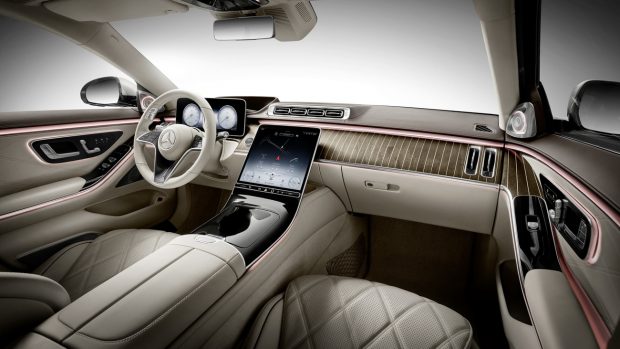 Mercedes' latest MBUX infotainment system naturally features, with the ability to option a total of five touchscreens throughout the vehicle. Over-the-air updates naturally feature, as does some very innovative tech including gesture control, eye detection and body language to adjust cabin parameters – air-con, ambient lighting etc. – to suit the mood inside the S-Class.
Soft Nappa leather appoints every surface, with quilting on the seats and even rear-seat lumbar pillows upholstered in cowhide. Brown, open-pore Walnut wood is broken up with copper-coloured striping; it's more like a million-dollar furniture shop than a car interior.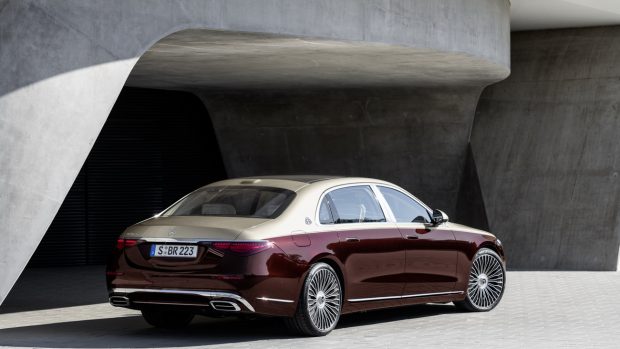 Maybach knows its owners will spend most of their time in the back seats – which are beautiful individual buckets; no bench seats here. They are fully electrically adjustable, with pop-out ottoman, and the rear passengers can control the position of the front seat. There is even the ability to lay the front seat flat for maximum snoozing comfort.
Topping off the rear quarters is a massage function for the trunk and legs, as well as neck and shoulder heating. Optionally, an MBUX infotainment screen can be had for the back seats, so riders can control the music, nav and other functions. It's nuts.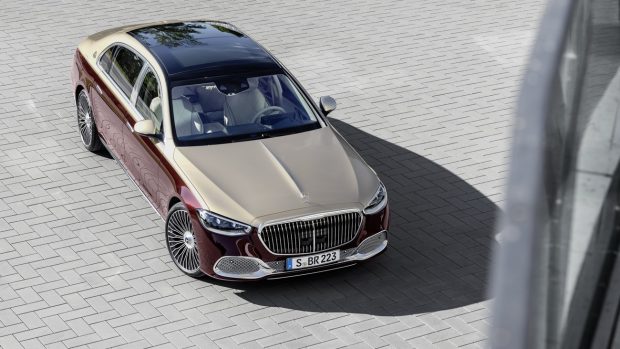 Maybach's launch spec (pictured) wears incredible two-tone paint with Kalahari Gold up top and Rubelit Red below, as almost a homage to the coach-built Maybachs of the early 20th century. Of course, buyers will be able to spec up their cars however they choose.
To further distinguish this expensive bit of kit from 'run-of-the-mill' S-Class, Maybach has added a new bonnet with a chromed fin and Maybach grille. More little details to tell this vehicle apart extend down the side, with subtly redesigned doors and pillar details that give the whole design more flow, and bumpers that add some real road presence. It looks incredible.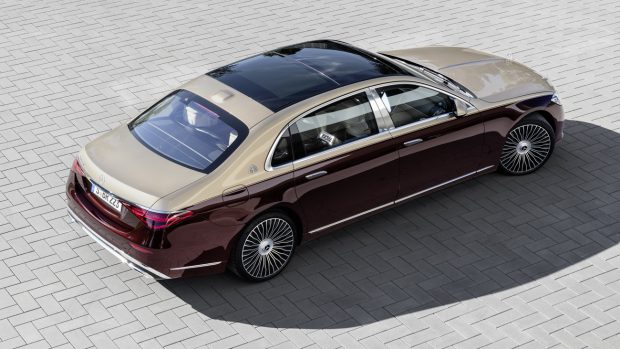 It seems almost vulgar to discuss the powertrain of a Maybach, but there is one in there, with a mild-hybrid assistance system linked up to a four-litre twin-turbo V8. There is no V12 offered, which is a little sad.
Still, going fast is not the point and Maybach has implemented a noise-cancelling program that works between 20-180km/h to cancel out predetermined 'unpleasant' frequencies from the road.
Mercedes-Maybach's all-new, immensely luxurious S-Class will debut in Australia in the fourth quarter of 2021.