There's a new AMG S63 in the pipeline, and Mercedes has given us a first look. It's not only the most powerful S-Class ever but it's also the most aggressive looking, most comprehensively equipped – oh, and did I mention it's a hybrid?
A plug-in at that. This is the new 2023 Mercedes-AMG S63 E Performance. The E means electrified, with a 13.1kWh battery pack in the rear providing juice to an electric motor mounted to the back axle.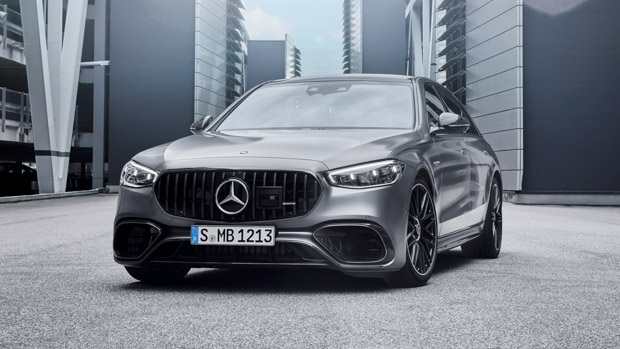 That's enough juice to provide up to 33km of range, which may not sound like much, but Mercedes says that's actually by design.
This is a hybrid system designed not for efficiency so much as it is for power, and the new S63 certainly has plenty of that. Total system power is 590kW and a whopping 1430Nm of torque.
Yes, that's a lot. 140 of those kilowatts come from that rear-mounted electric motor, which can actually drive all four wheels thanks to the S63's standard all-wheel-drive system.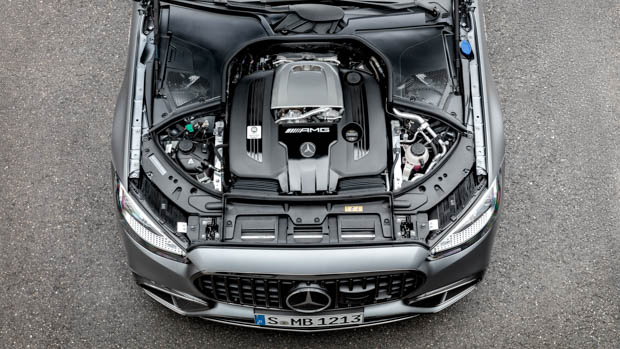 Where does the rest come from? AMG's tried-and-true 4.0-liter, twin-turbocharged V8. That provides the remaining 450kW. It's basically the same drivetrain setup as found on the AMG GT63 S E Performance, just with the edge taken off a little bit.
All that extra electrified hardware comes with a pretty substantial weight penalty, somewhere around a 400kg increase over the outgoing car depending on configuration. That means this sporty S-Class weighs in at a whopping 2595kg. That's as much as a Ford F-150 SuperCrew.
To ensure the S63 doesn't feel like a truck, this latest AMG comes standard with both Mercedes' active suspension and its active anti-roll bars. The latter will help to keep body roll to a minimum when you want to be sporty or can completely disconnect on bumpy roads to maintain that S-Class smoothness.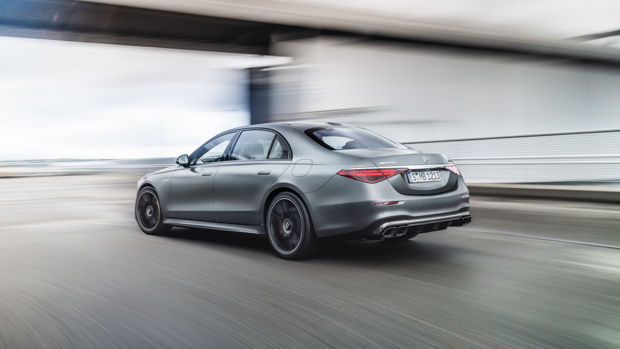 Standard rear-steering should also give the thing better moves than its mass would normally allow, but the amount of rear-steer is down to three degrees from the regular S-Class's 10-degree maximum thanks to the drivetrain setup here.
Visually, the biggest changes are up front, with a fully custom nose for the first time on the AMG S63. It's mean and aggressive, especially when configured with blackened chrome and carbon fiber surrounding the wide, side air-intakes.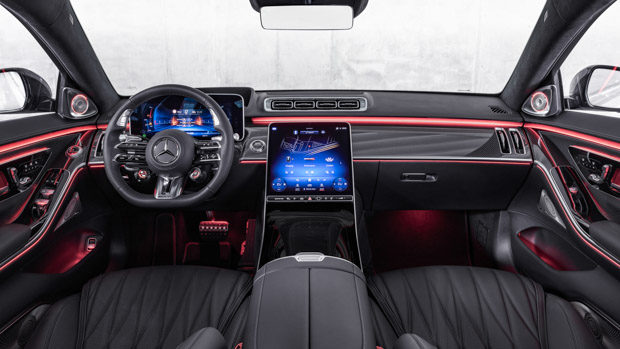 There's a big, three-star logo up front hiding the radar detector, making up for the missing standing star emblem on the bonnet, absent on an S-Class for the first time. Instead, you get an AMG logo flush-mounted on top of the nose.
Inside, there's AMG-specific stitching and badging on the seats and a custom sport steering wheel, which not only has dual selectors for toggling through the S63's seven different driving modes but also has the thumb buttons for enabling Mercedes' Drive Pilot level-three driving assistance system, which will be optional here.
The MBUX infotainment system has been customized with additional screens showing power distribution and the like, while both the gauge cluster and heads-up displays get bespoke modes, too. Other than that, it's the same, outrageously posh interior as on the regular S-Class. Buyers can configure it with any of the luxury niceties as a standard S.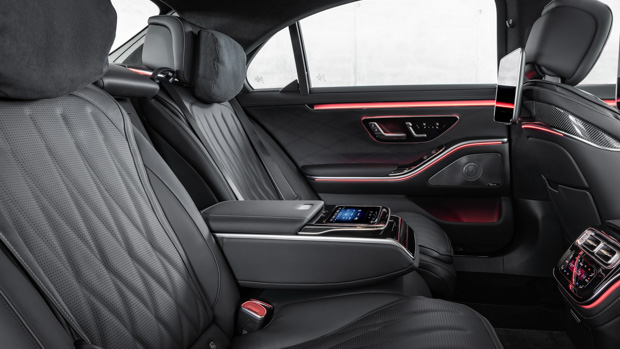 Mercedes says to expect the new AMG S63 E Performance sometime towards the middle of 2023 though it's not yet been confirmed for Australia.
Also yet to be confirmed is the price, but you know how it goes with these things: If you have to ask…