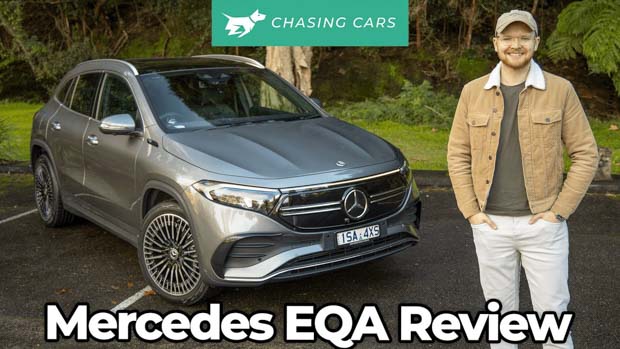 As a slow wave of electrification starts to crash up against Australian shores, Mercedes-Benz say plenty of their traditional customers have been delaying their jump to electrification as they wait for a right-sized EV wearing the three-pointed star.
The arrival of the new EQA in Australia almost simultaneously with the car's launch in Europe should satiate the demands of more than just traditional Benz clients.
Like the forthcoming Volvo XC40 Recharge, Lexus UX 300e, BMW iX3 and Audi Q4 e-tron, the new EQA is a small premium crossover that merely happens to be electric. Unlike the Tesla Model 3 (or Nissan Leaf), the EQA doesn't wear its electric heart on its sleeve.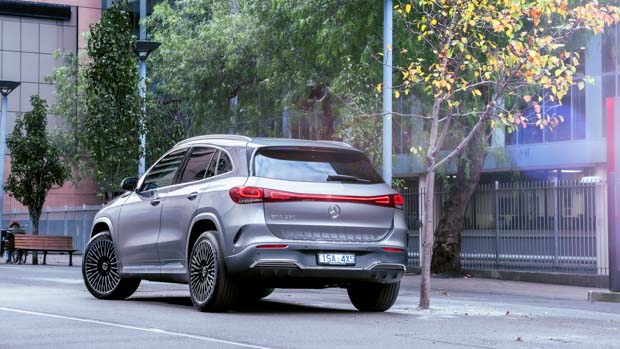 Priced at $76,800 – or just over $84,000 as tested – the EQA still isn't what you'd call cheap, but this is a Mercedes-Benz. And, importantly, this small SUV modelled on the popular GLA brings the price of entry for an electric Benz way down from the lofty circa-$140,000 heights of the midsized EQC.
It is unavoidable to notice that the EQA is dearer than its most important rival, the Tesla Model 3. However, we think it represents relatively better value than cars like the Kia Niro or Hyundai Kona Electric, which are around $10,000 cheaper than the Mercedes-Benz but far less well equipped. And, well, they're not in possession of this desirable badge.
The EQA is a baby Benz for the electric era, adopting the impressive MFA2-platform underpinnings of the second-generation GLA, removing the four-cylinder engine and replacing it with a front-mounted electric motor and a medium-sized 66.5kWh battery between the axles.
First to arrive is the single-motor, front-drive EQA 250, while a dual-motor AWD EQA 350 will arrive in Australia next year, offering another 50 per cent more power and the surety of traction from both ends.
But for most, the EQA 250 will be enough, potentially slotting into the garage as a runabout – though the 408km WLTP range means the front-drive EQA should be sufficient for road trips as Australia's electric superhighways take shape.
How does the EQA 250 drive?
Driven moderately, the EQA 250 fulfils the brief: it's an electric adaptation of the small car platform that is common to the A-Class hatch and sedan, CLA sedan and GLA SUV – the trio of entry-level Mercedes-Benz models, in other words.
With EQA joining the fold, that trio is now a quartet, though the combustion-engined origins of the MFA2 platform immediately limit this small electric SUV.
The motor takes the place of the engine, meaning there's no handy frunk, while the consumption of about 16.6kWh/100km is reflective of the inefficiencies of adopting an existing chassis rather than building an EV from the ground up.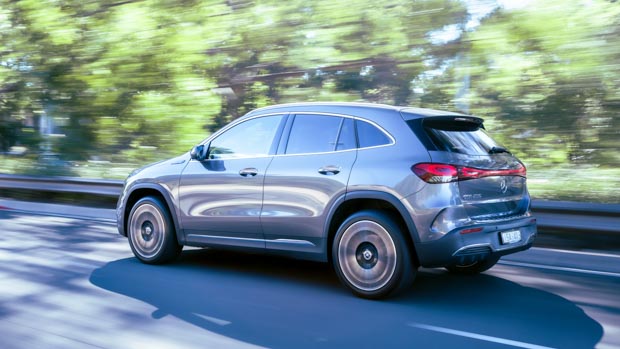 The new full-size EQS sedan will be the first dedicated Mercedes EV to launch in Australia, and no doubt future models will likewise work off specific electric platforms.
But as a way to introduce a much more affordable and fully electric model to the lineup, the EQA 250 kicks some serious goals for Mercedes-Benz.
Jump in, push the power button and drive away – existing owners will find the atmosphere is immediately familiar, minus the inherent clatter of a four-cylinder engine kicking in.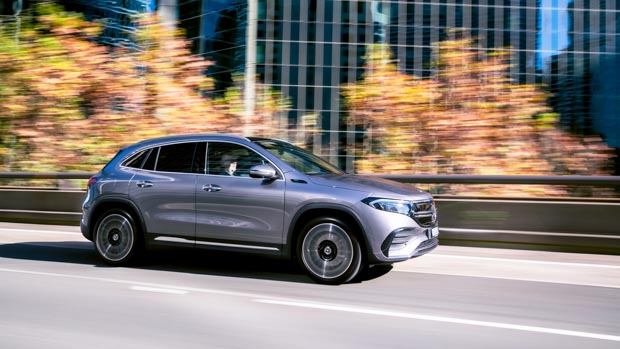 There is a silky synchronicity to the way the EQA 250 glides along that is actually quite reminiscent of some of this brand's old six-cylinder cars – there is power in reserve and very little noise accompanying it. Luxurious refinement, in other words.
Producing 140kW of power and 375Nm of torque, the EQA 250 isn't a sports SUV but it does have a certain turn of speed when you plant your boot, aided by the immediate availability of torque and responsive single-gear transmission.
In fact, there's so much torque that the front wheels chirp easily in lower-grip situations. The forthcoming all-wheel-drive EQA 350 4MATIC should solve this.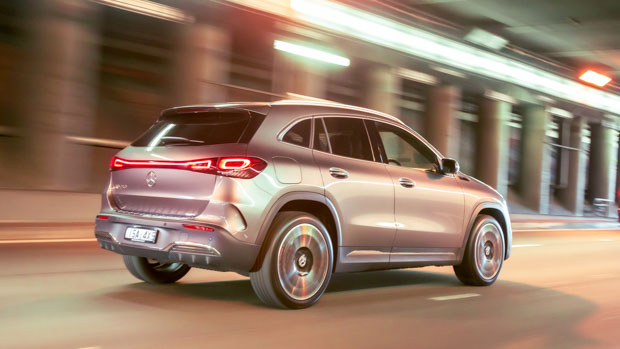 Recharging the EQA 250 can be done at home via a three-pin socket (in an eye-watering 25 hours), though an installed 11kW wallbox brings this down to a manageable 4 hours. Fast-charging speeds are rather unambitious, capped at 100kW, though the half-hour recharge time is efficient enough.
The EQA 250's combination of silky low-speed refinement and immediate responsiveness means it's a fun partner in town. See a gap and it'll be yours, such is the enthusiasm with which the EQA can jump forward.
That said, it's certainly not as much of a mongrel off the line as a Tesla Model 3, even in base Standard Range Plus form – and that's a car that costs about $15,000 less, too.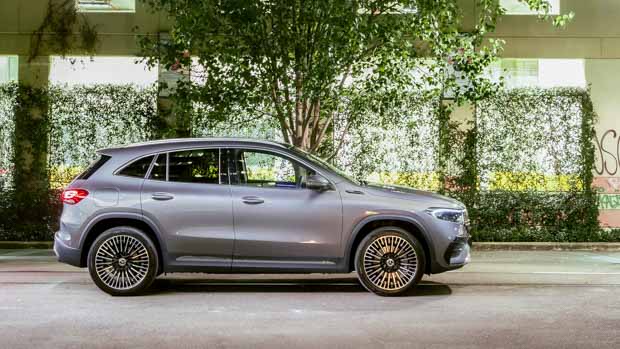 But a Tesla does not carry the same brand image as a Mercedes-Benz, and it's more than fair to say that many Benz people will be waiting for a car like the EQA.
Unfortunately, at least when equipped with our tester's AMG package on 20-inch wheels, the ride quality isn't quite up to Mercedes-Benz standards.
Perhaps it's the 448kg of additional weight the EQA 250 carries over a comparable front-wheel-drive, petrol-engined GLA that taxes the suspension, rather than the large-ish wheels. That kind of extra weight is substantial.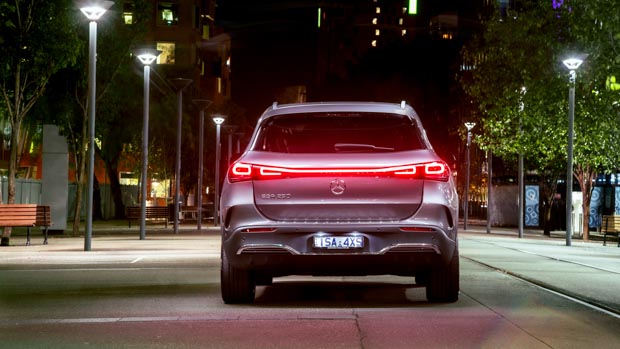 Either way, bumps and expansion joints are felt too prominently and then even on a flat and smooth piece of road, the dampers never really settle down. The bump absorption is at times worryingly arthritic. Shifting the adaptive dampers into their Sport setting reins in the body control nicely, but the ricketty ride never really resolves itself.
We're yet to sample a standard EQA on 19-inch wheels to see if this recipe works better on Sydney roads.
What is most impressive is the handling of the EQA, which does effectively disguise this crossover's porky 2,038kg mass. Understeer is resisted extremely well for such a small, tall, heavy car, and the calibration of the stability control system is expert.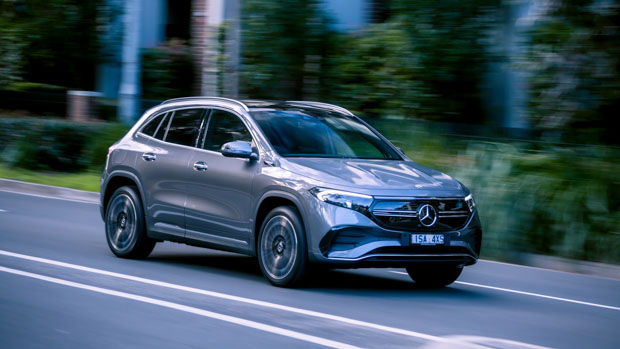 Mercedes-Benz have eschewed Tesla-style one-pedal driving for the EQA, though there are four levels of regeneration. At its weakest, the EQA totally glides when you lift the throttle. The second level basically imitates the flywheel effect of a combustion engine and gearbox, and this mode felt natural. Level three and four introduce more and more regen, though the EQA cannot bring itself to a complete stop.
Keen drivers will find the feisty and torquey EQA a surprisingly fun dance partner on a a twisting hillclimb. The forthcoming EQA 350, with dual motors, should only amplify this effect. Hopefully its suspension will also be refined further, too.
The EQA's semi-autonomous safety systems are tuned well. AEB, adaptive cruise control and lane keeping assist are all present and subtle in their intervention, while blind spot monitoring, cross-traffic alert and a 360-degree camera are also included.
How is the EQA 250's interior?
If you like the current styling of Mercedes-Benz interiors, then you'll like the cabin of the new EQA.
That's because, aside from some screen graphics, there is very little to mark the EQA out as an electric car inside. Instead, it runs with a near-duplicate of the GLA's high-technology, high-modernity cabin.
Mercedes-Benz interiors have not been subtle for many years now, and a buyer moving out of an older C-Class or E-Class will be taken aback at the priority given to the EQA's impressive double-width 'tablet' of screens.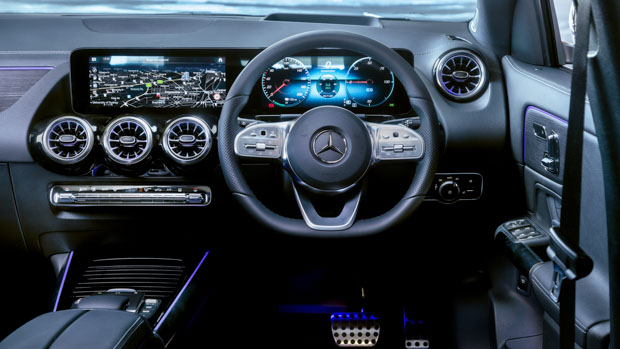 But while the technology is highly detailed and immersive, with a learning curve, you do come to grips with it and there is broad choice of how you interact with the car, from voice control, to a trackpad between the seats, to similar pads on the steering wheel to control each screen.
Navigation and digital radio are standard, and the displays can be customised via different drive modes – plus a large map can be cast ahead of the driver. Augmented reality for the nav, plus a head-up display, is part of an optional Innovations Package, though standard equipment is quite generous in the EQA.
Wired Apple CarPlay and Android Auto also allow smartphone mirroring to the centre screen, though rivals BMW and Audi now offer the wireless version of these helpful software suites.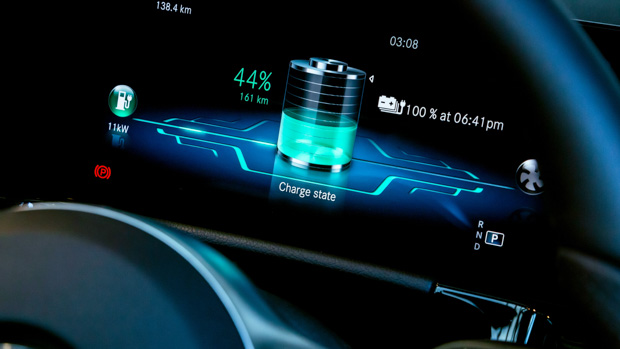 There has been a notable quality increase inside Benz's entry-level vehicles in the last year or two with the ushering in of a new platform and a new generation for the A-Class, CLA, GLA, and now EQA.
You will find less harsh plastic and fewer rattles than the previous generation of these cars, and in the main, the interior is impressively high-end in appearance and (mostly) in feel. Fit and finish is noticeably better than in the Tesla Model 3.
That said, a keen eye will still spot 'veneers' of luxury, like the rather thin soft pads on the door toppers. Still, the real metal trims and available open-pore wood are pleasant.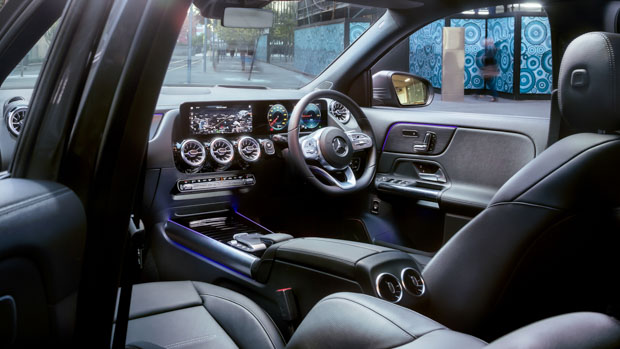 Just like in the combustion doppelganger GLA, you sit high in the EQA, with a commanding view over the road from the seats. These are a bit perch-like when compared to the snug pilot's pew in a BMW X2, but it's liveable.
Electric adjustment and seat heating is standard while cooling is an extra-cost option. Standard upholstery is Mercedes-Benz's artificial Artico "leather" but real hide can be had for just over a grand's extra outlay.
Practicality is reasonable, with wireless smartphone charging, a big big between the seats, and large door bins.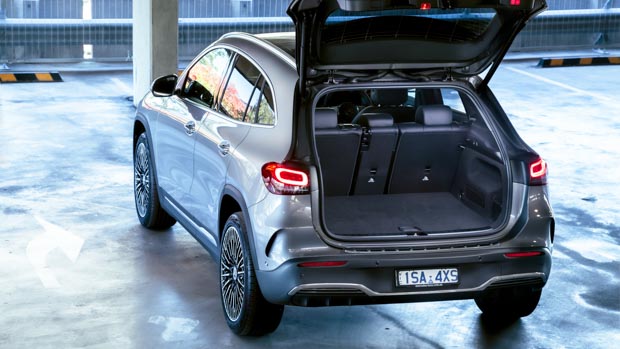 The back seat is also relatively spacious, with room for a six-footer to sit in tandem with a similarly tall driver. The middle seat is for emergencies only but is a nice to have. You'll find air vents back there too.
A 340-litre boot sits behind a standard electric tailgate, linked to the convenience key like all other doors (a handy inclusion). The included charging cables do take up some space, though owners will likely only lug around which ones they will really need. No spare sits beneath the boot floor, though.
What are the EQA 250's running costs?
The EQA isn't quite as affordable to run as we'd expect an electric SUV to be.
This is primarily because the prepaid servicing plans indicate that maintenance is more costly than it is in rivals, and also required more often than some. The service intervals are annual, like a combustion GLA, with a 25,000km maximum distance interval.
Three years of servicing paid up front will cost $1,300, while four years cost $1,800 and five years set you back $2,200 – averaging $440 per year or so. Sure, five years costs $3,500 for a petrol GLA, but EVs have far fewer mechanical and moving parts.
Take the Hyundai Kona Electric, which uses a similar single front motor setup and very similar 64kWh battery – yet five years of servicing (with a lower 75,000km total mileage, mind) costs $825.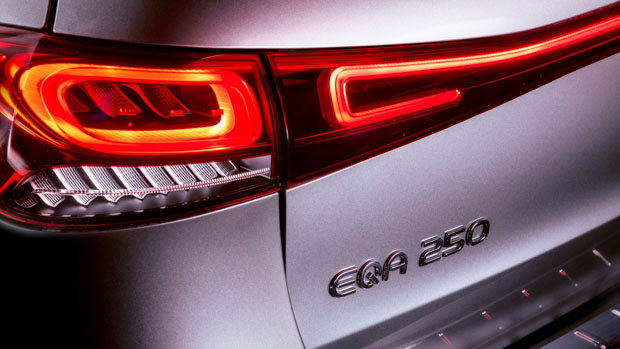 Still, other running costs for the EQA are attractively low.
This EV's consumption of about 16.6kWh/100km is decently efficient for the segment. Though the EQA trails the Tesla Model 3 or Hyundai's Kona Electric on this metric, the Benz is considerably more frugal than a Mazda MX-30.
Charging up to full at home will cost about $16, while public fast-charging should set you back around $26.
This consumption returns 408km range on the reasonably accurate WLTP measurement standard, and we were able to meet these claims on our test drive without trying very hard.
Impressively for the luxury segment in Australia, Mercedes-Benz has a five year warranty with unlimited kilometres. The warranty on the EQA's battery is eight years with 160,000km of distance covered.
The final verdict
The Mercedes-Benz EQA will make a lot of sense to a lot of people.
Here is a smartly-sized, tech-laden, generously equipped small luxury SUV that happens to be fully electric. Either as a standalone vehicle or a second car for the garage, the EQA's appeal isn't lost on us.
We just wish it rode a little better, though we're holding out hope for the standard, slightly smaller 19-inch wheel and tyre package.
With good usable real-world range, a punchy electric motor and well above average handling, though, the EQA 250 is a plenty-desirable entry-level luxury EV.