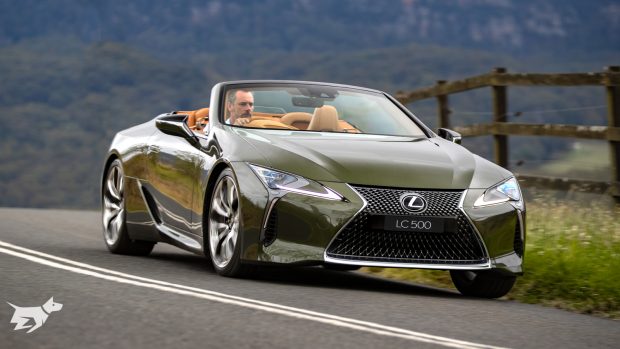 It would take a very attractive car indeed to best the Lexus LC 500 Convertible as the most beautiful new vehicle to appear on public roads this year. Design is – mostly – subjective, but this opulent, indulgent Japanese grand touring cabriolet is one of the most cohesive drop-top cars ever to be penned on canvas and then machined into a physical object.
It's as if your eye relaxes when you see the new convertible iteration of the LC, which joins the almost-as-pretty coupe that debuted in LF-LC concept form way back in 2012. Almost every line from the concept was retained for the eventuating production car – but despite this design being just a few months' shy of its ninth birthday, it is quite timeless.
The decision to build a convertible was not made until it was clear there was a slice of demand for such a vehicle from the kind of customer who might otherwise have splurged on a Mercedes-Benz S-Class drop-top, a new BMW 8 Series convertible, or perhaps the harder-edged Porsche 911 Cabriolet.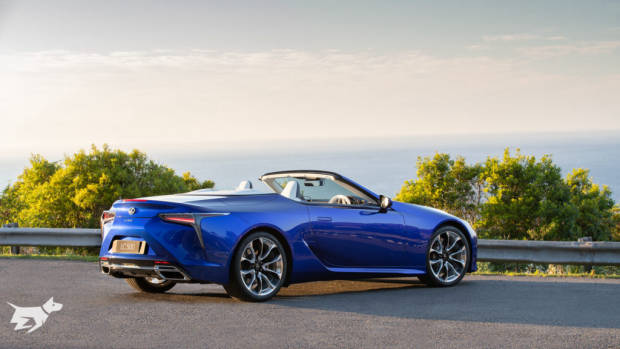 However, the luxury buyer with a discerning eye for cohesive automotive design could be swayed by the Lexus LC convertible, which, priced at $214,000, commands a $19,000 premium over its fixed-roof sibling.
The drop-top LC was presented on its Australian launch in a number of carefully customised specifications – 'Khaki Metal' green with a tan soft-top and rich ochre interior, 'Carnelian' orange over black leather, and most strikingly, in 'Structural Blue' over white leather Limited Edition form – a further $20,000 up-charge for less than ten early customers.
The classic green-over-tan combination popularised by British roadsters was the most successful combination. While its styling is progressive, many other aspects of the LC Convertible are almost as traditional as such a set of colours.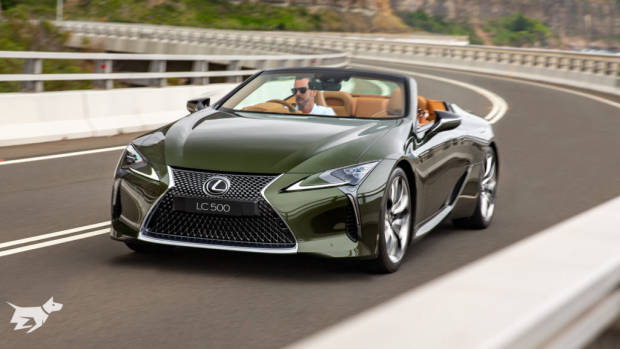 Chief among this vehicle's old-school characteristics is its engine, which, unusually for this brand, eschews electrification or hybridisation in favour of displacement and grunt. Five litres in capacity, this V8 engine does service in Lexus's fastest 'F' range vehicles – and in the LC, which is not an 'F' vehicle, but instead an 'L' flagship model alongside the LS saloon and LX four-wheel-drive.
Equipped with the same 351kW/540Nm tune as the F cars with which it shares an engine, the LC 500 Convertible (successfully) walks an interesting balance between offering up surprisingly assertive performance before resuming a calm, supple, laid-back demeanour. If you don't go looking for it, there are precious few hints of this car's true capability.
But you will go looking for it – because nobody is going to buy this Lexus LC by accident. And what you will find is a reminder of why naturally aspirated engines are such a delight. Even while you're driving this vehicle, you almost mourn for the fact that one day soon, this sort of engine will be regulated out of existence.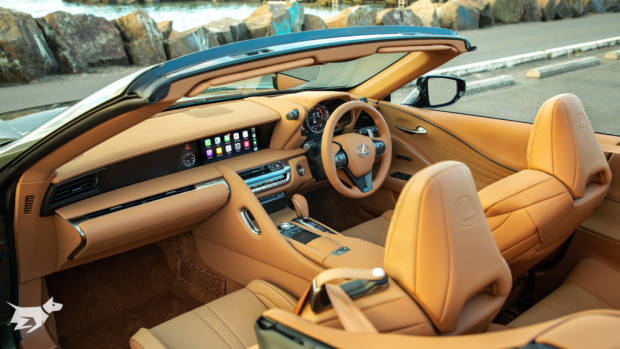 Climb down into the LC's exquisitely leather-lined cabin, legs stretched out in traditional long-nosed, rear-wheel-drive fashion, and the vibe is more modern luxury hotel than sports car. But a dab of the Start/Stop button awakens the V8 with an immediate throttle blip, suggesting that there's some action to be found up front.
At low revolutions, though, the engine is a pussy-cat – anybody could drive it. The 2UR-GSE engine is one of the most smooth high performance motors currently in production for driving at low speeds. Drive AMG's four-litre V8 with modest throttle and you get the sense that it is totally out of its comfort zone being driven slowly. Not so in the Lexus, which will happily purr along. You don't have to be on it all the time.
But then you find an empty backroad and you're seated centre stage, low-set, comfortable – the perfect place to take in the five-litre's symphony. It's a tune that crescendos from a bassy warble, through a metallic mid-range all the way to a property loud blare as the second cam kicks in. It is quite a symphony to hear – only you're part of it, the conductor.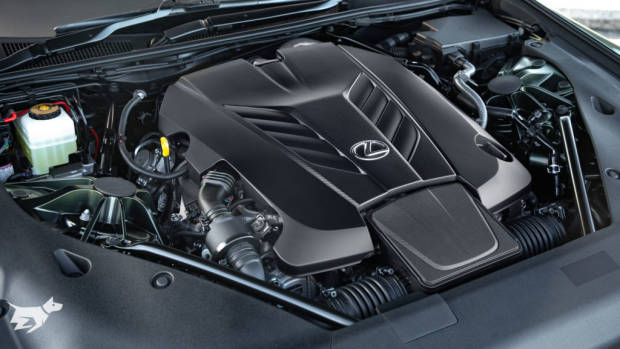 Even more than the LC 500 coupe, the convertible reads your throttle inputs, aggression on the pedal, gear selections – because as soon as you're tired of fast and loud it politely muffles the engine. The car senses that you'd like to relax to the considerable quality of the Mark Levinson stereo or have a conversation in the cabin.
The LC backs up its theatrical engine sound with a good turn of pace – it just dips under five seconds for the 0-100km/h run. It's slower than turbocharged rivals like the BMW M850i – which does the same dash in less than four seconds – but the point isn't going as fast as possible in the LC 500. It is sufficiently quick but also pretty laid-back.
The handling is also mostly up to the job. Australia's bump-laden and pockmarked backroads certainly remind you that you're in a convertible, as the LC 500 drop-top lacks the impressive stiffness and solidity of the coupe version that continues to be the driver's choice in this exclusive lineup. Minor shimmies and shudders disrupt the peace if you strike an imperfection in the middle of the corner but you only notice if you're really on it, chasing up a mountain pass.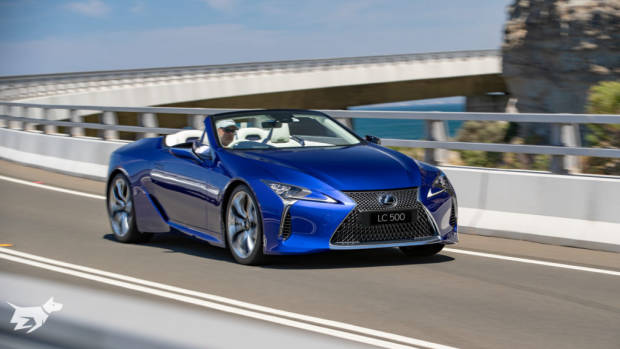 The steering is light and quick and the chassis is keen to move about under braking and on throttle, where it reminds you that the only drivetrain choice here is rear-wheel-drive (as it should be). But there's also no avoiding that this is a heavy car, over two tonnes, about 100kg heavier than the coupe, though only 30kg heavier than the (admittedly AWD-equipped) BMW M850i.
If you are buying a Lexus LC because you're a very enthusiastic driver with a desire to combine a traditional V8 with a properly luxurious experience – right down to the supremely high level of service offered to Lexus owners through the brand's Encore Platinum privilege programme – you will want to opt for the superior dynamics of the coupe.
But if you are buying an LC because you appreciate the styling, the perceived and real quality found in the interior, the sound of the V8, the decent dynamics and the undeniable sex appeal – we would find it very hard to walk past opting for the convertible.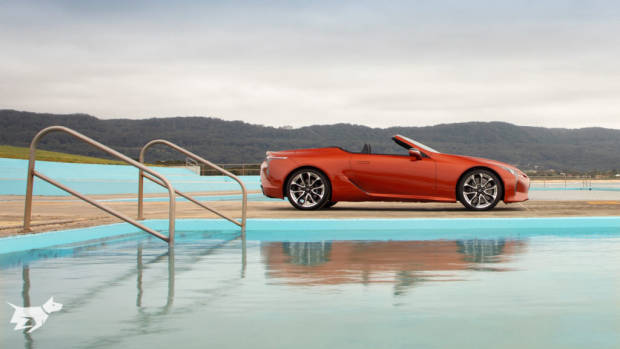 And, even priced at $214,000, about $228,000 driveaway – objectively an expensive vehicle – there is relative value to be found here. The competing BMW is $289,000, for example. The Mercedes-Benz S560 is $349,235!
The specification list is generous, commencing with standard, very deep premium paint colours, triple-stack automatic LED headlights, retractable smart door handles, and 21-inch forged two-tone alloy wheels that look impossibly large and yet deliver an entirely adequate cruising ride quality.
Inside, almost every surface is bathed in semi-aniline leather, while the front seats are ten-way power adjustable (though they lack up-down lumbar movement). Both front pews sport heating and cooling, and the driver has memory settings. The steering column is power adjustable and heated – and there are in-built neck warmers.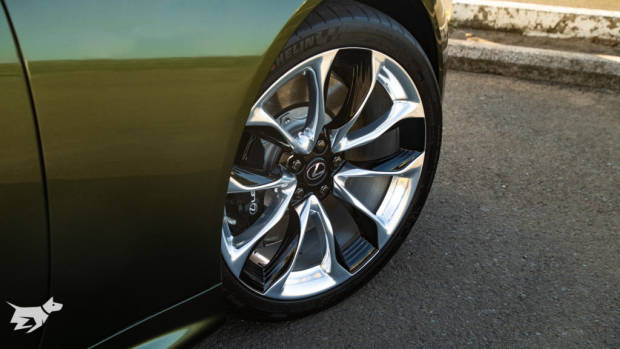 Music flows by way of a 13-speaker, 918-watt Mark Levinson stereo with active noise cancellation helping to quell unwanted noise underneath the four-layer fabric roof.
A mechanical limited slip differential helps to channel torque intuitively – while a number of semi-autonomous safety features stand guard, including AEB, lane keeping assistance, adaptive cruise control, blind spot monitoring, and rear cross traffic alert.
If we were to complain about missing spec, it'd be largely confined to the aforementioned lumbar settings, as well as heating for the door sills and armrests – features the BMW M850i does not forget. On a cold day, it does make a difference and we missed it on our chilly drive across the Kangaroo Valley, south of Sydney.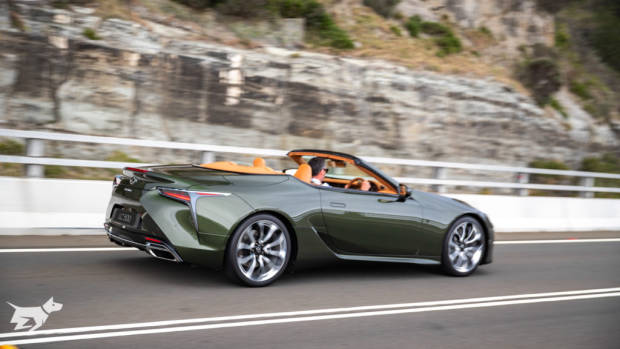 A four-year warranty applies to the LC 500 convertible, along with all Lexus vehicles. Owners are enrolled in Lexus's Encore Platinum programme, which extends the brand's complimentary service collection, return and loan cars with a higher level of privilege. Three bookings of up to eight days in length can be made in the brand's other vehicles across a three year period – meaning you can swap into a Lexus LX 570 for a trip to the snow from the comfort of a smartphone app.
There is no doubt that the Lexus LC 500 Convertible is an indulgence. But like the very best of indulgences, it actually goes some way to appealing to the head as well as just the heart. There is a strong vibe of 'last of its kind' to the LC, even if Lexus are not walking away from the five-litre engine just yet. It's something of an analogue theme implanted in a vehicle that is, on the face of it, a great expression of progressive luxury.
To us, that blend of tradition and modernity is a combination that is simply charming.