With the imminent release of the 2022 Toyota Land Cruiser 300 Series later this month, there is no better time than now to compare it against one of its oldest rivals, the Nissan Patrol.
In this article we will break down everything from engine specs to towing and suspension so you can see which car might fit your lifestyle better.
These 4WDs are some of the most expensive but capable wagons on the Australian market, ideal for touring or towing.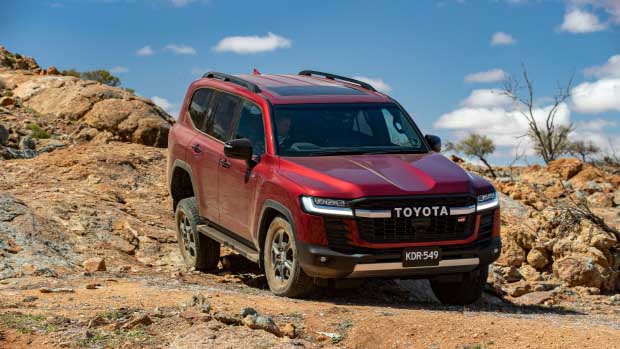 Let's compare two of the most hardcore iterations of each respective model, the Land Cruiser GR Sport and Nissan's upcoming Patrol Warrior, a Premcar special edition that is soon to be announced.
Dimensions
Starting with the GR Sport, it measures in at 4995mm long, 1990mm wide, 1950mm tall and has a wheelbase which measures in at 2850mm.
The GR Sport has a kerb weight of 2630kg and has a fuel capacity of 110 litres.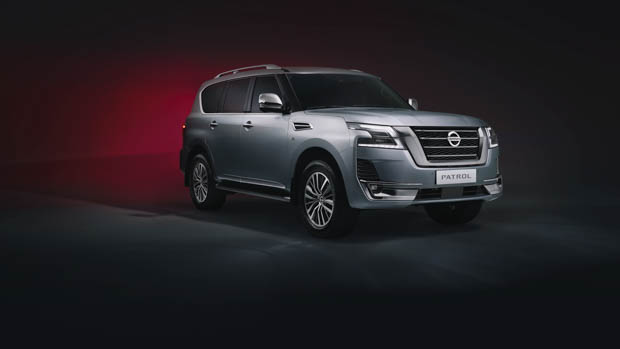 The Patrol Warrior is still yet to receive specific dimensions but the top of the range Ti-L measures in at 5175mm long, 1995mm wide and 1955mm tall, with a wheelbase of 3075mm.
That makes the Patrol bigger in every dimension. Bear in mind that the Warrior is likely to be slightly taller due to a lifted suspension setup.
The Patrol weighs in at 2861kg (kerb), making it the heaviest of the two as well. It has a massive 140 litre fuel tank.
Powertrains
While the last generation Land Cruiser was powered by a diesel V8 engine, this time around Toyota has ditched the V8 and has instead developed a 3.3-litre twin turbo diesel V6 engine which produces more power and torque than the outgoing V8.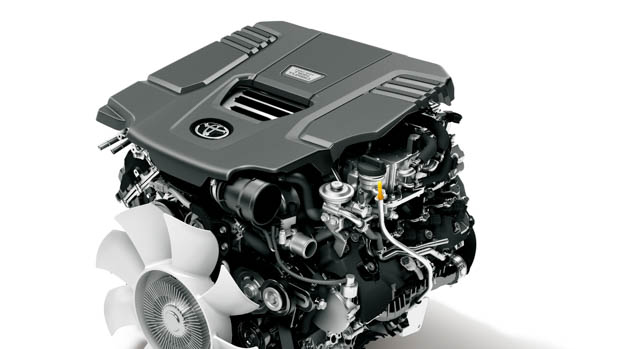 The GR Sport receives the same engine as the rest of the range and it produces 227kW of power and 700Nm of torque.
Power is fed through a 10-speed automatic transmission that also features a manual shift mode.
The Patrol on the other hand is rather old school, using a naturally aspirated 5.6-litre petrol V8 engine which produces 298kW of power and 560Nm of torque.
That's more power but less torque than the new Land Cruiser engine, however you'll certainly need that 140 litre tank as the Patrol is a thirsty beast.
The Patrol features a seven-speed automatic transmission and must take premium unleaded petrol (min 95 RON).
Off-road capability and range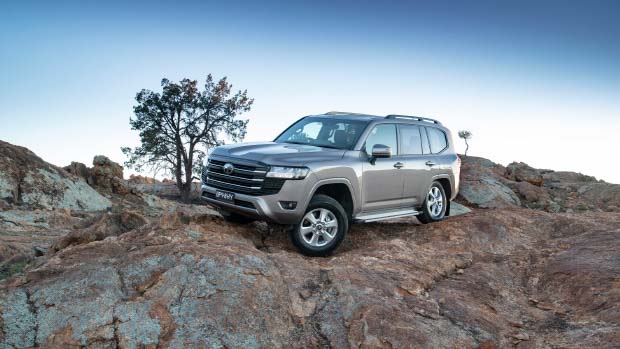 The best 4WDs don't just have a good engine but they're also perfectly built for the task at hand.
Maneuverability and capability plays a big part in making a good 4WD.
The GR Sport has 235mm of ground clearance, with a 32 degree approach angle and a 25 degree departure angle. Large 265/65R18 tyres are fitted on 18-inch rims.
Range for the GR Sport is estimated at 1200km per tank.
The Patrol has a higher ground clearance of 275mm and has an approach angle of 28 degrees and a departure angle of 26.3 degrees. For the Warrior version, we estimate very slight increases in clearance (around 6mm) and small increases in approach and departure angles.
The Patrol uses 265/70 R18 tyres which are very similar to those fitted on the Cruiser.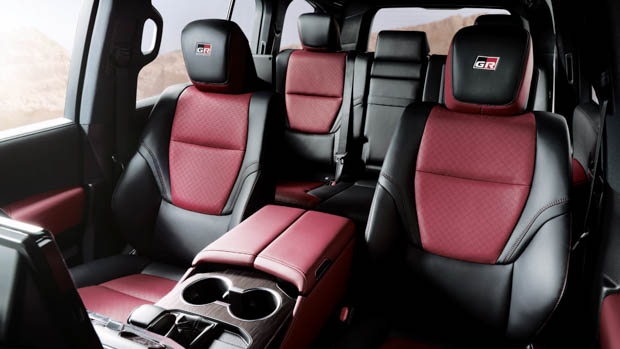 The Patrol has an estimated range of 970km per tank based on a 14.4L/100km average fuel consumption.
Performance and towing
There is little point discussing the 0-100km times of these two brutes as they are hardly going to break any records, but what we can talk about is their offroad and towing credentials.
Beginning with the GR Sport, it is the only Land Cruiser in the range to feature an Electronic-Kinetic Dynamic Suspension system, a complex system which electronically locks and unlocks the anti-roll bars based on certain situations, giving the car greater flexibility.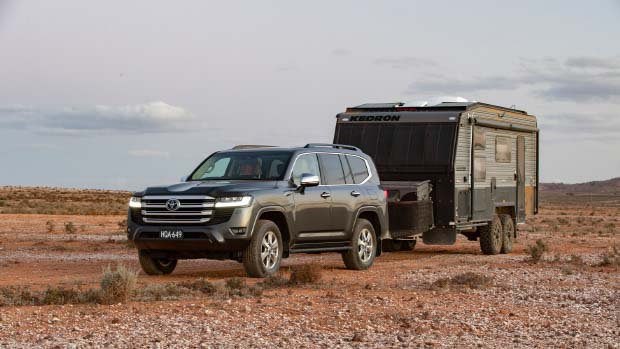 It also features front and rear differential locks, as well as Adaptive Variable Suspension, crawl control, down-hill assist and multi-terrain select.
The Patrol features a hydraulic body motion control system, an electronic rear locking differential and a limited slip differential. Hill descent control is also included.
Both GR Sport and Patrol can tow up to 3500kg (braked), making both cars a tempting choice for those who own caravans or trailers.
Specifications
The GR Sport features one of the highest levels of specification in the Land Cruiser model lineup. Standard features include LED headlights, GR badging, premium side steps, black exterior accents, power back door, leather seats, heated steering wheel, 5-mode drive select, smart entry and four zone climate control.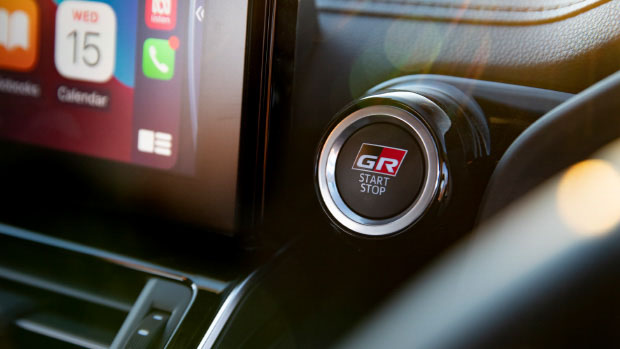 A 12.3-inch touchscreen features centrally on the dash along with a 7-inch multi function display located in the instrument cluster.
Apple CarPlay, Android Auto, wireless phone charging and a 14 speaker JBL system all feature on the GR Sport.
The Patrol is well equipped, also, with LED headlights, leather accent interior trim, remote keyless entry, tri-zone climate control, 8-inch colour touchscreen, satellite navigation, off-road monitor, second row entertainment screens and 13 speaker Bose sound system and much more.
While the Patrol does have plenty of features, its interior and infotainment seems far more dated than that of the GR Sport. A non-digital instrument cluster for the Patrol makes it seem more old school when compared to cars that have one at half the price point.
Safety
The GR Sport features Toyota's safety sense package which includes pedestrian and daytime cyclist detection, active cruise control, lane departure alert with brake to steer and road sign assist.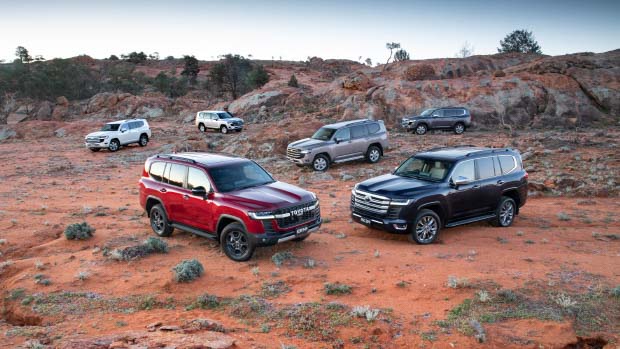 The GR Sport also comes standard with blind spot monitoring, rear cross traffic alert, front and rear parking sensors, reversing camera and trailer sway control. The Land Cruiser comes fitted with 10 airbags.
For the Nissan Patrol, it features an intelligent around-view monitor, vehicle dynamic control, hill descent control, curtain airbags on all three rows, forward collision warning, intelligent cruise control, lane departure warning, lane intervention, blind spot warning and blind spot intervention.
Both score well in the safety category and offer excellent driver and passenger protection.
Price
This is where there is a significant divide between the two cars.
The GR Sport will be sold in Australia for a whopping $137,790 before on-road costs.
The top of the range Ti-L Patrol is listed at $94,115 before on-road costs.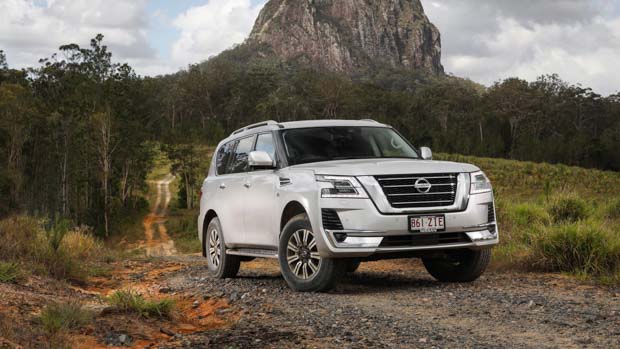 By looking at the cost of the Pro-4X Warrior Navara, we can estimate a Warrior Patrol could cost between $110,000 and $120,000 when it is launched. With that increased cost will likely come a host of new upgrades to the Patrol platform.
Verdict
The 300 Series Land Cruiser GR Sport is an expensive machine, but with it comes better tech, a more efficient and powerful engine and a stack of safety features.
While the Patrol can certainly keep up with the pack in all of those areas, it does fall short when it comes to engine efficiency and interior design.
Despite that, the Patrol is competitive with its pricing. You'd be hard pressed to afford anything more than a base Land Cruiser GX for the same price as the Patrol Ti-L.