Nissan has used a convention for Australian media in Sydney this week to declare that the local market is ready for broader electrification. Ahead of a mid-2019 local launch for the second-generation Nissan LEAF – the Japanese brand's Honda Civic-sized, zero emission hatchback – research commissioned by Nissan and conducted by Kantar TNS has determined that 29 per cent of new car buyers locally are considering an electric vehicle for their next car purchase, while 63 per cent now feel that electric vehicle takeup is an inevitability.
Nissan's first foray into electric cars took the form of the first-generation LEAF, which launched globally in 2010 and became available in Australia in June of 2012, priced at $51,500 and found limited success with fleet and private buyers. While local interest in the first LEAF was tepid, globally the car performed well with 360,000 units sold. As yet, pricing has not been announced for the second-generation of the vehicle.
Speaking with Australian media at the reveal of the 2019 LEAF, Nissan's global executive vice president of sales and marketing for the brand's zero emissions and battery business, Daniele Schillaci, related that Nissan's rivals "said we were crazy – today, they are following in our path."
Nissan's Daniele Schillaci.
While the second-generation iteration of the LEAF, which arrives down under in winter 2019, is not an all-new car, it does benefit from substantially different styling, a new interior, and an enhanced electric powertrain producing 110kW of power and 320Nm of torque, capable of dispatching the 0-100km/h sprint in 7.9 seconds.
More realistic mileage testing under the Worldwide Harmonised Light Vehicle Testing Procedure (WLTP) indicate a range of 270km for the Leaf – an increase of around 98km over the previous car. Mr Schillaci said achieving a range of around 300km was key to "psychologically reducing the barrier of range [anxiety]. When you are in the 250–300km [vicinity] people do not talk anymore about range."
Mr Schillaci talked up the benefits of being able to manage up to 90 per cent of acceleration and braking through the LEAF's 'e-Pedal' – the throttle in an electric car, when released, triggers regenerative braking often strong enough to stop the car entirely.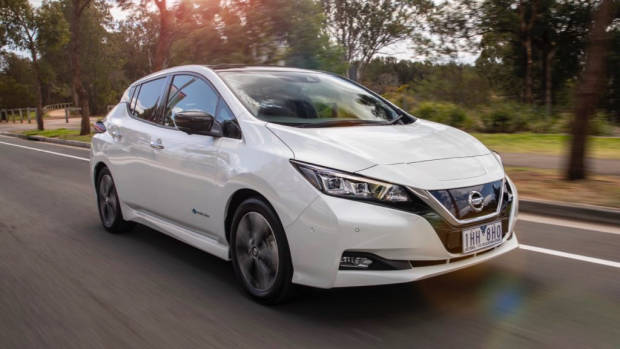 It was also confirmed by Mr Schillaci that as part of the LEAF's focus on technology integration, will be the first Nissan locally to be offered with Apple CarPlay and Android Auto smartphone pairing, presented on a larger touchscreen than the brand's familiar small cars, including the popular Qashqai SUV.
Alongside the pillar of intelligent integration, Mr Schillaci pointed to Nissan's two other driving pillars of intelligent driving – increasing autonomy and control – and intelligent power – what Nissan refer to as "more exciting and cleaner" drivetrains.
The move to more efficient drivetrains, driven by electrification, will be an ongoing theme at Nissan locally. Stephen Lester, managing director of Nissan Australia, used the LEAF reveal to announce that one-third of the brand's volume in Australia will be electrified by 2022.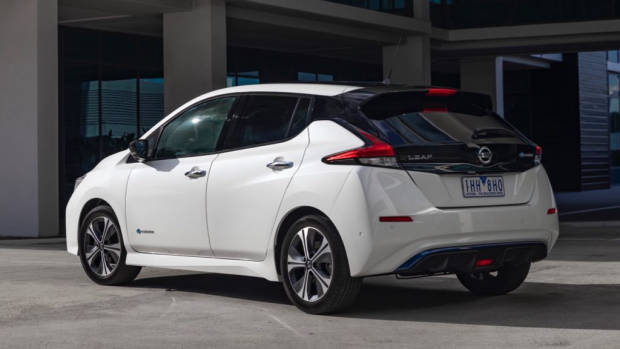 Given that the LEAF will be the only electric car in Nissan's lineup when it arrives in around nine months – and that it does not adopt a more popular SUV form factor – this will be a tall order.
In 2017, Nissan sold 56,594 vehicles in Australia and 2018 is on track for a slightly better result, with around 4.9 per cent market share. Nissan's sales are well down on five years ago, when the brand shifted 76,733 vehicles and owned a 6.8 per cent market share.
Assuming sales surpass the 60,000 mark by 2022, selling – not merely offering – 20,000 electrified vehicles in Australia will certainly be a challenge, but Mr Lester indicated that the time has come for brands to step forward and embrace change. "With more choice, Australians will embrace electric vehicles. Nissan is extremely well prepared and positioned for that growth – we will be the envy of others," Mr Lester said.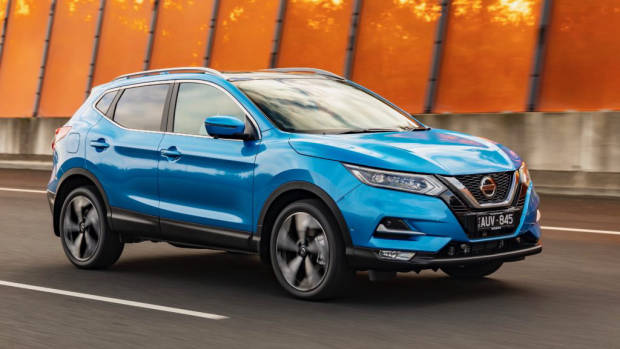 If Nissan wants to achieve one-third volume electrification, it's likely we will see a Qashqai hybrid to support such a goal.
It can safely be assumed that the LEAF alone will not carry the burden of the challenge set by Mr Lester. We would expect to see hybridised versions of Nissan's popular SUVs – the small Qashqai and midsize X-Trail – becoming available in future years.
Part of that preparation includes a massive broadening of electrification in Nissan dealerships led by a partnership with Melbourne-based charging station firm JET Charge. Currently, 12 Nissan dealerships have the required infrastructure to sell, charge and maintain the LEAF (or other electric vehicles). Before the LEAF's launch in mid-2019, the number of EV-capable dealers will increase to 89.
"At 89-strong, Nissan will offer the most comprehensive EV dealership, sales and service network across the entire country. They will be spread between 62 metro and 27 provincial centres across the country, including places like Cairns and Fremantle," Mr Lester said.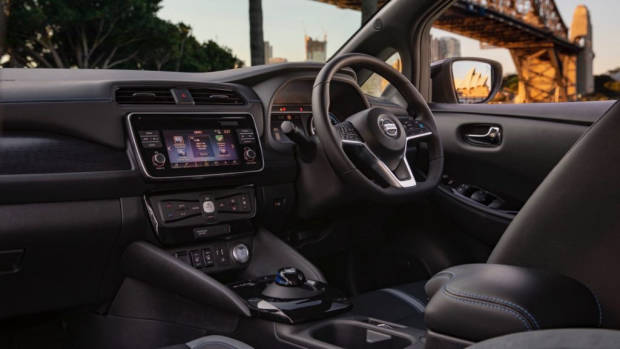 The interior of the new Nissan LEAF.
"All will be EV-ready when the LEAF arrives in Australia, meaning dealers will have the expertise and infrastructure in place…and they will have trained service technicians on hand."
JET Charge will have responsibility for installing charging infrastructure at the 77 Nissan dealers that will be upgraded. "JET has installed more charging stations in Australia than any other company," Mr Lester told Chasing Cars. "They will provide ongoing support to all dealerships, as well as preparing and training our staff."
Such a broad upgrade to its own dealer infrastructure is the boldest element of Nissan's new push into electrification. The substantial cost, Nissan argue, is justified by research the brand commissioned in Australia and New Zealand into consumer sentiment relating to electric cars.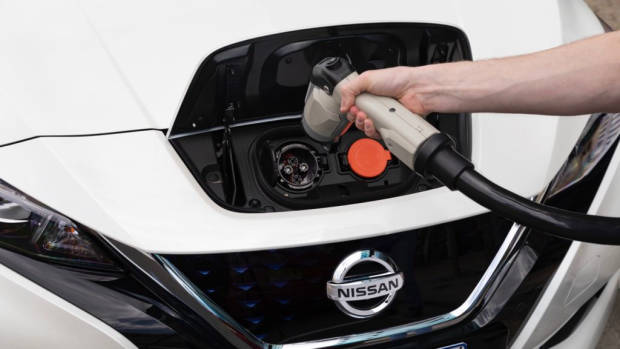 The data, which was based on 517 Australian responses online and was presented to media by the executive director of the Australian arm of global research firm Kantar TNS, Alastair Leathwood, points in a positive direction for the future of electric cars in Australia, of which the LEAF will be just one in an increasingly busy marketplace.
By the time the LEAF hits the Australian market, at least one fully-electric Hyundai will be available, if not two. The Ioniq electric – a Toyota Prius-sized liftback expected to be priced around $45,000 and offering around 280km of range – arrives in late November 2018.
An electrified version of the Hyundai Kona small SUV is expected to follow around Christmas with a substantially better range of around 470km. Kia have also announced that the e-Niro – a small SUV/MPV crossover – will come to Australia next year with about 500km of range, priced around $50,000.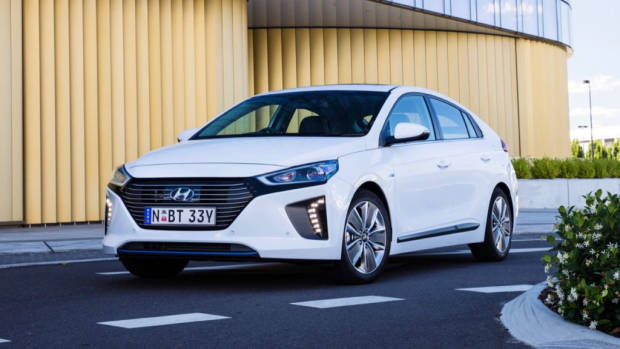 An electrified version of the Hyundai Ioniq will arrive in Australia ahead of the LEAF.
The Kantar TNS paper presented to media found that Australians are "well aware of progress being made in California, Norway and Northern Europe," said Mr Leathwood. That awareness has led to 63% of Australian new car intenders being "much more willing to consider an EV today than they were five years ago."
Perhaps more tellingly, "more than half of Australians consider a move to electric cars to be inevitable," Mr Leathwood reported, adding "they know it's going to happen – it's just a question of when." Just under thirty per cent of Australian new car buyers are willing to consider an EV for their immediate next car purchase.
That being said, Mr Leathwood reported that Kantar TNS identified a number of concerns about electric cars among Australians – namely difficulty in charging EVs. "Three-quarters of Australians are concerned about public [charging] infrastructure needing to be there to support the rollout of [electric car] technology. There is a clear need to address both public and private infrastructure to make this comfortable," Mr Leathwood said.
Nissan executives cited Australian Bureau of Statistics data from 2016 that found the average metro-based Australian driver drives 38 kilometres per day. Mr Schillaci, Nissan's global vice-president of zero emissions vehicles, was buoyed by such a figure, saying "With 270km of range, you can almost charge the car only once a week," he said.
Nissan's effort in expanding the electrification of its dealers is one step in rectifying concerns about charging, though executives refrained from arguing Australian governments needed to do more to spur the installation of charging points out and about. The need for this, though, is inherently clear. As Mr Schillaci pointed out to mark the close of the LEAF's reveal, "The moment you build a clear ecosystem, things will go very, very fast."