How much is too much? This July Australians can buy the 2022 Ford Ranger Raptor, now with a 292kW 3.0-litre twin-turbo V6 petrol in place of the old 157kW 2.0-litre turbo-diesel.
Despite this mighty leap in power and performance, it's human nature to always demand more. Not least when we contemplate the giant power and torque potential of the North American market's F-150 Raptor R and fully electric F-150 Lightning.
Read more about the new Ford Ranger Raptor:
Ford's confirmed the full-size pickup F-150 Raptor R is coming – at least in the United States – but this model is not yet in production. Ultimately, it will be sold side-by-side with the 'normal' F-150 Raptor which features the same twin-turbo V6 EcoBoost found in our Ranger Raptors.
Suggestions are Ford will utilise the so-called Predator V8 for the Raptor R, a 567kW/847Nm supercharged 5.2-litre found in the ferocious Mustang Shelby GT500. On a totally different path, but with equally impressive figures, the full electric F-150 Lightning offers up to 420kW and 1050Nm, with an expected 0-100km/h time in the mid-four seconds. Deliveries of it start in American in a matter of weeks.
Could a V8 find its way into the Ranger Raptor?
Let's get the first obvious question out of the way. Could there be a Ford Ranger Raptor R sold on our shores with a V8 donk?
Not according to some of Ford's engineering bigwigs visiting Australia from America to see the final stages of the Ranger Raptor's development. The idea may light up your inner hooligan, but the new V6 twin turbo is doubtless a better fit.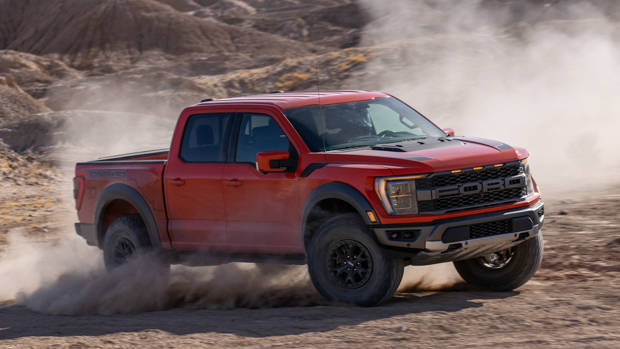 "What we've announced (the F-150 Raptor R) is pretty unique," explained Carl Widmann, jovial chief engineer of Ford Performance and, judging by his incredible car collection, a proper passionate fast Ford enthusiast. A Mustang Shelby GT500 and 2019 Bullitt Mustang are his weapons of choice to drive to work each morning.
"We focus on a twin-turbo V6 (for Ranger Raptor) because of its power," Widmann said. "The amount of package space and the amount of weight it puts forward, that's why we choose it. We don't choose big heavy motors. We want to get the power out and in the lightest way possible, especially in the front end."
Raptor Hybrid would add power – and weight
The Ford Ranger Raptor V6 already has a hefty 2442kg kerb weight, but with government legislations and customer demand pushing electrification onto vehicles, is there space for the Raptor to accept such technology, despite the weight gain?
"If you look at a mild hybrid, full hybrid or plug-in, it will all add weight," explained Widmann. "You have to deal with the added weight, and that does make it challenging to make it (Ranger Raptor) as agile as it is."
My Widmann wouldn't rule out electrification in future.
"I think it's a transitional time so you've got to keep your options open," he said.
When asked if the rest of the Ranger range could be electrified – something Ford has committed to and designed the platform to accept – but the Raptor not, he said: "That would depend on where the customer wanted the product to go at the end of the day. We pride ourselves on having our ear to the ground and see where the market's going."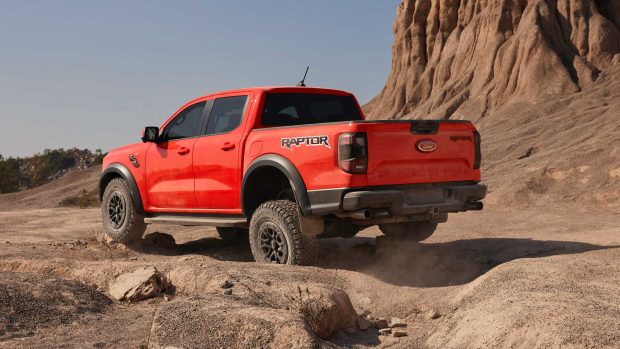 Ford's programs director of icons and Ford Performance (excellent job title), Ali Jammoul, was happy to embrace the potential for Ranger Raptor electrification.
"I think electrification will help even beyond what we have done with these vehicles (Raptors)," he said. "If you take some of the growth in the (electric) technologies and add it to the vehicle I believe there is a next level to be had, I really do. Add electrification and you could take performance, power and torque to the next level."
When asked if this meant a mild hybrid, plug-in or even full electrification he said they would "need to evaluate what makes the most sense for the V6 and I think right now we're wide open on that – we could consider plug-in hybrid, mild hybrid or we could consider (full) EV."
On-road tyres may be optional for Raptor
Moving away from the powerplant and electrification, Jammoul suggested the biggest evolution for the Ranger Raptor could be to the already cutting-edge Fox live-valve shock absorbers.
"Shock technology is evolving and it's not going to stop here," he explained. "This is live, single-valve technology but the future may be more."
Mr Jammoul also said he'd report back and consider requests he'd received while in Australia for the Ranger Raptor to be made available, from the factory, with highway tyres rather than the standard fit all-terrain BF Goodrich K02s. Such rubber is superb for off-road applications, but for those planning to keep their Raptors on the sealed stuff (you know there'll be plenty), on-road specific tyres would be more comfortable and safer, despite not looking as tough.
"It would complement the DNA of the brand for it to be a great on-road vehicle too," Jammoul said of the Ranger Raptor. "If you take it off-roading it's going to be beastly and eat up terrain like you wouldn't believe. But if you take it on road it's a luxury vehicle for comfort and ride so it plays right into the thinking (of highway tyres)."
The new Ranger Raptor V6 is still a few months away from hitting our showrooms, but it's clear there's already plenty of thinking around how it's going to evolve during its life cycle. Whatever happens, we can guarantee the Raptor will never be dull.