Ford has built a limited-edition Bronco that apparently previews the highly anticipated Bronco Raptor with a heap of dune-bashing off-road modifications.
Just 50 examples of the Bronco DR – or Desert Racer – will be sold to customers in 2022 when the 4×4 prepares to take on the Baja 1000 in the hope of following up Ford's 1968 and '69 wins in the first-generation Bronco.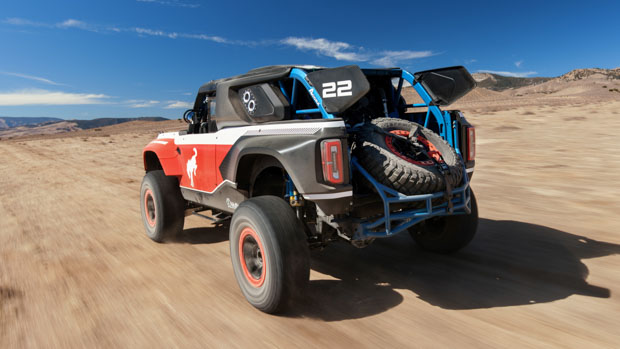 Ford has a strong connection to the famous Baja dirt rally and draws the connection where it can. For example, the much-loved Australian-market Ranger Raptor has a 'Baja mode' that primes the 4WD system, drivetrain calibration and chassis electronics for smashing over sand dunes at speed. 
What's different about the Bronco DR?
Taking the already off-road-capable Bronco and turning up the wick, engineers have dropped in a 5.0-litre Coyote V8 sourced from the Mustang, with Ford aiming for an output of 298kW (400hp).
Ford Is yet to settle on a final specification but said there have been a significant adjustments to the suspension, including position-selective dampers with 80mm bodies and finned fluid-cooling channels.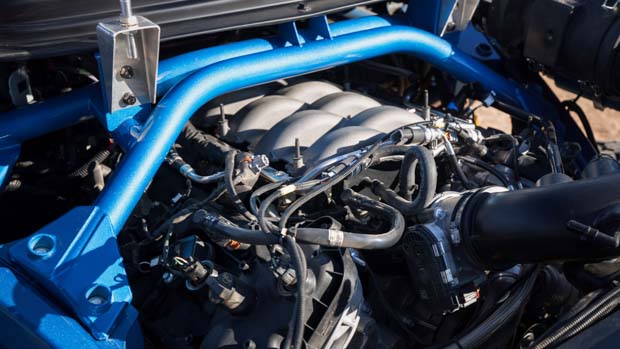 Combine that with redesigned lower control arms and the Bronco DR boasts 401mm of suspension travel at the front and 442mm at the rear – an increase of 55.1 percent and 58.6 percent respectively – when compared to the four-door Bronco Badlands.
The increase in height means the Bronco DR has an improved approach angle of 47 degrees, a breakover angle of 33 degrees and a departure angle of 37 degrees.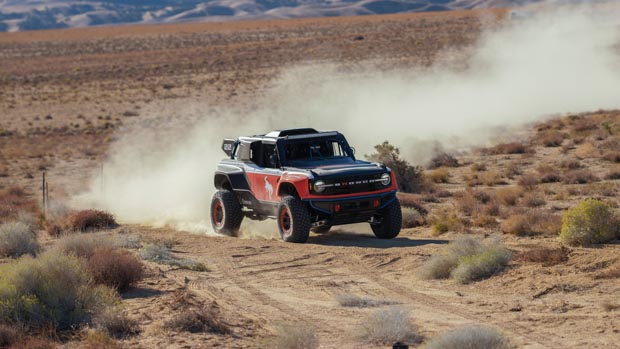 Engineers have added electronic locking differentials to the front and rear axles that distribute grunt to 37-inch BF Goodrich Mud-Terrain tyres with beadlock wheels.
To go the distance, Ford has fitted a huge 246-litre fuel tank, though the brakes remain unchanged from the production model, apart fromr upgraded pads.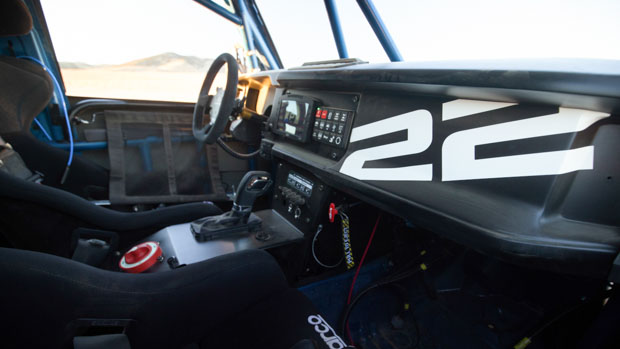 While Ford has only promised to produce 50 units of the Bronco DR for 2022,more are likely to come later, though with a price of around US$250,000 (AU$340,127), buyers will be among a rare few.
Ford Australia has repeatedly stated to Chasing Cars that the Bronco will not come to Australia in its current form, and instead points to the replacement for the Everest seven-seat SUV as Australia's Bronco alternative.