The noise must be almost deafening for Ford Australia – punters love the reimagined Ford Bronco to bits, and they would probably sell body parts to get their hands on one. Yet three crucial pieces of evidence guarantee that won't be happening any time soon in this country, at least not from the factory.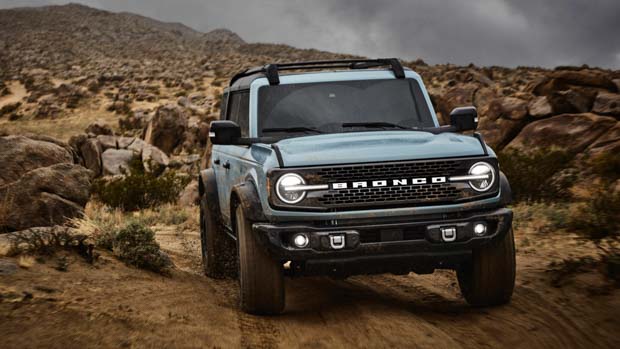 Where's our Bronco?
With the reimagined Bronco sharing vital engineering hardware with the Australian-developed, next-generation T6.2 Ranger and Everest – and with its 'slab'-type dashboard seemingly custom-made for easy left-to-right steering conversion – the on-paper logic for building Bronco in right-hand drive and sending it south isn't rocket surgery, let alone rocket science.
The Michigan Assembly Plant that builds the new Bronco is at maximum capacity, however, with booming demand far outstripping supply. Ford held 125,000 orders for Bronco before production began in mid-June, and is even threatening to punish dealerships that don't sell at least 60 percent of their Bronco allocation to the 190,000 people who've placed a US$100 reservation for one, ahead of those willing to pay a considerable premium for the privilege.
Depending on the model, current delivery times for Bronco in the US stretch far into 2022, so even if Bronco was on the agenda for Australia, we wouldn't see it until 2023 at the earliest.
Yet Ford on both sides of the equator remains adamant that "it will not be produced in right-hand drive, [and] it will not be available in Australia."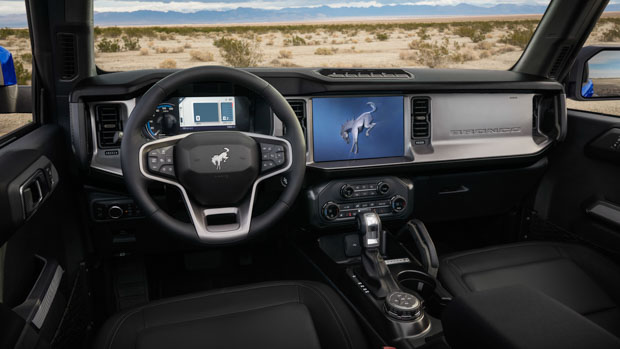 Why isn't Bronco made in right-hand drive?
Given Australia's love of all things SUV (and utility), importing an icon like the new-gen Bronco – the first vehicle to wear the nameplate since 1996 – seems like a no-brainer.
After all, the engineering homeroom for T6.2 development is right here in Melbourne, and Bronco's Ranger cousin consistently ranks number two on our sales charts. There's even a free-trade agreement between Australia and the US!
But that was never part of the plan. The Bronco isn't made in right-hand drive because Ford Australia already has a vehicle that it believes fulfills a similar purpose – one that is wholly designed and engineered in Australia, by Australians – and that's the Everest.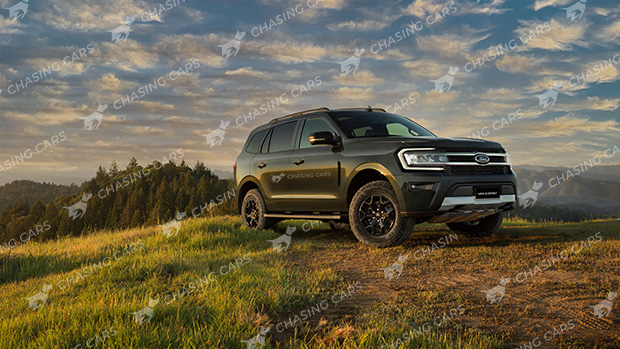 How much Bronco will be in our 2023 Everest?
Built in Thailand, Vietnam, China, South Africa and India, and sold in markets across south-east Asia and the Pacific, the Everest wagon is a much more pragmatic vehicle than the emotion-driven Bronco with its removable roof panels. But that doesn't mean the next-generation Everest will be boring.
Ford Australia told Chasing Cars that Bronco owes its "inherent off-road capability [to] its new second-generation midsize truck architecture", which was developed in Australia and has deep DNA ties to the new-gen Ranger and Everest.
"Australian-led engineering teams used the expertise gained from developing global products – including Ranger and Everest – to contribute to the new architecture in Bronco," said a Ford spokesperson.
In other words, while the Everest's wrapping won't be quite the same – lacking the 'retro-mod' look defined by the new Bronco, as well as Land Rover's latest Defender – what lies underneath its masculine new exterior should be very familiar to Bronco fans.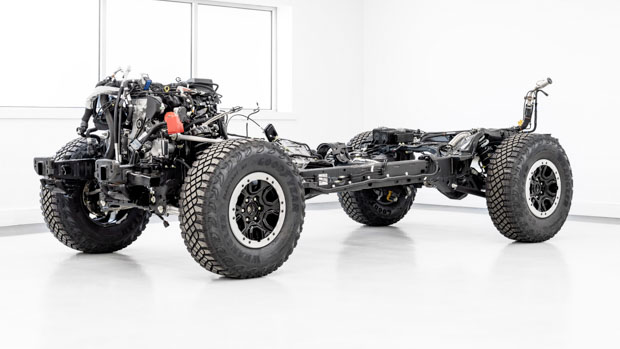 Will the 2023 Everest be more than just a plain old wagon?
With the 2022 Ranger Raptor expected to be offered with either (or both) a 3.0-litre 'Power Stroke' turbo-diesel V6 (producing 186kW/596Nm in US tune) and a 2.7-litre twin-turbo petrol V6 (with 231kW/542Nm in US tune), each with a 10-speed automatic transmission, the likelihood of an Everest Raptor seems to be gathering momentum.
There's also an imminent Bronco Raptor, reportedly featuring the beefy 298kW/562Nm 3.0-litre twin-turbo petrol V6 from the US Explorer ST, which could be an outside chance for an all-guns-blazing Ranger Raptor in Australia, but that doesn't sound very Everest to us.
Expect the 2023 Everest's engine line-up to start with the carry-over 157kW/500Nm 2.0-litre twin-turbo diesel four-cylinder and 10-speed auto, and move up to either one or both of the larger-capacity V6s.
Given Ford Australia's extensive input into Bronco's off-roading credentials, combined with the Everest's Prado-beating aspirations, expect Ford's full Terrain Management System, which boasts up to seven drive modes – Eco, Normal and Sport, as well as Sand, Baja, Mud, and Rock.
Multiple diff locks and sophisticated electronics will make the Everest a highly capable off-roader – especially if it shares the Bronco's 'Trail Control' cruise control that manages drivetrain performance at low speeds, and 'Trail Turn Assist' that uses torque vectoring to tighten the turning circle in challenging off-road situations.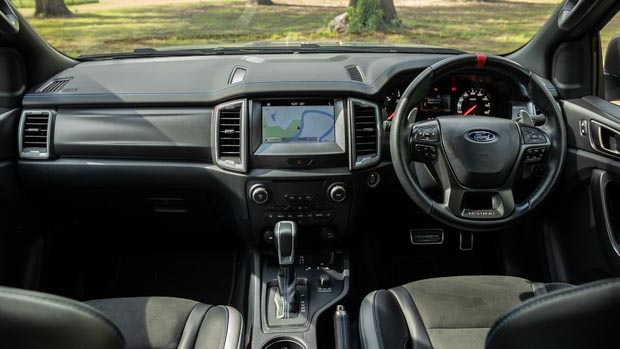 Will Everest be as cool as the Bronco inside?
If you look closely at the Bronco's interior, it isn't difficult to spot the bones of the existing Ranger layout.
From the door handles and central-locking switches to the HVAC system, air-vent placement and even the architecture of the dashboard itself, it's purely a reskin of what we've been staring at (and often bitching about) since the current PX Ranger generation launched in October 2011.
It's almost a guarantee that the Everest (and higher-grade Rangers) will follow the Bronco's lead with a new-generation steering wheel, a part-digital instrument cluster, much-improved (and much-needed) ergonomic clarity for the climate-control system, and a huge 12.0-inch central touchscreen debuting Ford's new-gen 'SYNC4' infotainment system.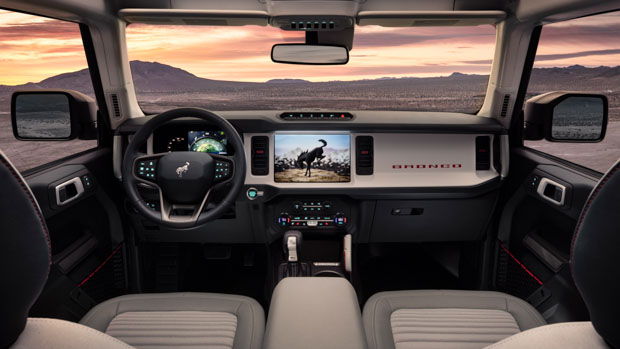 The new Everest's cabin may not appear as youthful as a Bronco's in terms of detail design, but the makeover will be similarly comprehensive and effective.
About the only area where the Ranger/Everest didn't really require much improvement was seating comfort, though the Everest could definitely benefit from more sophisticated second- and third-row seating adjustment and flexibility.
If the body-on-frame Everest is to better the ageing Toyota Prado, while competing with seven-seat monocoque SUVs (such as Kluger, Sorento and CX-9), it needs to up its game in sophistication compared to the flawed, inexpensive ute-based wagons it currently associates with (think Pajero Sport and Fortuner).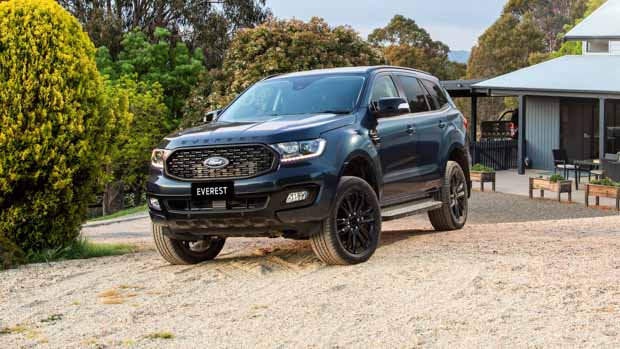 Born in Melbourne
The final, and arguably most crucial, aspect of Everest's relevance to Australia comes down to its design.
While the fun-loving Bronco might sound more exciting than a breeder SUV like the Everest (which has essentially become Ford Australia's modern-day Territory), the Bronco mostly hails from Detroit whereas the Everest could claim to be a Melbournian.
While Australia's automotive manufacturing has gone down the gurgler, it's vehicles like the T6.2 Ranger and Everest that keep our design and engineering heritage alive, and thousands of people employed … hence why Ford Australia is being so protective of the next Everest, and quite firm about the Bronco not coming here.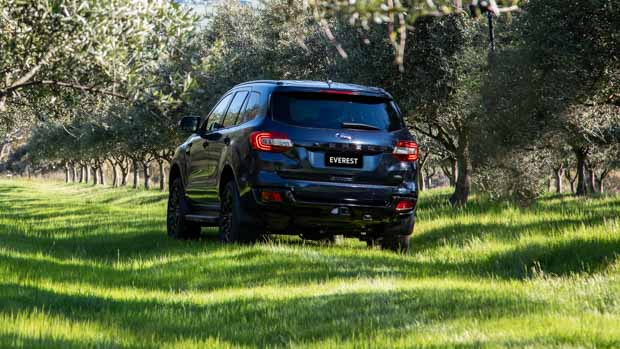 "We're extremely proud of our team here, with over 2000 engineers and designers across Broadmeadows, Geelong, and our You Yangs proving ground at Lara [about 60km south-east of Melbourne]," a Ford Australia spokesperson told Chasing Cars.
"They are what makes us the largest automotive employer in Australia, and a development hub for global models and programs like Ranger and Everest, and that their success has helped develop Bronco."
There are rumours the next-gen Ranger/Everest (due around 2027) will be based on all-new scalable truck architecture developed in Detroit, so maybe there's more riding on the 2023 Ranger and Everest – and Ford Australia's engineering track record – than we know about.
Here's hoping, then, that next year's new-gen Ranger and Everest are as good as they have the potential to be.
Bronco-good, even.