Australian demand for the 2022 Ford Bronco 4×4 continues to run hot, particularly as Ford Australia becomes more heavily reliant on its Ranger and Everest workhorses as a share of its local range.
Branching out into the Jeep Wrangler-rivalling Bronco, a true off-roader available in either two-door or four-door wagon formats, could put the wind into Ford Australia's sails with a fresh and interesting product that would appeal to the Australian off-roading community.
Deliveries of the 2022 Bronco are yet to commence in the United States, but the 4WD has been a smash hit in the pre-order phase, with long delays for new orders placed now with the Detroit-based carmaker.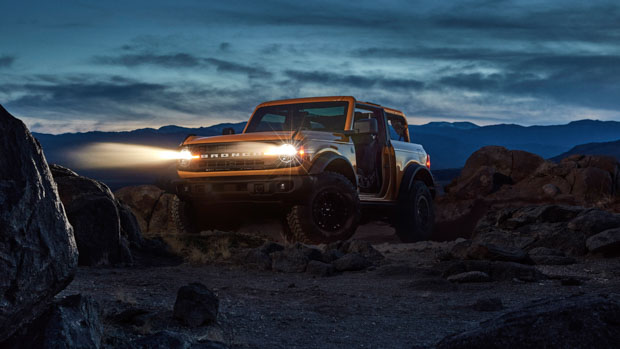 Ford Australia has consistently hosed down speculation that the Bronco will be built in factory right hand drive in order to enable Australian deliveries.
However, the Bronco rides on an adapted Ranger chassis, which was developed in Australia, and Ford have not revealed any specific impediments hindering native right-hand-drive applications.
Aftermarket converters in Australia have also expressed keen interest in privately importing left-hand-drive American-market Broncos for local conversion. That solution would see punters selecting, paying for and importing an American Bronco before sending it off for a professional conversion – all up, a process that would cost about $200,000.
But if Ford Australia chose to bring the Bronco down under, what would the range look like?
There are multiple clues found in the American two-door and four-door Bronco lineup, which takes the following shape: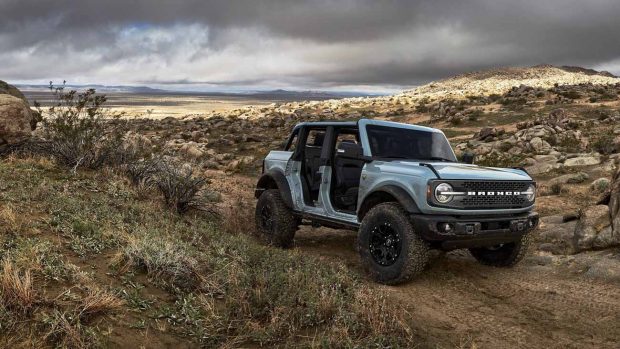 Bronco Base: USD$28,500 (about AUD$36,600)
The Bronco lineup kicks off in the US with the simply-named "Base", offered only with a 2.3-litre turbocharged four-cylinder Ecoboost petrol engine producing 202kW of power and 420Nm of torque. A seven-speed manual is standard, but we doubt this transmission would come to Australia. Given manual take rates on the Ranger ute are so low, we think Ford Australia would opt only for the optional ten-speed automatic.
The Bronco Base rides on 255/70 R16 all-terrain tyres, and includes a standard 4WD system with terrain management and five selectable driving modes. It rides on a "standard duty" suspension.
Base model Broncos are identifiable by their 16-inch silver steel wheels and black grille with black Bronco lettering. However, standard specification is generally pretty good, and takes in LED headlights, bash plates, three tow hooks, and a removable roof and doors.
Inside, the Bronco Base packs cloth seating with six ways of adjustment, Ford's SYNC 4 infotainment system with an eight-inch touchscreen, wireless Apple CarPlay and wireless Android Auto, six speakers, four USB ports, and a FordPass Connect modem. Safety tech includes AEB and a reversing camera.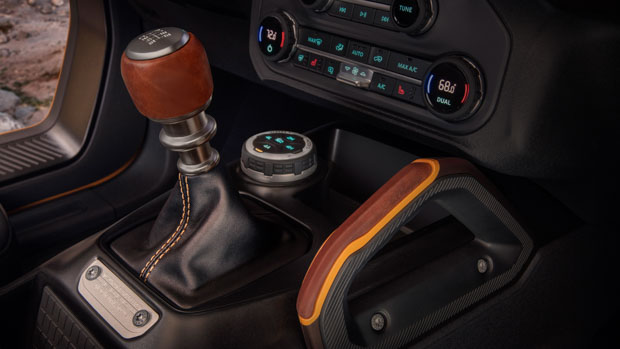 Bronco Big Bend: USD$33,385 (about AUD$42,900)
Moving upwards from the base model, the Bronco veers towards more of an out-of-the-box off-roading focus with the second-tier Bronco Big Bend.
The Big Bend is about $6,000 dearer than the base car, but it picks up larger 255/75 R17 all-terrain tyres and 17-inch alloy wheels. A sixth off-roading mode is included, as well as automatic high beam, a leather steering wheel, and LED fog lights.
The Big Bend scores a carbon grey grille and white Bronco lettering, plus privacy glass … and interior grab handles.
As the entry-level but sparsely equipped off-roading variant, we don't see the Big Bend as a natural fit for Ford Australia. More generously equipped off-road trims with locking differentials, such as the Black Diamonds or Badlands, are more likely takes.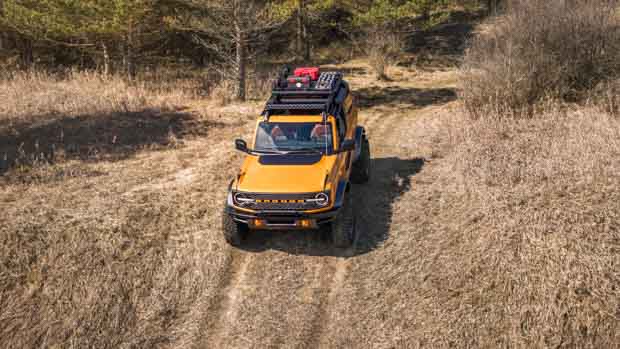 Bronco Base: USD$28,500 (about AUD$36,600)
About $3,000 more in the US buys you a Bronco Black Diamond, which is vaguely pitched as the snow, boating and water sports aficionado's Bronco.
The same 255/75 R17 all-terrain tyres carry across from the Big Bend, though the wheels switch back to steel construction. You get a locking rear differential, rock rails, upgraded heavy-duty skid plates, a seventh all-terrain mode, and steel front and rear bumpers.
Inside, the Black Diamond picks up a hose-out, marine-grade vinyl-upholstered cabin. Those planning to fit aftermarket accessories are better catered for thanks to pre-run wiring and auxiliary switches.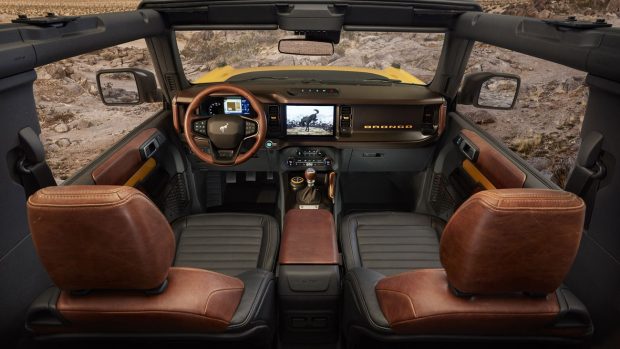 Bronco Outer Banks: USD$38,955 (about $50,000)
Fifty grand in the states sees buyers pick up the relatively posh Bronco Outer Banks. Still highly capable, the Outer Banks is the closest the Bronco gets to a luxury specification.
18-inch black alloy wheels are standard, as are LED headlights with the Bronco's 'signature' grille-mounted LED daytime running lights. Around the back, there are LED taillights. A modular painted hardtop joins body-coloured fender flares and powder-coated tube steps in upping the concrete cowboy factor.
Inside, a jumbo 12-inch touchscreen and B&O stereo become optional. Leather seating and ambient interior lighting are standard.
The Outer Banks also picks up blind spot monitoring, rear cross-traffic alert, lane keeping assistance and an individual tyre pressure monitoring system.
We think the Outer Banks would be a shoe-in to come to Australia to compete with Jeep's Wrangler Rubicon, and possibly entry-level luxury SUVs.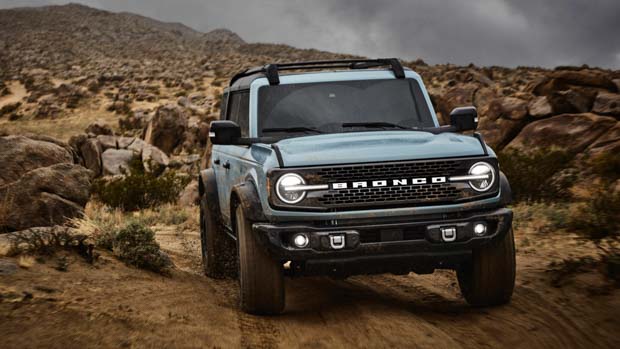 Bronco Badlands: USD$42,095 (about $54,000)
If the Outer Banks is the Bronco's version of a luxury SUV, the Badlands locks horns very directly with the most capable versions of the Wrangler, as well as vehicles like the Land Rover Defender 90.
The Badlands has its own unique suspension, with Bilstein position-sensitive monotube shocks, the ability to disconnect the sway bars, front and rear locking differentials. Ford of America calls the Badlands "the most capable Bronco you can get."
35-inch mud or 33-inch all-terrain tyres are standard on the Badlands in the US, as is an "advanced" 4×4 system – the second of two 4WD systems fitted to the Bronco. The more serious of the pair has automatic, on-demand engagement.
For the interior of the Badlands, it's up to the buyer whether they want the hardier wash-out vinyl treatment of the Black Diamond, or the leather-lined lushness of the Outer Banks. Both are available, as is the larger 12-inch touchscreen and a B&O stereo for the ultimate do-everything Bronco.
We think the Badlands would be the right fit to be the off-roading special for Australia.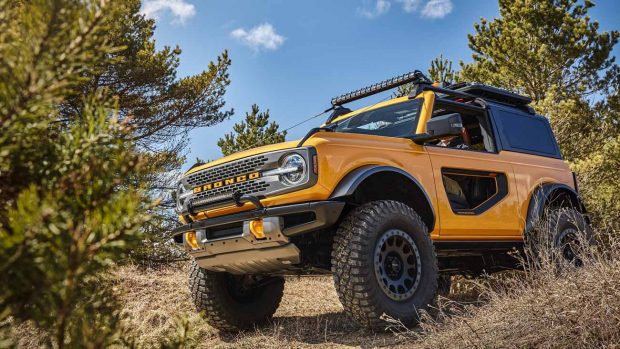 Bronco Wildtrak: USD$46,980 (about $60,300)
The Wildtrak takes the capability of the Badlands and amps it up for high-speed Baja driving. Consider it the Ford Ranger Raptor of Broncos. Whereas in Australia, the Wildtrak name is used for the most luxurious Ranger, in the States, it's used for fast off-roading variants.
Ford's 2.7-litre twin-turbo V6 petrol engine, producing 231kW/542Nm, becomes standard on the Wildtrak, and the only gearbox is the ten-speed auto. 35-inch tyres, 17" beadlock-capable wheels, front and rear locking differentials, and the Badlands' Bilstein monotube shocks are all standard fit. There's a specific high-clearance suspension setup.
The Wildtrak sports a black grille, black wheels, and bonnet graphics – all the other trims have a plain "hood", as the Americans call it. Ford boasts of development in California's Johnson Valley.
If the Bronco Wildtrak was to come to Australia, we think it would be rebranded as a Bronco Raptor in order to capitalise on the success of that nameplate in the similarly-oriented Ranger ute.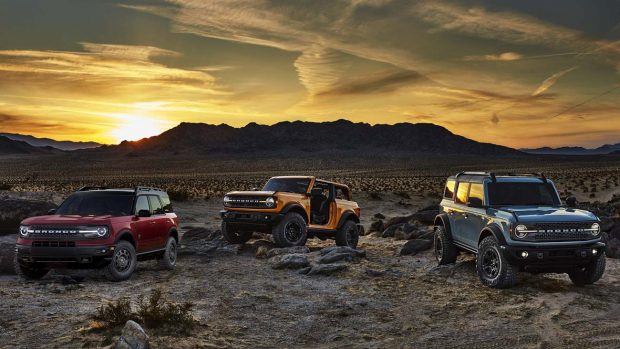 Which trims do we think would come to Australia?
We think that a hypothetical Australian Ford Bronco lineup would be made up of four trims:
Bronco Black Diamond: focussed on jet ski, water sports and snow sports fans
Bronco Outer Banks: luxury specification, still highly capable but leather-lined and full of tech
Bronco Badlands: hardcore off-roading ability out of the box
Bronco Raptor: known as the Wildtrak in America, the Badlands would be outfitted for fast Baja-style off-roading
What would the Bronco cost in Australia?
Given the Bronco runs on an adapted Ranger platform, we think it's capable of factory right-hand-drive, even if Ford have no current plans to commence production of this 4×4 as a right-hook vehicle.
While a private import and conversion solution could top $200,000 or more, a factory Ford Bronco would be much more affordable.
Some clues are available by comparing the price of the US-market Ford Mustang and its Australian counterpart.
The Mustang is assembled in Michigan for Australia in factory right-hand-drive form.
If a similar setup was arranged for the Bronco, we would expect the Australian pricing to fall somewhere around a 30 per cent mark up on American prices.
That would see Australian Bronco pricing fall somewhere around the following numbers:
Bronco Black Diamond: $60,000
Bronco Outer Banks: $65,000
Bronco Badlands: $70,000
Bronco Raptor: $80,000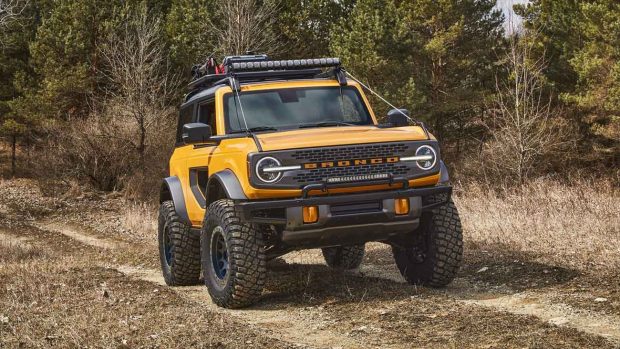 How likely is a right-hand-drive Bronco for Australia?
That depends on many factors.
Firstly, the Bronco has been wildly successful in its pre-order phase in North America, and it will take many months – if not a year – to clear the backlog of orders from American buyers.
However, the development costs of a vehicle like the new Bronco are immense.
We wouldn't be surprised if, after initial American demands are satiated, Ford looks for other global markets to help offset the huge expense of developing a new generation of this venerable off-roader.
After all, Jeep doesn't exclusively sell the Wrangler in America. It is a successful product around the globe.
We'd be shocked if Ford Australia wasn't urging head office in Michigan to send this off-roading wagon our way as soon as possible.
We'd place the likelihood of seeing a factory Bronco on our shores at greater than 50 per cent, but we are far from certain.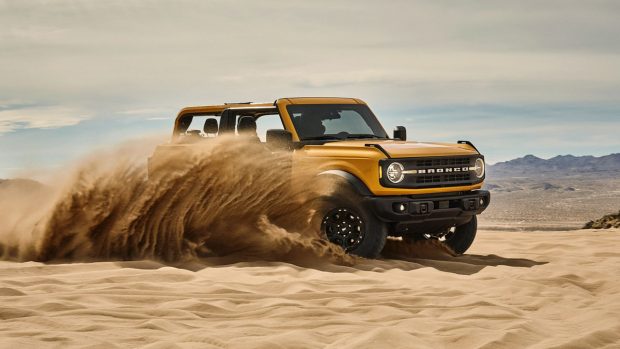 Should you wait for the Bronco?
That depends. If you need a capable off-roading wagon right now, absolutely not. Rivals like the Jeep Wrangler and Land Rover Defender are available on the Australian market right now. Buy one of those cars and you can start enjoying it immediately.
Alternatively, proven and durable options like the Toyota Land Cruiser 70 Series exist, and we know the full-fat 300 Series Land Cruiser is also imminently en route to Australia.
If, however, you're specifically interested in the Bronco and you can afford to wait and see, why not?
At a minimum, we think it would be at least 12 months before American Bronco demand will be met and a decision will be made about exporting the vehicle to global markets – let alone in right-hand-drive form for Australia.
Still, it's distinctly possible. Whether you should wait entirely depends on your own timeframes, and willingness to bet on Ford Australia's product planning.