Ford will bring their "best-handling factory-produced" Mustang to Australia next year, with the American carmaker reviving the hallowed Mach 1 badge for the first time since 2004 – though a specific month of arrival has not yet been confirmed.
First applied to a Ford Mustang in 1969, the Mach 1 has traditionally represented the pinnacle of Ford's factory-finished pony cars, sitting just below the modified, go-faster Shelby versions of this iconic nameplate.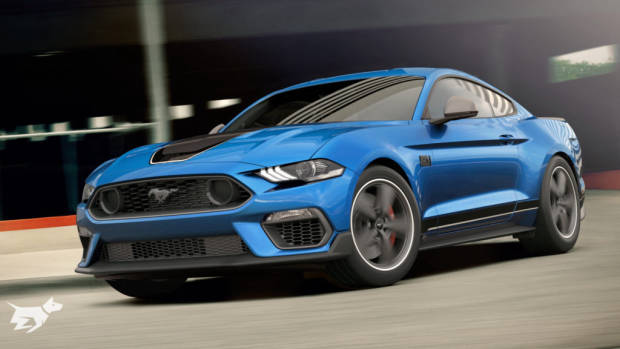 Offered in the coupé format only, those Mach 1 ethos are maintained for the 2021 Ford Mustang Mach 1, which packs an uprated version of the standard car's 5.0-litre, all-aluminium naturally aspirated petrol V8 engine. Power increases gently to 345kW at 7,500rpm for the Mach 1, compared to 339kW at 7,000rpm on the standard car, while torque remains steady at 556Nm at 4,600rpm.
The freer-revving character of the Mach 1 arrives thanks to an open air induction system, 87mm throttle bodies and an intake manifold shared with the US domestic market Shelby GT350 that has not made its way to Australia.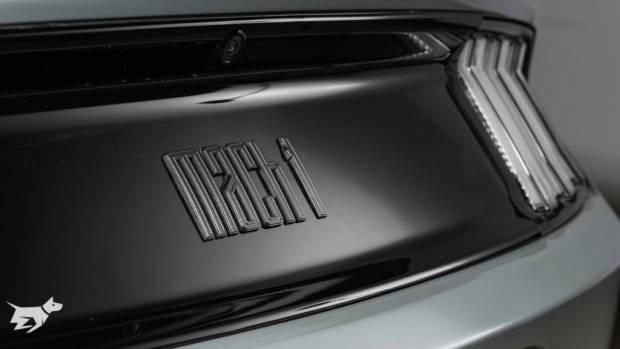 Rear-wheel-drive is the only Mustang layout and the Mach 1's torque reaches the aft wheels by way of a six-speed Tremec 3160 manual gearbox, or a ten-speed automatic gearbox. The manual is beefed up for track use by way of a twin-disc clutch, while the shift throw is even shorter than on the standard car. Meanwhile, in the automatic, the torque converter has been strengthened for the same reasons.
While the improvements to power look modest on paper, the Mach 1 is likely to be a more rewarding car to drive hard, with most improvements for this limited edition version dedicated to handling.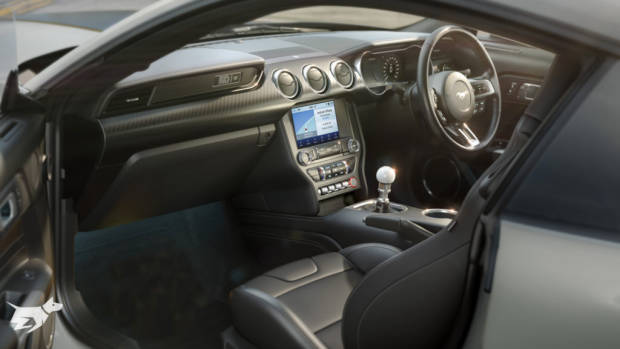 Producing 22 per cent more downforce than a Mustang GT, the Mach 1 utilises a novel undertray design and diffusers also borrowed from the Shelby GT350 to force the vehicle closer to the road – while airflow is also directed to cooling the brakes.
The 'MagneRide' magnetic suspension has been re-tuned with a greater focus on track use, while the front springs and anti-roll bars are stiffened. The electric power steering tune has also swung into the pits for a track-specific tune while there are also wider tyres.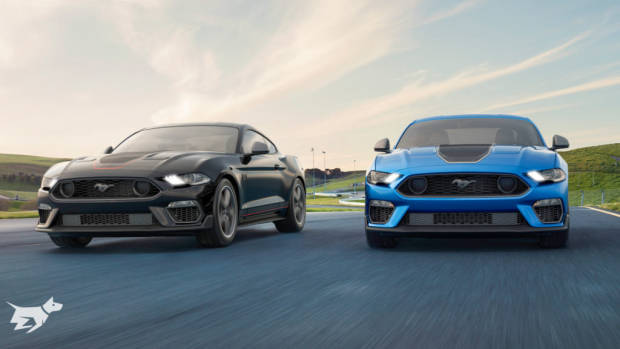 Outside, the Mach 1 will be differentiated by its seventies-style badging and unique five-spoke wheel design, and via the number of limited-run colour and decal combinations that include grey with black-orange stipes, black with black-red stripes, white with black-red stripes, blue with black-white stripes, and orange with black-white stripes.
Mustang Mach 1 buyers seeking further customisation can select the $1,000 Appearance Package. Only available with the Fighter Jet Grey hue, this pack adds orange-accented seats, orange brake callipers and black-orange side stripes.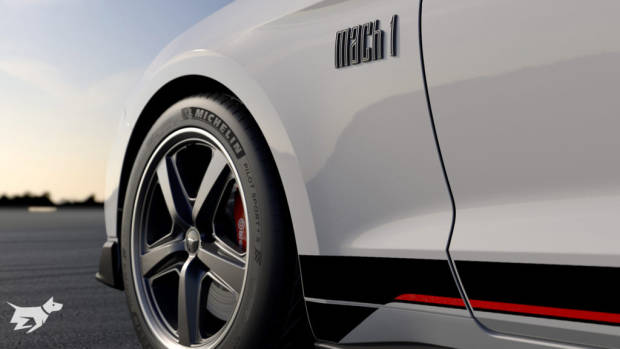 Inside, the base colour is black, while the seats sport a grey contrast stitch and on the dash, aluminium trim is featured in a 'Dark Engine' colour, housing a unique badge featuring the individual chassis number for the vehicle. Recaro sports front seats are a further $3,000 option.
Ford's SYNC3 infotainment system is retained with navigation, DAB+ digital radio, wired Apple CarPlay and wired Android Auto, while a 12-speaker B&O stereo is fitted as standard – along with Ford's FordPass Connect mobile network system that allows control of some features – including a vehicle finder and remote start – from a smartphone app.