Ford has quietly wheeled out its all-new Mustang GT coupe and Mustang Mach-E electric models in an eastern Melbourne suburb over the weekend, offering an early first glimpse of the pioneering pair, months ahead of the first customer cars.
The brace of pre-production vehicles has been brought in to pave the way for the seventh-generation Mustang and the all-new Mustang Mach-E due next year, but rather than keep them hidden away behind closed doors, the blue oval decided to temporarily release them into the wild.
Attendees to the esteemed Highball Cars and Coffee gathering in Clayton were treated to a surprise visit by the right-hand-drive Fords, when they joined the increasingly popular event held at Bosch Australia headquarters.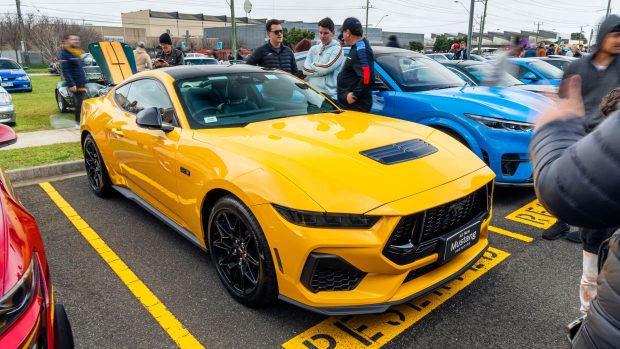 Speaking at the informal event, Ford Australia product communications manager Ben Nightingale said it was unusual for evaluation vehicles to be paraded, but the seventh-gen Mustang and Mach-E are sufficiently unorthodox to warrant a little bending of the rules.
"Ordinarily these wouldn't be seen out in public," he said. "We decide to change it up because we really want to engage directly with our customers and this is a great way to do it."
"We always bring out PP or Pre Production units and it's usually for our team internally to have a good look at them and do some evaluation drives, spec checks – those kind of things," he said. "This is the final phase before we switch into production mode."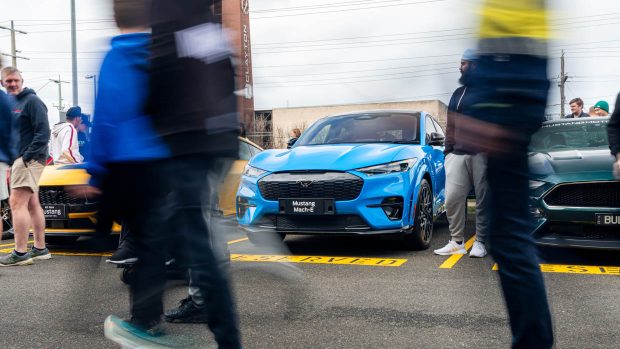 The first Mustang Mach-Es won't touch down in Australia until late this year, while the S650-generation Mustang that Chasing Cars recently reviewed in Dark Horse form isn't expected before early 2024 and, since the company stopped taking orders for the current-generation car, any orders are now for the new model.
Nightingale wouldn't confirm exact numbers, but said demand for combustion powered and electric Mustangs was high.
"We really pleased with how demand is travelling for both models. We're in the phase-down for sixth-gen because seventh-gen is in production now. Orders are flowing into that bank now and things are looking great."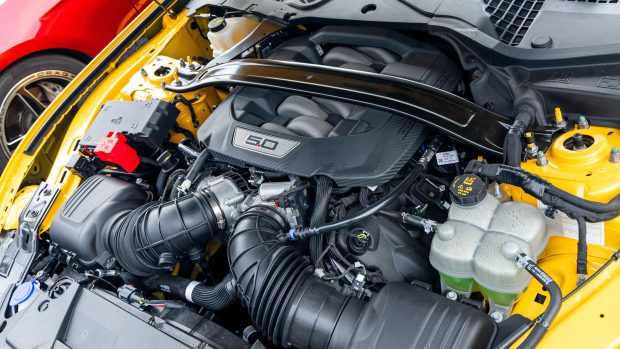 Unlike some brands that have struggled with supply that cannot keep up with Australia's hunger for electric cars of all types, Ford has secured "strong" supplies, and Mach-E wait times will be minimal said Nightingale.
"With Mach-E we didn't want run the model of some of our rivals where they're coming in very small numbers and you have to do lotteries.
"We've got good supply and if a customer wants to place an order they can go in place an order and there's no ballot system. They're going to be able to get the car they want."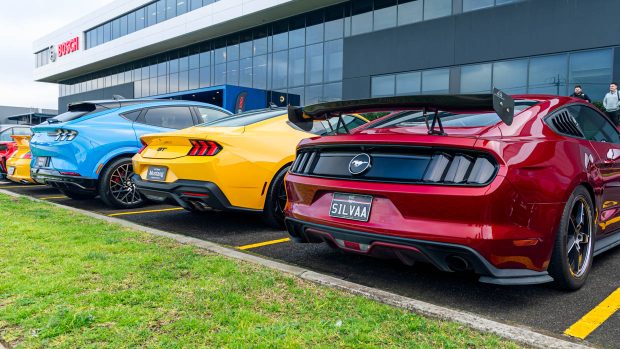 Ford's first electric vehicle will be available in three varieties including the entry rear-wheel-drive Select or a more powerful and longer-range Premium, while the range-topper wears the GT badge and has all-wheel drive.
Pricing starts at $79,990 for the entry Mach-E, mid-range Premium costs $91,665, while the flagship is priced at $107,665.
As for the next-generation Mustang, Ford has yet to detail exactly which variants will be launching down under and at what price, but given the demand for V8-powered GT coupes in the previous generation, it would appear to be a no-brainer, while the jury's still out on the less popular 2.3-turbo four-cylinder.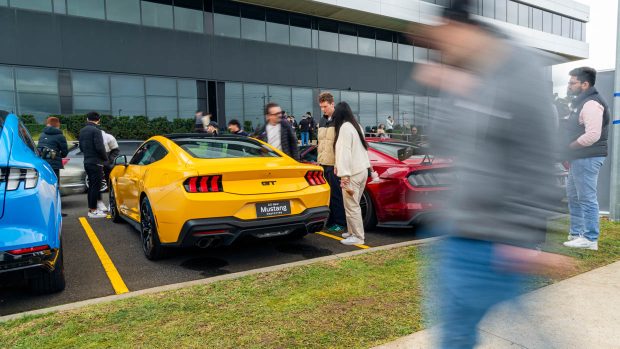 Despite the chilly start and drizzly weather, the special guest Fords attracted significant attention and Nightingale said events like the Highball cars and coffee were a perfect match for its latest Mustang offerings.
"We know that the demand's there, the passion is there, they're enthusiast vehicles and Highball is an enthusiast event so it just makes sense.
"We decided that we wanted to show customers the car first. It's a pre-production model we don't have any production cars here yet but we know that people want to see these cars."