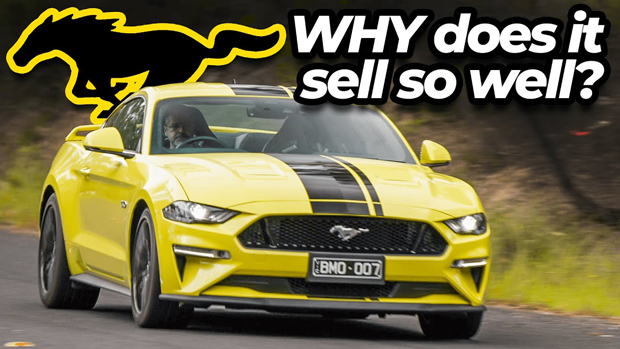 It took the Ford Motor Company 50 years to produce a truly global Mustang – the sixth-generation model that arrived in Australia in December 2015 – however, this belated effort appears to have paid off.
Blending a late-'60s retro vibe with a contemporary level of muscularity, the current Mustang has been critically acclaimed for the strength of its powertrains and its chassis balance – all of which were comprehensively honed in a 2018 facelift.
Combining a lower bonnet line with stronger engines, a new automatic transmission, much-improved steering and finessed suspension, this update has essentially carried through into this MY21.5 model because it's proved so effective at finessing this muscle-car bruiser.
There's an MY22 Mustang update coming, centred around tweaking the colour palette – introducing Mischievous Purple and Eruption Green in lieu of Antimatter Blue, Velocity Blue, Twister Orange, Iconic Silver and the colour you see here, Yellow Peel.
There will also be a 'California Special' option for MY22 Mustang GT variants, but it's merely an appearance package and doesn't change any of the hardware.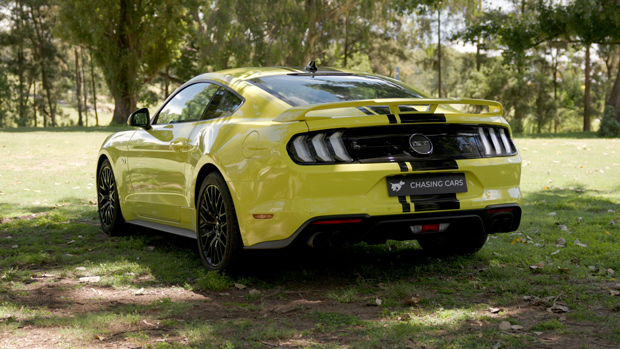 Speaking of which, this Yellow Peel MY21.5 Mustang GT Fastback features a couple of optional extras – namely a 10-speed automatic transmission ($3000), 'MagneRide' magnetic adaptive dampers ($2750), Recaro front bucket seats ($3000), a rear spoiler ($750), 'Over The Top' stripes ($650) and prestige paint ($650).
That makes for a total price of $74,990 (before on-road costs) at the time we tested this car, though its base number has since shifted upwards by a modest $200. In the grand scheme of things, however, $75K for a V8-engined sports coupe as muscular and visceral as this is impressive value in the rapidly inflating cost landscape of 2022.
How does the Ford Mustang GT Fastback drive?
At its international launch in Los Angeles in 2014, two things became immediately obvious about the sixth-generation Mustang. The first was its chassis balance – soaring far beyond the uncultured mess of the previous live-axled model – and the second was its all-round cohesion as a contemporary muscle car.
Further exploration of the car on bumpier, less well-cambered, less forgiving Australian roads revealed several dynamic flaws – namely muddy steering weighting and feel, plenty of vertical pitch in its suspension and fairly leisurely ESC intervention – but Mustang's extensive 2018 facelift cured most of those ills, while introducing optional 'MagneRide' magnetic adaptive dampers.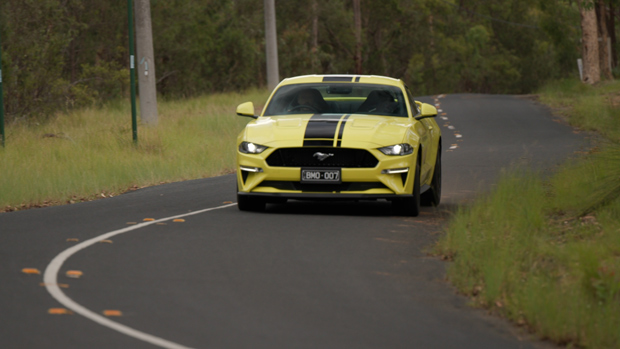 Our test car is so equipped, which brings a much more level ride – pleasantly firm and sporty with the dampers in 'Normal' mode, which is somehow quite comfortable – and greater body control than before, meaning you can really fling this MY21.5 Mustang around in corners and it remains flat, poised and eager to go where it's pointed.
Indeed, the Mustang GT is a much better driver's car than people give it credit for. Combining excellent Michelin Pilot Sport 4S tyres with a limited-slip rear differential, multi-link independent rear suspension and decently sized brakes (380mm front discs with six-piston Brembo calipers, and 330mm ventilated rear discs), the latest Mustang packs a newfound level of finesse and sophistication that eluded the current generation at launch.
You can push really hard through corners and the Mustang hangs on gamely – aided by the hugely improved steering feel and precision of the facelifted car – and while the level of feedback to the driver's fingertips is hardly Porsche-like, the Mustang still offers plenty of scope to adjust the oversteer angle of its rear end in the right environment.
Supporting the Mustang's handling talent is a powertrain that's been pumped to an impressive degree. With the 2018 update, the 5.0-litre naturally aspirated V8 received modifications to its capacity (up from 4951cc to 5038cc), fuel injection system, cylinder heads, crankshaft and connecting-rod design – resulting in a power jump to 339kW at 7000rpm (up 33kW) and 556Nm at 4600rpm (up 26Nm).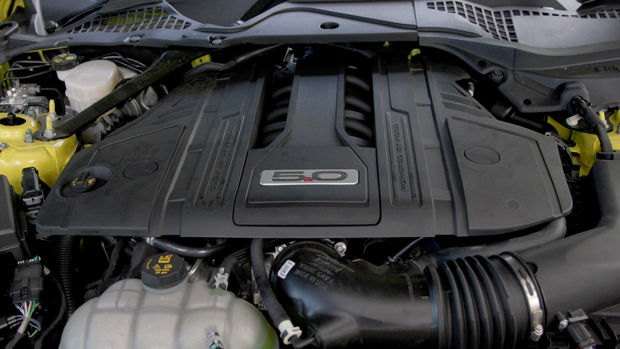 Tied to a new 10-speed torque converter automatic and with launch control engaged, Ford claims 0-100km/h in 4.3sec for the GT Fastback and 4.5sec for the GT Convertible, with the six-speed manual GT Fastback taking 4.6sec.
But the real talking point here is the V8's exhaust system – a quad-outlet active set-up with four switchable modes (Quiet, Normal, Sport and Racetrack). Compared to the too-quiet previous model (even when fitted with an optional Ford Performance exhaust system), it's an absolute riot – peppering the V8's induction beef with a crackly bark that's thunderously loud in the more outrageous modes.
Even in Quiet, there's enough in-cabin rumble to keep you interested, while cruising around in Sport mode with 10 gear ratios filling the gaps delivers a constant stream of V8 delight.
Only under full acceleration does the 10-speed lose its lustre – dropping barely 500 revs between upshifts as it slays dragstrip times, rather than tapping into the V8's muscular mid-range for the best acoustics. For this reason alone, I prefer the six-speed manual (now with twin-plate clutch and dual-mass flywheel for sweeter shifting).
Active-safety features and crash-safety ratings have never been the sixth-gen' Mustang's strong suit, though for varying reasons.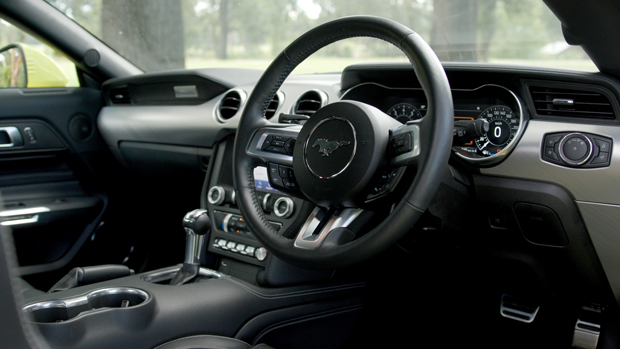 Head protection from side impacts for children sitting on booster seats in the rear is marginal – meaning the Mustang should very much be viewed as a two-plus-two (which it is), rather than a four-seater. And while the 2018 update introduced forward AEB with collision alert and pedestrian detection, lane-departure warning, lane-keep assist, auto high-beam and adaptive cruise control – lifting its ANCAP safety-assist score from 16 to 61 percent – the three-star Mustang remains mediocre when it comes crash safety.
Thanks to a lower bonnet line, its pedestrian-safety score has improved over the years but its adult crash-protection result remains a below-par 72 percent and its child-occupant protection is rated at just 32 percent. Best stick to the front seats then!
How is the Ford Mustang GT Fastback's interior?
Channelling the flavour of the '60s but with a much more modern twist, the latest Mustang's interior is based around a symmetrical pair of dashboard lumps – more easily facilitating the switch between left- and right-hand drive – garnished with a trio of retro eyeball air vents and a deep-dished steering wheel.
Gone are the previous models also retro (but difficult-to-read) dials in lieu of a fully digital set-up that dramatically alters its appearance depending on which drive mode has been selected. Not only is it much easier to read, it neatly blends with the Mustang's cabin aesthetic and switchgear functionality.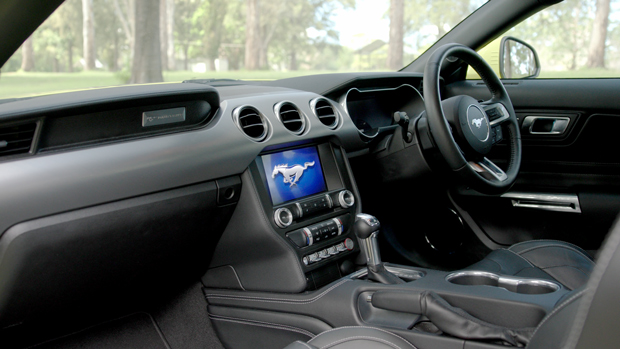 Materials have been improved too – particularly the main dash insert which is now brushed metal instead of cheap, cloudy plastic – and there's extra stitching on the doors, seats and console for a touch of added class. There's also a much stronger stereo – now an excellent 1000-watt B&O Play system with 12 speakers, a separate amplifier and a subwoofer, operated via Ford's 'SYNC3' 8.0-inch touchscreen with wired Apple CarPlay/Android Auto.
Our test car featured optional Recaro buckets ($3000) that look cool and grip your back really well, though they lose the three-setting heating and cooling of the standard Mustang buckets, which is a deal-breaker for me. The standard seats are also much more suitable for larger-framed folk, and given that you save $3K, you'd need to be doing quite a lot of track work to justify the Recaros in my opinion.
As for the rear bench, it's tough-going (but doable over short stints) for adults, as well as children given its crappo safety-protection score. At least you can drop the rear backrests and effortlessly extend the Mustang's decently sized boot.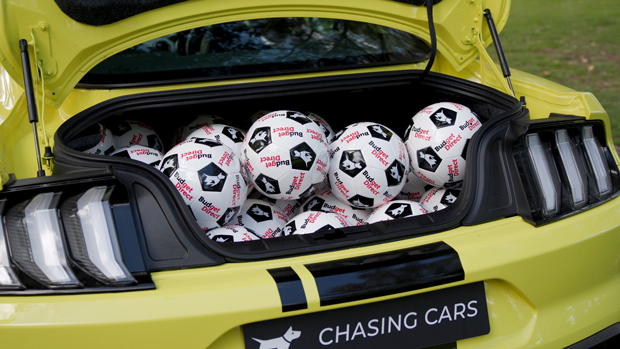 Ford claims 408 litres of space, though that measurement is for a Mustang Fastback without a boot-mounted subwoofer like our test car. According to our measurements, that translates to 38 soccer balls of volume. There's also a small amount of storage space beneath the boot floor when a tyre-inflation kit is fitted, though not when you option a proper spare.
Cabin storage is a little lacking, though, with oddly deep door bins unable to carry a water bottle vertically, a small centre console bin and two centre cupholders positioned for left-hand drive – meaning a bit too close to the driver.
What are the Ford Mustang GT Fastback's running costs?
The combined ADR81/02 fuel consumption figure for the Mustang GT Fastback automatic is 12.7L/100km, preferably on a premium-fuel diet. In the real world, any Mustang V8 will use around 20L/100km in pure city driving, however we averaged 14.9L/100km across a variety of road types.
Recommended service intervals for the Mustang GT are every 12 months or 15,000km, with Ford's capped-price servicing for Mustang only extending to four years/60,000km, totalling an impressively affordable $1196.
In comparison, across five years/75,000km, a Subaru BRZ auto's capped-price servicing cost is $2474 – or more than double the Mustang's price for an additional year of coverage.
Ford Australia's warranty is five years/unlimited kilometres – good but nothing out of the ordinary.
Running costs scorecard
Consumption
Below average
The final verdict
I don't think anyone who purchases a Ford Mustang GT is under the impression they're buying a sophisticated, European-style sports coupe or cabriolet … yet the V8-engined Mustang is far from the blunt instrument that many people may suspect.
It already had the visual muscle, chassis balance and sense of occasion to appease the muscle-car faithful, and following its extensive 2018 facelift, greater dynamic depth, classier interior finish and a much more strident V8 bark to match its brawn.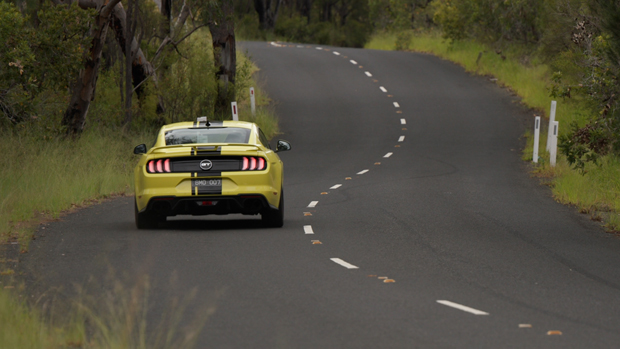 Besides its soon-to-be-discontinued colour, this Yellow Peel MY21.5 Mustang GT brings little new to the table beyond visual embellishment, but it's that kind of attention to stylistic detail that maintains interest in sports coupes/convertibles like this. And when the fundamentals are already so right, then it's a case of 'if it ain't broke, don't fix it'.
Among the things that could be improved for the Mustang are aspects of its crash performance and the design of its interior door sections, however for the most part this remains a strong, solid, lusty and rewarding V8 muscle coupe. Driving it is always an event, regardless of transmission, and there's plenty of scope for customisation in terms of colour, stripes, wheels and seating.
In my chosen MY21.5 spec – manual Mustang GT Fastback in Antimatter Blue (a dark navy) with optional MagneRide suspension – you're looking at $73,612 driveaway, which gives you an absolute shedload of addictive muscle car for the money.