An awful lot of manufacturers are realising that Australians are keen to explore their own backyards – particularly in the context of international travel being locked out thanks to the COVID-19 pandemic. The Ford Everest is one vehicle that makes sense for traversing Australia off the beaten track: it's a seven-seat 4×4 based on the popular Ford Ranger ute.
Several changes have been made to the Everest lineup for 2021, headlined by the return of the Australian-influenced Everest BaseCamp trim. The BaseCamp is ready to go camping thanks to off-road accessories like a nudge bar and snorkel, alongside other goodies.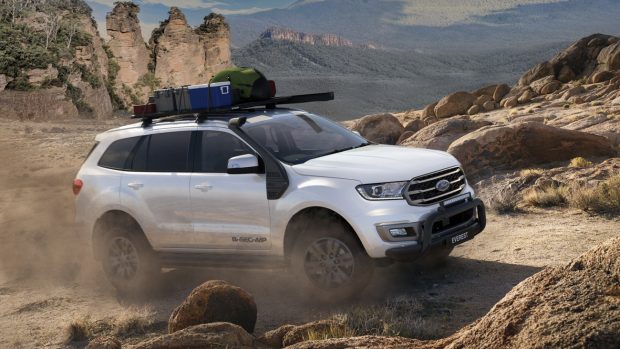 In response to this increased demand Andrew Birkic, CEO of Ford Australia and New Zealand commented: "We know the travel habits of Australians are changing in the wake of COVID-19, and more and more Aussies will be looking for road trip adventures. The Everest offers a smooth ride on the highway, plus genuine off-road, off-the-beaten track capability".
Ford will also launch a more affordable rear-wheel-drive Everest Sport alongside the BaseCamp, offering a more budget-friendly way to transport seven people – or five and plenty of luggage. There is sharper driveaway pricing across the whole "2021.25" Everest model year now, with all variants listed at the end of this article.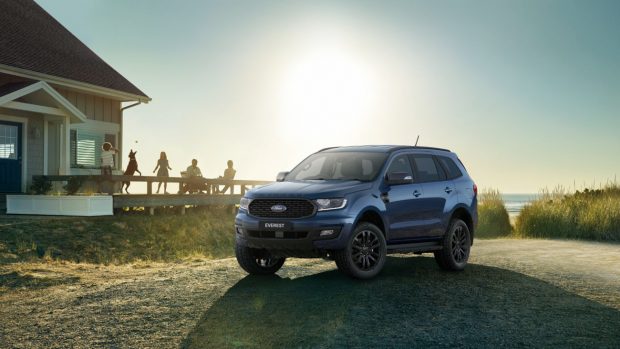 That said, the rear-drive Everest Sport isn't exactly cheap at $59,990 driveaway – so if you want bargain basement transport with this badge, you'll want to stick to the entry-level Everest Ambiente ($50,990).
The Everest BaseCamp is a specific trim for Australia and it is offered with the choice of two engines: a more affordable 3.2-litre single-turbo five-cylinder diesel making 143kW/470Nm, or a twin-turbo four-cylinder diesel that makes a bit more punch, with 157kW/500Nm.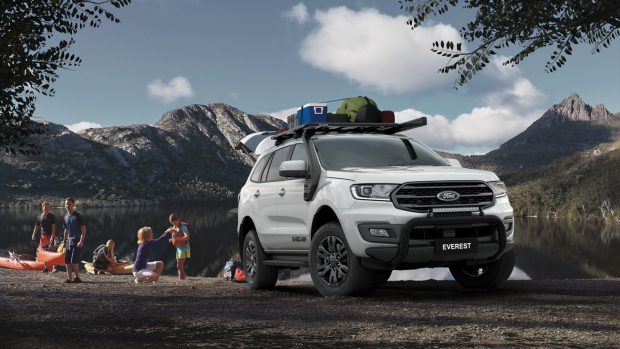 The BaseCamp is an interesting concept of a vehicle – it's Ford's way of getting a slice of the aftermarket accessories game, like the Nissan Navara N-Trek Warrior ute, though the BaseCamp goes a bit further by being aimed directly at those who want to go camping. We expect to see more of these plug-and-play solutions in future.
The limited edition packs the obvious snorkel and bull-bar, but also goodies like an LED light bar, roof-mounted carry bars, Ford Genuine towbar and a Sunseeker Awning. Bring your swag, stove, beers and company and you could head for a camping trip straight out of the dealership – that's pretty wicked in our book.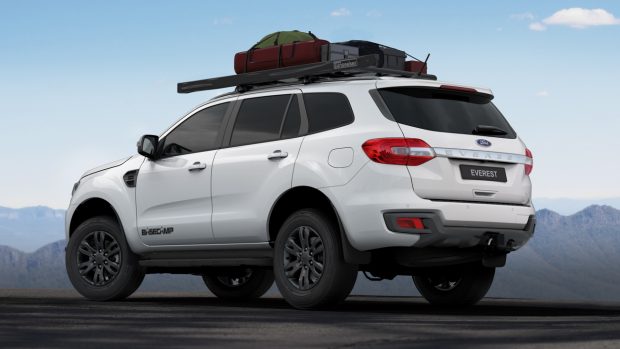 The BaseCamp is quite limited, with only 450 vehicles being built. The specification is based on the mid-level Everest Trend and at only $2,200 more than that car, the BaseCamp represents good value at its $64,990 driveaway price.
Another new variant joining the Everest line-up late in 2020 is the two-wheel-drive Sport, which can be distinguished by 20-inch alloy wheels, black exterior detailing including bumper, grille and mirrors, and stickers everywhere. Inside there is also 'sport' embossed on the leather-appointed front seats.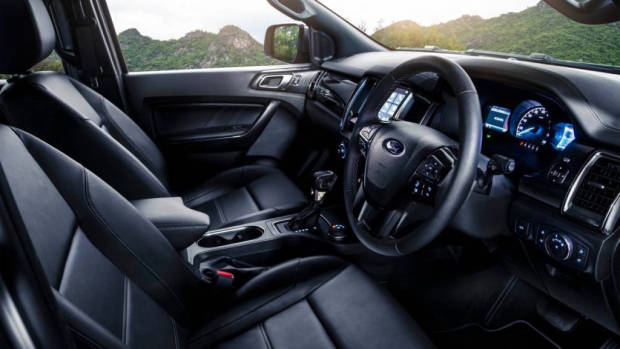 Unlike the BaseCamp, the sport is only offered with the beefier twin-turbo diesel four-cylinder powertrain, and is available in 4×4 configuration already. This rear-drive Everest will suit those who need seven seats with less go-anywhere ability.
Like the Ranger they're based on, every Everest has a five-star ANCAP safety rating. Also included is traffic sign recognition, rear-view camera, regular cruise control, lane-keep assist and AEB with pedestrian detection.
The special edition Everest BaseCamp is on sale now, with all 450 units like to go at some speed, while the 4×2 Everest Sport will become a permanent fixture in the range.
Ford Everest 2021: prices in Australia
These prices do not include on-road costs.
Ford Everest Ambiente 4×2 3.2 AT – $50,990
Ford Everest Ambiente 4×4 3.2 AT – $57,490
Ford Everest Trend 4×2 2.0 AT – $56,990
Ford Everest Trend 4×4 3.2 AT – $62,990
Ford Everest Trend 4×4 2.0 AT – $64,490
Ford Everest Sport 4×2 2.0 AT – $59,990
Ford Everest Sport 4×4 3.2 AT – $65,990
Ford Everest Sport 4×4 2.0 AT – $65,990
Ford Everest BaseCamp 4×4 3.2 AT – $67,490
Ford Everest BaseCamp 4×4 2.0 AT – $66,490
Ford Everest Titanium 4×4 2.0 AT – $72,990