Ford Australia has released more imagery of the next-generation Ranger dual-cab ute, now wearing considerably less camouflage ahead of an impending full reveal in late 2021 and Australian release a few months later.
Ford today dropped a teaser video of the Ranger testing near Ford's Rayong, Thailand production facility.
But the ute maker didn't stop there, with Ford publishing a still image of the lightly-camouflaged new Ranger showing the rear end with a new set of tail-lights and a structured tailgate more closely resembling that found on the American F-150 full-size pick-up.
The side profile shows off the slightly more butch door design than the current model with a boxier look complete with vents just below the mirrors.
Sitting at all four corners are Goodyear Territory AT/S tyres and large mud flaps, complete with a full-sized spare under the tray.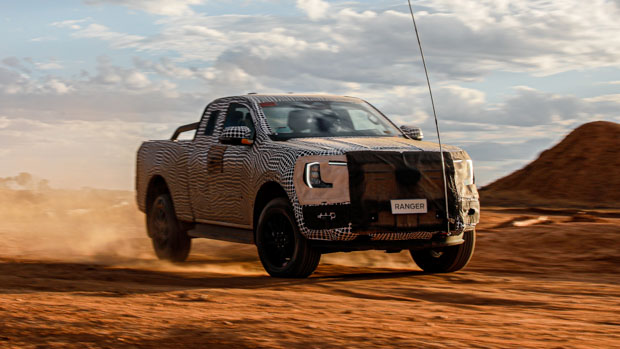 Ford is yet to show the face of the new Ranger in this lighter camouflage, but we can catch hints of its circular design which look to be its strongest design link to the F-150.
Ben Nightingale, Ford Australia product communications manager, told Chasing Cars that buyers are likely to spot the lightly-camoed Ranger completing final validation testing on Australian roads soon.
"There will be 'pixel' camouflaged Rangers on the road in Australia as our Product Development team complete their final tests ahead of the vehicle's launch," he said.
The camouflage livery itself is a talking point, complete with a #nextgenranger hashtag that hides nothing of the ute hiding underneath, and is even complete with QR codes to encourage fans to share images of the prototype out in the wild.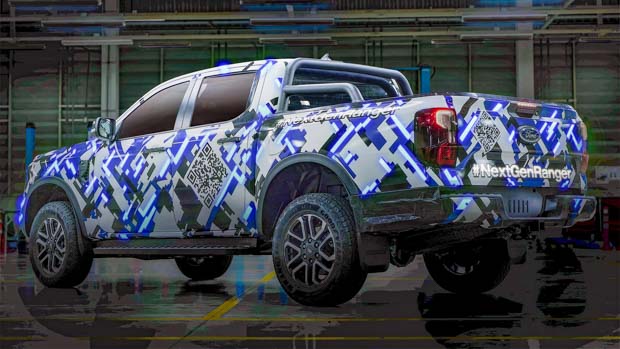 Of course, if you happen to spot the Ranger out and about yourself, feel free to send it through to us on our Facebook page.
In the video shot on roads surrounding Ford's manufacturing facility in the Rayong Province, Thailand, the ranger is seen blasting through puddles but showing little of its exterior.
Ford released another teaser video back in September, where the new Ranger was seen being pushed to its limits in the Australian outback and drifting across frozen lakes in New Zealand. 
The next-gen Ranger, dubbed the T6.2, is a joint development with Volkswagen that will also spawn the new Amarok ute.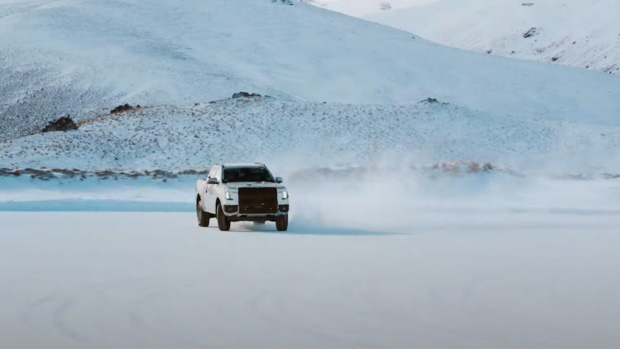 The availability of a six-cylinder diesel engine is rumoured on higher models along with a possible plug-in hybrid system.
Sitting on the same underpinnings as the Bronco large SUV sold overseas, the T6.2 is expected to be a heavy facelift of the current model that will enhance capability and introduce new technology but is structurally the same vehicle.
Ford is expected to fully reveal the new Ranger later this year and it's likely to go on sale in early 2022.