Born and bred for the Baja 1000, there's no denying the heritage behind Ford's Raptor-badged performance utes. They're big, powerful, bold, and are designed to do one thing very well: go racing off-road.
Australia had its first true taste of a locally engineered Ranger Raptor back in 2018 when Ford released the bi-turbo diesel-powered version. Subsequently over the past four years, Aussies have wanted more. More power, more performance, more advanced suspension and a generally more staunch vehicle. And for what feels like the first time in a long time, a car manufacturer has genuinely listened to its buyers.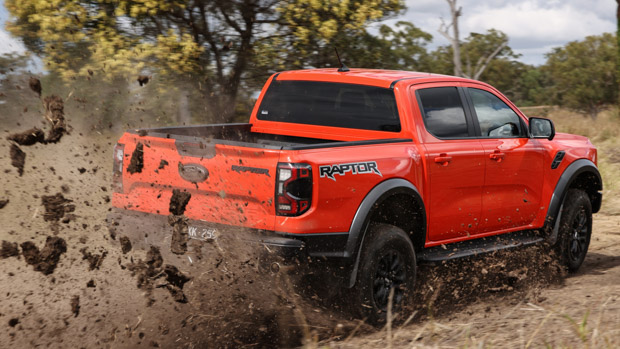 The latest iteration of the Ford Ranger Raptor ticks all the boxes that the previous model missed, but also takes things much further than what anyone could have expected. Where the predecessor left me wanting more, the new Ranger Raptor provides in spades.
The question I asked myself before jumping on a plane up North and putting this new vehicle to the test was, "is there a place in today's market for a high-performance race-inspired ute?"
With petrol prices soaring, electric vehicles becoming more common and emissions controls in Australia nearing on the horizon, I was unsure. Having now driven this ute on road and raced it off road, I'm convinced that this vehicle will impress any skeptic, and is here to stake its claim in the Australian market.
How does the Ranger Raptor drive?
With a plethora of words coming to mind with only some being suitable for a website such as Chasing Cars, I'll try to pick them wisely: exhilarating, raw and utterly smile-inducing. The driving experience of the new Ranger Raptor is something you need to experience to believe. It's a hard concept to wrap your head around initially.
This ute weighs around 2.5 tonnes, and is the ultimate evolution of a tradie's ute. The fact that this new model can launch itself to 100km/h in under six seconds is breathtaking, and shows little sign of slowing even beyond the triple figure mark.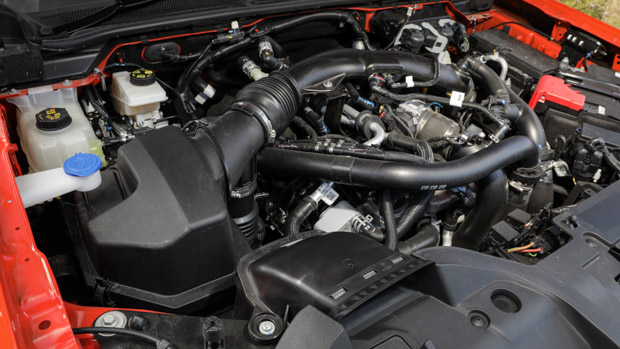 The 3.0-litre twin-turbo V6 petrol engine is a work of art put simply, producing 292kW and 583Nm. These numbers might not mean much without context, but when we're talking about a ute with similar performance numbers to Australia's old V8 sedans, it's understandable if your jaw has hit the floor.
Another impressive feature of this engine package is the built-in anti-lag. Yep, you read that right, a factory-spec ute in Australia is now available with anti-lag. As the name suggests, anti-lag is where the engine ECU will continue to provide air to the turbochargers to keep them spinning whilst shutting off fuel for up to three seconds after you let off the accelerator. This allows instantaneous power immediately after a corner or dirt whoop.
Now you might be thinking, hold on a moment, a 292kW ute that costs nearly $90,000 is a terrifying concept to pilot, but that's where you're wrong.
This new Ranger Raptor comes packed with driver aids, a tweaked transmission, and everything in-between. This all means that the Raptor's driving experience is basically the same as what you'd expect in a standard Ranger.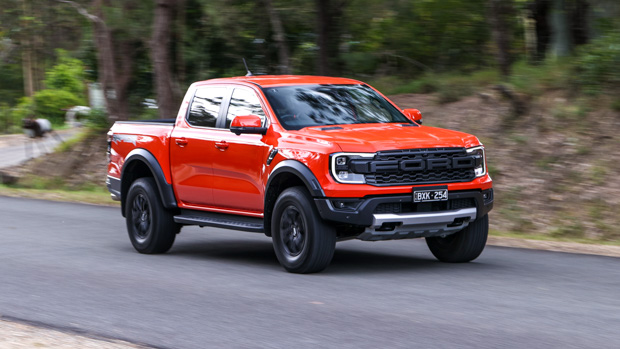 The new Ranger Raptor has a mass of electronically adjustable parameters including, driver modes, steering, suspension and exhaust. The modes include Normal, Sport, Slip, Rock, Mud & Ruts, Sand and my personal favourite – Baja.
Each mode does a variety of different things to the electronic components of the vehicle and provides optimum performance. Sport mode provides quicker shifts for example whilst 'Mud & Ruts' is tuned to maximise grip.
Controls for the steering, exhaust, and suspension can all be found on the multifunction steering wheel. The steering can be set to normal, comfort or sport, whilst the exhaust and suspension can be set to normal, comfort and Baja. Holding down the 'Raptor' button lets drivers customise a drive setting to their liking, and save it within the system. This profile can then be selected by simply pressing the said 'Raptor' button at any point.
Now picture this: you've got the exhaust set to the loudest mode, Baja, and the suspension is set to sport, ready to hit some weekend twisties, the icing on top is the ten speed transmission.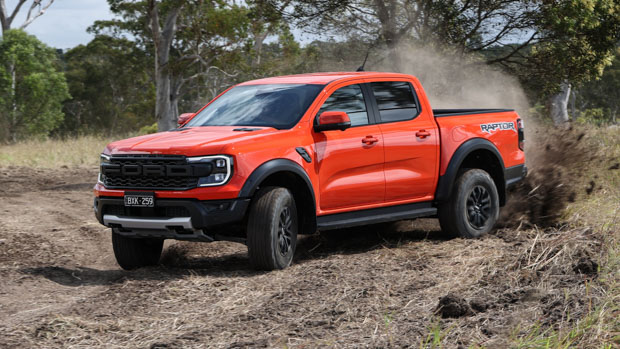 With large, engaging paddle shifters attached to the wheel, it means you can cycle through gears aggressively and with a level of certainty that is not often found in the dual cab space. The gearing is slightly shorter than what I would like, meaning if you choose to tame this beast in manual mode, you'll be busy behind the wheel.
For years, the unique suspension system found on the Ranger Raptor has been a talking point, and this new one exceeded my expectations in this department.
With electronically variable Fox Racing 'live valve' shocks at all four corners, and a coil sprung rear end, the Ranger Raptor is a force to be reckoned with both on and off road. The electronic sensors in the shocks transmit data up to 500 times a second providing real time changes in dampening.
What this meant for me was I was able to enjoy a stiff and sure-footed on road driving experience with minimised body roll, but when off road, the internally bypassed Fox shocks handled everything with ease, including a high-speed jump.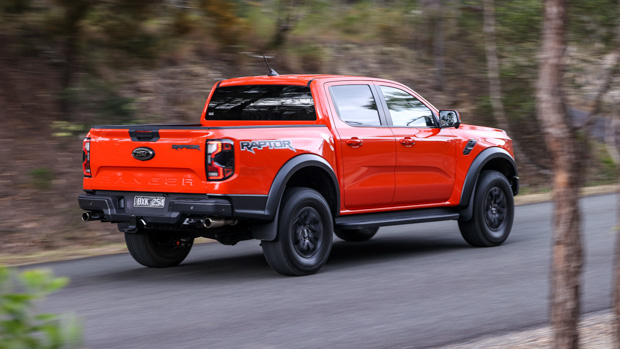 If high speed dirt jumps or spirited weekend tarmac driving isn't your flavour then there's a good chance you're into a little more technical four wheel driving, and the new Ranger Raptor has everything you need to get you to your chosen remote campsite and back again. With factory fitted front and rear differential locks, hill descent control and even 'trail control' which is like low-range cruise control, the Ranger Raptor has all the off-road tech you could want, plus some.
During my time testing the ute on and off road, I was able to test out the brakes in a variety of situations including heavy on road braking and slippery off-road scenarios.
Ford didn't choose to upgrade the mechanical braking components for this year despite almost doubling the power output, but it claims that the addition of the electronic brake booster is enough to negate the need for more efficient brakes.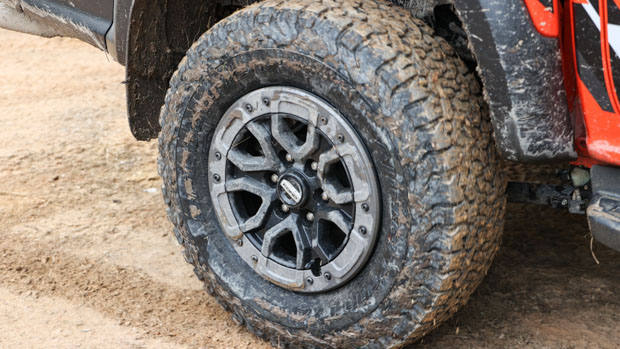 In my testing, I found the brakes to be more than enough for the unladen test vehicle, although I am skeptical that when loaded up with 2.5-tonnes behind it, you may be left wanting some more brake pedal confidence. We'll be evaluating Ford's claims regarding the brakes in forthcoming independent performance testing at the Chasing Cars test track, so stay tuned.
The towing topic addresses the elephant in the room, which is the 2.5-tonne capacity. I understand that the trade off is made for the coil sprung fox racing supported rear end, but with so much power and torque on tap, and other manufacturers providing coil sprung vehicles with 3.5-tonne towing, it would be refreshing to see the Ranger Raptor match this.. Despite this, the factory fitted high clearance tow bar and integrated tow package is a nice touch.
How is the Ranger Raptor's interior?
Luxurious, tech-filled and a race-inspired theme is just the tip of the iceberg when it comes to the new- Ranger Raptor. It's clear that Ford listened to their customers when it came to the updates needed to throw punches with the tech-heavy rivals in modern times.
Drivers get a 12.4-inch digital LCD cluster which displays all the information you could ever need including audio information, satellite navigation, off-road status and other driveline functions including your varying drive modes. The bespoke, rally-inspired steering wheel has a plethora of buttons, and also gets the pair of aforementioned paddle shifters.
The 12-inch infotainment system is another impressive notch in this Ranger Raptors ever lengthening belt. Running Ford's new Sync4 operating system, this flush-mounted screen not only looks impressive, but is easy to use with its logical layout.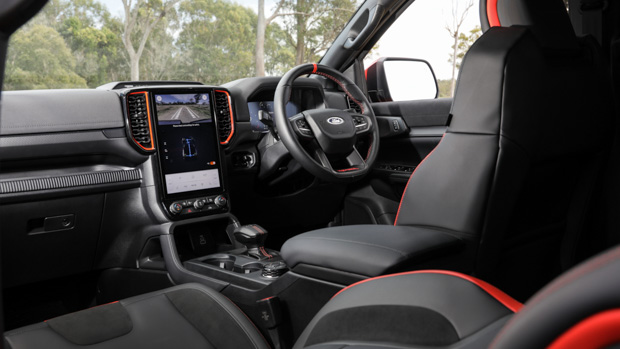 Despite the Ranger Raptor being a heavily sports orientated, race inspired ute, the seats are remarkably comfortable. I found the F22 fighter jet-inspired seats to be comfortable enough for a long drive, yet provide sufficient bolstering for high-speed off-road action. There is accent stitching everywhere you look with suede effect materials and leather as far as the eye can see.
The second row seats have their own bespoke seat cushions unique to the Ranger Raptor model to match with the front seats. Despite this athletic theme, taller occupants in the second row will struggle with a lack of legroom.
Overall, the updated interior is a fantastic step in the right direction and is a great reflection of the price of the vehicle. Plenty of storage, luxury feeling technology appointments and comfort with function.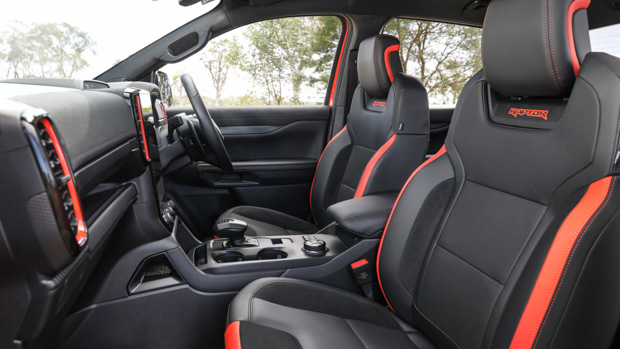 What are the Ranger Raptor's running costs?
As you'd expect, more than doubling the power output of the Ranger Raptor has translated to increased prices at the pump.
With a claimed 11.5L/100km fuel consumption you would think it's passable, but when I tested, the best I could achieve on the road was between 14L/100km and 15L/100km. If you do 15,000km per year, that's an annual spend of perhaps $4500 at $2.00/litre, and the Raptor requires premium-octane petrol.
Though this figure is in line with something like Toyota's Land Cruiser 300, the 80-litre tank is going to make this a limiting factor on long off-road journeys.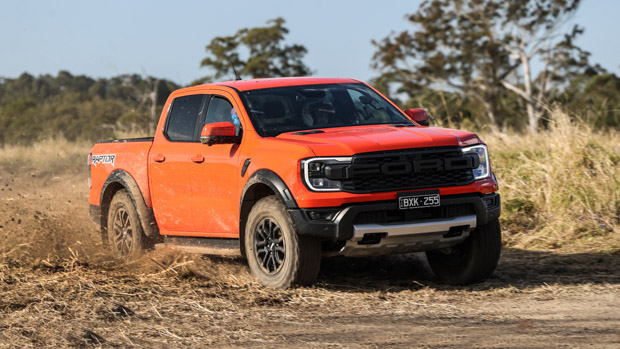 The Ranger Raptor gets Ford's five-year / unlimited kilometre warranty which can incorporate any dealership fitted ARB approved accessories.
Servicing is still a little grey, we're not yet sure on the service intervals for this new vehicle. The previous generation would end up costing around $2,400 over the five years, however with the new Ranger Raptor having more power, more torque and more technology, we're expecting a little harder work on components which could translate into greater servicing costs.