The drawn-out reveal of the second-generation Ford Ranger Raptor has been one of excitement and anticipation, and now we finally have all the details of its new petrol V6.
The outgoing Raptor featured the same 2.0-litre twin-turbo diesel engine as the rest of the Ranger line-up – offering 157kW of power and 500Nm of torque, though the Raptor's bespoke suspension always felt like it could handle more grunt. Lots more.
Now the second-generation Raptor finally has the engine it has long- deserved: a 3.0-litre twin-turbocharged V6 petrol engine packing 292kW of power and 538Nm of torque. That's a massive 86 percent increase in power and a modest eight percent increase in torque.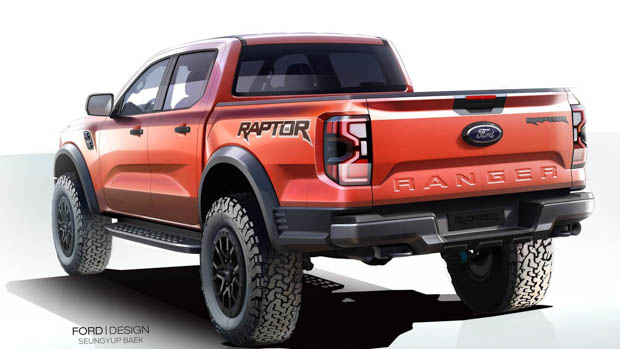 Where does the Raptor's V6 come from?
Ford's 3.0-litre Ecoboost unit has seen plenty of action in North America after first appearing in 2017.
Depending on the application, the engine itself has produced anywhere between 261kW and 410kW, and has been used in US-market products as diverse as the Ford Explorer ST large performance SUV, Lincoln MKZ luxury sedan, Lincoln Aviator large luxury SUV and the forthcoming Ford Bronco Raptor (which shares its platform with the Ranger and Everest).
The Raptor's 3.0-litre twin-turbo V6 will also feature in a more exotic location, precisely in the middle of the UK-built Noble M500 'junior supercar' where outputs of 410KW/805Nm are expected.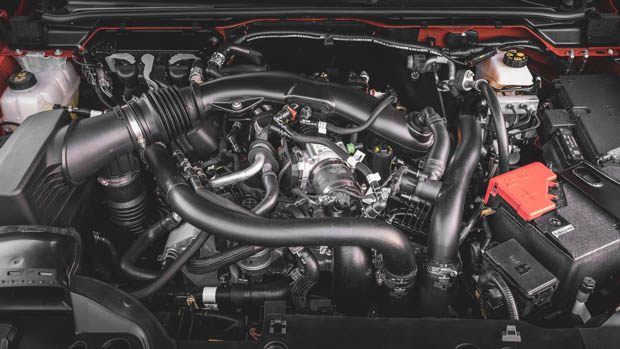 The 3.0-litre engine is a bored and stroked development of Ford's smaller 2.7-litre Ecoboost V6 used in the Bronco. The engine features two turbochargers as well as dual overhead camshafts, variable camshaft timing and direct fuel injection
In the Ranger Raptor, the V6 is hooked up to a 10-speed automatic transmission and features full-time 4WD for the first time.
Ford Australia is yet to reveal the Raptor's claimed 0-100km/h time but we estimate that this dune smasher will complete the sprint in around 5.5 seconds. For comparison, the old Raptor needed around 10 seconds!
Does the Raptor have any other cool features?
In the Ranger Raptor's case, the Ecoboost V6 is mated to a variable-valve exhaust system that can go from quiet and peaceful to loud and disruptive at the push of a button – a useful addition if your neighbours aren't fans of noisy exhausts.
The Ecoboost engine also features an anti-lag function in Baja mode that leaves the wastegate open to maintain boost pressure for up to three seconds to improve throttle response.
It's similar technology to what is used in World Rally Cars, though Ford has offered this anti-lag feature on other road cars such as the 2.3-litre turbo-petrol Focus ST.