After more than a decade of huge success in this country, Ford's Ranger is poised for a total refresh, and here's our first glimpse of what's to come in 2022.
Designed and engineered by Ford Australia (as per the current generation), the new Ranger is the closest we'll ever get to a proper Aussie vehicle (albeit built in Thailand) – one that has an enormous amount riding on its broad shoulders.
UPDATE 7 October 2021: the 2022 Ford Ranger has been unveiled from the rear.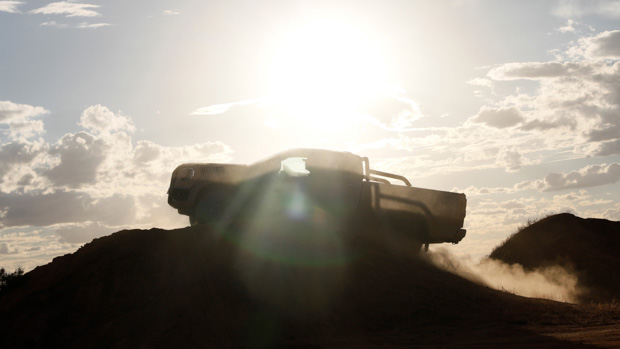 What's underneath all that warpaint?
Even covered in camouflage, you can see the clear styling inspiration between the 'T6.2' Ranger and Ford's larger US-market F-150 pick-up, though underneath the 2022 Ranger is closely aligned to the Bronco – another US Ford engineered in Melbourne.
The only information provided by Ford is that this is "the toughest, most connected, most capable Ranger yet", though the dynamic YouTube video – showing a Ranger prototype doing some extreme off-roading (and oversteer sliding!) in outback Australia, as well as some snow-farm work in New Zealand – exposes its expansion in size and presence.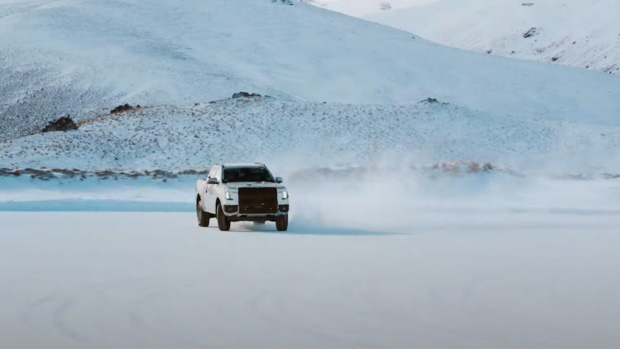 Meatier powertrains, broader stance
Expect considerable changes under the 2022 Ranger's bonnet. The ageing 2.2-litre turbo-diesel four and Transit-sourced 3.2-litre turbo-diesel five-cylinder are expected to be retired in lieu of a single-turbo version of the 'EcoBlue' twin-turbo 2.0-litre diesel four that debuted in the PXIII Ranger in 2018, as well as the carry-over 157kW/500Nm twin-turbo.
Thanks to the T6.2 Ranger's DNA links to the US Bronco, there's a lot more in store for the next-gen Ranger powertrain-wise. Ford's 3.0-litre 'Power Stroke' turbo-diesel V6 from the F-150 is expected to make an appearance at the upper end of the Ranger line-up, providing a much-needed performance boost for the Ranger Raptor.
And so is the 2.7-litre twin-turbo petrol V6 from the Bronco. Producing 231kW and 542Nm in US form, tied to a 10-speed auto, it could be an ideal powertrain for the Ranger Wildtrak and Raptor.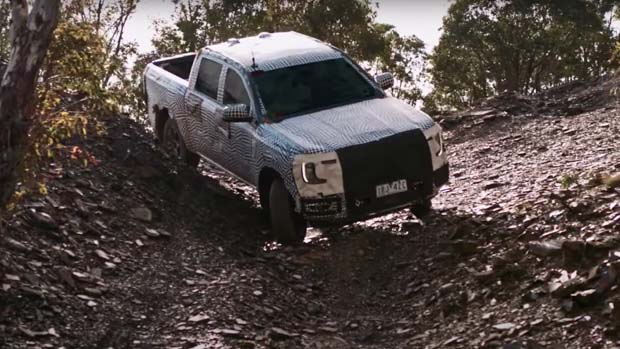 While the overall dimensions of the T6.2 Ranger are not known, it's essentially a rebody and re-engineering of the existing Ranger platform, not an all-new vehicle.
The closely related four-door Bronco has a 271mm shorter wheelbase than the current Ranger, pointing to increased manoeuvrability and better breakover angles off-road, but it's highly unlikely the T6.2 would have a shorter wheelbase than the current Ranger's 3220mm.
The new Ranger is expected to be wider than the current model, however, which could enhance its load bay practicality for tradies to hold all their gear and a full-size pallet.
One thing is certain though – while the T6.2 Ranger's underpinnings might be familiar, considerable effort is being spent on improving its ride comfort, dynamic finesse and overall refinement, in a bid to bridge the considerable gap between how this separate-chassis ute drives and a regular monocoque passenger car.
Official details for the new-generation 2022 Ranger are expected to be released later this year as Ford gears up to launch one of its most crucial global vehicles – particularly for Australians.