Ford this evening confirmed that a plug-in hybrid Ranger dual-cab ute will go on sale in early 2025.
The Ranger PHEV promises capabilities including an electric driving range "in excess of" 45 kilometres, and a 3.5-tonne towing capacity with the engine in operation.
In this article: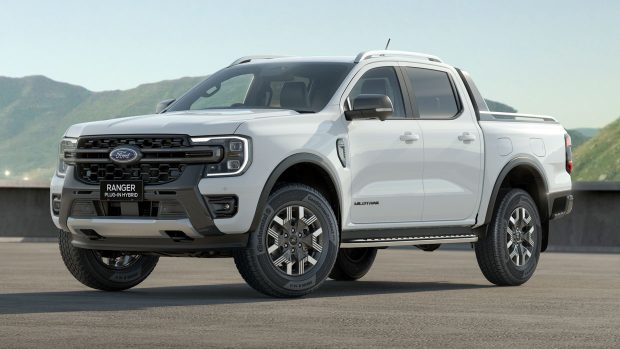 Pairing an electric motor with a turbocharged 2.3-litre petrol inline four-cylinder engine, Ford said its plug-in hybrid electric vehicle (PHEV) Ranger will "maintain its payload" capacities despite the added weight – which wasn't revealed.
The "relatively large" electric motor will drive directly through the Ranger's 10-speed transmission, offering electric-only four-wheel-drive capability.
A small battery is mounted under the tray. Ford said the Ranger PHEV can tow "up to" 3.5 tonnes (braked), although only with petrol four-cylinder and electric motor working in unison.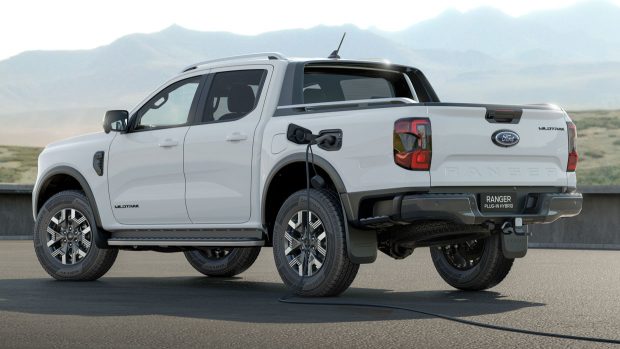 Engineers confirmed towing capacity would be much lower in "EV-only" modes.
Most other technical details remain secret for now – such as fuel economy, power and torque – however Ford promised the Ranger PHEV would have "more torque than any other present Ranger variant".
Hybrid model will have highest torque of any Ranger
Currently, the Ranger powertrain with the most torque is the 600Nm turbodiesel 3.0-litre V6. Total combined outputs for the Ranger PHEV could be in excess of 250kW/650Nm.
The Volkswagen Amarok – which shares its platform and engines with the Ford Ranger – is available with a Ford-sourced turbo EcoBoost 2.3-litre petrol inline-four. In non-hybrid guise, it produces 222kW/452Nm.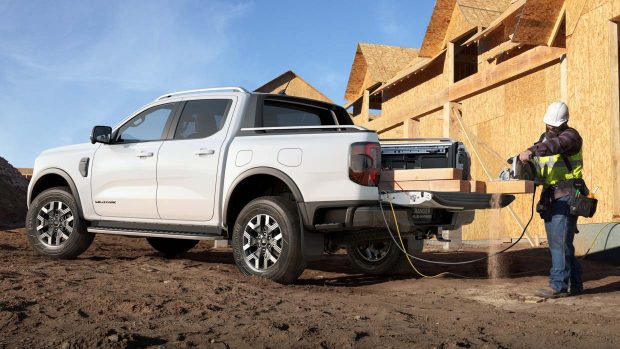 Developed in Australia, Ford's engineers said testing for the Ranger PHEV was conducted at Ford's You Yangs proving ground in Victoria.
To accept the heavy battery, engineers strengthened the Ranger's ladder chassis, added "heavy duty" suspension, retuned the steering and "calibrated the internal combustion engine specific to the PHEV application," said chief engineer Rob Sharples.
Production will commence "quarter four, 2023" with first Ranger PHEVs reaching dealerships as soon as the end of this year, or early next year.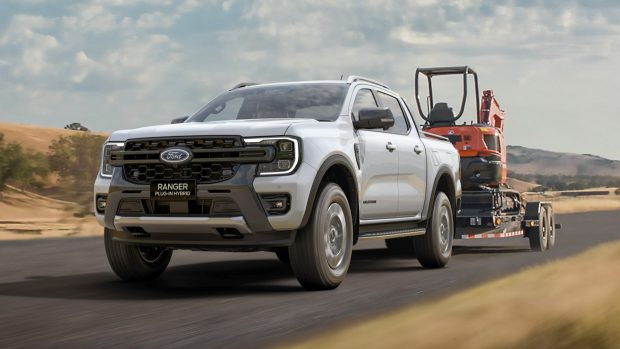 Pricing is yet to be confirmed, and Ford Australia declined questions about whether Ranger PHEV would be built in Thailand or South Africa.
Australia maintains a free trade agreement with Thailand but not with South Africa, so pricing could be sharper if the electrified Ranger is sourced from the former.
Images released of the Ranger PHEV show the hybrid vehicle in Ranger Wildtrak specification.
It's possible that the Ranger hybrid will also be introduced in more affordable Ranger Sport and more premium Ranger Platinum guises.
Ford will sell the Ranger PHEV with a seven-metre charging cord, intended to be plugged into any standard 240-volt home outlet. The charging port is located directly beside the fuel filler.
Four EV modes confirmed
The new plug-in hybrid Ranger will come with four selectable EV modes – Auto, Now, Later and Charge. Auto mode is the default.
"The vehicle will quietly pull away and drive as an EV, but then the EcoBoost engine will seamlessly engage when the driver demands the full performance, or the battery has become depleted," explained chief engineer Sharples.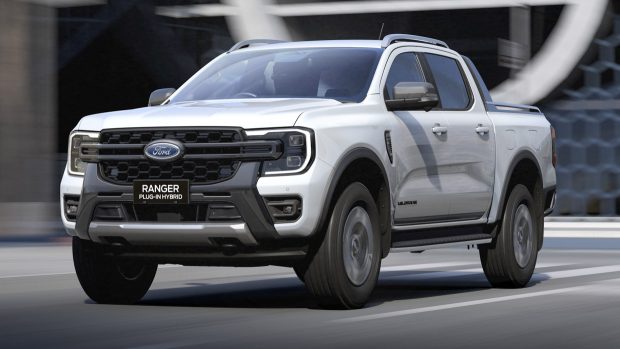 Now mode provides immediate all-electric motoring for "more than" 45km, preventing the engine from starting. Later preserves 50 percent battery capacity for later in the trip, or if the driver wishes to use the battery for vehicle-to-load functions later.
Charge will replenish the battery using the petrol motor on the go, so it's fully topped up on arrival – handy, again, for those wishing to use the vehicle-to-load.
The internal combustion engine can also recharge the battery when stationary, making it almost a giant generator.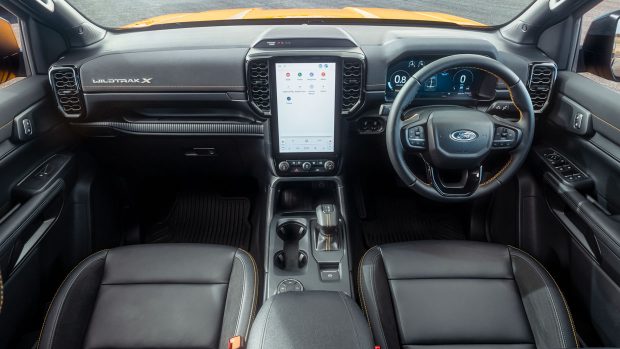 Ford said the Ranger PHEV would be equipped with geofencing EV capability, meaning when entering so-called designated ultra-low-emission "green zones" in regions such as the European Union, it could automatically switch to electric-only mode, allowing entry.
No jurisdiction in Australia currently uses low-emission urban zones or limited-entry green-zones.
Vehicle-to-load power confirmed
In its presentations, Ford Australia was sparing on details such as specifications and price, but eagerly highlighted the Ranger PHEV's vehicle-to-load capabilities.
Vehicle-to-load means your car has one or more 240-volt wall outlets, the kind you'd find in your home. You can plug in everyday appliances and power them using the vehicle's battery.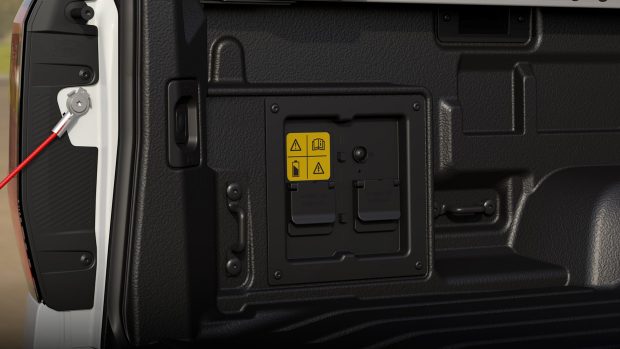 Ford calls the Ranger PHEV's vehicle-to-load "Pro-Power Onboard" and promised it could power multiple heavy appliances simultaneously, such as a circular saw and welder.
"There will be power outlets in the cabin, as well as on the load box," said chief engineer Sharples.
No word yet on Everest PHEV SUV
Ford Australia dodged questions about a plug-in hybrid Everest, the large SUV version of the Ranger.
Currently the Everest is available in 2.0-litre biturbo four-cylinder or 3.0-litre turbodiesel V6 iterations – both powertrains found identically in the Ranger.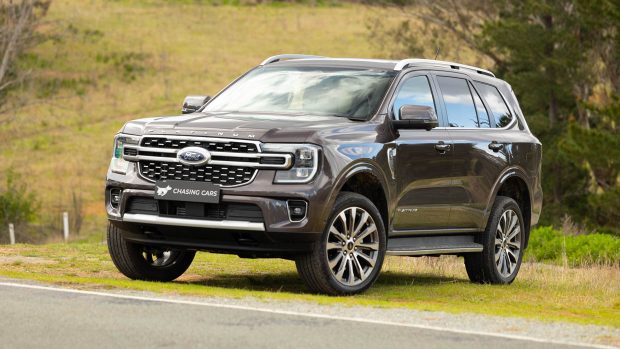 "We have nothing to share today about any change to powertrain [with Everest]," said CEO of Ford Australia Andrew Birkic.
Birkic also refused questions about an all-electric Ranger, but acknowledged there was "demand" and cited the success of the electric F-150 Lightning in the USA. "We're not going to give a specific timeframe on that," he said.
Jury remains out on Amarok PHEV
Chasing Cars understands that a final decision has not been made by Volkswagen on whether it will introduce a PHEV version of its Amarok – a ute which shares the Ranger's T6.2 platform toolkit.
Volkswagen Commercial Vehicles insiders have previously expressed dissatisfaction with the Ranger PHEV's electric-only driving range, revealed today to be 45km.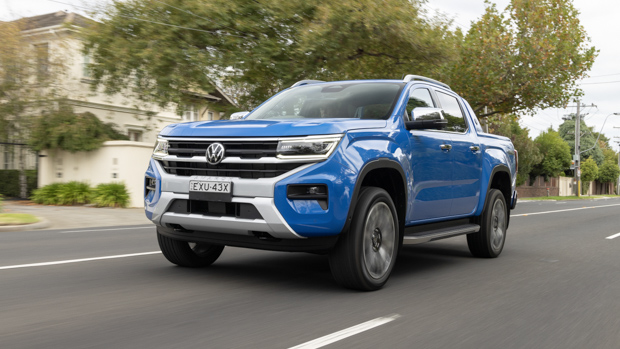 Instead, Volkswagen is working closely on the development of a fully-electric e-Amarok variant that could be introduced as soon as 2025.
But Volkswagen Australia remained open to the prospect of an Amarok PHEV when asked.
"Volkswagen remains committed to the electrification of a vast number of its models, starting for commercial vehicles with the ID Buzz in 2024," said Volkswagen Australia public relations manager Daniel DeGasperi.
"We are currently working through significant orders at the top end of the Amarok range, and look forward to any evolution of the model range in due course."