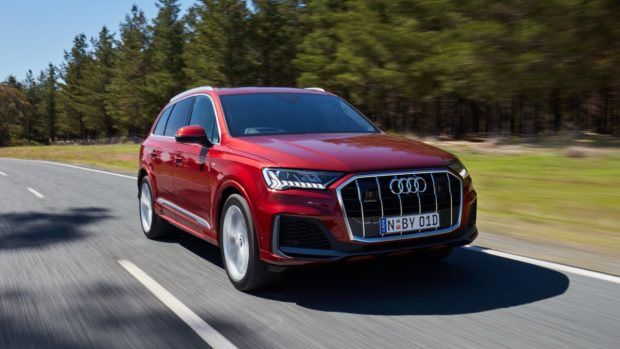 The Audi Q7 is a popular luxury SUV that has pulled in for a more substantial mid-life facelift than usual. Audi have given it an all-new interior with considerable technology upgrades, and there are attractive styling changes outside, too.
Mid-life upgrades to cars are usually pretty subtle affairs: tweak the styling front and back, freshen up the wheel designs, perhaps sub-in some new trim options inside. That makes the considerable alterations to the 2020 Audi Q7 all the more surprising. For this popular seven-seat luxury SUV's facelift, Audi have done all the above and then gone much further, bequeathing the Q7 with an all-new interior that is totally different to last year's version.
As you'd expect, the new Q7 looks relatively similar on the outside, though the 2020 raft of visual changes ease what we thought was an overly simplistic design on this big German. The front end is a little more complex now, with more angular headlights and a slightly broadened slatted grille, while a broad satin chrome piece across the tailgate lifts interest there, too. Our test car's burgundy 'Matador Red' paint blended terrifically with silver wheels and accents.
It's inside where the difference is most notable. Last year's Q7 sported an attractively minimal cabin swathed in soft-touch materials, with a relatively small 8.3-inch display sitting proud atop the dash, powered by a rotary knob, while the driver enjoyed a large 12.3-inch Virtual Cockpit display primarily used to display a large map.
The bright, intuitive Virtual Cockpit remains, but everything else up front has changed. Gone is the high-mounted screen and minimalist dashboard, replaced by a more complex array of twin-stacked, low-mounted touchscreens, while the dash is now fitted with a broad piece of piano black plastic stretching to the passenger door.
This is part of Audi's radical pivot away from hard buttons and knobs toward more touch-activated surfaces. Whether you prefer the new setup is a subjective thing. On the positive side, the new screens are gorgeously crisp and include wireless Apple CarPlay, which works much better with the new touch capability – and better smartphone integration is a win. Plus, forward visibility is improved by moving the screen a little lower in the dash. On the negative side of the ledger, controlling the twin touchscreens is more difficult on the move without the aid of a fixed rotary controller, and your eyes are averted down from the road to successfully pull this off; the fan and temperature controls are now relegated to a screen; smudges and fingerprints on the surface are also annoying.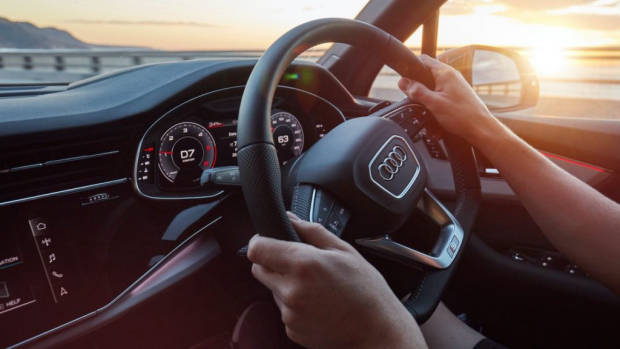 Perhaps most frustrating is the new piano black trim that sits ahead of the passenger. Higher-end Audis are all adopting this new trim – the second-gen A7 and new Q8 preceded this Q7 in adopting the new interior – and this section of dash seems to rattle across rougher Australian roads fairly consistently. Interestingly, Audi's less expensive cars, like the new Q3 small SUV, pick up the new touchscreen but do not adopt the extra dash-wide plastic trim, and as a result, there is less trim to be rattled by our pockmarked bitumen. Call us anal about quality, but when you're spending north of $120,000 on a luxury car, these considerations are important.
Thankfully, the rest of the Q7's interior continues to be beautifully made, with super-solid doors, near-perfect shut lines and a fulsome blend of soft seat hides in this up-spec 50 TDI variant, real aluminium on the dash and a creamy, perforated leather steering wheel that feels great in the hand. The seats offer a broad range of electric adjustment, making the Audi Q7 a continent-crushing cruiser – though we wish the squab was a little longer and that seat cooling was available in a hot country like Australia.
Those in the second row are also very well looked after, with generous headroom and legroom – and the middle seat is just about a full pew, meaning getting five people into the car is a non issue. Four climate zones and a bevy of USB charge points help out. And if you need to use the sixth and seventh seats, you can: these deploy electrically, with no manual labour required, and six-foot adults will fit – though probably not for hours at a time. Boot space behind the deployed third row is compact, but if you operate in five-seat mode there's over 800 litres of space available.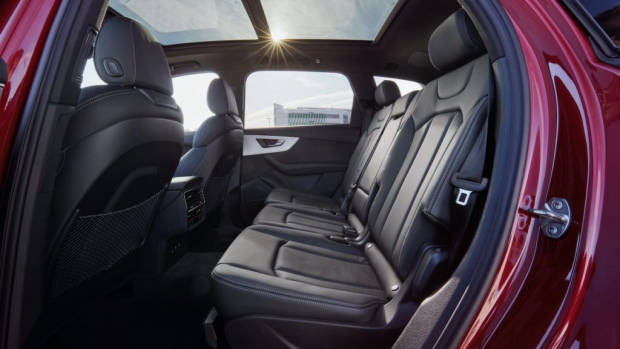 Speaking of continent-crushing, the Audi Q7's V6 turbo diesel powertrain is just the ticket. Available in two outputs for now – the circa-$101k 45 TDI (170kW/500Nm) or the $120k 50 TDI (210kW/600Nm) on test, the diesel six offers an ideal blend of attractive fuel economy, aural refinement and muscular torque. A 6.5-second 0-100km/h sprint is hot hatch quick and feels rather perverse in a 2.1-tonne three-row SUV – but the Audi will do it…
…with considerable lag off the line, that is. This diesel six-cylinder has been around for quite some time but the Volkswagen Group still hasn't solved the substantial lag issues when a big turbo is strapped on. In 50 TDI form, the Q7 is a laggard under throttle, with about two seconds elapsing from rest after fully depressing the pedal before any serious motivation arrives. Thankfully, if you're already moving, with the smooth eight-speed torque converter auto doing its best work, the lag factor is lessened, but it does occasionally require planning your moves to make sure you aren't caught short.
While the Q7 is a large, heavy vehicle, it manages – rather than hides – its mass well. The steering is light in town, while the large glasshouse makes manoeuvring fairly easy despite the scale. Pick up the pace and the handling is neutral and inert, with both the stability control system and the standard Quattro all-wheel-drive contributing to the effort to keep the Q7 tracking your line on- or off-throttle.
The steering on the S line version is more engaging than you'd expect and grip levels from the 285/40/R21 Continental rubber are high – but get too excited and you'll recognise the inertia as the Q7 tips its weight onto the outside front tyre before the systems comprehend your input and pull matters back into line subtly and effectively.
Air suspension is now standard across the Q7 lineup and it delivers a plush, premium ride quality across most scarred roads, but smart buyers will still be sensible about the wheel size they choose. Our test car's hot-looking 21-inch wheels re-introduce some of the jarring effects the air suspension works so hard to drown out, along with marked road noise on coarse chip surfaces – so we'd strongly recommend limiting yourself to twenties. The base car's pairing of air with 19-inch wheels ought to be downright luscious.
That base car is the aforementioned 170kW/500Nm 45 TDI ($101,900), which is very well equipped, sporting Audi's Connect plus infotainment pack with a 4G data connection for satellite mapping, fuel prices and online radio, among other things, plus wireless CarPlay, wireless smartphone charging, leather seating with heating for the front seats, an electrically deploying third row, tri-zone climate control, adaptive cruise control, lane keep assist, a 360-degree parking camera, blind spot monitoring, and rear cross traffic alert.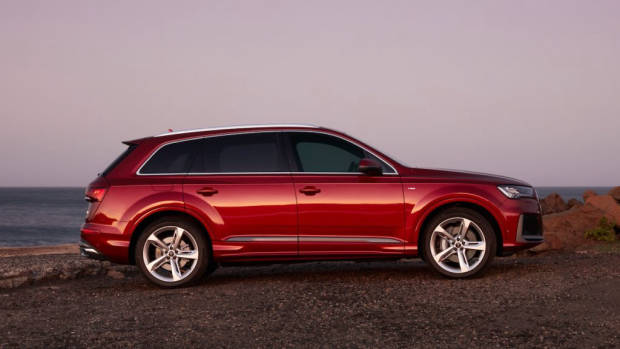 Stepping up to the beefier 50 TDI ($112,900) nets you larger 20-inch wheels, a panoramic sunroof, higher-grade leather seating, electric adjustment for the steering column, and quad-zone climate control. The 50 TDI S line ($119,900) is a new model that adds in super-premium Valcona leather seating, 21-inch wheels, privacy glass, black headlining, and a Bang and Olufsen 3D stereo.
While the S line's styling flourishes and surprising agility are drawcards, it's looking likely that the 45 TDI represents the best blend of price, value and performance. We'll review the base Q7 separately in the coming months.
Every Q7 is covered by Audi's three-year unlimited kilometre warranty. This now looks pretty short, given Mercedes-Benz in Australia has moved to five years of coverage. Service intervals for the Q7 with the V6 diesel continue to the first of annual or 15,000 kilometre periods.
So, the 2020 upgrades to the Audi Q7 are a mixed bag – but the alterations are mostly positive. The updated design outside suits the car very well and the new interior is inarguably more modern and better for today's smartphone users, even if we actually prefer the simplified version in Audi's less expensive vehicles. Plus, many benefits carry over from the pre-facelift, including the spacious interior, compliant ride and easy-to-pilot dynamics. The Q7 continues to be good buying for those looking for a plush three-row crossover.