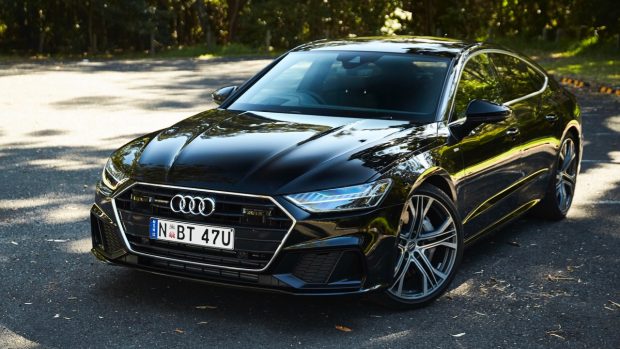 There are very few cars on the road that look like a 2019 Audi A7 Sportback. Long, low and incredibly sleek, Audi's 'design-led' flagship fastback is a rare exercise in indulgence for a German manufacturer. Instead of being upright and conservative, the coupe-like A7 has become known for its aesthetic flair.
This is the second-generation A7; the first iteration of this badge, which dates to the early 2010s, was lauded for its spot-on proportions. The new A7 sharpens and tightens the lines considerably, but like any product that puts its design on the front foot, it'll be up to buyers to decide whether the new shape is an improvement.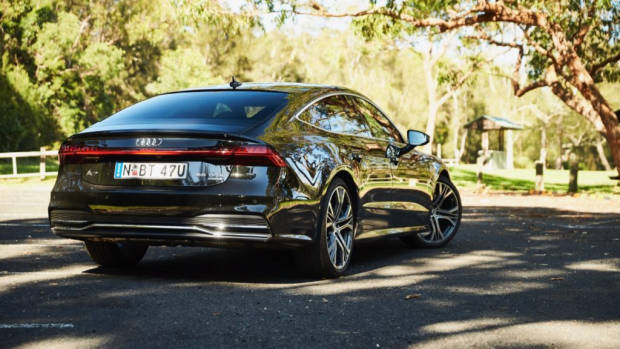 As for us – we like the A7. It's a welcome break in the kind of samey design that permeates all of the big three German marques: Audi, BMW and Mercedes-Benz. This A7 looks like nothing else Ingolstadt makes, and that's a good thing.
The swooping roofline disguises a hatchback form factor, which is increasingly common (or perhaps increasingly copied) in the large saloon market. Take the Kia Stinger – which in many ways is reminiscent of the first-gen Audi A7 – or the BMW 4 Series Gran Coupe, both of which ape the Audi's five-door nature.
Just one A7 model is available in Australia at present – the 250kW/500Nm '55 TFSI' badge, which is a turbocharged V6 petrol engine that is smooth as butter, and all the performance most people would need.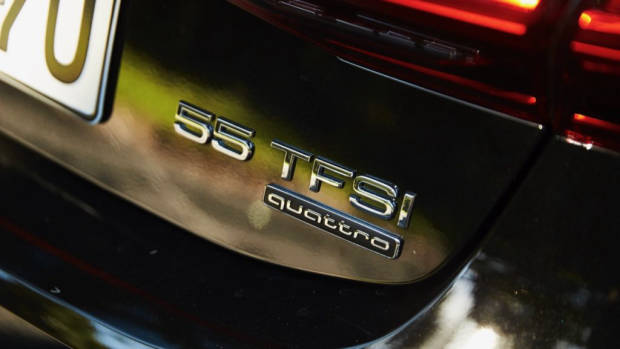 This is just the A7 – the 'ordinary' flavour. Higher performance S7 and RS7 variants will come later on, but few will be able to exploit those vehicles' higher limits. The A7 55 TFSI feels just right, with big power available underfoot without ever troubling the competent chassis.
We hope the S7 and RS7 sound fruiter, though, as the A7 is a whisper-quiet executive express. That includes the engine and exhaust, which barely flutter into the isolated cabin. A slightly louder exhaust with butterfly valves would be nice, but we're certain the forthcoming Audi Sport editions of the A7 will take care of that.
With 500Nm of torque on tap, it won't surprise that the A7 dispatches overtaking manoeuvres with extreme ease, feeling like it has a near limitless mid-range. The seven-speed dual-clutch automatic gearbox works well, with few of the foibles of early editions of this transmission's type. The standard-fit Quattro all-wheel-drive system is a sensible inclusion with so much twist on tap.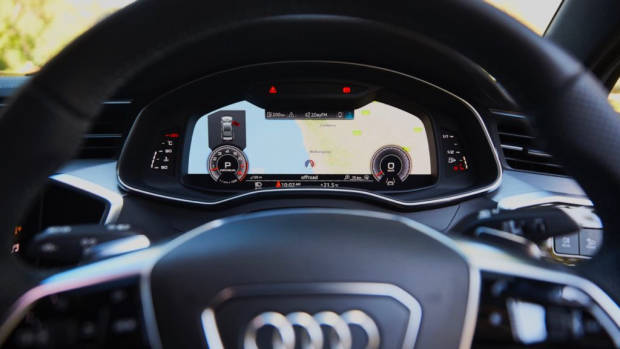 The ride and handling are best described as balanced. With optional 21-inch wheels, the A7's ability to soak up bumps with complete subtlety is compromised, though the air suspension that is paired with the 21s in the 'Premium Plus' package do their best. You'll be noticing speed bumps and potholes, though.
If it were us, we'd opt for the base A7's 20-inch wheels and then add the air suspension as an a la carte option. These long, wide executive cars suit a softer ride, in our view.
No complaints about the A7's ability to string together corners, though. This vehicle is very satisfying to drive a little harder, with beautifully-weighted, quick steering delivered through a tactile steering wheel with metal paddle shifters.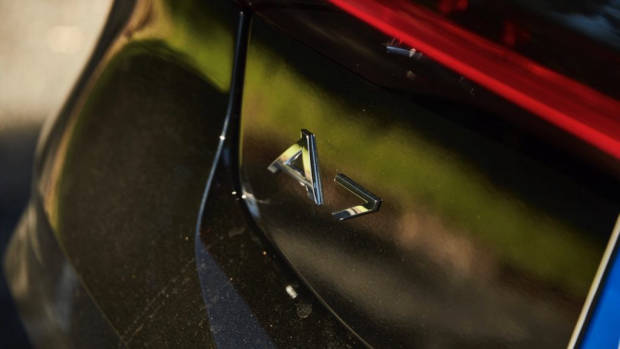 At two tonnes on the dot, the A7 55 TFSI is no lightweight, but the weight transfer can be managed fairly easily through the corners and body lean is kept mostly in check. The brakes are up to the job of hauling the Sportback to a quick stop.
What about the accomodation inside?
It's really a nice place to spend time, this A7. Audi's highest-grade leather is standard fit, and the seats feel expensively upholstered as a result. Our all-black test car was a touch oppressive inside, but you can get grey to lighten things up a bit. The aluminium trim is cold to the touch and looks smart.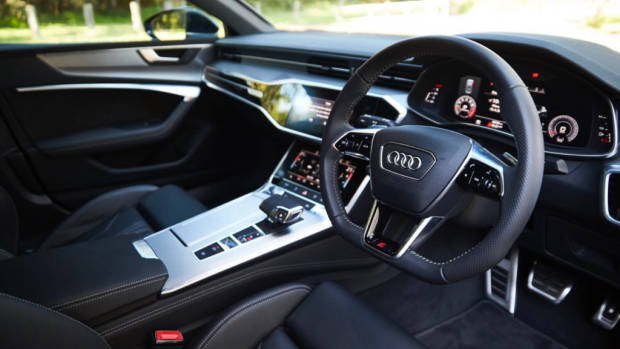 We do think some dash and door materials deserve a lift – this is not a cheap car, and it bears a high number designation: it's close to being a top-end Audi. The top surfacing is soft-touch, but it doesn't carry the sumptuous texture of the leather on the seats. You can option extended leather surfacing, but it doesn't reach the dash like it does on the A8.
Now, for the controversy inside: Audi has ditched their MMI rotary controller for the navigation and media, in favour of two large, stacked touchscreens.
The new infotainment looks great but it is harder to use than the old system, and requires more time taking one's eyes off the road – that's a regression, in our books. Hard buttons and dials are easier to use on bumpy roads, and Australia has plenty of those.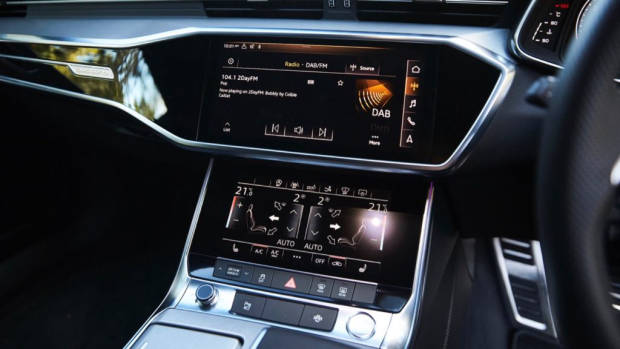 Thankfully, the brilliant Virtual Cockpit digital instrumentation remains, and sits in your line of sight. The stereo, by Bang on Olufsen, is similarly excellent.
Despite being a really big car outside, interior practicality is oddly limited. Two cupholders are about all you get up front, as the central tray is very shallow and the door bins are small.
Back seat space is more commodious, with adequate room for two adults of six foot height. A separate climate zone is appreciated, as are the USB ports back there. There is a perch for a third person, but the high floor and high-set seat mean this is a real squeeze!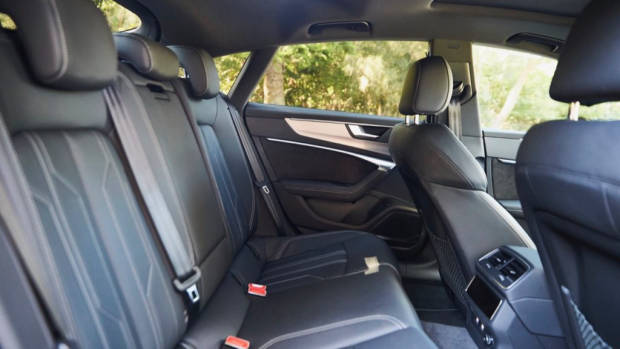 A benefit of the large hatch around the back means great access to the large boot: it measures 535 litres. Careful: a station wagon is a lot more practical again, as coupes cut off a lot of diagonal room, but the A7 is long and accepts two or three big suitcases without a hassle.
Standard specification is generous on the 2019 A7. At the $131,900 base level ($144,707 driveaway), you score the dual touchscreens, LED headlights, wireless smartphone charging, adaptive dampers, high-grade leather, and a full safety suite that includes front and rear cross traffic alert and a 360-degree camera.
Audi says most people will opt to pay $8,000 more for an A7 with the Premium Plus package (total cost $155,627 driveaway). This package steps the wheels from 20 to 21-inches, and adds air suspension, a sunroof, a fourth zone to the climate control, and ambient cabin lighting.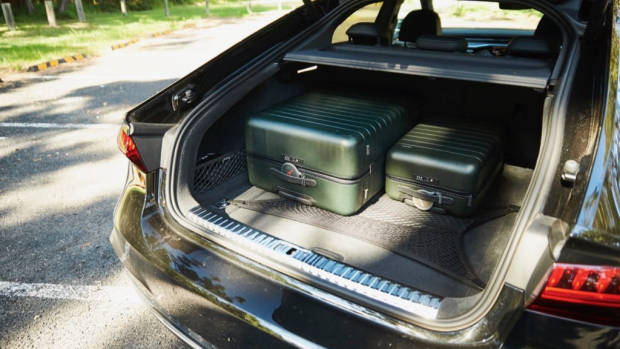 There are a few a la carte options, but Audi is predicting only a small flow of fully customised A7s to be ordered. The individual options include a Bang and Olufsen Advanced stereo, matrix LED headlights, and all-wheel steering that, to us, feels a bit unnatural.
Audi's warranty remains a three year, unlimited kilometre affair which is starting to look a little short compared to mainstream brands, including Audi's own group siblings – Volkswagen and Skoda – who provide five years of coverage.
Taken as a whole, the Audi A7 is a lovely, sumptuous vehicle for those seeking a high-end German car with a true point of difference. This design-led vehicle can back up its good looks with appealing dynamics and a luxurious cabin – and the price isn't too high for the performance and features on offer. We like it.