Audi has revealed an all new RS7, due in Australia mid-2020. The RS7 Sportback will sit alongside its more practical RS6 Avant brother to offer a sleeker package for Audi's brutal twin-turbo V8 to reside in. The RS7 will line up against more traditional looking fast sedans in the form of Mercedes' E63 S Sedan, and BMW's M5 Competition.
According to Audi the RS7 Sportback shares just the bonnet, roof, boot, and doors with the regular A7 models; all other panels are machined exclusively for this RS grade. These bespoke body panels appear tightly stretched over the bulging engine and suspension components in a contoured fit.
Guards on the RS7 are flared like an 80's Sport Quattro to accommodate a track-width extended 40mm to improve grip and handling for the RS model. Under the guards the RS7 is equipped with 21-inch alloy wheels and 275 section tyres as standard, with larger 22-inch wheels shod with 285 section tyres optional.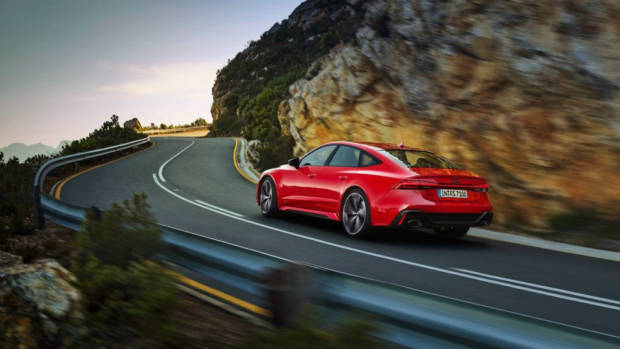 In the effort to keep the RS7 both comfortable, planted, and offer greater ride-height adjustment Audi has specified air suspension across all variants. The RS7 sits 20mm lower than a regular A7 under normal conditions, over 120km/h the car will hunker down dropping a further 10mm to aid aerodynamics and stability. Audi has incorporated a handy nose lift function too, lifting the car by 20mm to negotiate low driveways and light off-road duties.
Optionally, RS7s will be available with a rear-wheel steer system. At slow speeds the rear wheels will turn in opposite directions to increase manoeuvrability, at high speeds the wheels will turn in the same direction to increase stability.
With the same four-litre twin-turbo V8 found in the RS6 Avant, the RS7 manages a 3.6 second sprint from 0-100km/h. It also boasts identical power figures with 441kW of power and a healthy 800Nm of torque that is produced between 2,100-4,500RPM.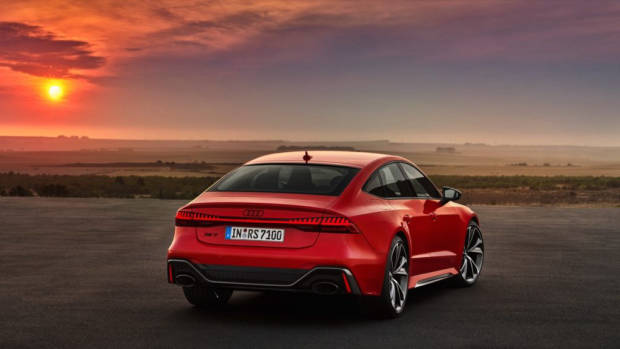 The RS7 will top out at an impressive 305km/h if you opt for the Dynamic Plus option pack, or 280km/h with Dynamic pack. However, Audi is keeping top speed a pay-top-play affair, in standard trim the RS7 will be electronically limited to 250km/h.
Drive is transferred through an eight-speed torque converter automatic to Audi's famous Quattro all-wheel-drive system. The default torque split being 40:60 front to rear, however the car will shuffle up to 70% to the front axle and, happily, 85% to the rear as it sees fit.
A torque-vectoring system is standard on all RS7 models; as standard the system uses brakes to trim the inside wheel to keep the car in check. Optionally, a quattro sport limited slip differential will be fitted with the Dynamic or Dynamic Plus option packs.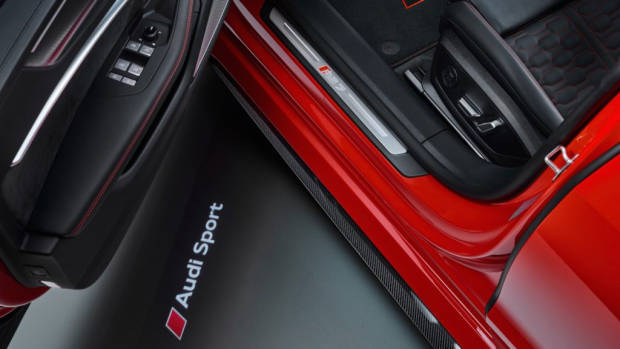 Attempting to make the RS7 more frugal than before Audi has implemented a cylinder deactivation system and a 348 volt mild hybrid system. Dependent on drive mode selected between 55-160km/h the RS7 will either recover energy for the large lithium-ion battery, or coast with the engine disengaged to save fuel.
Extra power scavenged when coasting and a larger battery will mean more advanced start-stop technology is possible, allowing the RS7 to engage and disengage its powerful V8 seamlessly. Audi claim that the combination of cylinder deactivation and the MHEV tech they have managed to save total 0.8l/100km. It seems small, but every little bit counts in 2019.
Interior of the RS7 is standard Audi fare. The design appears minimal, with neat integration of the brand's MMI infotainment system into the dashboard and centre console. In front of the flat-bottom steering wheel we'll find Audi's digital dash. The system works in conjunction with Audi's MMI and will include RS readouts giving information on G-force, oil temperature, boost-pressure, and all-important lap times.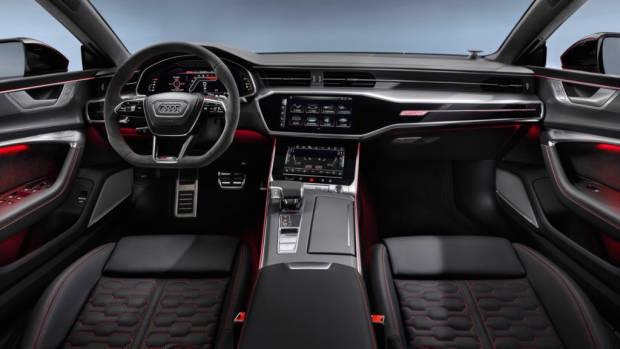 Audi will include a plethora of settings for drivers to fine-tune the RS7 to their liking with quick access RS1 and RS2 modes. The RS modes will be available on the steering wheel. With the touch of a button and the grand tourer will change character from Dr. Jekyll to Mr. Hyde.
When it arrives the RS7 will be available with over 30 driver assistance systems, notable inclusions are adaptive cruise, intersection assist, lane-change assist and 360 degree cameras, and an AEB system.
The RS7 Sportback will arrive in Australia by mid-2020 alongside its more practical RS6 Avant brother. Exact pricing and specifications will become available closer to arrival.