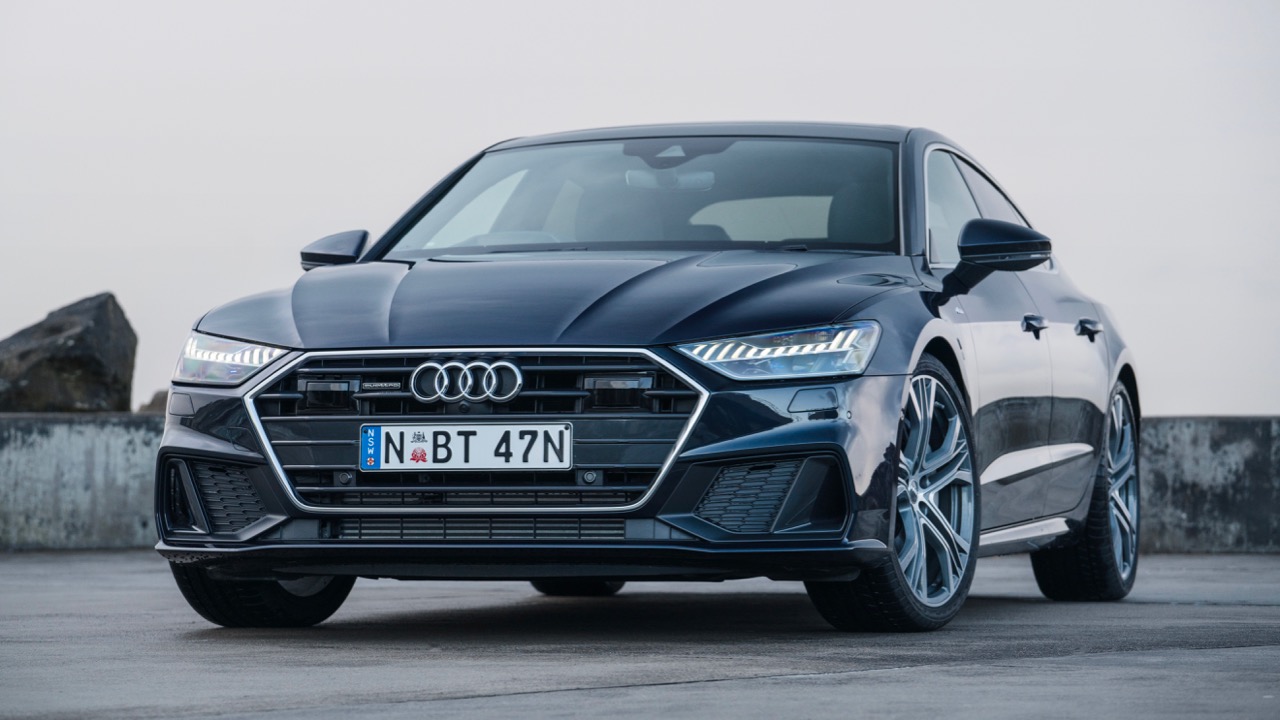 Successful first acts are never easy to follow up. A load of weight sits on the shoulders of a sequel – in this case, the second-generation Audi A7. The first A7, the 'C7' chassis, debuted eight years ago and while it was never a volume seller, the fastback saloon was a daring design leader for the Ingolstadt brand, providing a welcome contrast to the conservative lines of Audi's conventional midsize A6. With a handsome boat-tail rear end, flourishes like frameless doors, and unusual lighting forms, the first-gen A7 was a premium statement. The follow-up is now here – and thankfully, a first encounter with the 2019 Audi A7 55 TFSI quattro demonstrates that this is a sequel capable of living up to its progenitor.
Opinions on design are naturally subjective, but when the car is an Audi A7 – an unashamed design leader of the range – some commentary on styling is, we think, warranted. When you're looking at the new 'C8' chassis A7 in photos, there is an initial sense that the design has taken half a pace back in terms of extroversion – though that impression is only created because the first-gen car was particularly daring. That said, while the new A7 retreats to more conventionally handsome territory especially in the front end, the original A7's boat-tail decklid, uninterrupted profile lines and prominent haunches, accentuating the standard-fit quattro all-wheel-drive system, all remain. Among large luxury saloons, the A7 remains a knockout.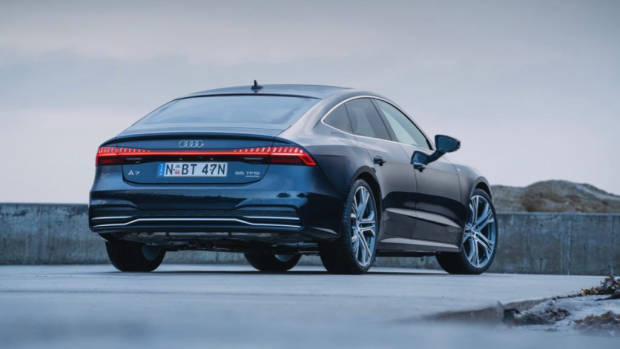 Among the upper-end Audi trio of the (forthcoming) A6, this new A7 and the (already arrived) A8, the A7 remains the most interesting to look at and, we think, the most desirable for private buyers. But while its exterior design is meaningfully different from the more conventional A6 and A8, Audi designers have chosen to keep the interior straight-laced. That's a good thing: the A7 basically packs the same cabin as the flagship A8, right down to ultra-supple leathers, cold metal trimmings, and a full suite of Audi's next-generation touch-driven infotainment.
Technology is a major focus of the car, outside and in. The cabin adopts Audi's new black-zone technology hubs: wherever you see piano black, that's where the touchscreens live. We're not sure that ditching the previous-gen's rotary MMI controller is ideal – it was so easy to operate safely on the go. That said, the new dual touchscreen layout looks fantastic, and once you've memorised where various controls are, you don't have to take your eyes off the road for too long. The upper screen controls maps and audio; the lower screen is mostly dedicated to climate.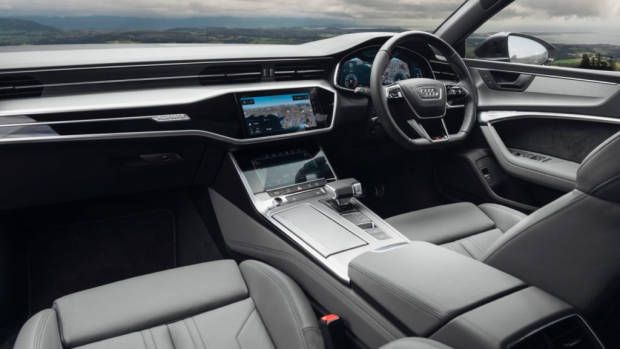 By and large, the materials in the A7's cabin are very pleasant. The leather feels suitably expensive, especially if you avoid black – the rotor grey hide in one launch vehicle was nice. The genuine aluminium looks and feels the part and the smaller S line steering wheel is lovely to hold. Though the Premium plus package extends leather-like materials to the centre console and doors, ultimately it doesn't feel as luxurious as BMW's extended leather package that puts real leather all around you.
The back seat of this coupe-saloon is naturally a little restricted by the fast roofline, but that's only a problem if your passengers are about 5'10" or taller. Treat it as a four-seater, where back seat use is occasional, and there shouldn't be a problem. All A7s have a hatchback rear-end that opens and closes electrically, revealing 535L of cargo space.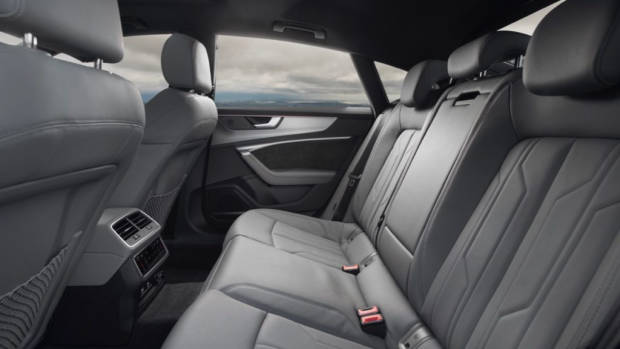 The A7 initially arrives in Australia with a single engine. It's a turbocharged petrol V6 producing 250kW/500Nm, and badged 55 TFSI – the range runs with Audi's new fuel-agnostic badging that uses a scale to rank how powerful an engine is, regardless of whether it's petrol, diesel, or electric.
The 55 TFSI arrives priced at $131,900 ($144,726 driveaway). By mid-2019, a duo of additional powertrains will arrive in the form of a 210kW/600Nm V6 diesel badged 50 TDI ($131,900, $144,269 driveaway), and a 180kW/370Nm turbo four-cylinder petrol range opener dubbed 45 TFSI. The four-banger will list for $113,900, with driveaway pricing to be confirmed at a later date.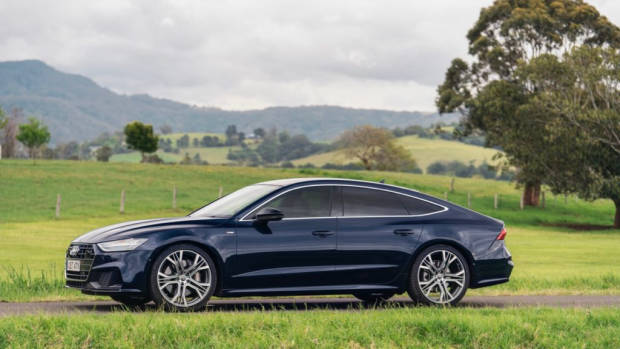 As well as introducing a new engine naming structure, the second-gen A7 also introduces a new approach for how Audi will specify models for the Australian market. Buyers want to visit the dealership on one Saturday and have the car in their driveway by the next, Audi executives told Chasing Cars. To facilitate this, standard kit is generous and the structure of options has been radically simplified, with a US market-style 'Premium plus' pack incorporating most additional desirable features. Audi says this will allow dealers to order in enough cars ready for immediate delivery that have the features customers want.
All A7s – including the more affordable four-cylinder – include premium features like Audi's highest-quality 'Valcona' leather upholstery with electric adjustment and heating for both front seats. You get the proper infotainment fitout, with dual (10.1-inch and 8.6-inch) touchscreens, Apple CarPlay/Android Auto, wireless charging and a head-up display, as well as aluminium trim inside, three-zone climate control, LED headlights, 20-inch wheels and adaptive dampers. A generous suite of safety tech is also standard range-wide: high-speed AEB, adaptive cruise control, lane keep assist, front and rear cross-traffic alert, and a 360-degree camera.
The V6 models are an $18,000 upcharge, most of which goes towards the extra two cylinders, though the 50 TDI and 55 TFSI also add additional features. Six-cylinders have a sportier S line aesthetic – adding more aggressive styling outside, a flat-bottom steering wheel with paddle shifters and a black headliner among other things – plus electric adjustment for the steering column and a punchy 16-speaker Bang and Olufsen stereo.
The aforementioned Premium plus package is $8,000 on the V6 models, adding in air suspension (which you'll want), 21-inch wheels, a panoramic sunroof, privacy glass, extended leather-like upholstery on the armrests and centre console, four-zone climate control, and a 30-colour ambient cabin lighting system. On the four-cylinder, the package is $6,500 as it runs without air suspension.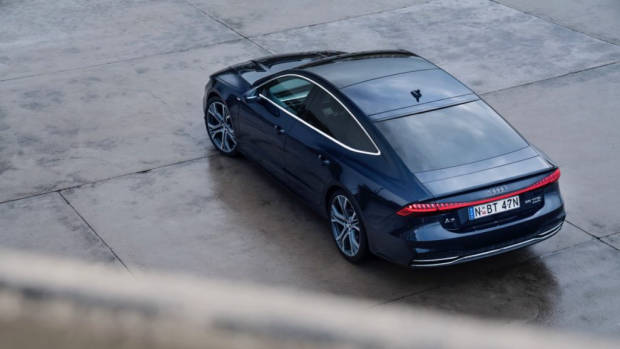 Standalone options are limited: a black pack is $1,400, a further upgrade to the stereo (to a Bang and Olufsen Advanced system) is $11,700. The sunroof, privacy glass and matrix LED headlights can be added a la carte outside of the Premium plus package. Further, all-wheel steering can be added for $4,200. Half the cars on the A7's national launch in Queensland were fitted with this final option, that turns the wheels in opposite directions at low speed and in the same direction at higher speed for stability. It makes the A7 feel very small in corners but ultimately, we found its effect hard to modulate.
Skip the all-wheel steering and the A7's dynamics feel really natural – in fact, this new Audi is really impressive behind the wheel. It strikes a desirable balance between fulfilling its brief of being a relaxed, comfortable GT car and offering some dynamic nous for the more engaged driver.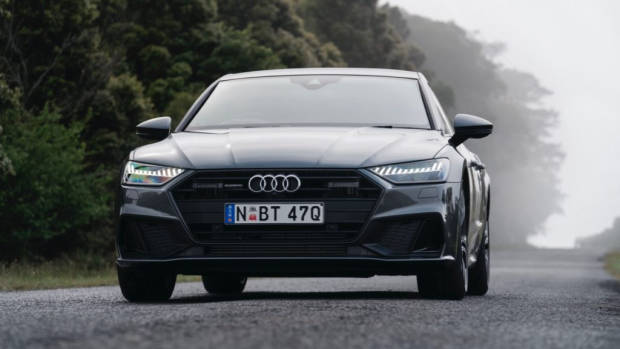 The petrol V6 A7 fits this dual brief well. The engine is silky, and until the Audi Sport S7 and RS7 variants arrive, the 55 TFSI has plenty of usable performance. 100km/h comes up briskly from rest in 5.3 seconds, with the full 500Nm of torque coming on song at 1,370rpm, while the headline 250kW power figure takes over at 5,000rpm. The '55' gently pushes you back into the supple front sports seats, with a smooth bent-six growl. That power is sent to all four wheels through a remarkably refined seven-speed dual-clutch automatic. Fuel economy is rated at 7.3L/100km, aided by the A7's 48-volt battery that allows the car to glide downhill without propulsion, and the engine auto-stop to kick in from 22km/h.
As a cruiser, the A7 stands up well. The cabin remains hushed at all times, and the ride quality is – for the most part – good. However, given the large wheel sizes standard on this car, opting for air suspension pays dividends. Riding on air and in the automatic damper setting, the A7s we tested riding on 21-inch wheels felt supple but tied down. That said, the setup wasn't enough to prevent the occasional bang as one of the low-profile tyres crashed through a big road rut or pothole, disrupting the serenity. We can only imagine how pleasant the ride would be on sensible 19-inch wheels with air suspension. We'll need to test an A7 on steel springs to confirm what the ride is like sans air.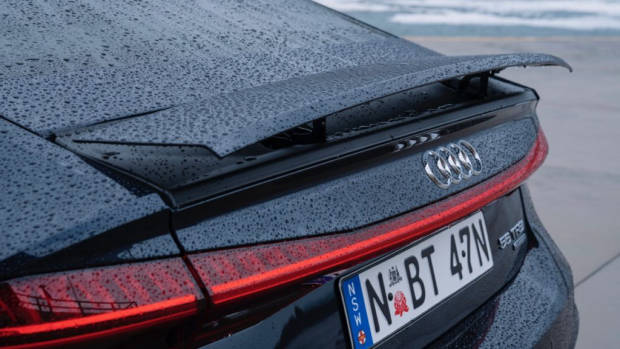 However, it's on a twistier bit of road that the new A7 surprises and delights. This is a big bruiser, almost five metres long and weighing 1,815kg, but it happily boogies. We customised an Individual drive mode for backroad driving, selecting Sport dampers but light, Comfort steering. This setup was ideal for balancing and rotating the A7 smartly: the front end is crisp, with good steering feel. Stringing corners together feels natural and fun in the A7, and wearing 255/35 Bridgestone Turanza rubber, grip levels are good without being overbearing. Pitch the nose in hard and get on the brakes and the Audi will happily lift-off oversteer. Plant the foot and you feel plenty of torque being channeled rearwards.
Choosing an engine should be relatively simple. The petrol V6 will be the right fit for most people. We found that the 55 TFSI delivered acceptable fuel economy in town of around 11L/100km while it's very frugal – under 7L/100km – on the highway. The diesel V6 will be ideal for those doing very long trips on a regular basis. The four-cylinder petrol is an interesting proposition that we'll reserve judgment on until we test it. However, without the weight of a six under the bonnet, the 45 TFSI's front end should be even more crisp.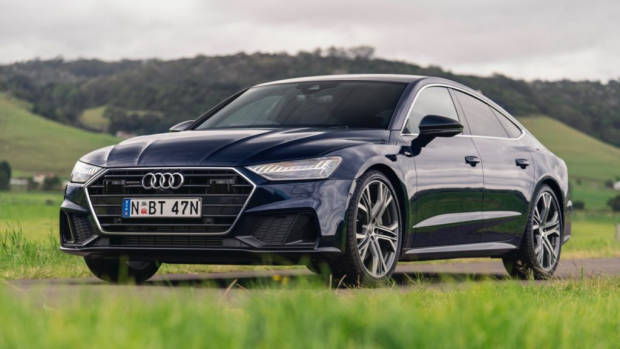 Competition at this end of the market is relatively sparse, with the (also new) Mercedes-Benz CLS-Class forming the Audi's major rival. The CLS is a lot more expensive, though: the two-litre CLS 350 is $136,900 ($147,771 driveaway), and the three-litre inline six CLS 450 is $155,529 ($167,335 driveaway). However, the CLS has more kit, sporting rangewide air suspension, sunroof, and 64-colour ambient cabin lighting. The six-cylinder adds power-closing doors and a sports exhaust. On the BMW side of the ledger, their 6 Series Gran Coupe is conceptually similar to the A7 but is long in the tooth, and costs much more, with the six-cylinder 640i costing $192,529 ($206,605 driveaway).
So it wouldn't be out of proportion to say that the A7 55 TFSI with the Premium plus package is the value pick of this niche segment, with a driveaway price of around $153,000. Of course, value is entirely subjective at this end of the market, but it pays to shop around.
In sum, our first impressions of the 2019 A7 found it to be suitably luxurious, still great to look at, but surprisingly playful to drive. This is a nice, dual-persona luxury saloon that would be equally at home cruising to the golf course as it is tackling more technical tarmac. We're looking forward to samping the A7 55 TFSI – and its 50 TDI and 45 TFSI siblings – on more familiar roads soon.