Following months of speculation, Audi has lifted the veil on the design, and some specifications of its second-generation Q7 luxury SUV.
The Q7 – one of Audi's oldest existing models, launched in 2005 – has been thoroughly updated inside, outside, and under the bonnet to compete with the segment-leading BMW X5 and Range Rover Sport.
Headlining the changes is a significant reduction in weight: the first-generation Q7 was criticised for its heft, tipping the scales at close to 2.3 tonnes. The new model, specified as a three-litre diesel, will weigh less than 2,000 kilograms for the first time.
Audi's technical development team are hailing the Q7's weight reduction as 'a statement of competence' for Audi's construction capabilities. Getting the SUV under the two tonne mark, coupled with a reduction in the size of the vehicle, have resulted in efficiency gains of more than 25%, Audi tell us.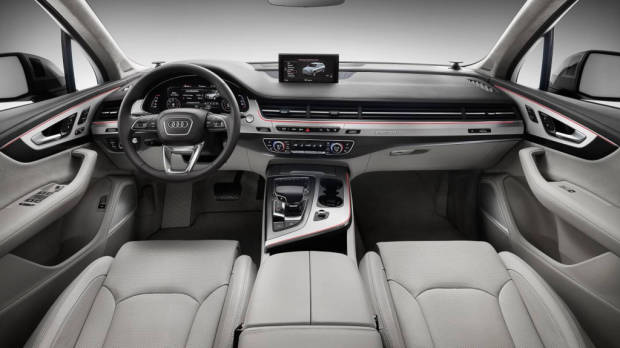 We're only told of two engines that will be offered, but they're no slouches: the 3.0 TDI diesel, pushing out 200kW, will sprint to 100 in just 6.3 seconds. The 245kW three-litre petrol six completes it 0.2 seconds earlier.
Audi will also launch a plug-in electric vehicle (PHEV) hybrid version known as the e-tron quattro. With a battery range of 56 kilometres, it will be a viable electric-only commuter, while offering some serious performance numbers: 275kW of power and 700Nm of torque—all of that with a European combined consumption figure of 1.7L / 100km.
The exterior styling may be more evolutionary than revolutionary for the Audi lineup, but the Q7's new cabin redefines expectations for the luxury SUV segment. The 'virtual cockpit' concept arrives from the Audi TT, placing an adaptive 12-inch display before the drivers in place of traditional dials. This screen is the only infotainment screen on the TT; the family-size Q7, though, retains a traditional, central screen for additional detail.
Audi's second-generation Q7 will arrive in Australia in the first half of 2015.