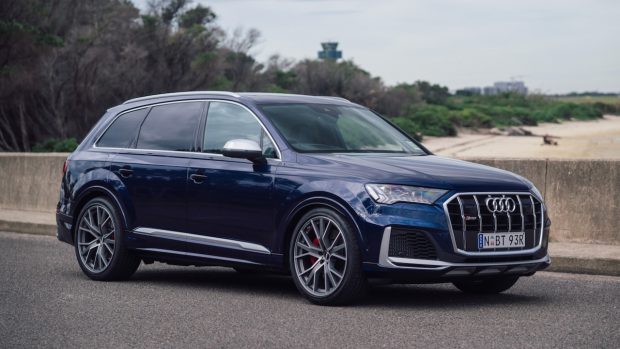 Few vehicles can transport an entire family with as much pace, grace and outright opulence as the 2020 Audi SQ7. In fact, this is the world's fastest diesel seven-seater.
Equipped with a four-litre twin-turbo diesel V8 that brings new meaning to the word 'sufficient', the Audi SQ7 is a reasonably rare spot on Australian roads. Some would say that's because few people need as much car as this: the combination of seven (genuinely usable) seats trimmed in Nappa leather, 900Nm of torque, and the ability to corner on rails is admittedly niche.
Count us interested in this niche, though. Because far from feeling like an overpowered land yacht, the facelifted 2020 Audi SQ7 is an utterly composed and coherent performance car. The eight-cylinder diesel delivers tectonic performance in a straight line, but the SQ7 can also handle: this three-row crossover can corner like a vehicle two sizes smaller.
If you want the full effect, it pays to equip the $161,500 ($174,612 driveaway) SQ7 with the $10,900 Dynamic Package, which adds a locking differential to the rear axle while replacing the ordinary steel sway bars with electromechanical active roll stabilisation. This motorised system, which feeds off the SQ7's 48-volt electrics, achieves the kind of uncannily flat cornering attitude you'd associate more with one of Audi's uber-fast station wagons than a 1.7m-high SUV.
Once you've ticked that box you're looking at the best part of $200,000 on road, but an SQ7 with the Dynamic Package is one of those totally rare packages that promises to just about do it all. In our view, three rows are necessary to justify compromising into an SUV over a superior estate car – say, Audi's own RS6. On this front, the SQ7 delivers the flexibility of being able to transport seven in comfort, but this vehicle doesn't feel like a compromise.
Instead, it delivers a Jekyll-and-Hyde effect, with a pleasant, quiet demeanour in town. In Comfort mode, the twin-turbo V8 is near-silent and is happy to be driven conservatively, never feeling highly strung – while even on the standard 22-inch wheels, the ride is reasonably cushy. Find a sinewy piece of blacktop, and tap the drive mode switch into Dynamic, and the experience transforms into a convincing replication of a flat, fast, almost frighteningly effective high-performance wagon.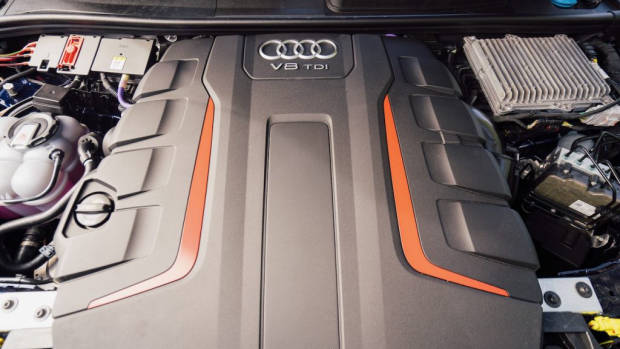 The V8 doesn't deliver huge off-the-line pace, running the 0-100km/h time in a claimed 4.8 seconds, but that figure obscures the real value of the diesel eight: in-gear acceleration. Direct the throttle to the firewall with some runs in the board and the SQ7 doesn't shift to a super-low gear: it might flick down one or two ratios and simply surf the 900Nm plateau from 1,250-3,250rpm, shocking nearby two-seater sports cars as 100km/h comes and goes.
And the SQ7 is elegance personified as it goes, never pitching or rolling as you might expect – a benefit of both the Dynamic pack's stabilisers and the sorted S-grade air suspension, which keeps the body of this 2.46-tonne crossover level. The eight-speed torque converter gearbox offers crisp but smooth shifts, avoiding the sort of shift-jerk other fast German SUVs can indulge in between gears (to the discomfort of those aboard).
Those who would prefer a petrol-fed V8 in their Audi SUV will need to wait for the impending, five-seat RSQ8, which will serve up 441kW/800Nm in contrast to this diesel's 320kW/900Nm. While we're looking forward to driving that car, there's a cerebral satisfaction to the SQ7's real-world observed fuel economy of 10L/100km in spirited grand touring driving. That is the benefit of diesel for shifting this kind of mass.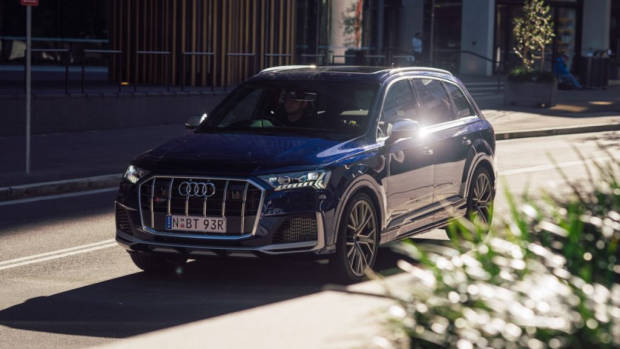 Steering is done through a smaller-than-expected perforated wheel, with the tiller offering a good, if not great, connection to the front wheels. The weighting is customisable, and we identified the middle 'Balanced' setting as most natural. The ratio is progressive: the more you turn, the quicker the ratio, avoiding twirling. The Hankook Ventus S1 Evo2 boots measuring 285/35 R22 at all four corners (over 400mm front/350mm rear brake discs) have the grip to back up the flat cornering. You need to be pushing hard to break the SQ7's front-end grip.
Inside, the SQ7 largely lives up to its lofty price. The 2020 Q7 facelift was a comprehensive one, bringing a complete cabin update to bring this SUV into line with Audi's totally new approach to interior design. It's out with physical, rotary controls for the tech, and in with two lower-set touch-driven screens.
This approach is a better fit for today's smartphone tech – Apple CarPlay works wirelessly, here – but it is much harder to make fine adjustments to navigation or media settings while the car is moving over Australia's commonly bumpy roads. While the screens are big, bright, crisp and snappy, we prefer BMW's approach of offering both touch capacity for their screen plus the option of using the traditional rotary controller between the seats.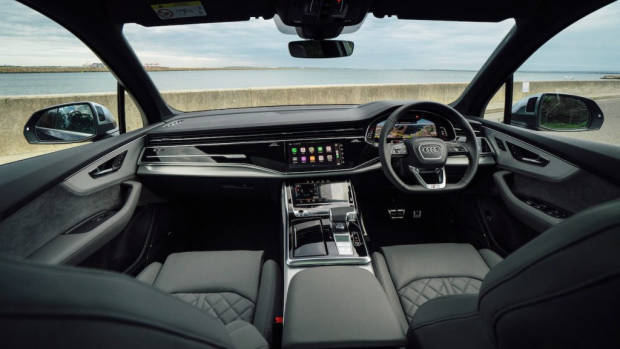 The big and beautiful Virtual Cockpit ahead of the driver remains, with a 12.3-inch high resolution panel displaying a full map with satellite imagery, powered by a Telstra 4G connection good for three years after you buy the car before you'll need to pay for a renewal. Also included in the 'Connect plus' suite are other internet-connected data including nearby fuel prices, parking station availability and Google Maps results. Audio is done by way of a standard Bose 3D stereo, or an optional Bang and Olufsen Advanced system.
Seat comfort is excellent up front, with large, moderately-bolstered pews offering substantial adjustment, heating, and a massage function as standard. Our test car was equipped with a deep burgundy nappa hue but black and grey choices are also offered. In the back, the bench is supportive and spacious, with adequate headroom, legroom and toe room even for very tall adults. Sliders move individual seats in the second row forward to allow leg space for those in the way back seats, even a six-footer will still fit. And even with the third row in place, boot space is still sufficient for a run to the grocer or the school pick-up.
Complaints are few when it comes to the SQ7. Aside from our remarks lamenting the loss of hard controls in the cabin, we'd point out that given the facelift SQ7 actually enjoys a decrease in price, we think the Dynamic package should have been made standard – even if that resulted in a gentle price increase over last year's model. That tech is basically mandatory to make this car drive as well as it should.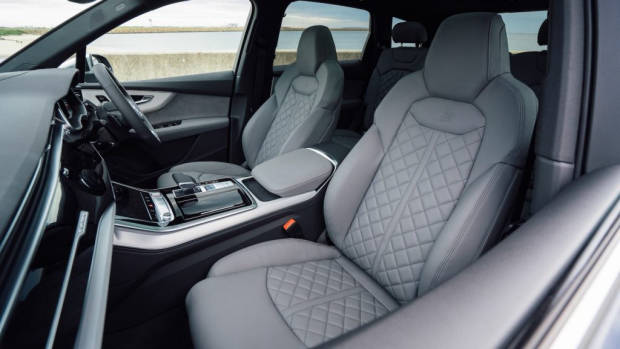 Finally, a note on warranty. With key rival Mercedes-Benz Australia adopting a five year warranty, and with overtures that smaller players like Jaguar Land Rover are heading the same way we think it's high time that BMW and Audi jumped on board and matched what is now a standard among mainstream brands.
If what you're looking for is continent-crushing transport for seven that can also carve up a mountain road on a Sunday morning drive – the Audi SQ7 is a tremendous vehicle.