Big, bold and brash – these two luxury SUVs are about as imposing as it gets. But the Lexus LX 450d and Infiniti QX80 Sport aren't just king of the road – they both have proper ability off the blacktop too, writes editor Tom Baker.
On test this week we have two of the largest vehicles roaming Australian roads. Both hailing from Japanese luxury marques, these two upper-large SUVs specialise in cosseting on-road features and true off-road ability. In one corner, we have the Infiniti QX80 Sport ($110,900, $120,193 driveaway), which is the luxury version of the Nissan Y62 Patrol. On the other side is the Lexus LX 450d ($134,129, $146,217 driveaway), a highly specified Lexus equivalent to the Toyota Land Cruiser 200 Series.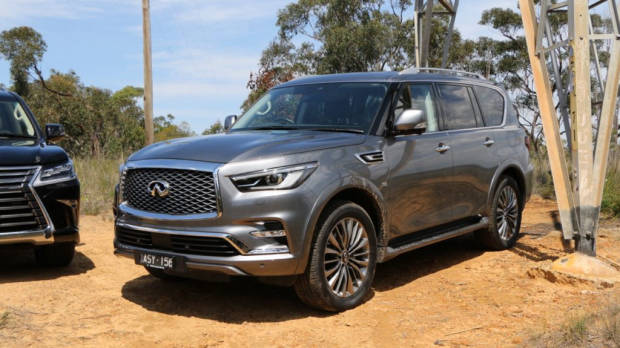 While both of these SUVs borrow substantial componentry and design elements from more mainstream vehicles, from Nissan and Toyota respectively, the Infiniti and Lexus do to significant effort to differentiate themselves and justify their more premium pricing. That's important, as the Infiniti QX80 commands a $21,910 premium over the Nissan Patrol Ti-L, while the Lexus is only $13,799 dearer than the (already expensive) Toyota Land Cruiser Sahara.
Both these SUVs look pretty different from the vehicles they are based on, but in this test, we wanted to determine whether the additional spend is worthwhile. On top of that, we wondered whether it is genuinely possible to live with such enormous vehicles in town. Both are behemoths at over 5 metres in length, though the 5.3m Infiniti is thirty centimetres longer than the Lexus, and feels liek the bigger car here.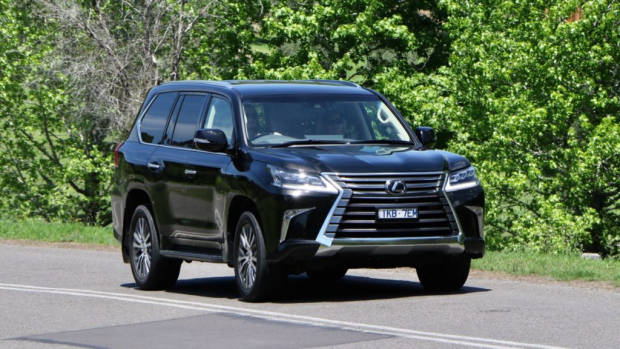 Eagle-eyed readers will already have spotted a key difference between the cars on test: the Lexus runs a diesel engine, while the Infiniti is petrol. That's because we wanted a chance to try out the first-ever Lexus to run a diesel engine: since its inception, the Land Cruiser-based LX has been a petrol-only proposition (and, indeed, a 5.7-litre petrol V8 is still available), but Toyota's twin-turbo diesel V8 has now been added to the range as a five-seat only offer. The diesel is also $8,660 discount compared to the seven-seat petrol, though it does lose some cabin equipment.
In diesel form, the Lexus produces 200kW/650Nm from a pretty unstressed oiler eight. However, those outputs do tend to pale in comparison to the huge power output of the petrol Infiniti QX80, which uses a 5.6-litre donk to make 298kW/560Nm. In reality, both feel adequately catered for under their respective bonnets – but aficionados of big petrol engines will love the primal roar the QX80 makes under hard acceleration.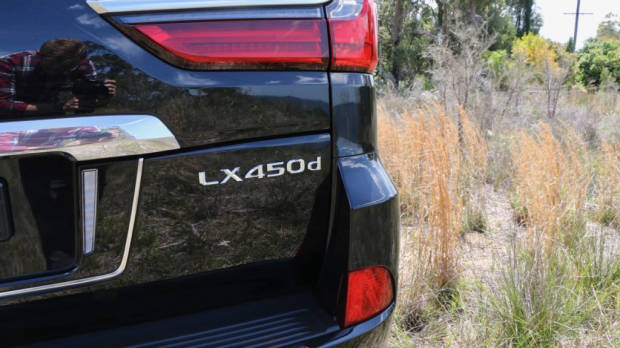 Ostensibly, the argument for putting a diesel in a vehicle this large is that it will make a huge difference in terms of fuel economy. In reality, though, the results were surprising. In town, the Lexus did deliver better economy – it drank 15.1L/100km versus 22L/100km in the Infiniti, in urban settings – but on the highway, everything equalised, with both cars recording scores of about 11L/100km. These figures were without towing anything: we suspect if you do tow big weights – and both SUVs here can tow 3500kg – the Lexus will end up costing less at the bowser.
While some won't like us comparing apples to oranges in the engine department, choosing the LX 450d for this test had another advantage: it closes the big price gap between these two rival vehicles. By opting for the diesel Lexus, it means the LX is $23,229 more expensive than the Infiniti, rather than $31,889, if we were comparing petrol-to-petrol. But whatever way you look at it, the Lexus is going to be considerably dearer to buy.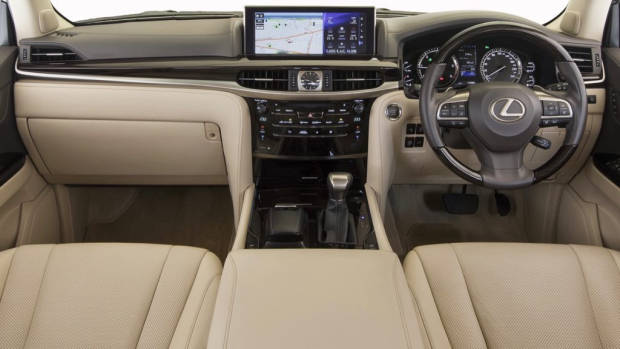 The Lexus aims to justify its extra expense by ensconcing passengers in a considerably nicer cabin than the Infiniti. Swathes of soft, semi-aniline leather cover virtually every surface, and the cream interior of our tester was especially opulent. The seats are very supportive and comfortable. Real Japanese wood trim is used for the trim, and every button and switch feels expensive. The central widescreen is super-sharp (if difficult to use). Simply put, Lexus have done a brilliant job grafting a properly luxurious cabin onto the Land Cruiser platform.
By contrast, the Infiniti is barely differentiated from a Nissan Patrol inside. While it looks different – and better – outside, the QX80 only changes up the Patrol's trim appearance, but all the actual components are the same. Same seats, same dash, same trim. Flat, unsupportive seats leave you sliding around the QX80's cabin, and while the quilted leather looks cool, it isn't special to the touch. And the Infiniti's wood looks cheap and nasty. At least its infotainment is easier to use than the Lexus's, with a touchscreen that is simple to navigate.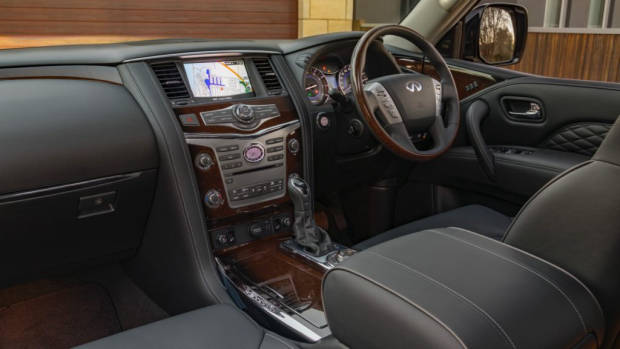 Before we get onto technical and dynamic differences, the cabin upgrade alone will be sufficient to sway some buyers to the more expensive Lexus: no matter whether you'll be commuting or doing long country miles in these things, the LX 450d is considerably nicer to spend time in.
That said, the Infiniti QX80 has its charms. First of all, if you want a petrol V8 without spending big dollars, the QX is the only way to go. Secondly, its size – it truly is the big daddy here, with a considerably larger boot – 1,405L in five-seat mode, versus 1,085L for the five-seat Lexus. Thirdly, there's the fact that – relatively speaking – the Infiniti is the sports car of this test.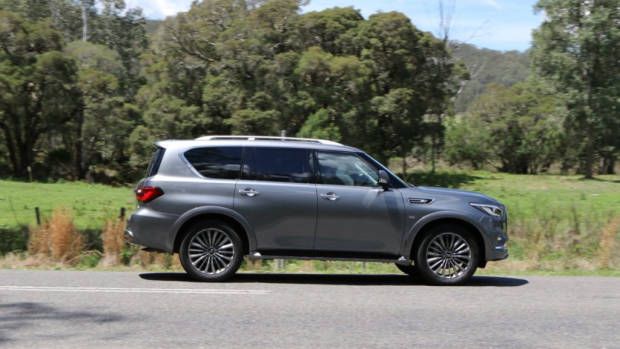 Not only does the QX80 have that lustrous petrol V8 (in fact, it's more satisfying than the optional petrol in the Lexus), but it also has a trick suspension setup that means it leans and ponders far less when you start pushing it through corners. The QX80 uses conventional springs and fixed dampers, but it has hydraulic cylinders in the shock absorbers that fill with fluid when entering a corner, reducing body lean to great effect. The body sits remarkably flat for a 2,783kg bus.
The Infiniti's steering is also very fast and direct, which is a shock given the form factor. This is a gift and a curse: on a good road, piloting it quickly, the steering is a good partner. However, it never weights up at high speed, so it's a chore on highways, and in town, everything feels way too light and unweighted, from the steering to the jumpy throttle. Additionally, the low-speed ride qualtiy in the QX is quite unrefined, with imperfections and potholes thumping into the cab.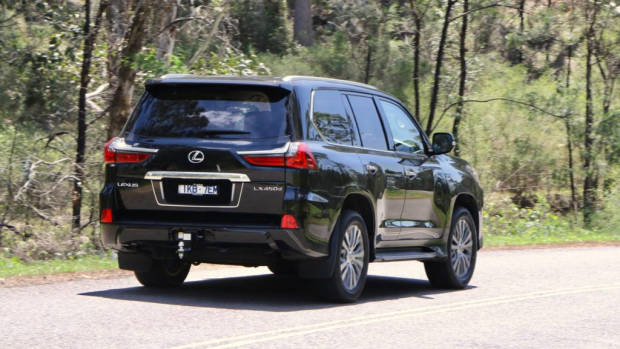 By contrast, the Lexus has very heavy steering. Every input in the LX feels quite deliberate. On a fast road, it doesn't corner with anywhere near the confidence of the QX80, rolling about like a cruise ship. The LX 450d – or the petrol LX 570 – are not dynamic vehicles. They like to be driven with a bit more grace and patience. The LX has adaptive dampers, though the modes aren't that different to one another, and it also packs hydraulic height control, though, which means you can drop the ride height to get you through low-ceiling car parks.
However, on the highway, the LX's heavier steering and more planted character make it far less of a chore to drive long distances, and in town, you appreciate the deader throttle. Sounds bad, but it's true, and a positive. This is a big, heavy car. Accidentally driving it into something would do a lot of damage. In town, the Lexus's ride quality is also far more comfortable.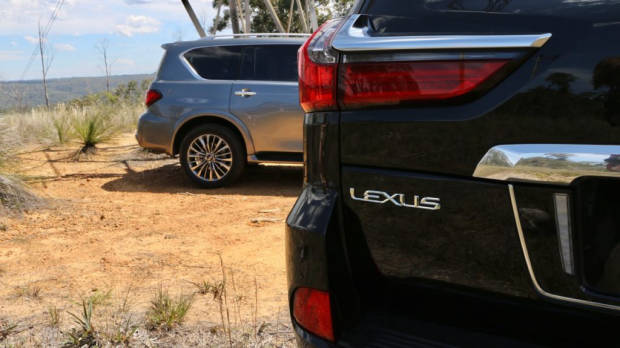 Off road is another equaliser for this pair. As you'd expect for vehicles that are heavily based on nameplates like Patrol and Land Cruiser, the QX80 and LX 450d are both very adept at covering ground off the beaten track. We tackled a number of deeply rutted and washed out trails on the New South Wales central coast in convoy, and really, both vehicles made light work of the stuff.
Off-roading is the best way to differentiate a proper 4×4 like a QX or LX from crossover SUVs like the Mercedes-Benz GLS 500 ($165,129, $177,657 driveaway). Though those vehicles have some level of all-terrain capability, the Land Cruiser and Patrol – and by extension, their luxury variants – were designed from the ground up to be hard yakka off-roaders. Their capability is serious. Both have selectable low-range 4WD. The LX has ground clearance of 225mm, extendable to almost 280mm. The QX80's fixed ground clearance is 246mm.
Of course, when you're spending six figures on a luxury vehicle, few will want to take the car off-road, where the lustrous paint job could be damaged. You're far more likely to see this pair pounding pavements in well-heeled suburbs. As much as off-roading is important to the character and tradition of these vehicles, on-road performance is far more relevant for most buyers, most of the time.
Equipment-wise, both of these full-size vehicles come well-equipped. Both share the basics: semi-aniline leather seating, power-adjustable and heated for the front seats (though the QX80 uniquely adds front seat cooling), satellite navigation with traffic, power steering columns, electric tailgates, automatic wipers, 360-degree cameras and full-size spare wheels. Both have key safety equipment like autonomous emergency braking, forward collision warning, lane keep assist, blind spot monitoring and adaptive cruise control.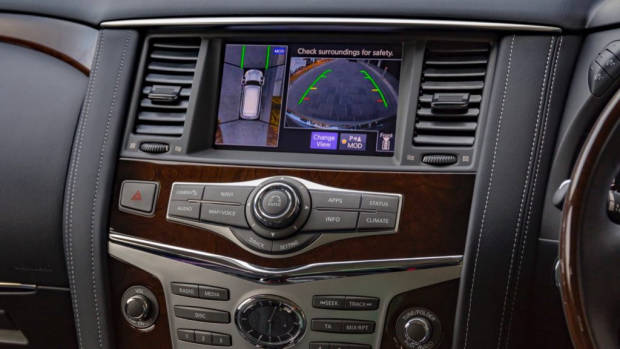 The Infiniti's small central touchscreen.
The QX80 uniquely has seven seats in its single-specification form (remember, the Lexus only seats seven as a petrol, and five as a diesel). The Infiniti also uniquely has, in this pairing, premium Bose-branded audio, a rear twin-screen entertainment system with two pairs of wireless headphones, a sunroof, larger 22-inch wheels, a heated steering wheel, and premium paint included as standard.
However, the QX80's low-res 8-inch screen, 60/40 folding second row, tri-zone climate and front-door keyless access are all below the Lexus's specifications, which plays a high-res 12.3-inch screen, 40/20/40 folding bench, quad-zone climate and all-door keyless into the mix.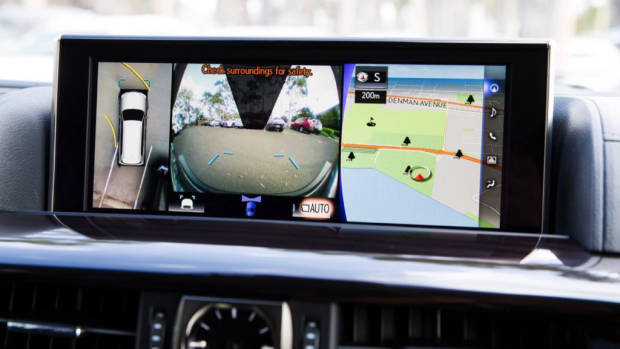 The Lexus has a bigger, crisper screen.
The Lexus also uniquely brings to the table: DAB+ digital radio, a wireless smartphone charger, a head-up display, moisturising air conditioning, LED headlights (over the QX80's bi-xenon setup), adaptive high beam, pedestrian detection, trailer sway control and clearance sonar.
It's worth noting that the $8,660-more expensive petrol Lexus LX 570 adds several additional features back in – including the stowable third row of seating, twin 11.6-inch rear screens, a cool box, sunroof, and premium Mark Levinson audio.
It's disappointing that neither of these pricey vehicles includes modern smartphone mirroring – Apple CarPlay and Android Auto are unavailable on both.
Equipment-wise, then, the QX80 pips the Lexus at the post. When we're spending this money, we don't want to live without premium audio and a sunroof, though whether you're okay with losing the third row will depend on what you want to use this vehicle for. Grey nomads wanting the ultimate tow car? They might not worry about the lack of sixth and seventh seats.
Winner: the Lexus LX 450d
Ultimately, the winner of this test is the vehicle that most feels like it can justify a six-figure price. For us, that's the Lexus, as it differentiates itself so strongly from the underlying Toyota Land Cruiser, with a properly modern and luxurious cabin. The Infiniti QX80 is just too much like the Nissan Patrol inside, with a dated interior that isn't luxurious enough to command this price tag.
That said, many will be drawn to the QX80's superb 5.6-litre petrol V8, which is a properly serious performance motor. Plus, the Infinti can really tango on a good road – shame about the uncomfortable urban ride. Ultimately, the plusher vehicle takes the gong here – the 2019 Lexus LX 450d.