It isn't easy launching a new automotive brand in Australia. That's what Infiniti, the luxury arm of Japanese maker Nissan, have been finding out over the last few years. Despite being wildly successful in North America over the last couple of decades, Australians are a fickle bunch, and as Lexus and Skoda know well, it can take well over ten years for sales to reach a critical level. Still, Infiniti are soldiering on and have delivered some decent new and updated products over the last year or so – we liked the new Q50 sedan. Now, the Japanese luxury brand are turning their attention to a more niche product – their Land Cruiser-rivalling, full-size SUV. Enter the 2018 Infiniti QX80.
The QX80 is Infiniti's flagship product, and this 2018 model represents this large truck's mid-life update. Initially revealed in October, the facelifted QX80 is now on sale, representing an admirable six month transition from motor show hall to showroom floor. Based on the Nissan Patrol, the QX80 shares that Nissan's platform, engine, four-wheel drive system and many parts of the interior. Mirroring the Toyota Land Cruiser 200 and Lexus LX twins – the QX80's biggest rivals – the QX80 adds completely different exterior styling that features Infiniti's latest design language, as well as a more luxurious interior and extra equipment.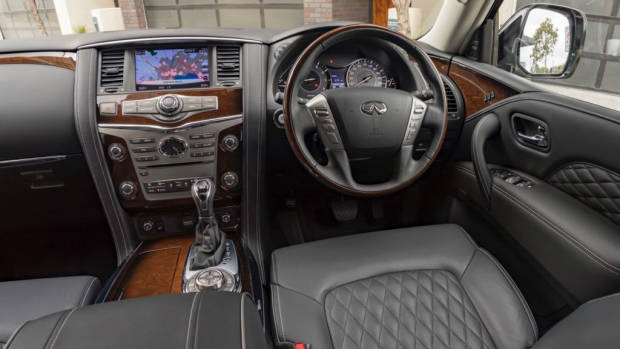 Like the Land Cruiser and LX, the price difference between the Patrol and QX80 is pretty considerable. The highest-spec Nissan Patrol, the Ti, costs $88,990 plus on-road costs, whilst the QX80 asks $110,900: $21,910 more. More importantly, though, the QX80 actually costs less than the equivalent Toyota Land Cruiser Sahara ($115,201), let alone the Lexus LX570 ($142,741). The QX80 is a value buy for shoppers at this end of the market.
The seven-seat QX80 certainly doesn't lack equipment. As standard, you get 22-inch alloy wheels with a full-size alloy spare, LED front and rear lights, automatic headlights and wipers, full quilted leather upholstery with 10-way electric front seat adjustment, heated and cooled front seats, heated middle seats, an electric sunroof, rear seat entertainment screens with many input options, an 8.0-inch touchscreen with inbuilt satellite navigation, Bluetooth as well electric-folding and raising rearmost seats.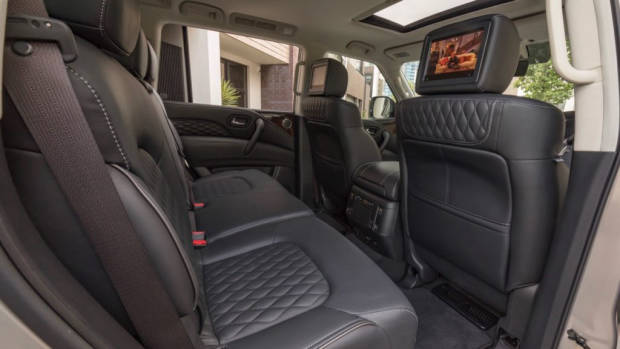 Safety is well taken care of, with the Infiniti's suite of active safety equipment standard: autonomous emergency braking with pedestrian detection, a 360-degree parking camera, radar cruise control, blind-spot monitoring and rear traffic alert with automatic reverse braking all standard equipment.
Unfortunately, equipment such as Apple CarPlay, Android Auto or even DAB+ digital radio remain unavailable, as does a digital speedometer, which is a crazy omission in 2018. A heads-up display would also have been appreciated; this would make the QX80 feel more modern inside. Aesthetically, the QX80's cabin shares much with the Nissan Patrol it is based on. While the exteriors are quite different, the interiors are almost identical. Where the QX80 strikes out from the Patrol is material quality. Quilted leather with lovely contrast stitching is standard equipment, as are soft touch materials everywhere including leather dashboard inserts.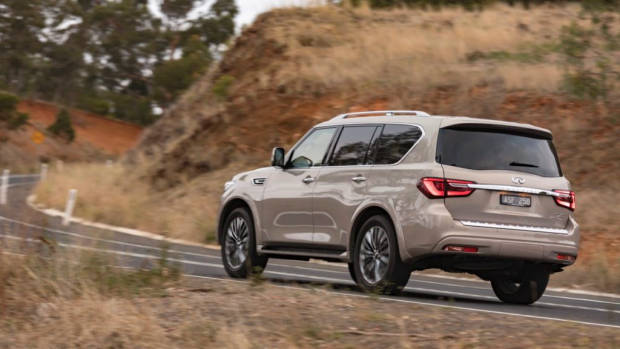 Measuring at 5,340mm, the QX80 eclipses almost all other cars on Australian roads in length while its 2,265mm width comfortably exceeds that of the superwide Lamborghini Aventador. The Infiniti takes up almost the entire lane. Its 1,945mm height translates into excellent headroom in all seating positions, but third row room is a little compromised because of awkward seat positioning. A less expensive Land Rover Discovery 5 offers superior third row space, despite being almost 40 centimetres shorter, demonstrating superior packaging. Boot space in the QX80 is vast. Even with all seven seats in place, the QX80 has more than a Mazda CX-5's entire boot space. Make do with just five seats and the QX80 has a van-like 1,405 litres of space.
Powering the 2.8-tonne QX80 is the 5.6-litre petrol V8 engine also used in the Patrol and by Nissan's local Supercars racing series vehicles. The 5.6-litre makes 298kW of power at 5,800rpm and 560Nm of torque at 4,000rpm, so despite its near three-tonne mass, the QX80 gets up and moves in a straight line, delivering a 7.5 second 0-100km/h time, and that feels fast in this huge vehicle. The V8 – it's creamy, silky smooth, and it sounds fantastic with a meaty roar at high revs. Given all that grunt, the QX80 can tow 3.5 tonnes: more than enough for well-heeled grey nomads.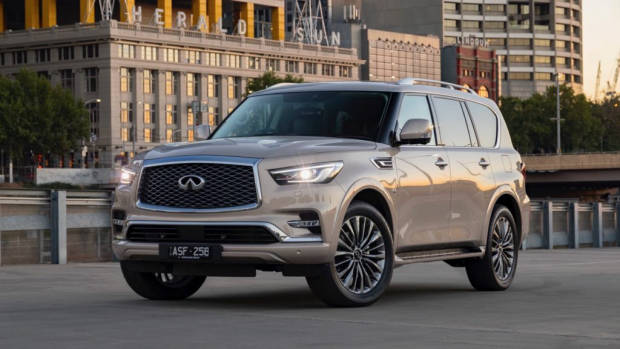 The downside of the power and the mass is fuel economy, which is claimed as 14.5L/100km. In reality, you'll struggle to get anything like that. At the QX80's launch in country Victoria, the QX80 was averaging 17.2L/100km in rural driving while slower speeds saw us use even more. Of course, the relevancy of the QX80's high fuel use will depend on the buyer. A Land Cruiser Sahara petrol is really no better. And the nearest diesel option – the new Lexus LX450d – is $134,500, a $23,600 step. For over 23 grand, you can fill up the QX80 for a long time before you'll fall behind. We do think the QX80 should be offered with a diesel V8 – we put the question to François Bacon, Infiniti's global vice president of product strategy. Mr Bacon suggested that diesel is becoming irrelevant, even for larger SUVs.
Unlike its fuel consumption, the QX80's off-road ability is impressive, especially for a car that rides on steel springs without the benefit of liftable air suspension. The QX80 has a low-range gearbox, various off-road modes to suit the terrain the car is placed in, and hill descent control – all of which we found very effective. Faced with extremely steep climbs and descents, the QX80 breezed through it all with ease even when its driver was much less calm. What would improve the car's off-road capability further would be the ability to raise or lower in order to increase the car's 246mm ground clearance whilst driving off-road. A Land Rover Discovery 5 on air suspension offers a minimum 284mm equivalent.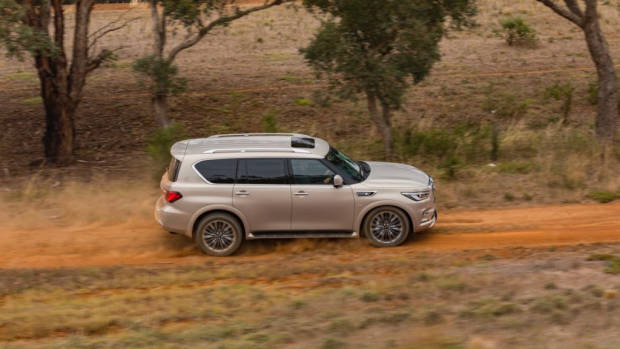 The QX80's manners on the road are somewhat less polished. The QX80's steering does need improvement as it offers very little in the way of feel, and just off-centre it feels barely connected to the car. Such wooly steering systems are preferred in off-road situations, but in open road driving the lack of steering feel can be alarming and knowing how much lock to apply can be a risky guess. Dynamically, the QX80 doesn't like to be hustled, and you always feel how large it is, but it less ponderous than the Land Cruiser and LX twins.
That said, the QX80's Hydraulic Body Motion Control system levels its ride for more comfort, and does an admirable job of keeping the driving experience calm and quiet: big bumps aren't really felt in the cabin. Road noise levels are very low, and at highway speeds you really only hear a bit of wind noise thanks to the car's obtuse windscreen.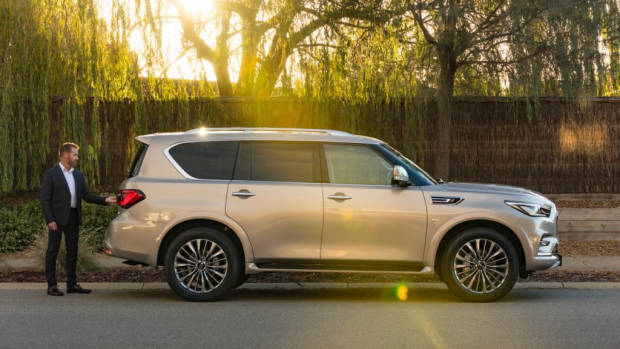 Drive it in a relaxed manner, though, and the QX80 delivers a very quiet and comfortable experience. The 2018 update has been a worthwhile exercise: the exterior design has been made much more palatable and premium, which will give the QX80 a better chance against price point rivals like the Toyota Land Cruiser Sahara. While the Infiniti isn't the most modern inside, and could do with more technology, this is a fundamentally refined behemoth that cruises like almost no other car. With an aim to sell more than a hundred units in 2018, will the updated QX80 result in more sales for Infiniti locally? Time will tell, though the QX80 definitely features talents that deserve it more places on Australian driveways.