A luxury version of the Nissan Patrol V8 has been confirmed: the Infiniti QX80 will launch in Australia later this July priced at $110,900.
It's a big, brash SUV with a very unique look—it's been quite popular in the United States, and Infiniti are hoping the QX80 strikes a chord with full-size truck buyers in Australia.
The move to introduce a full-size Infiniti SUV was widely expected, after Nissan slashed Patrol V8 pricing earlier in the month. That move created headroom for a more expensive, premium Patrol-based model, while also meeting low demand for the petrol-only Patrol. Read about the Nissan Patrol V8 price and specs here.
With the Patrol V8 priced from $70,000—more like a Toyota LandCruiser Prado than the similarly-sized LandCruiser 200—the aggressive pricing of the Infiniti also comes as a surprise.
The QX80 vastly undercuts its closest competitor, the Lexus LX570—itself based on the Toyota LandCruiser (watch our Toyota LandCruiser 200 review here). Priced at $134,700, buying the Lexus will set you back $23,800 more than the Infiniti.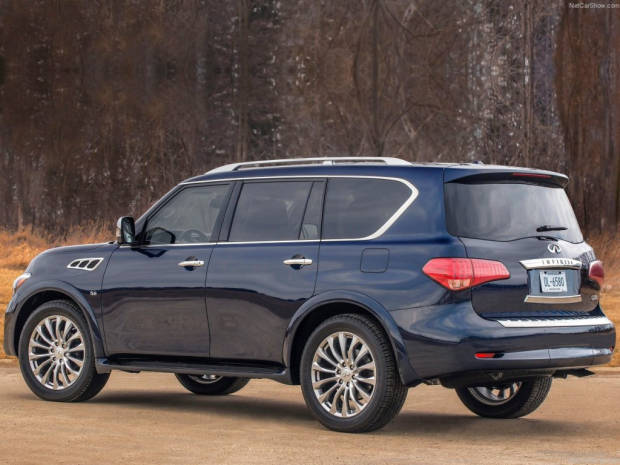 The Nissan Patrol V8 and Toyota LandCruiser 200 is something of an apples-to-oranges comparison: 95% of LandCruiser buyers opt for the diesel V8, while the Patrol is petrol-only.
The Infiniti QX80 shares the Patrol's 5.6-litre petrol, making a comparison to the exclusively-petrol Lexus LX570 much fairer.
Like the Patrol, the QX80 makes a stout 298kW from its V8, along with 560Nm of torque. These outputs reach the ground through a seven-speed automatic gearbox and Infiniti's All-Mode four-wheel-drive system. That's sufficient to tow 3.5 braked tonnes.
Reflecting its premium status, the QX80 adds to the Patrol's feature set. Mechanically, the QX80 features Infiniti's Hydraulic Body Motion Control, which is designed to reduce yaw and body roll while maximising suspension travel when needed, off road.
The Infiniti's cabin is a clear derivative of the Patrol's. It does feature more supple leather and lashings of wood, plus a fifteen-speaker audio system and entertainment for the second row.
Advanced safety technology is also standard—the QX80 betters the Toyota-based offerings with blind spot monitoring, active cruise control, forward collision warning, and lane-keeping assist.
The Infiniti QX80 will arrive in Australian Infiniti showrooms from late July 2015.
Infiniti QX80 2016: Australian price