It's tough launching a new car brand in Australia. As one of the world's most competitive automotive markets, Australians have developed desires for a high standard of equipment, a particular taste for SUVs and sportier models, and premium badges. New brands that don't meet the brief are either chewed and spat out – like Opel – or they take years to establish, like Skoda – or Infiniti.
Launched here five years ago as Nissan's premium badge, building sales has been a substantial effort – and this year's tally of 675 cars is only an improvement of 14 cars on this point last year. Infiniti are very popular in the United States, where they hold 7 per cent of the market – compare that to just 0.1 per cent here. However, Infiniti's bosses are realistic about the time it takes to build a brand in Australia – and in fact, they're excited for the products the future holds. The first of these is this – the updated 2018 Infiniti Q50 Red Sport.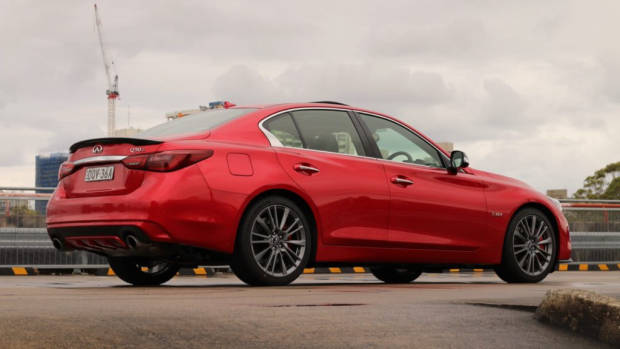 The Q50 – Infiniti's best-seller worldwide – is a small luxury sedan that aims to compete with the BMW 3 Series, Jaguar XE, Lexus IS, Audi A4, and the Australian favourite of the class, the Mercedes-Benz C-Class. To put things in perspective, in October alone Australians took home 609 C-Classes, which isn't far off Infiniti's range-wide tally over ten months. The numbers show this is a David and Goliath fight, so the Q50 – a car that is, in Japan, regarded as the spiritual successor to the Nissan Skyline – needs to be good. On paper, the Q50, like other Infinitis, looks to be a recipe Australians would take to – a practical, sporty all-rounder that represents good value. But how does the mix taste in the real world?
Well – it tastes better now, as the Q50 has received a pretty comprehensive mid-life update for 2018. While most car refreshes barely go beyond styling and trim elements, this time Infiniti focussed on the Q50's driving dynamics – specifically setting out to fix issues journalists and buyers identified with the way the car drives. The drive-by-wire steering, criticised for being always too light or too heavy, has been comprehensively updated to its second generation. The suspension has been overhauled with the promise of a smoother ride. And while styling wasn't the focus of the changes, there are light changes outside and in, as well. All in all, the Q50 should be a better car – but you'll pay more for it, with price increases of up to $1,000.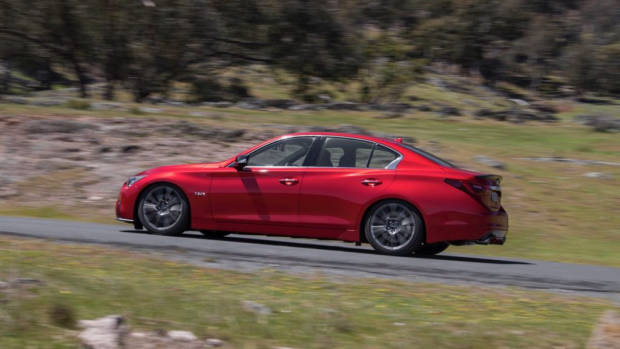 Three specification levels carry over from before the 2018 update, with prices ranging from $54,900 to $79,900, though the top-shelf Red Sport tested here hasn't seen its price changed. The entry-level GT trim is equipped with a 155kW/350Nm 2.0-litre turbo petrol, while the mid-specification Sport Premium can be had with that four-pot, as a 224kW/400Nm twin-turbo 3.0-litre V6, or as a 268kW/546Nm 3.5-litre V6 hybrid, while a previously-optional Mercedes-sourced 2.2-litre diesel has been canned from the lineup. The Red Sport model tested arrives with plenty of standard equipment: behind the uprated 298kW/475Nm 3.0-litre twin-turbo six sit 19-inch wheels, adaptive dampers, quilted leather seats, all-LED lighting, a Bose sound system, and a host of safety tech.