While Volkswagen's Spanish upstart Cupra has understandably concentrated its Australian launch on its crossover models (Ateca, Formentor), and the new Born EV, something of a hidden gem in the lineup is the Leon hatchback.
Like the Audi A3, it is a remarkably original take on the same toolkit used by the evergreen Volkswagen Golf.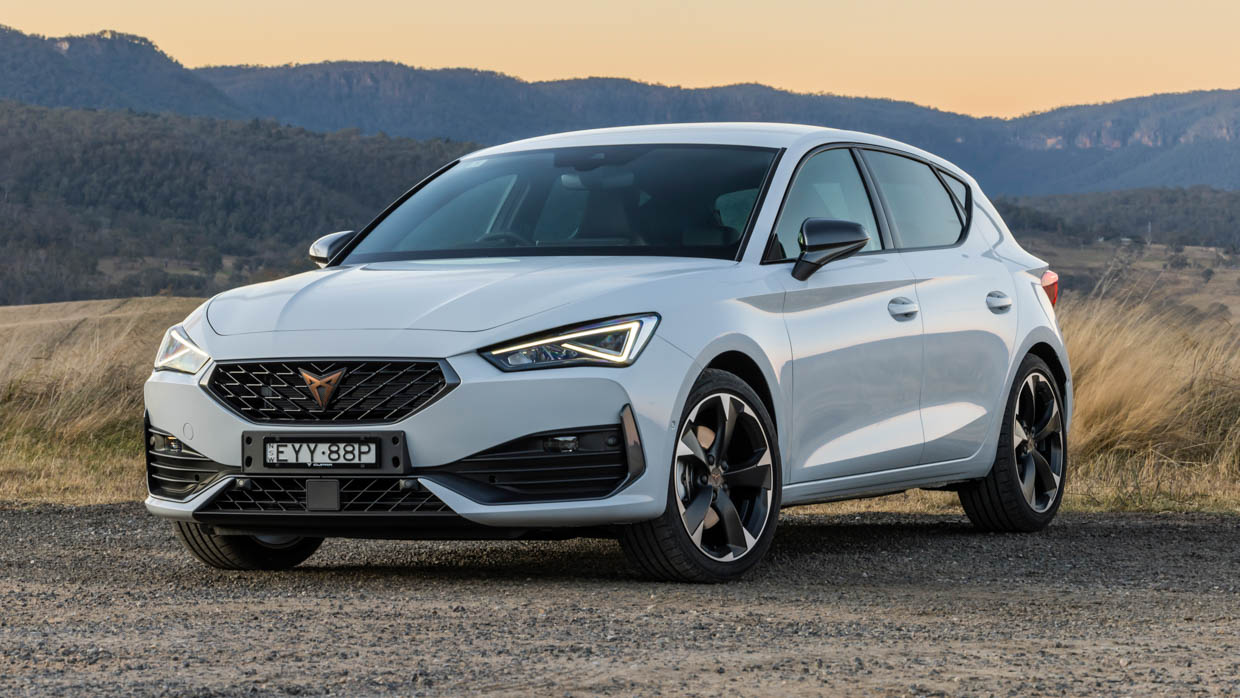 As we took from our experiences with the seriously accelerative, 228kW Leon VZx and the plug-in hybrid VZe, a few years in the Catalonian climate appear to have been good for the MQB platform.
The Leon feels refreshed, lean and fit, with peak athleticism that even evades the all-rounder Golf. The trade-off is some Germanic refinement.
But the drip-feed of Leon variants, which also include a Golf GTI-matching VZ grade, has now marched on to include what we think is its most charming member yet: the $47,990-driveaway Leon V.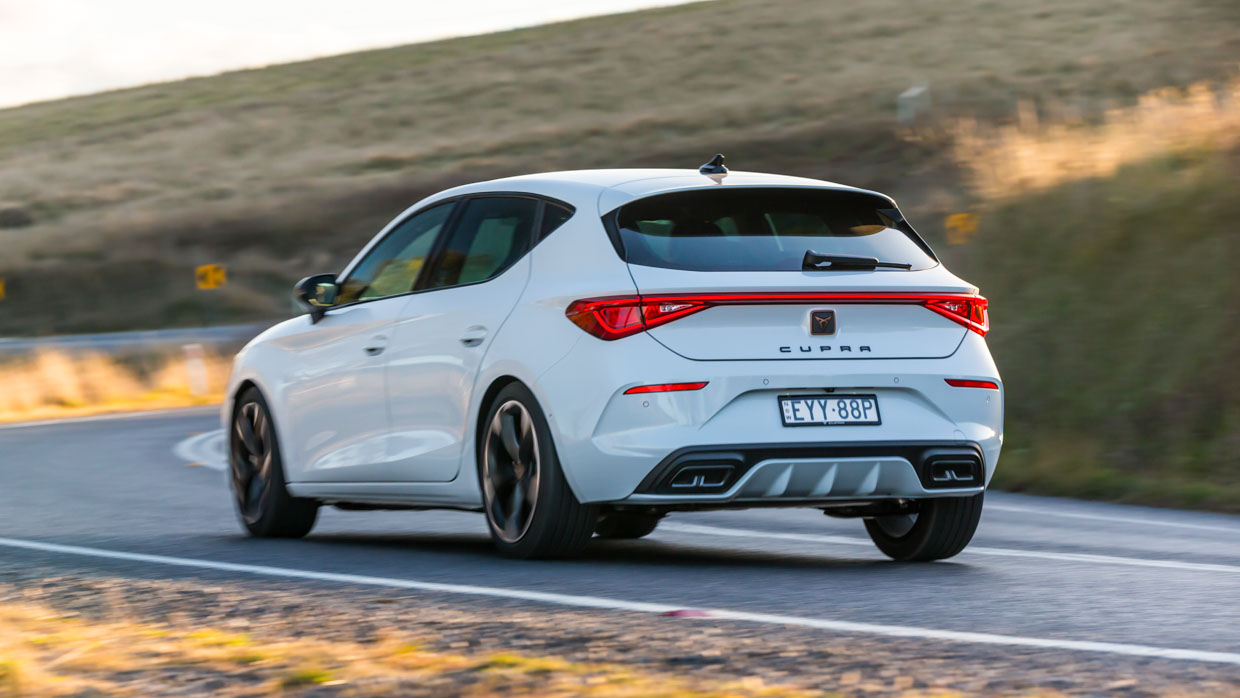 A base model in name only, this is a Goldilocks 140kW front-driver with massive helpings of chassis sophistication and flair.
Well, it's a tenner short of forty-eight grand on-road until stocks are exhausted of the MY23 version, which also carries a crazy-generous $5000 cashback offer. Spoiler alert: we wouldn't walk to sign on the dotted line for a $42,990-after-discount Leon V. We'd run.
Once that incentive sweeps MY23 Leon stock out the door, the V's price will revert to recently-announced MY24 pricing of $49,190. While that's certainly not as sweet, it remains, in our estimation, quite a deal given the talents of the vehicle.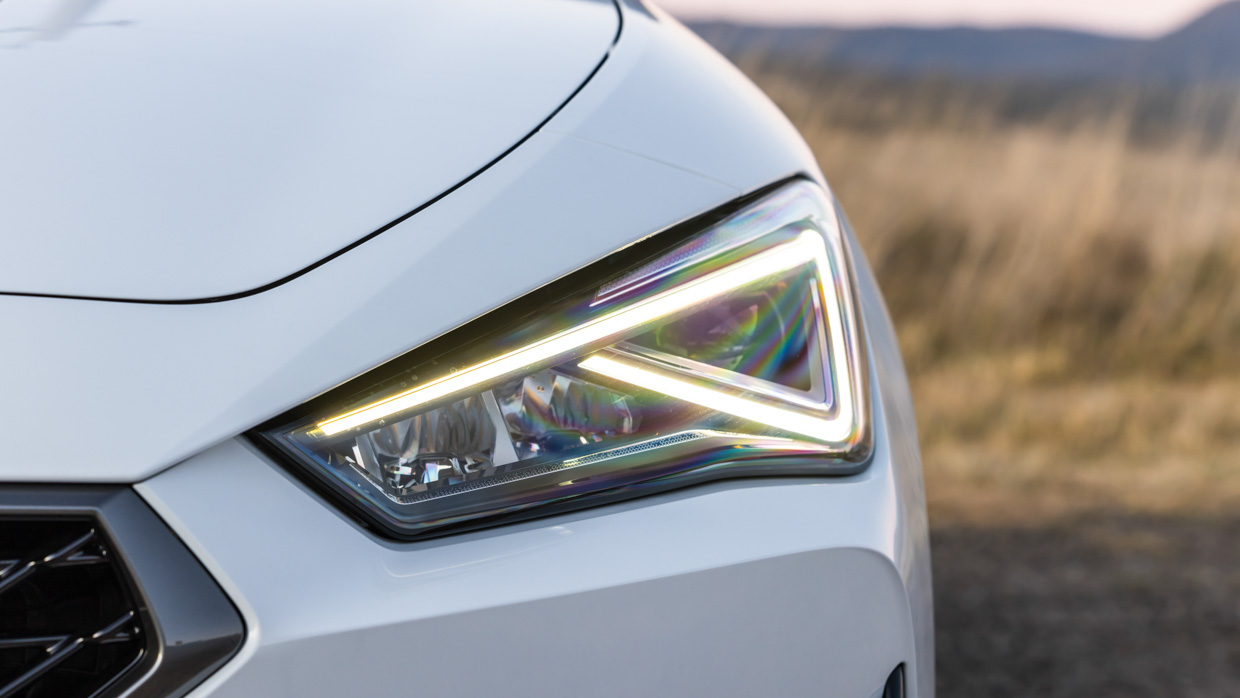 Those talents start with packaging. The Leon looks, and is, compact. The taut styling is, to our eyes, a little more successful than the droopier eighth-gen Volkswagen Golf – and it wraps a hatchback measuring just 4398mm in length.
Yet there's adequate rear legroom for adults, and a deep 380-litre boot will swallow a weekend's stuff above a space-saver spare.
Locally, you have to go to Cupra's Formentor V crossover to best the room on offer here – European Leon buyers score the option of a Leon SW wagon that is firmly on the cards for local sales, but probably only in plug-in hybrid and full-fat VZx form with the addition of AWD.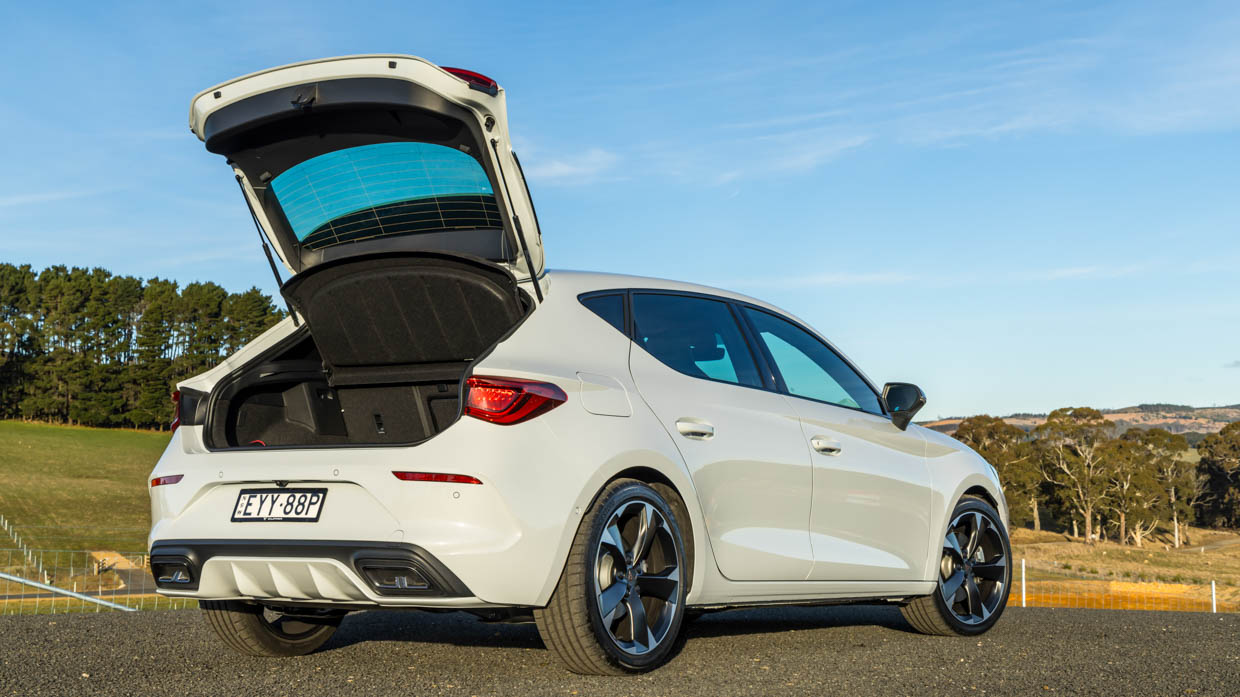 The V uses an engine output near perfectly-suited to its manageable 1461kg weight. Like most of the Volkswagen Group's small performance cars it's a 2.0-litre turbocharged petrol four-cylinder engine, here producing 140kW of power and 320Nm of torque – placing it neatly between a cooking-model Golf's 110kW and a GTI's 180kW.
But drive the thing hard, and you could easily be fooled into thinking you were in the 180kW Leon VZ. We certainly were: the 140kW/320Nm tune of the entry-model V is no consolation prize.
Instead, it feeds the front wheels with syrupy, linear punch that slots right into the zone of always feeling sufficient without being overpowered.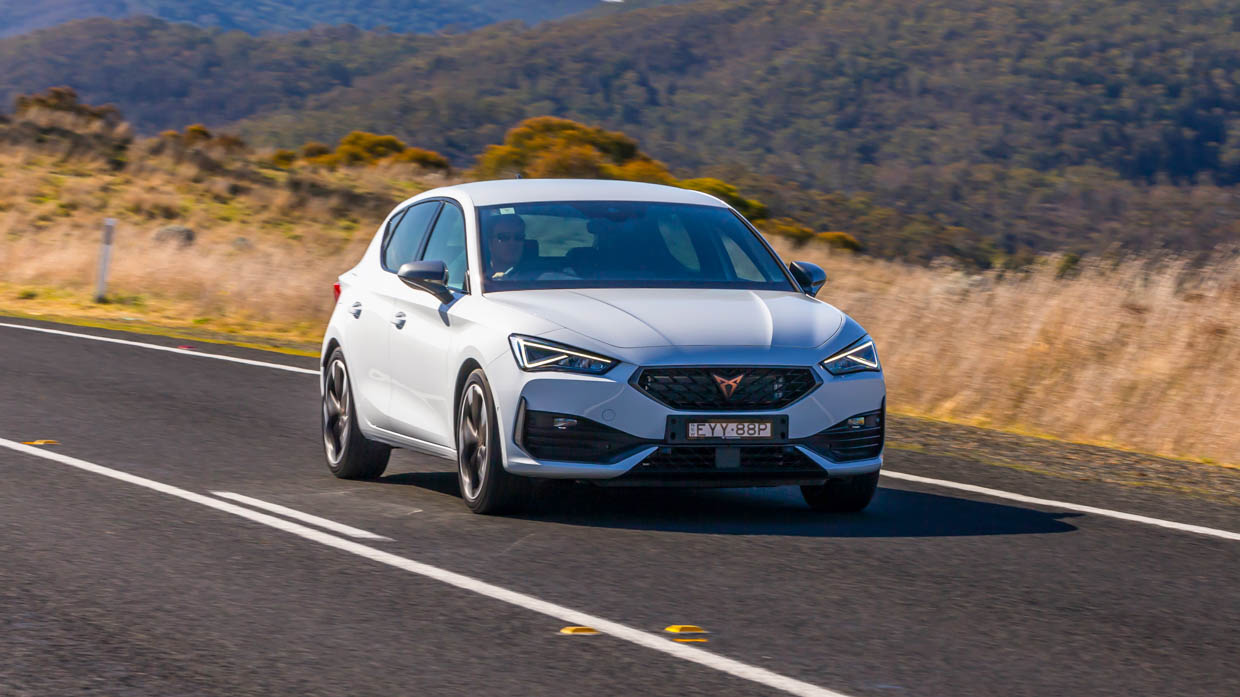 Frankly, on Australia's country roads, limited both by monitored 100km/h speed limits and their brutal textures, we honestly prefer the V's alert but measured cadence to the at-times manic 228kW VZx. The V even sounds good, and is happily married with the seven-speed dual-clutch automatic.
Without trying, we managed 5.7L/100km across about 400km of driving, taking in a quarter highway and three-quarters spirited country running – for a fuel range of 877km. The Leon asks for 95 octane premium petrol or better, but with fuel economy like that, we wouldn't complain.
Then there's the handling: it wouldn't be overstating it for us to rate this with a simple chef's kiss.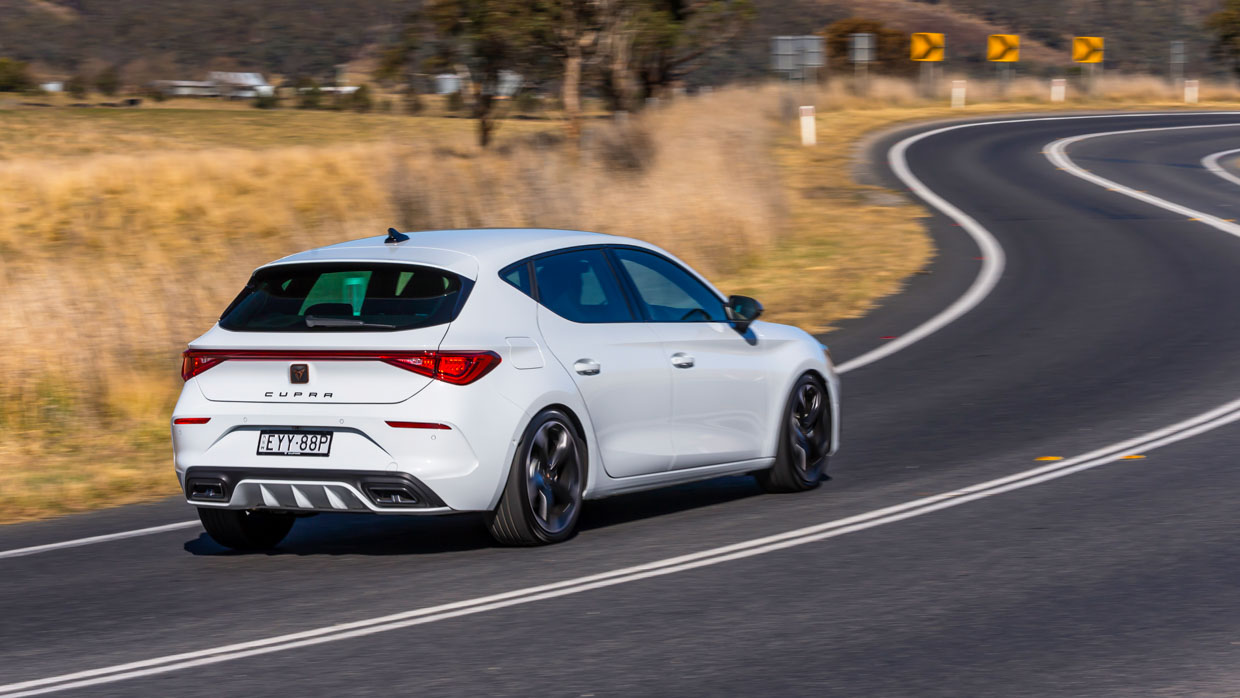 Alive and darty steering is brimming with feedback and yet somehow manages nervousness on a straight angle—here's another instance of how the Volkswagen Group can allow individual brands to flex their unique talents. For Cupra, it's control surface tuning.
Like a Golf taken to the next level, the Leon's chassis balance can easily be felt and manipulated through steering wheel, throttle and brake to maintain cracking pace on B-roads of varying surface quality.
Delicate inputs to the steering and deft interaction with the expertly-tuned stability control allow fine placement of the car.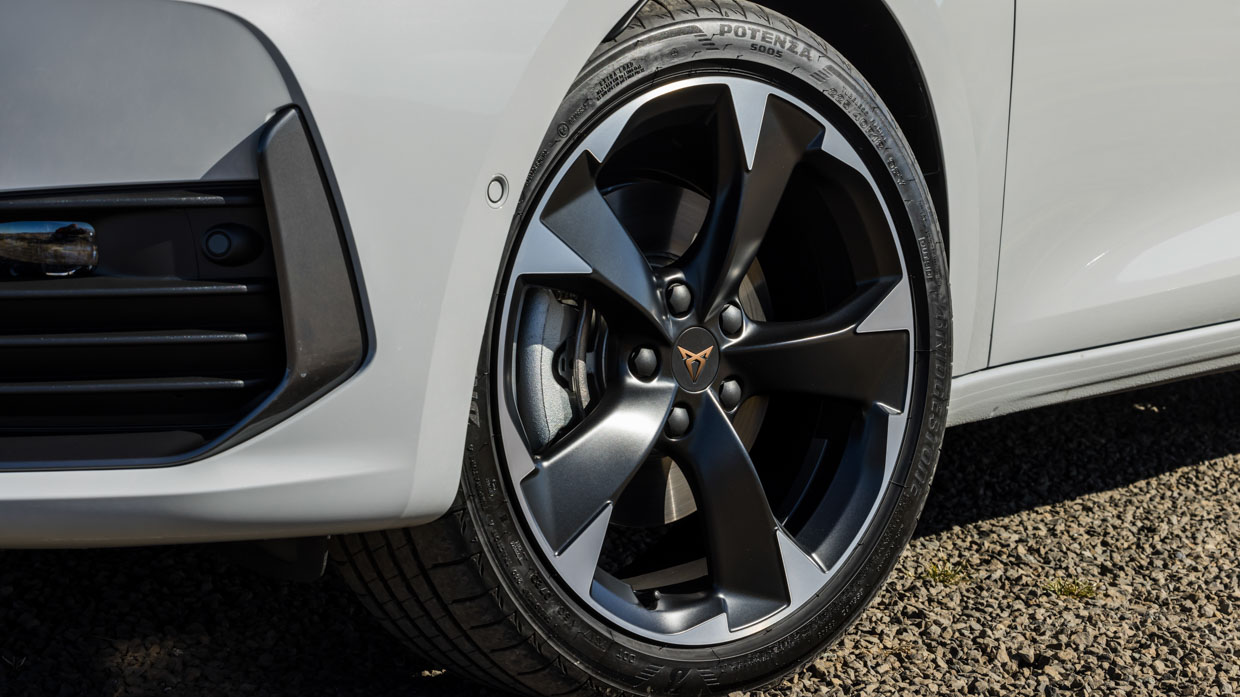 Even the ride is pretty good, and certainly the best of any Leon, thanks to the V sensibly downsizing (not downgrading) to 18-inch wheels with a slightly higher-profile tyre than the VZ, which runs 19s.
Impressively, 15-stage adaptive dampers are standard, and they perform similar feats for the Leon as they do in a Skoda Octavia, or the Golf.
Anybody accustomed to a recent Golf's superior suspension suppleness will want the Leon's dampers turned all the way past comfort; we found slightly to the comfort side of the midpoint resulted in the best blend of compliance and body control.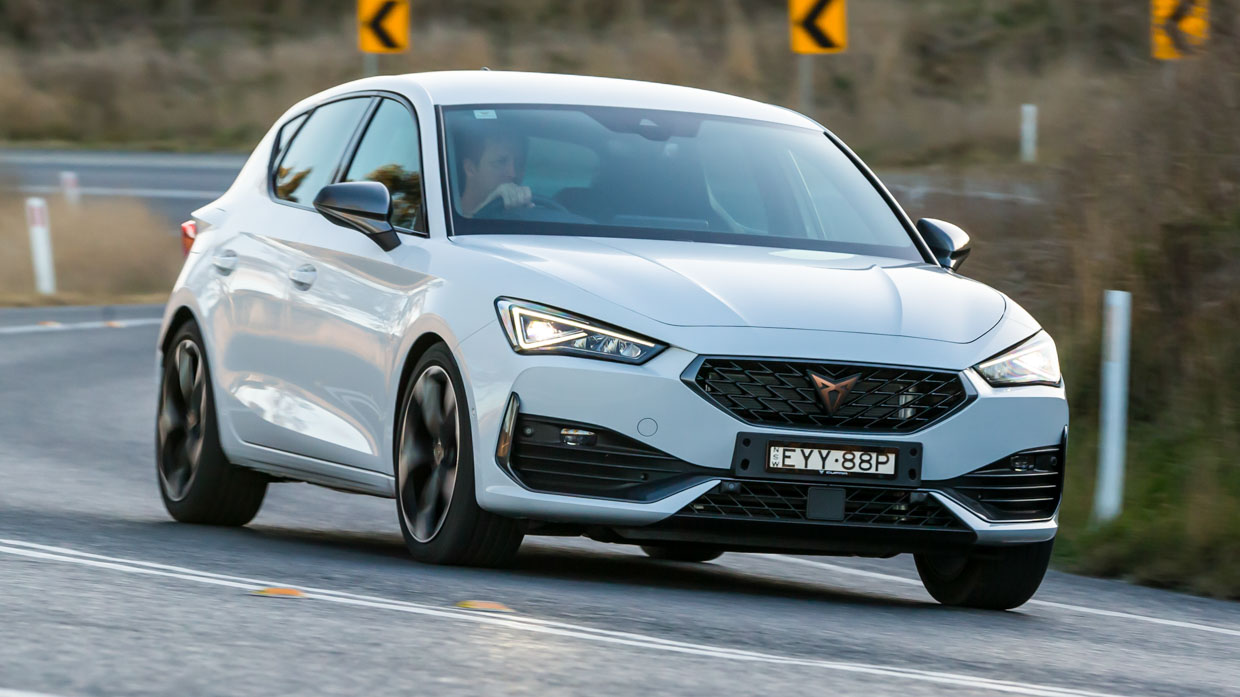 But there's a price to pay for the Leon's dynamic nous and fleetness of foot – and that appears to be substantially inferior noise refinement when compared with its cousins.
None of the small MQB cars are especially quiet inside but the din at 100km/h on coarse-chip roads in the Leon is almost too much—but we can forgive it.
That's especially the case when you option the Leon with the good-value $2450 leather and sound package, which swaps cloth seats for charcoal nappa leather pews with electric adjustment for the driver, and heating for the front pair – plus a Beats stereo.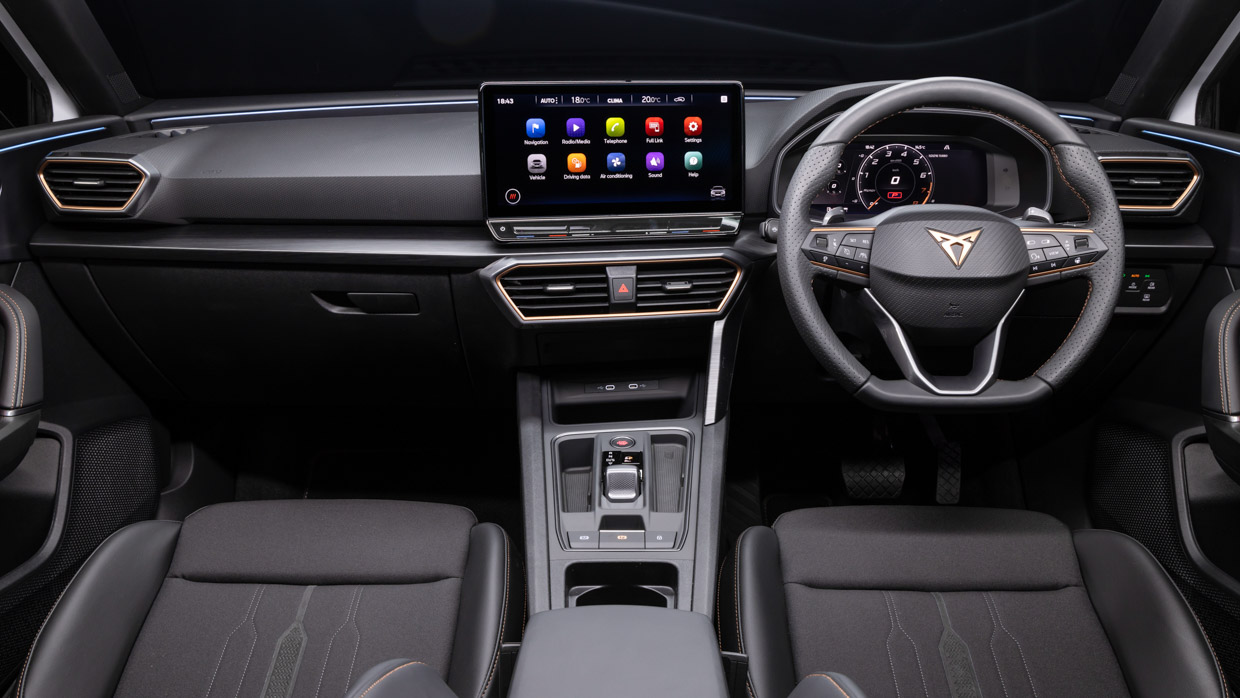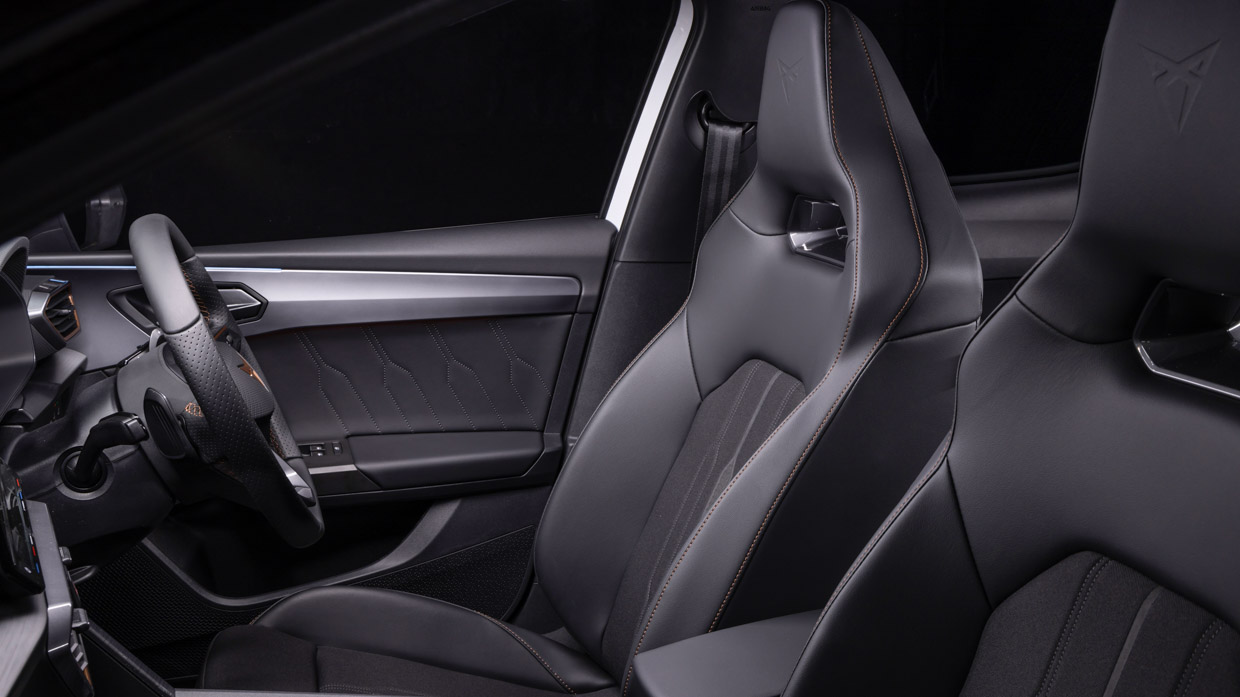 Both the Beats and the base audio system delivered acceptable clarity and loudness. A sunroof is $1800.
The Leon's interior exhibits the finish we have come to expect from Cupra: impressive if not premium. Most bits and bobs feel good enough, including the soft dash and doors, which feature attractive copper stitching.
There are (well-disguised) signs that the Leon is built to achieve its price, generally below the belt-line. At least the harder plastics are well-grained, and the steering wheel and seat leather are really pleasant.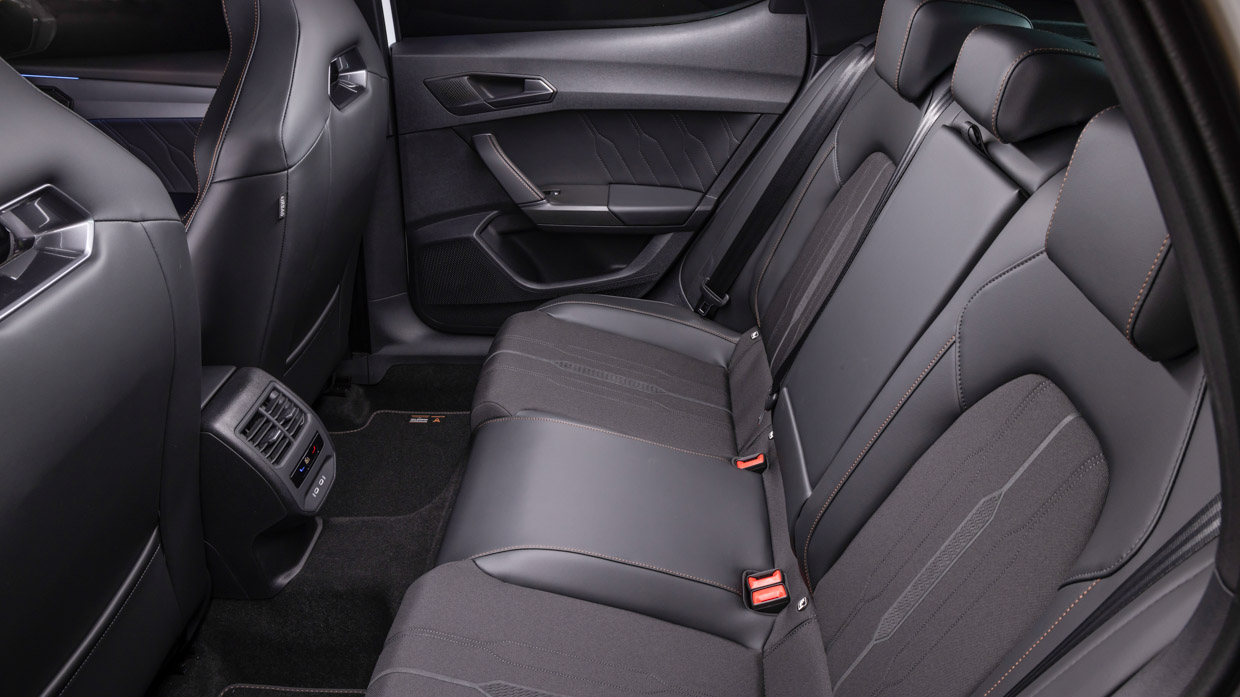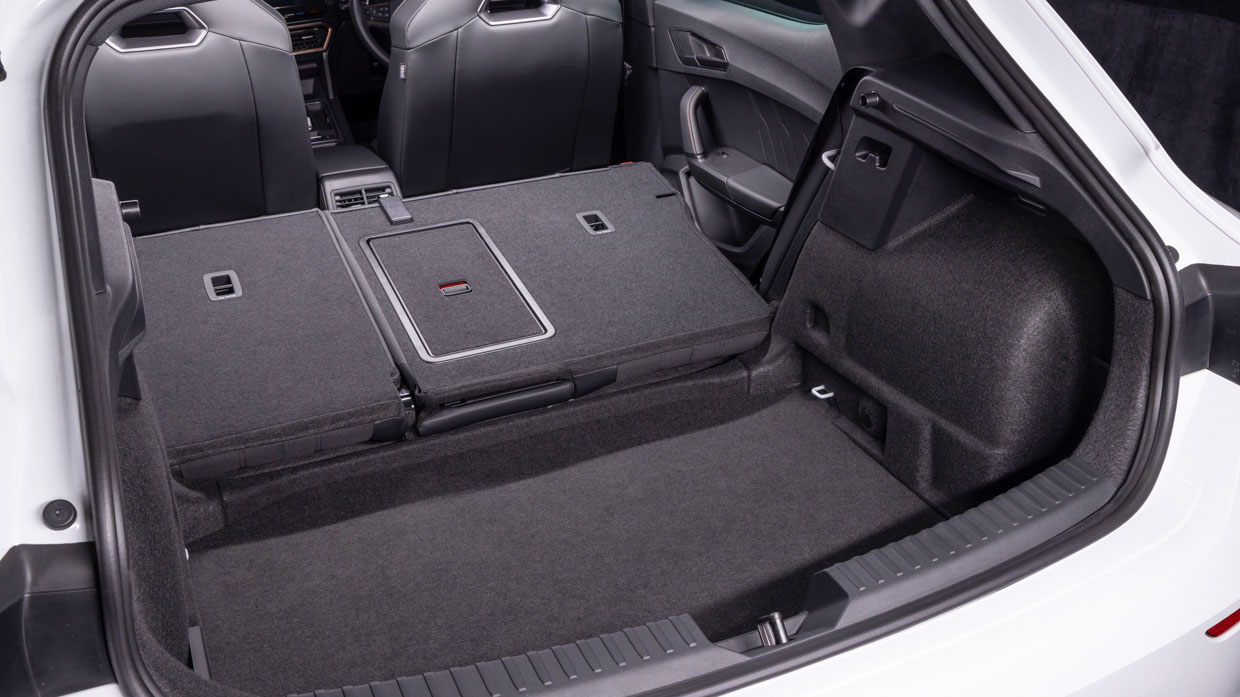 And the tech works quite well. You get a 12.0-inch touchscreen in the centre which is snappy enough but visually a tad fuzzy, as if it could do with a bump in resolution.
Still, the integrated maps are functional, and the wireless Apple CarPlay connection worked well in our test. The driver also scores a 10.0-inch digital instrument cluster with a good level of customisation.
Interestingly, while the Leon shares its touch-based climate controls with the Golf (and many other Volkswagen Group cars of late), it retains hard, physical steering wheel buttons which are easier to operate on the move.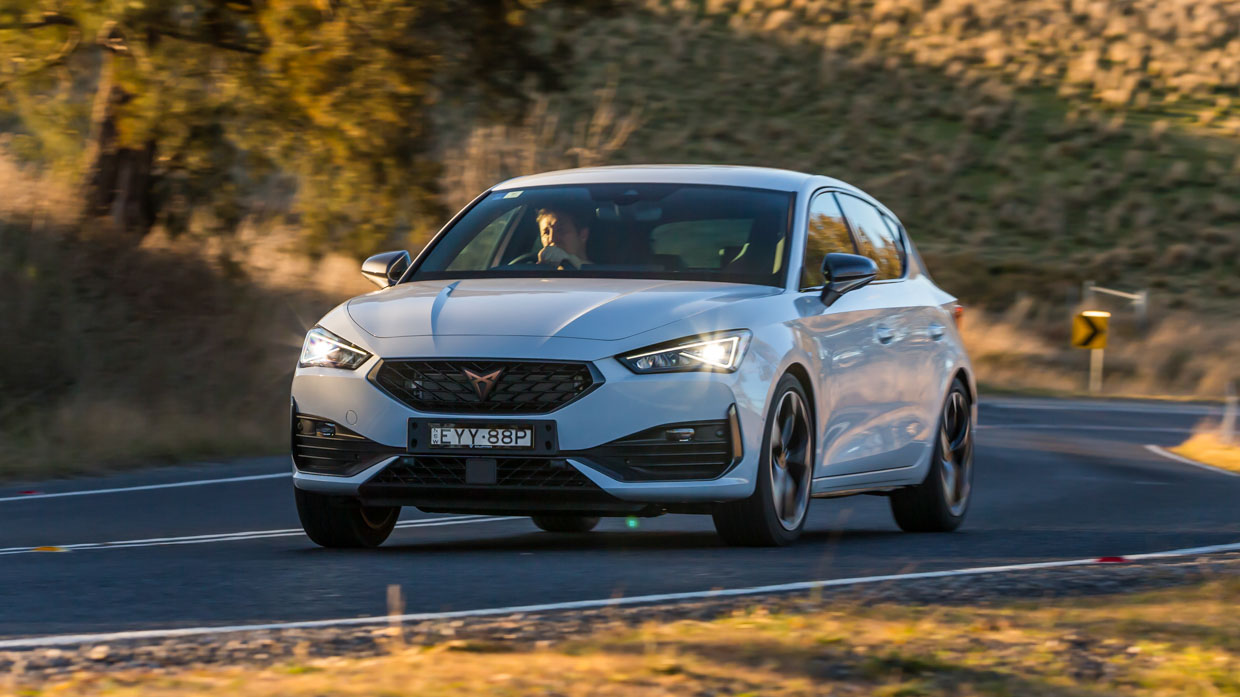 When it launched in Australia, Cupra offered a free three-year servicing plan with its cars. That offer has since ended, and two paid service plans are now offered: three years/45,000km for $990, or five years/75,000km for $1990 – noting that the fourth service is the costliest. A five-year, unlimited kilometre warranty is standard.
So, the Leon V: a talented, interesting, enjoyable car to drive. It's a little rough around the edges in some parts – maybe a bit noisy inside and not as supple as a Golf – but its handling talents push into deeper-cut territory than the other models that share this platform.
It's a no-brainer at the current, very limited-time offer with $5000 cashback. Even after that point, we'd recommend shortlisting a Leon V.