Hot on the heels of our final predictions for the 2017 Mazda 3 update, the new car has launched and we now know the final specifications of this first update of Mazda's best-selling model.
There were a few surprises – including the axing of plans to integrate Apple CarPlay and Android Auto, and no changes to the two existing petrol engines.
However, there have been a variety of important updates that will keep the Mazda 3 up to speed with the competition. Prices stay relatively flat with modest $500 and $200 bumps to most cars, but a $1,550 reduction on the top-spec Astina.
Minor styling changes create a more cohesive and handsome look outside, with high-spec GT and Astina variants now including LED headlights.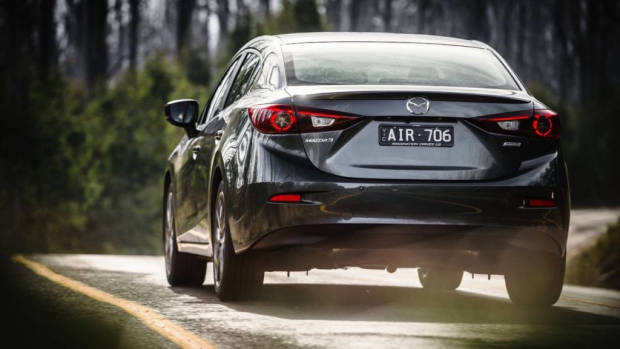 They include a key mechanical addition – a torque vectoring system which will enhance cornering ability at a range of speeds.
Additionally, there are trim updates inside, including the addition of the new corporate steering wheel, lifted from the MX-5 sports car.
In an unusual twist, the base model and volume seller of the range, the 3 Neo, retains its old LCD infotainment system – with no colour, no touchscreen and no reversing camera – where every other variant has touchscreen infotainment. This feels like an oversight, with competitors – including the new Honda Civic, the Hyundai i30 and the Toyota Corolla – all including a large screen on their respective base models.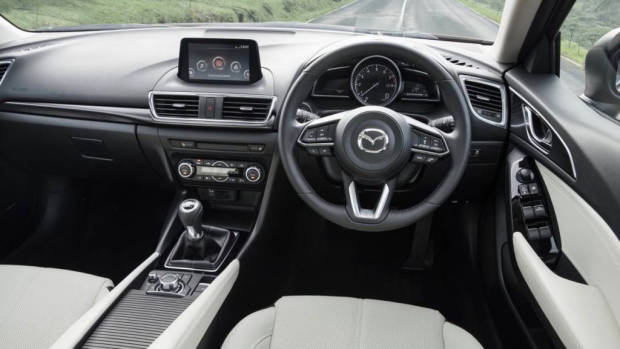 Safety kit has been boosted impressively. The Neo gains autonomous emergency braking at low speeds, while all other models add reverse-gear AEB, blind spot monitoring, and rear cross-traffic alert.
High-sped cars further add an active lane keep assist function and an attention monitor.
There are three new colours, including the CX-9's gorgeous Machine Grey Metallic, plus Sonic Silver Metallic and Eternal Blue Mica.
The upgraded 3 is available now.
2017 Mazda 3 refresh: Australian price
Neo manual: $20,490
Neo automatic: $22,490
Maxx manual: $22,890 (+$500)
Maxx automatic: $24,890 (+$500)
Touring manual: $25,290 (+$500)
Touring automatic: $27,290 (+$500)
SP25 manual: $25,690 (+$500)
SP25 automatic: $27,690 (+$500)
SP25 GT manual: $29,990 (+$200)
SP25 GT automatic: $31,990 (+$200)
SP25 Astina manual: $33,490 (-$1,550)
SP25 Astina automatic: $35,490 (-$1,550)