Despite new equipment on most models, no Mazda 3 will be more expensive in 2015: in fact, every trim, bar the Neo variants, will fall in price. Savings of $600 to $1,150 have been made possible by the Australia-Japan Free Trade Agreement – a fact that Mazda's Martin Benders believes will keep the 3 dominant in its segment.
While the Neo's positioning between $20,490 (base manual) and $23,990 (Neo Safety auto) is unchanged, those four models gain over $1,000 in value – 16-inch alloys replace steel hub caps and each receives rear parking sensors.
Buyers of the base still have to put up with a cheesy infotainment unit in the place of the 7-inch MZD Connect touchscreen with navigation, which is standard on every other car from the $22,390 Maxx upwards.
The Maxx (down $600) and Touring (down $700), each a step further up the 3's ranks, gain front fog lights. Equipment remains steady for the SP25 (down $700), SP25 GT (down $800), and Astina (petrol down $1,150) models, with the potent turbodiesel XD Astina (down $940) remaining the 3 flagship positioned at $39,290 for the manual.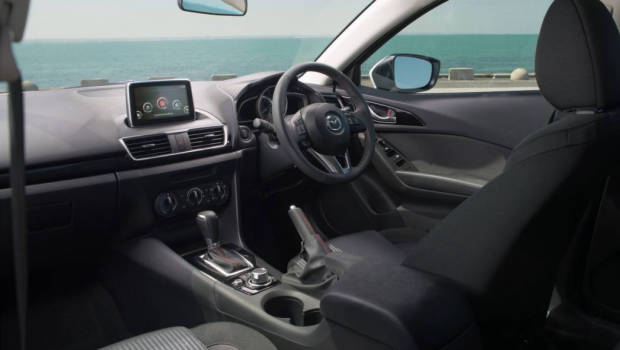 Automatic gearboxes remain a $2,000 option for each 3, but there's still no cost penalty for opting for either the hatchback or sedan body style. All non-atsina models retain their $1,500 Safety pack option, which includes blind spot assistance.
The sharpened pricing and equipment lists are an intelligent step for Mazda, keen to retain – and grow – the 3's already-significant 21% share of the private and smaller business fleet market among the small car segment, with Volkswagen's Golf, and Ford's forthcoming Focus update providing quality competition.
2015 Mazda 3 range: pricing
All prices are RRP list prices, before on-road costs or options.
Neo manual: $20,490
Neo automatic: $22,490
Neo Safety manual: $21,990
Neo Safety automatic: $23,990
Maxx manual: $22,390
Maxx automatic: $24,390
Maxx Safety manual: $23,890
Maxx Safety automatic: $25,890
Touring manual: $24,790
Touring automatic: $26,790
Touring Safety manual: $26,290
Touring Safety automatic: $28,290
SP25 manual: $25,190
SP25 automatic: $27,190
SP25 Safety manual: $26,690
SP25 Safety automatic: $28,690
SP25 GT manual: $29,790
SP25 GT automatic: $31,790
SP25 GT Safety manual: $31,090
SP25 GT Safety automatic: $33,090
SP25 GT Safety sunroof manual: $32,690
SP25 GT Safety sunroof automatic: $34,690
SP25 Astina manual: $35,040
SP25 Astina automatic: $37,040
XD Astina manual: $39,290
XD Astina automatic: $41,290