The Ford Mustang Mach 1 is, according to Ford, the best-handling Mustang ever to come to Australia.
Aside from retro exterior touches, Ford has made some serious changes to the V8 sports coupe to assure its performance on the racetrack.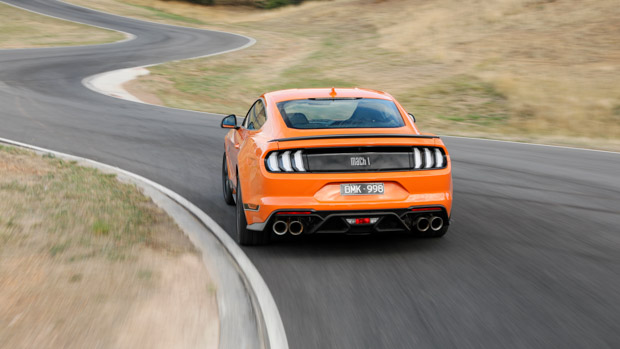 The Mustang Mach 1 benefits from three extra coolers; one for the engine oil, one for the transmission and a third for the limited-slip differential.
It also benefits from a unique suspension set-up with lower and stiffer front springs and bespoke settings for its Magneride dampers. This means that – in theory – the Mach 1 Mustang can lap harder for longer.
That sees the Mach 1 climb to $83,615 before on-roads; that's a $19,000 premium over the regular GT ($64,390).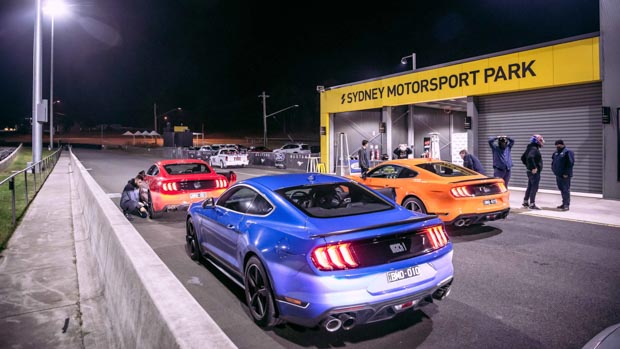 A few years ago, a Mustang lapping a racetrack was a relatively uncommon sight, with the five-litre GT model experiencing heat management issues in hot Australian conditions.
The Australian trackday market has expanded massively over the past two years, so it makes sense for Ford to tap into the market.
We attended the launch of the Mustang Mach 1 at Sydney Motorsport Park, where Driving Solutions conducts open and private events. The events have no speed limits and allow customers to approach the limit of grip in a controlled environment.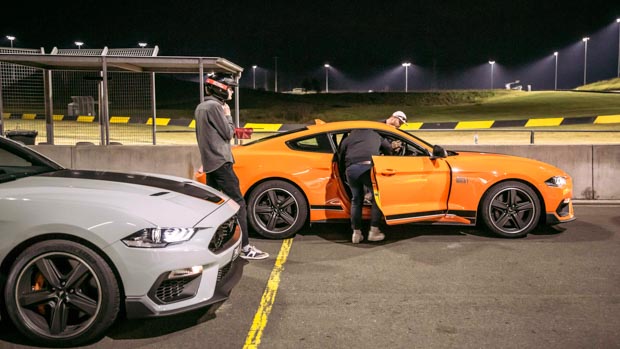 According to business director James Stewart, Driving Solutions has seen a boom in the market. Their trackday schedule has expanded from 20 days in 2019 up to 40 in 2020 and onto 120 events booked at Sydney Motorsport Park this year.
The massive increase is from "a whole untapped market of people that we've never seen before", Mr Stewart said.
When asked where the demand was coming from, he confirmed that his newfound customers are "people who used to go to Europe and drive the Nurburgring and Spa who are spending their money at home" in response to travel difficulties amid the Covid-19 pandemic.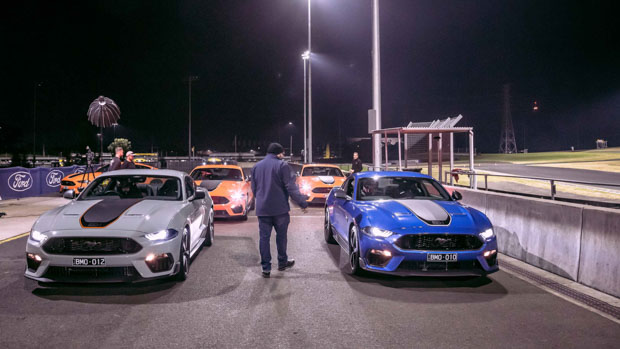 This is a similar phenomenon that has also seen sales of off-road capable vehicles such as the Nissan Patrol and Toyota Landcruiser skyrocket over the last six months.
When quizzed on the must-do mods, Mr Stewart said, "if I was going to buy a mustang for trackday use, I'd try and get a Mach 1 (if I could!) otherwise I'd do the same kind of mods. Trackdays are all about managing heat, so everything that makes a car breathe better adds longevity".
Where trackday-tuned vehicles were once niche and expensive, their prevalence is increasing. From vehicles at the top-end like the Porsche 911 GT3 through to more attainable vehicles like the Hyundai i30 N and Ford Fiesta ST, the trend is one that manufacturers are keeping an eye on in Australia.