I recently made a holiday to the United States even better by spending some quality time with a great American icon, the Ford Mustang GT.
Review by Chasing Cars contributor Jake Williams.
Back in Australia, this is the first Mustang we're receiving in significant numbers. Past versions arrived in very limited numbers, but it's taken until this sixth-generation car for Ford to back the Mustang as a truly global product.
It appears the two-door muscle car recipe is working. Ford have sold almost 4,000 examples in Australia this year: it's the best-selling sports car under $80,000, and has doubled the sales of the second place-getter, the Toyota 86.
The current wait list stretches to 18 months – so any remaining concerns at Ford about the looming post-Falcon future should be allayed.
In the States I actually experienced two different Mustang convertibles: the American entry-level V6 – we don't get the six – and the more familiar 5.0-litre V8 Mustang GT.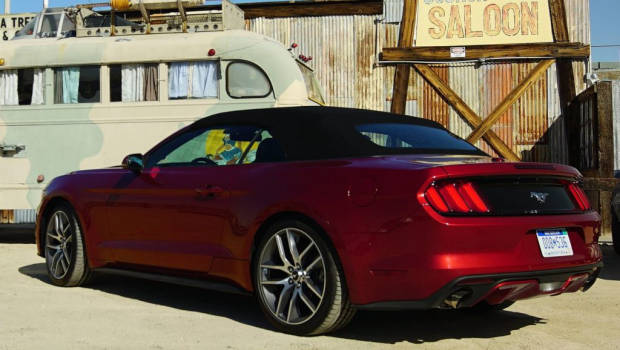 And what a difference an engine choice makes. The 3.7-litre V6 is an American hire car special – it's cheap and the respectable 5.5 second 0-100km/h sprint make it a compelling bulk buy for the Avis and Hertz of the world.
But the V6 is short on torque, and a clunky automatic hampers the driving experience. Despite being tuned for economy, the V6 is hardly fuel efficient, returning over 10L/100km.
Really, the Mustang is a car that stakes its reputation on offering a cheap and cheerful muscle car experience: the 'Coyote' V8 is compulsory.
In US specification, the five-litre naturally-aspirated unit produces a solid 435hp (324kw to us). The Mustang GT Australians receive is slightly detuned, but it's supposedly just as quick, capable of returning 0-100km/h runs in the low 4 seconds and of hitting 270km/h.
A slouch it's not – plant your foot, the front end rises into the air and you're off into the sunset, riding a wave of torque and noise.
This is the first Mustang to use independent rear suspension – a huge upgrade over the old solid rear axle. Finally, the rear end is able to adapt to bumps and undulations properly, since it's not just one beam connecting the rear wheels.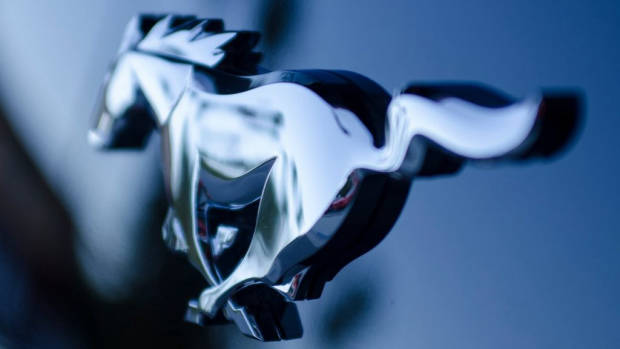 All of this means that, for the first time ever, the Mustang can really corner. There are still remnants of muscle-car slipperiness from the rear end, though the ESP has a tough job containing all 425 ponies.
Combine now-decent handling with meaty steering and adjustable drive modes, and you've got a car that can handle tracks and highways alike. There's no flopping around like older Pony Cars – this one is firm and planted, giving you real confidence to drive it hard.
What's clear is that this is the first globally-minded Mustang – and to achieve that, Ford hired global engineers. It seems there have been more than a few lessons learned from Ford's Australian engineering arm, because nothing phases this car – just like great Falcons of the past.
Criticism of the new Mustang for looking too tame didn't strike a chord with me. I think it's a handsome brute, with a unique presence that no other car can claim. There's a little retro, with the wide grille and sequential, three-bar taillights evincing memories of the first generation – but modern touches like bi-xenon headlights keep a foot planted in 2016.
Like many American-market cars, those rear indicators glow red – confusing at first for an amber-attuned Australian. Are they braking, or turning?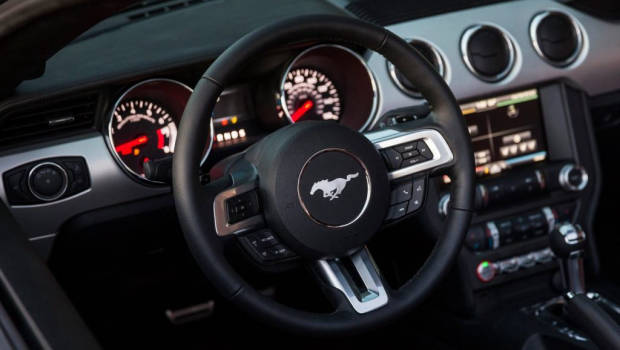 A fairer critique can be made of the materials inside – which are a hangover of American build quality. The leather – well, that feels cheap, and the plastics are pretty low-rent, too. Would Ford's European arm even use them in their cheapest hatchback? I don't think so.
Buying a convertible Mustang is all about getting the roof down – a reasonably quick, if sensitive, operation. If you don't have the locking latch at 90 degrees when dropping the roof, the system won't move. Like other 'verts, the roof impedes on boot space: two medium suitcases will fit – just. But the back seat can double as a parcel shelf.
But nobody buys a Mustang for practicality – you buy it because it has so much character. From the second you see it the retro styling, the special Mustang key, the sequential indicators (which we, sadly, don't get in Australia), the funky toggle switches inside, the Pony puddle lamps projected by the car at night … the Mustang makes you smile.
Every single journey in a Mustang is memorable. You look around at everybody else's white bread and vanilla cars, and suddenly, life isn't so bad. My favourite feature? The ice blue interior lighting effect, which bathes the cupholders, door handles, footwells and dials in a crisp hue. This is modern Americana done correctly.
So, would I buy it? You bet, even accepting the 'Australia tax': this is $65,000 at home, versus $40,000 in the US. It's a bargain for what you get: performance, comfort, equipment, and character. It'd definitely be the V8 – this is a magnificent engine. The hardest choice would be colour – Lightning Blue or Machine Grey?
And finally, to Ford, a take home message: keep up the product development, because one of the world's iconic cars is far better than it has ever been. That's a fitting new reputation for the first truly global Mustang.