Nissan has unveiled the 2023 Z coupe in the United States, offering a modern sports car with a traditional front-engine, rear wheel drive layout with a manual transmission option.
The Japanese coupe is expected to arrive in Australia next year and has gone without its numericals for its seventh-generation to be known simply as the Z.
While official specifications are yet to be confirmed for Australia, the Z will debut with a choice of two grades known as the Z Sport and Z Performance. We've done a separate article on our best pricing estimate.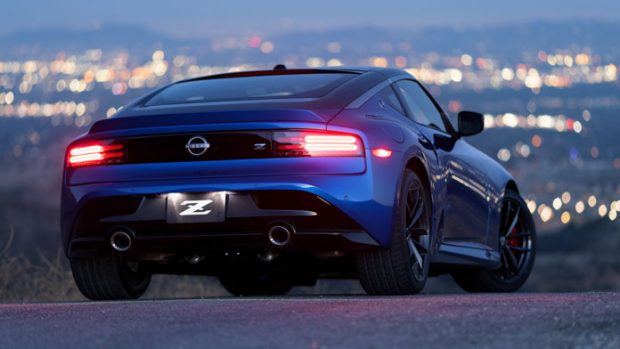 Tell me about the performance of the 2023 Nissan Z?
Ramping up performance over the old 370Z the Z straps a pair of twin-turbochargers to a 3.0L V6 engine with a power output of 298kW that kicks in after you rev it out to 6,400RPM.
The extra support of forced induction also sees the Z develop 475Nm all the way from 1,600 to 5,600 RPM.
For context, that's a 45kW and 104Nm boost over the only naturally aspirated 3.7 V6 setup in the 370Z Nismo, and puts it very close to the outputs of the Toyota Supra at 285kW/500Nm.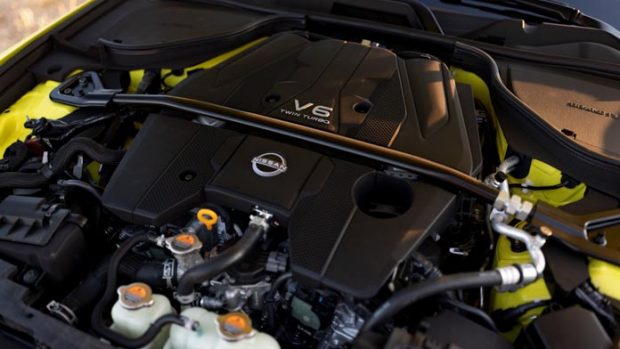 The Z will be available with a choice of either a six-speed manual transmission or a nine-speed automatic transmission. Manual buyers will be treated to an Exedy high-performance clutch, a carbon fibre composite driveshaft and automatic rev-matching.
Nissan has fitted double-wishbone suspension and the front and a multi-link arrangement at the rear with a mechanical limited-slip differential available on the Z Performance grade.
Measuring 4,379mm (+129mm) in length, 1,844mm (+1mm) wide, and an identical 1,315mm height and 2,550mm wheelbase, the Z is only slighter bigger before but Nissan says has a much more rigid body this generation.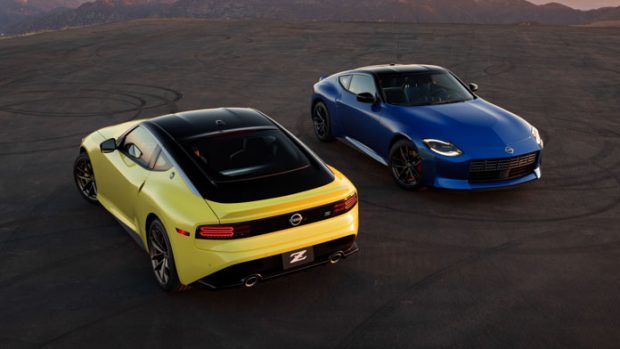 Ventilated brake discs have been fitted at all four corners Z with the Performance grade adding 14-inch front rotor, four-piston setup at the front and 13.9-inch rotors a the rear with a two-piston setup.
As standard, the Z wears 18-inch aluminum-alloy wheels measuring 245mm all round, though larger 19-inch Rays lightweight forged alloys with a 255mm front and 275mm rear staggered setup can be had with the higher grade
Those who opt for the top-spec Z Performance will also gain a sportier dual exhaust and suspension tune for a racier feel.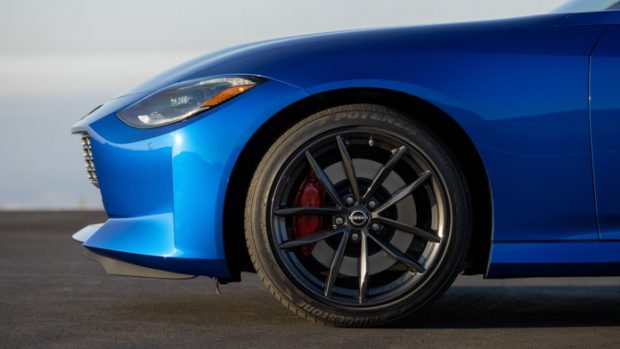 What's inside the 2023 Nissan Z?
Nissan has bolstered the specification of its two-seater grand tourer with a slew of modern amenities that will make it a far nicer place to commute than its predecessor.
This begins with a traditional analogue instrument cluster with adjacent specific boost gauges in the dash, for the former able to be swapped out for a huge 12.3-inch digital instrument cluster in the top-trim grade.
It's a similar story for the 8.0-inch centre touchscreen and six-speaker sound system that can be stepped up to a 9.0-inch unit with an eight-speaker Bose sound system in the Z Performance and adds active noise cancelling in the cabin.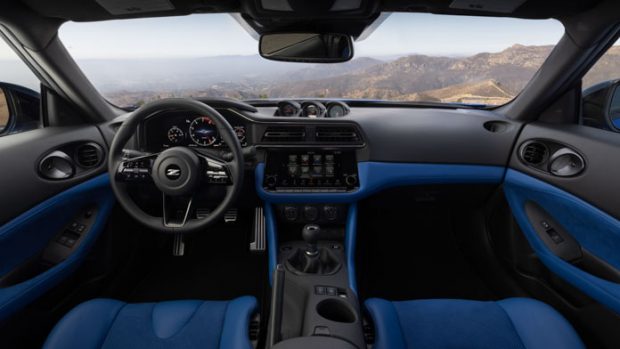 The multimedia system comes with Apple CarPlay and Android Auto plus the ability to share a wifi hotspot around the cabin. Both USB A and USB C ports are fitted upfront.
As standard, the seats are trimmed in a combination of cloth and synthetic suede with an eight-way manually adjustable driver's seat and four-way manual adjustment for the passenger.
The Z Performance adds four-way power adjustability and a heated function for both occupants, with manual lumbar and tight support for the driver, along with niceties such as aluminium pedals.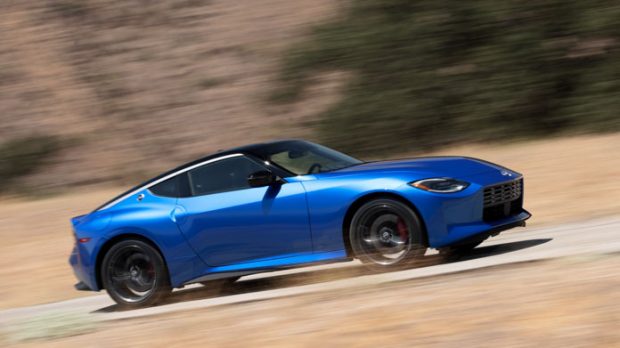 Tell me about the exterior?
Looks familiar, doesn't it? The finished product bears a strong resemblance to the Z Proto revealed over a year ago but that's no bad thing in our eyes.
The Z retains its trademark features with a long, aluminium bonnet with a front end design and body shape that takes inspiration from the original 240Z with LED headlights and a wide-open grille.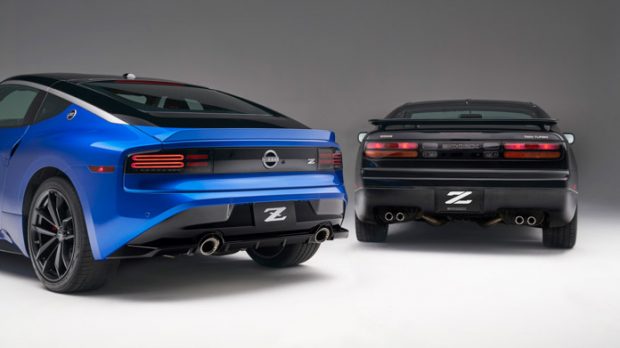 At the rear, the Z again borrows from its predecessor in the 300ZX, with the eighties taillights revised into slightly smaller versions with a blacked-out centrepiece to fit the Nissan logo.
Buyers who opt for the Z Performance add different side skirts, a front lip and a subtle rear spoiler but both grades are available with several single and two-tone paint colours.
Is the 2023 Nissan Z safe?
While not the key selling point, the Z does quite well in this department with features like standard front and rear parking sensors, a reversing camera and side airbags.
Additionally, driving aids such as rear cross-traffic alert and front AEB with pedestrian detection, blind-spot monitoring and tyre pressure monitoring all come as standard on US models.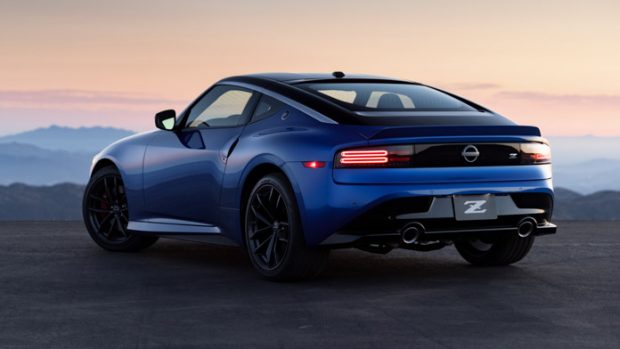 The Z has yet to be officially rated by ANCAP but it's certainly safer than the old 370Z thanks to the healthy dose of modern technology.
In the United States Nissan will sell 240 units of the "Proto Spec" which is a special edition that adds special yellow trimming and matching interior stitching but it's not clear if we'll get it here.
For now, Nissan Australia has told us the Z will arrive next year but expect that date to become more specific and local specification to follow as we get closer to the date.