A prototype version of the Nissan Z has been spotted in the US baring its fangs at wide-open throttle.
Nissan has already confirmed that the Z will make it to Australia in the middle of 2022 with a 298kW twin-turbo petrol V6, manual transmission and retro-futuristic appearance.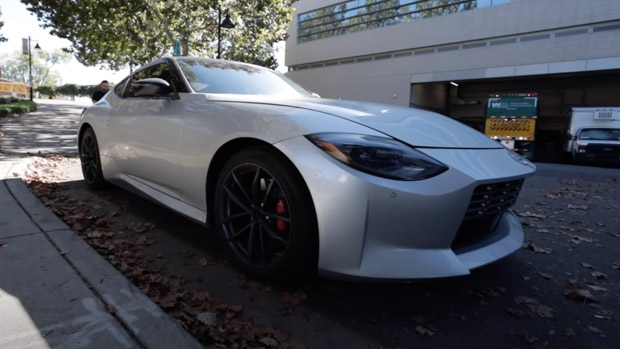 While Aussies wait patiently, American Youtuber Burnt Rubber spotted a new Z mule parked in a Michigan street undergoing final testing and evaluation.
With manufacturer plates on the back, the handler arrives and shows us around the (admittedly quite rough) test mule, including a launch rapid enough to hurt the Toyota Supra's feelings.
So what does it sound like?
This is the most important part of the video, and it happens from around 4:40 onwards. The Z's mysterious handler brings the 'VR30' 3.0-litre V6 to life and lets it sit idling for a moment before giving it the beans off into the distance.
Sadly, the 298kW/475Nm 3.0-litre twin-turbo V6 isn't hooked up to the six-speed manual transmission, but the Mercedes-Benz sourced nine-speed automatic sounds like it's doing a bang-up job of shifting quickly.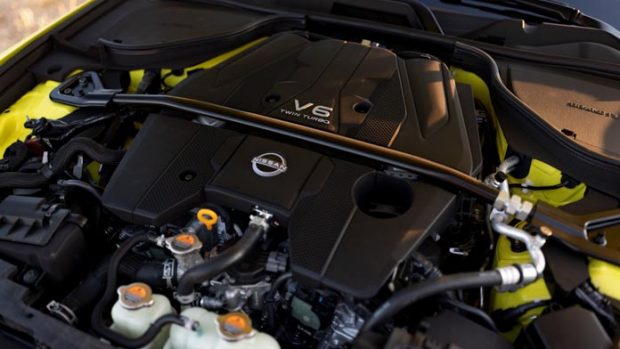 What's the verdict on the engine roar? Well from outside, the new Z is fruity and full-bodied with the classic V6 warble. We assume the final note is still being tuned, and there will likely be some further cabin trickery for the driver, but it's safe to say – this is better than any four-pot.
The Z hooks up, too, whether it is equipped with a final version of the promised launch control system is not clear, but there is no wheelspin as the Z rockets towards the horizon.
How does the new Z look?
The silver car pictured in the video is a far cry from the immaculately presented blue and yellow Zs that have been featured in the reveal film and seen getting around California.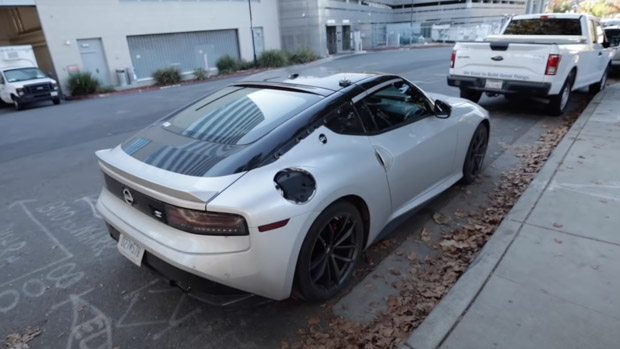 On the driver's side there are remnants of adhesive from either camouflage or testing equipment, while on the right side the 'katana' design element is missing entirely.
While some may squirm at the filthy paintwork and unloved appearance, what it shows is that Nissan is taking testing of the Z seriously: this mule is no trailer queen.
Inside, we're shown the blue suede (hello Elvis) upholstery on the bucket seats, low touchscreen and discreet automatic transmission selector. Excitingly, the cabin looks far better presented than the exterior, which suggests it should hold up well to regular use.
The Z is expected to arrive in Australia in the middle of next year, with some specification locked-in but pricing yet to be announced.